Can't play .mov files in Windows Media Player. How to solve?
How do play MOV on Windows? Windows Media Player is widely used on a Windows PC. It supports video formats such as WMV, WMA, AVI, MP4 and more. Some formats are not compatible with this player, and .mov is one of them. This, of course, results in problems when users need to play MOV in Windows Media Player. Let's discuss some of the possible reasons why you're unable to play .mov files in your Windows Media Player:
Plug-ins which are required to play the .mov files aren't installed.
If the Windows Media Player's source is corrupted, the user will face issues playing .mov files.
When playing .mov files through CD, if the steps mentioned below are not properly followed, the Media Player won't play the file.
In Windows Media Player you need codecs to play .mov files, and if a specific codec is not installed, an error message will pop up.
Therefore, to successfully play MOV on Windows computer, you will need to convert the MOV file to Windows-friendly format. Don't worry! The following content is about how to convert and play MOV on Windows PC. Keep reading!
Part 1. Convert MOV to Windows Media Player Compatible Formats for Playback on Windows
To convert your .mov file to a format compatible with the Windows Media Player, you will need a video converter. Among many video converters available in the market, wisely pick a professional converter to retain the video quality. iSkysoft Video Converter Ultimate is in our opinion the finest video converters which you can safely pick without compromising the video quality.
How to Convert MOV to Windows Media Player Compatible Formats for Playback on Windows
Before converting MOV files, you should know that iSkysoft Video Converter Ultimate can act as a MOV player and play MOV video Windows PC or Mac.
But if you want to play MOV on other players like Windows Media Player, please follow the steps below to convert MOV to Windows Media Player supported format like WMV.
Step 1. Add MOV files to this MOV video converter on Windows
Launch iSkysoft Video Converter Ultimate for Windows after installation. When it opens, drag and drop MOV files to the main window, or click the "Add Files" button to locate your MOV files on Windows file system.
Step 2. Choose a Windows supported output format
Click the format icon on the right to open the format list and choose "WMV" from "Video" section. The format, resolution, bit rate and other video settings are usually the same as the source files to keep the original quality. To change them, click the "Settings" icon on the right side of each format tray.
Tips: You can edit MOV files with the built-in editing tools like Trim, Crop, Rotate, Watermark, Subtitle, etc.
Step 3. Convert MOV to WMV for playing on Windows
Click the "Convert All" button at bottom right and all the added MOV files will be converted to WMV format quickly. You can then open WMV files with Windows Media Player without any problem.
Part 2. Recommend 8 MOV Player for Windows PC
With the influx of various media players in the market, choosing the one that's best suited for your system has become a difficult task. We need a player that's compatible with all the common file formats we use especially .mov keeping in mind that not all FREE Media Players support .mov format. So here's a compilation of the best Media Players for Windows which allows you to play MOV on Windows.
The first name to come up in any media player related discussion is VLC Media Player. It's simple, and it's fast, and it supports every single format out there. It's widely known as "play everything" video player because of its customization options and support for innumerable file formats and compression methods.
Pros:
• It's a free Media player and enables you to play MOV on windows.
• Efficiently runs on all versions of Windows, from XP SP3 to Windows 10.
• Open source media player.
• Can play almost any media file without additional codec pack installation.
Cons:
• If the hardware isn't supportive then playing 4K videos in VLC can result in glitches, hiccups, and choppy playbacks.
• Sometimes there's playback error when playing directly from DVD.
PotPlayer is a lightweight experience with maximum performance. Equipped with several customization options, Potplayer supports even more file formats than the VLC player and has the ability to play even broken and incomplete AVI files.
Pros:
• Can play MOV on Windows easily.
• Built-in filters for contrast, hue, brightness and noise reduction to enhance video playing experience.
• Built-in hotkeys and keyboard shortcuts make it easy to execute.
• Every Windows version from XP to Windows 10 supports PotPlayer.
Cons:
• GUI is not user-friendly.
Nothing can beat the Media Player Classic, carrying the classic, nostalgic feel. Media Player Classic – home cinema features latest features to accomplish the present day demands. It's not loaded with incomprehensible fancy features, but it has all essential features and supports a wide range of file formats. Its noteworthy features are Skype integration, video capture, subtitle download and DVD player, etc.
Pros:
• Open source software.
• Allows playback from external devices.
Cons:
• It does not support video streaming.
For high-quality video lovers, DivX is an ideal MOV Windows media player. DivX gives you an amazing experience with high-definition videos and provides free HEVC and 4K (UltraHD) playback. Supporting all mainstream formats, DivX also supports popular internet formats to play TV shows and video clips fluently. Advance features like Trick Play, Chapter Points, and Smart Library augment video playing experience.
Pros:
• Supports video streaming via URL.
• Helps you transfer files to external devices like DVD.
Cons:
• The player sometimes hangs up.
How to play MOV files on Windows 10? KMPlayer is one great media player for Windows 10 which helps you play audio/video files of a vast range of formats that include .mov, FLV and QuickTime formats besides supporting mainstream extensions. Built-in codec excludes the need of installing additional codec packs and the feature like editing subtitles makes it interesting to use.
Pros:
• It supports a huge range of audio/video formats.
• Its 3D, 4K, UHD support helps you enjoy high definition videos.
Cons:
• Advance features aren't user-friendly.
• Prone to bugs and viruses.
Final Media Player is an awesome MOV media player for windows, which supports more than 80 videos, and audio formats. The program comes with virtually everything needed and no obscure codecs shall be required. You only need to download the program and start playing your videos without any problem. Unlike many other players, this player includes everything needed and therefore no need for third party software installation for support of particular type of file.
Pros:
• There is no need for installation of codecs because the program includes everything needed.
• This player supports many video and audio formats including the most popular ones like MOV, 3GP, AAC, AVI, WAV, WMA, AC3, ACT, and FLAC among others.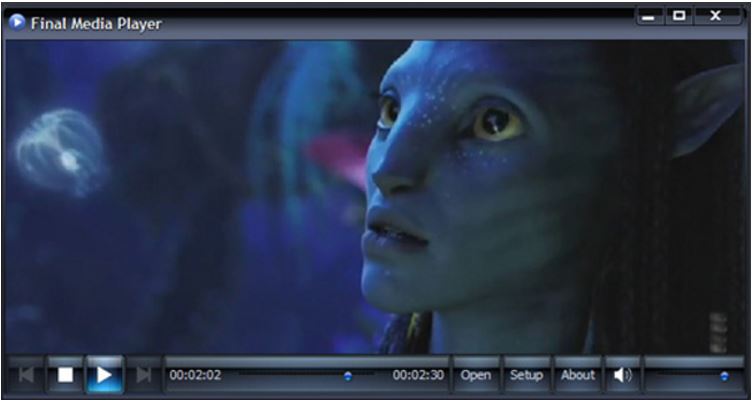 This is arguably one of the most rated MOV players which do not require installation of a third party software. It is a free player for devices like iMac, MacBook, MacBook Air and Pro among others. More than 180 and 450 audio and codecs are available respectively and you therefore cannot find problems such as being unable to play MP4, MKBV, WMV, or FLV and windows can't open files among others.
Pros:
• The program is compatible with QuickTime-compatible as well as Windows Media Player-Adaptable formats.
• This player supports more than 3000 video sharing platforms.
• With this program, you can rewind, forward, add subtitles to, and many other options or even create your playlist.
Cons:
• This player is not very configurable.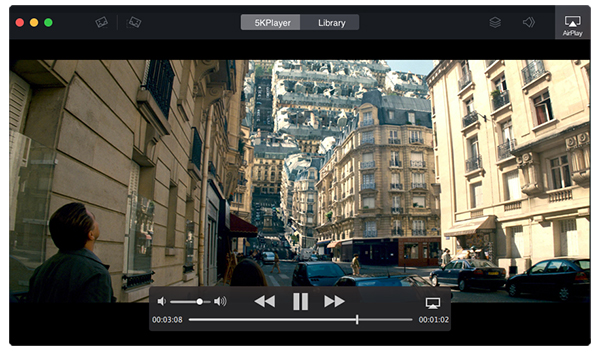 This is an extremely light-weight yet useful media player for windows which requires less system resources than other media players to run smoothly. This low resource windows player would run well in slower machines and older CPUs.
Pros:
• This player supports the EVR technology.
• This program is fast and efficient and performs file playbacks without the need for codecs.
• With this player, you can adjust the bitrate and resolution depending on your preference.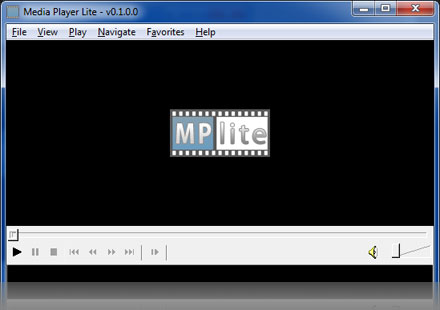 In this era of booming technology, playing a .mov file on windows is not complicated at all. Several opensource media players help you play .mov file on your Windows Operating System, and the easiest of them is to convert your .mov file to media player's supported format, and there's no better option than iSkysoft Video Converter Ultimate to convert your media files without compromising on quality. But if converting a file isn't your domain, then take a step further and download any of the mentioned media players to enjoy your .mov video.
Windows MOV Playing FAQs
Why Can't I Play MOV with Windows Media Player?
MOV is a video format that developed by Apple. No wonder you can't play Apple's MOV with Microsoft's Windows Media Player. In fact, Windows Media Player needs an MOV codec to play MOV files. This is not big deal. You can find an easy workaround as below.
What's the Best MOV Player to Play MOV on Windows?
QuickTime Player is the best MOV player. It's the default player to watch MOV videos in its original quality. QuickTime Player also works on Windows, but not all Windows PCs will install QuickTime Player so it's sometimes necessary to convert MOV to WMV for playing MOV in Windows Media Player which is the default media player on Windows.
How Do I Play MOV with Windows Media Player?
Even the latest Windows Media Player 11 doesn't come with an MOV codec to play MOV files in Windows. By installing an MOV codec, you can play MOV video files with Windows Media Player or other media players. Normally, you can simply install QuickTime Player to get an MOV codec. But QuickTime Player will also install lots of junks. Therefore, most people would like to install lightweight third-party codec packs like K-Lite Codec Pack. Get it here: http://www.codecguide.com/download_kl.htm