Think about this: you are a digital marketer, an active podcaster, or maybe a developing brand and you are aware of how much interactions short videos engage your customers. Therefore, you will need to create short video. However, there is a daunting task before you. Which short video maker are you suppose to trust for the content creation, and more so you are not a video guru?
Worry not because this article will get you sorted. Despite the hard decisions we had to make narrowing this down, we have listed the best 5 online short video makers that can get you started. Have a look at each of them.
Part 1. Best Short Video Maker to Create Video Online
Kizoa is one of the commonly used short video maker software to create videos of the slideshow-style to be shared on social media rather than making a cinematic masterpiece. To create a video using Kizoa, upload the right files, and the rest will be sorted. Also, this short video maker contains tools you can use to rotate and trim video clips, combine video clips and add titles. Also, before downloading the crafted video, tag with keywords to further customize it and save on the desktop or directly share via email or social media. However, to get started, you are supposed to sign up for a free account. The free subscription offers 1GB storage for your videos which will be watermarked.
You can customize and enhance videos with the edit features such as trim, tag keywords
Provides a shareable link for the created videos
Directly share the videos to social media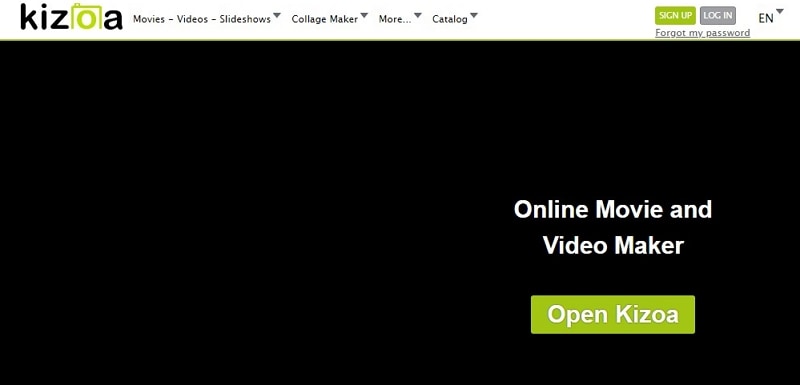 Adobe Spark is a slick and an easy to use short video maker, which you can use to craft Instagram posts, flyers, greeting cards in addition to videos. When creating the video, you have an option to use Adobe's themed templates, or start from scratch. Despite the prompt chosen, upload video clips or photos from the PC or cloud services like Google Drive, Dropbox, and Adobe's Creative Cloud.
Other Adobe Spark cool features include using your PC's Microphone to record audio, add background music, and apply color themes. And for you to adjust the length of the video clip, increase or reduce the number at the bottom right of the preview image. You are required to sign up to start using this short movie maker, and the resultant clip will display a small Adobe Spark watermark on the bottom which is an un-obstructive anyway.
Provides templates for creating the video
You can enhance the video with tools like apply color themes, add background music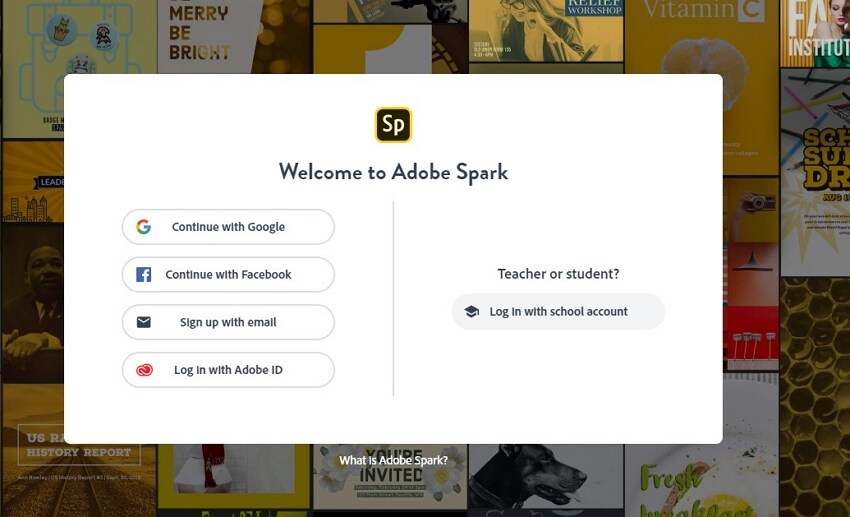 ClipChamp online free version is far much simpler in contrast to the above described short video maker. It lacks some of the advanced features, but it's excellent in what it does, balances between power and usability. To upload the video to this program, either choose the one you've already recorded or use the webcam to capture new footage. Both of the two methods function well, and once the footage has been uploaded, you can readily access tools which include flipping, cropping, trimming, and rotating.
Free users can only export video in standard definition. It's worth noting that the processing is fast and the final product can be shared online or downloaded to the PC.
Allows to use your Webcam to capture new footage
You can perform video edits with tools including brightness/contrast adjustment, cropping, trimming
Directly send created videos online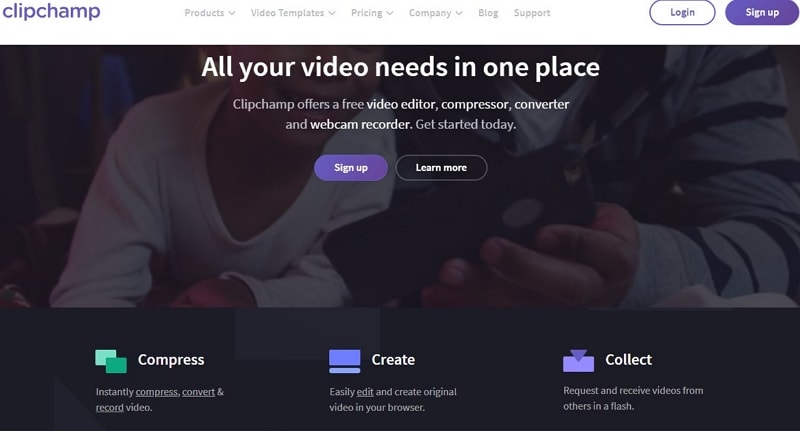 Movie Maker online is an amazing and flexible short video maker with royalty-free media to supplement the video clips. But first, you need to be informed that this program is funded by ads that you may find disturbing, and you'll be required to scrap any ad-blocking plugins already installed to be able to use it. Getting beyond that, you can import images, video, and music by dragging and dropping them on the software's timeline.
Movie Maker Online timeline is a bit strange, hence scroll down to find it. Like the above-discussed programs, you can crop uploaded footage, use fade options, text overlays, transitions and more
Set the time scale of the video using the timeline
You can add effects and filters
It is a free online short video maker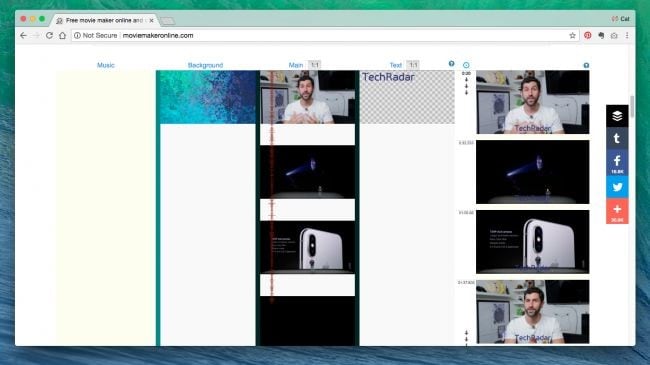 Animoto is a popular online short video maker which was founded in 2006, by Jason Hsiao, Brad Jefferson, Tom Clifton, and Steve Clifton. They were inspired to design this quick video maker by poor video quality which was available on the internet. This short video maker allows you to add and easily combine music, text, and images and return a video. After uploading those files, Animoto adds effects to create slick and professional videos. Again, to start using Animoto sign up first.
Cinematic Artificial intelligence analyzes the song feel and effect and creates a transition for the footage
Adjust and control the clips pace and pace of the complete video
Allows addition of up to 10 songs in the different clips of the video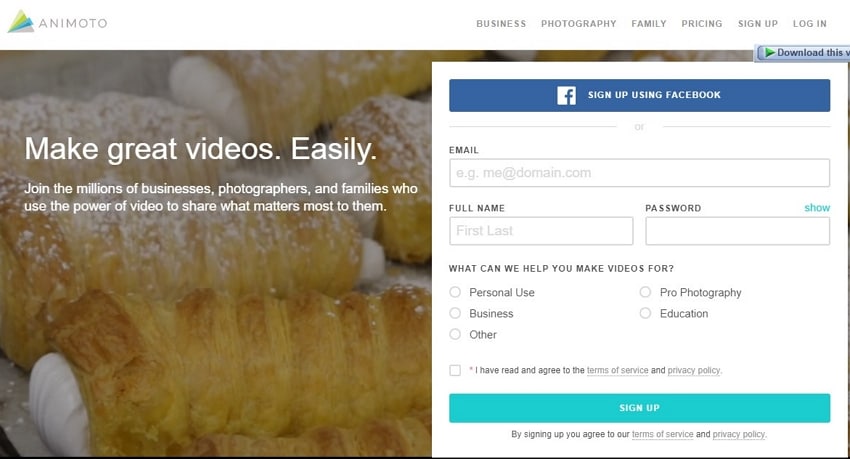 Part 2. Best video Converter You Must Know
Have you ever come across a media file failing to play or open after sharing to another device or a document received from a friend? This failure is often due to different file format compatibility issues. Therefore, to avoid such unwelcomed experience, it's necessary to convert video to be compatible with the device in question. And the right software to use UniConverter. See the outstanding features below:
Get the Best Video Converter:
Supports converting video and audio in over 150 formats, including MP4, MP3, MOV, WMV, MPEG, AVI, ISO, etc.
Allows conversion of video 90 times faster; batch conversion is supported.
Zero quality will be lost during the conversion.
Personalize and enhance videos after conversion with editing tools like crop, add subtitles, green screen, etc.
Download online video from YouTube, Vimeo, Facebook, or other more than 1000 sites.
Burn video to DVD with templates; burn music to CD.
It works will on macOS 10.7 Lion to 10.15 Catalina, and Windows 10/8/7/XP/Vista.
How to convert video using UniConverter
Step 1. Import videos to iSkysoft video converter
Open UniConverter, and drag the video and drop on the software. Alternatively, click the "Add Files" tab to open the file explorer and follow the on-screen instructions to import the file. Batch conversion is supported.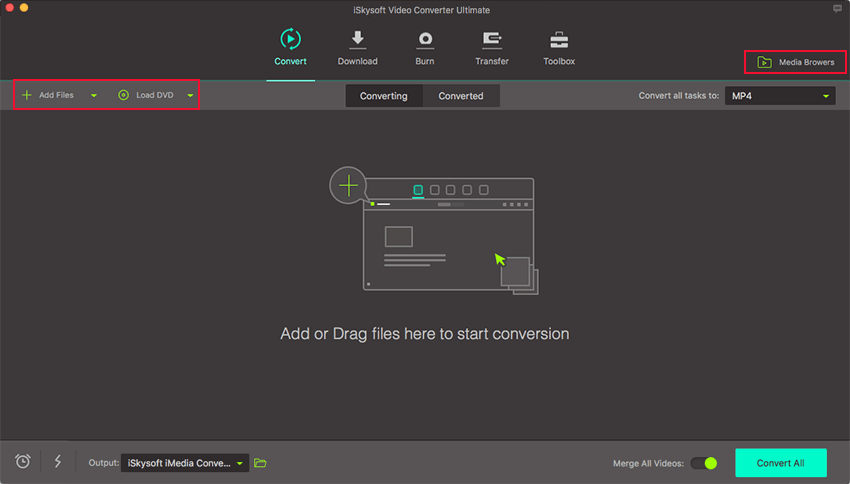 Step 2. Select the output format
From the 150+ different file formats, choose the appropriate one depending on the devices. The popular and universal like video formats include MP4, MOV, M4V, AVI, and more. Also, you can select output device such as iPhone, PSP, iPad or Android as required.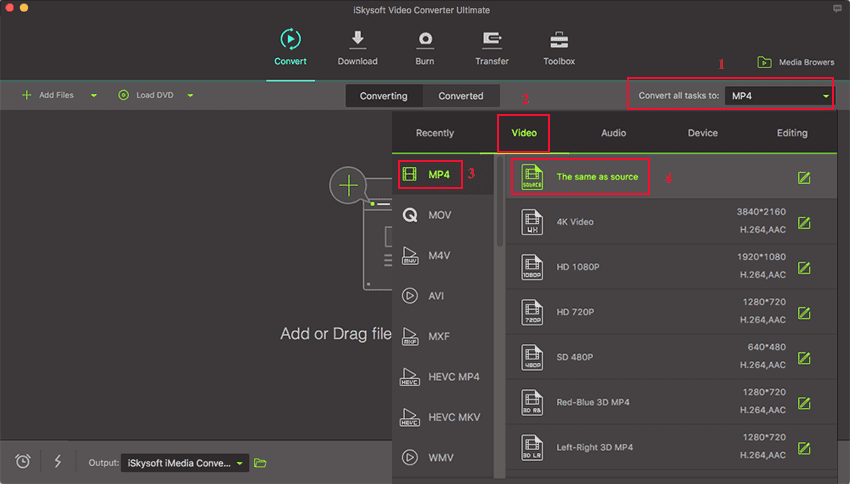 Step 3. Choose to save directory and convert the video files
Select the preferred save location for your converted video by clicking the following tabs in a procedural manner, "Menu" > "Preferences" > "Location" to access location tab change the path. Now, to convert the video, tap the "Convert All" button. And in case of a single video, click "Convert" button on the right of the video item.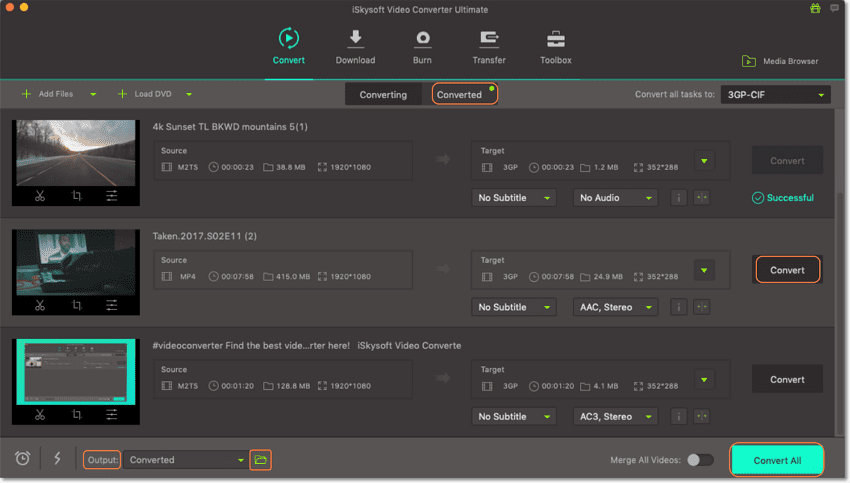 High Quality Video Converter, 90X Faster Speed! - UniConverter