Part 1. Learn in advance for compress video for email.
Before you can learn how to compress the videos for email, you should have a general idea of the size of the video you can transfer via email. We have mentioned detailed information on the size limits for four major service providers.
In Outlook.com, the users can attach a file up to 20MB; however, for exchange change, you can check the default size limit is only 10MB.
For Gmail, the highest attachment limit for file size to be sent via email is 25MB.
iCloud Mail also limits the size of messages to 20MB, and it is inclusive of files and text messages for attachment.
For Yahoo, you can send a file size of up to 25 MB via email attachment.
As stated above, you can infer the maximum size of attachment that can be transferred via email is 20MB to 25MB, and if you want to send a large file, it can easily exceed the size limit. This is why we often require a few extra measures to make the video smaller to be sent via email.
If you are wondering how you can send the videos via email or the videos can be compressed to be sent via email, then do know there is much software that will help you compress the videos and reduce their size.
Get the Best Video Compressor for Email:
Easiliy compress video for Email on Mac or Windows PC.
You can change the video resolution, encoder, frame rate, bit rate, and format for your video.
It supports video in over 150 formats, including MP4, MOV, AVI, MKV, MP4, WMV, etc.
Batch process is supported.
More than compresing video for Email, it also works as video converter, online video downloader, DVD burnner, screen recorder, etc.
Compatible with macOS 10.7 Lion to 10.15 Catalina, and Windows 10/8/7/XP/Vista.
Zip Files:
It is an archive format for files that can offer lossless data compression. Zipping the files always reduces the size and makes it easier to send the video through email.
It will not change the video quality, and the user will not experience a major decrease in video size. For example, if you have a big video of 50MB, then after compressing it in a ZIP file, you can have a file of 40MB, which will still exceed the size limit for outlook, Gmail, And various other email providers.
For zipping the video for email, you can right-click on the video and then click on send, followed by a compressed (zipped) folder.
Zipping your file is best for smaller videos requiring just a slight reduction of size to go through email.
Video Compressors:
The tools can be installed and downloaded on the computer and are available online. They can encode the video so that it can shrink the data, which entails that it will take less space, and it is how you can send big-size video via email.
Compressing the video to a smaller size will allow you to send it via email. Still, you can also upload it through YouTube and various other mobile applications to help you save the storage space for the mobile phone and computer. You can imagine how much savings you tend to save if all your large videos are half the size on your device.
One of the ways of compressing the videos to send them via email effectively is to download a quality-based video converter. It will help you compress WMV, AVI, MOV, MP4, and various other videos effectively and simply. Many video compressors are available for free, especially if you are a newbie; however, the professionals can buy their premium version regularly if you require the video compression facility.
iPhone or Android apps:
These are smartphone applications that allow you to access your image or photo library directly; the user can compress and then save the video to send via email from the cell phone itself. You can choose from various compatible options with Android and iPhone devices.
If you have a video on your mobile and its size is too big to be sent by email, you can try to compress the video file with the help of an online video compressor. On accessing an online video compressor, you will notice the video's size is reduced significantly, and you can send it via email.
To start with, open the online video compressor on your mobile.
Upload video from your video gallery, reset the desired setting for the video size (20MB or 25MB) and then tap compress.
Video will automatically be compressed to the desired size.
You can download the file and send it to your friends via email.
iMovie:
It is an in-built video editing tool for Macbook. It offers video compression functionality in its software and is the best way for compressing videos for the email on your iOS or Mac devices.
Cloud Service:
Comprising options like Google Drive and Dropbox, the cloud services offer feasible video file compression and storage without stressing quality. Here you can send videos via email with the optimized video size.
Part 2: Compress Video for email on Windows/Mac
Method 1: Use Zip to compress your video files; it will reduce the 20%~30% video file size.
One of the quickest ways to compress the files is to zip them. It will ensure that the file size is reduced while the video quality remains the same. A lot of people zip the files to reduce their size significantly. This is known to be one of the effective methods for sharing video files.
How to zip your video files on the Windows OS?
Step 1: Select the video file and then right-click on the icon
Step 2: Choose the option sent to followed by compressed to and then zipped folder.
Follow the above listed steps and your file will be compressed.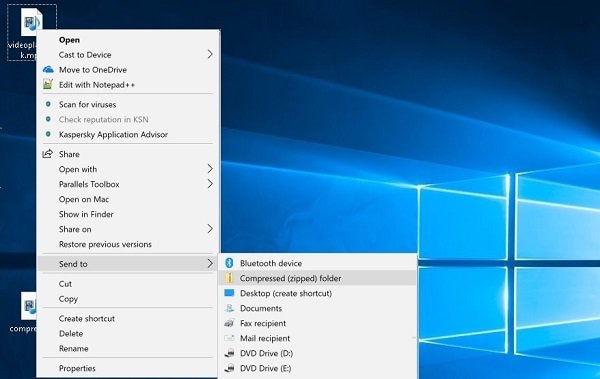 How to zip your files on mac?
Step 1: Select the video file and right click on it.
Step 2: Now select choose icon then compress
Step 3: Follow the above listed steps and your file will be compressed as desired.
The above stated two methods will help you in compressing your files in a zip folder for both windows and Mac. Try them on your PC to use zipper for sending the video files via email.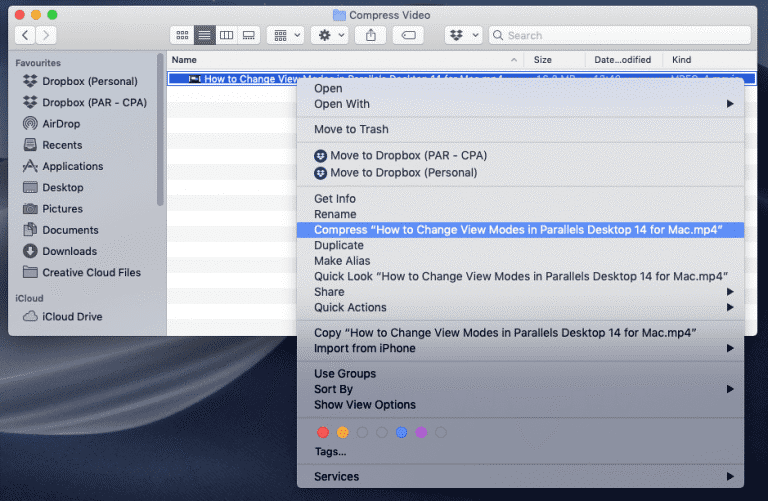 Method 2: Use UniConverter to Compress video
The video compression feature for the UniConverter software will allow you to reduce or resize the files. Here you can either opt for automatic software compression or can choose the file size and various other parameters for compressing the size. Then preview the file for the first 20 seconds to check the quality.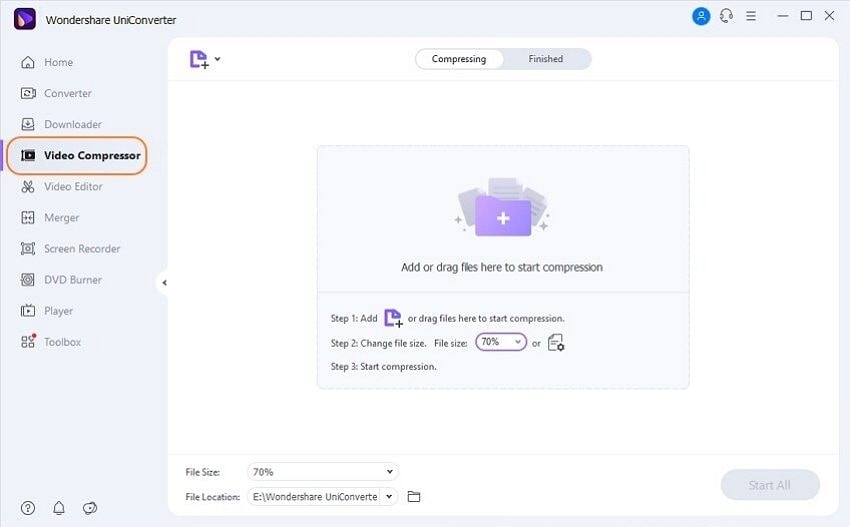 Step 1: To start through, launch the Wondershare UniConverter software on your device and then choose the video compressor option via the left side panel on its main interface.
Step 2: Now start adding the video for compressing: Hit "+ sign" or you can browse or load the videos that are to be compressed. The software also supports batch conversion so you can add a complete folder.
Step 3: Select parameters and file size: The video added will appear along with a thumbnail image and details. You can click on the settings button and a brand new pop up window will be open. Now move your slider that is next to the file size for selecting the desired quality and size and you can set your bitrate option to variable bitrate or constant bit rate. Also you can even look at changing the resolution and format as required. And then click OK to confirm the parameters ratios.
Now you can check the preview button for having a look at compressed video.
Step 4: The desktop location for saving the video can be selected on clicking on the file location tab and finally you can click upon the compress tab to start the video processing. On your software interface the newly compressed videos can be found under the finished tab.
Another way by which you can compress many files with the similar compression parameters is to use the option named as converter section. You can select the target format for batch conversion and change the parameter setting accordingly.
Part 3. Use online video compressor.
Here are some of the reasons why online video compressor is a perfect choice for Android, iPhone, Mac or Windows:
Convenient to use:
Users can compress their video in any format by just opening the online video compressor on the web browser without downloading any software. Most of them support mobile devices and Windows, Mac, Linux, etc.
The Online video compressor will allow you to compress the videos from the Dropbox and then share them on YouTube, Instagram, Whatsapp, etc.
Privacy Policy:
Always look for online video compressors that have secure HTTPS or SSL connection so that the files you have uploaded for compression will be successfully removed from their server in a day or 24 hours. It allows the users to use the online video compressor without worrying about anything.
Supported formats:
Few online video converters have limits you can check online on their websites before starting over. The online video compressor can be compressed for the resolution inclusive of 240p, 360p, 480p, 720p, 1080p, etc.
Output settings:
The output settings allows the user to check the video resolution, format and output size for compressing. It is one of the best ways for reducing the size of the video without any loss of quality.
Speedy compression
Video compressor is best designed for reconstructing the files original data.
No file limit and water mark.
With the online video compressor you can compress a big file and there will be no watermark added too.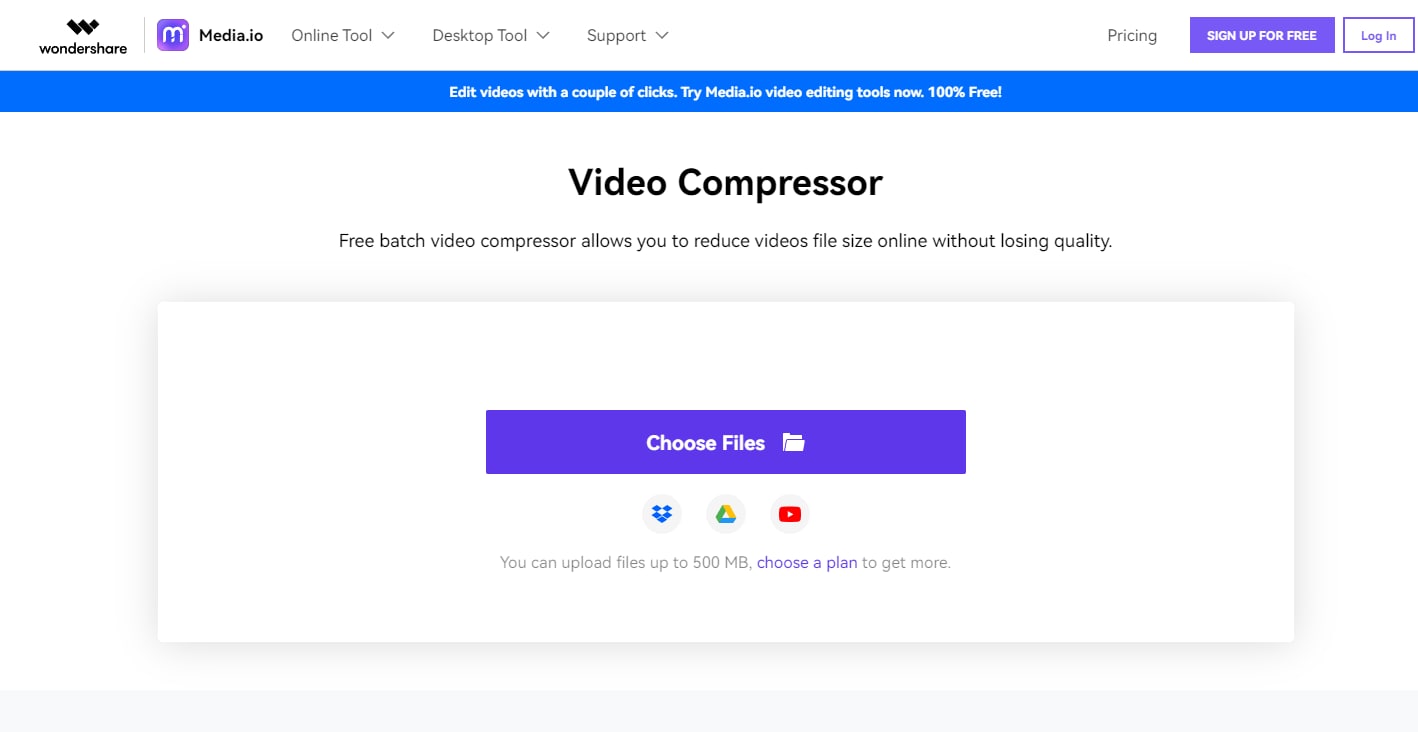 For online video compressors we recommend using media.io. Let's see how you can compress video with the help of media.io:
Step 1: Start adding your video files:
Once you have opened media.io on your web browser, you can click on "choose file" icon to start uploading the video from your network disc or computer.
Step 2: Compressing the video size:
To proceed further look for custom video resolution, output format, size and bitrate as required for video compression and then click upon the compress tab. Also choose settings for compressing videos upto a certain size without any loss of quality.
Now save you new compressed video:
In a single click you hit on the download option so that you can save the final video from Google Drive or Dropbox.
Part 4. Use Video Compressor App ( iPhone/Android worked )
The video compressor apps can be used on mobile for both the versions, iPhone or Android. Here we recommend the users to look for "Video compressor - save space".
The video compressor is used for compressing the video and to save your space. You can shrink your videos and enjoy your free space. Some of the features of Video compressor-save space are:
Compress your video easily
Set up compression ratio
Preview your video for checking the image quality
Set frame rate, bitrate, custom resolution etc.
Lets see how you can compress the video via using Video compressor - save space.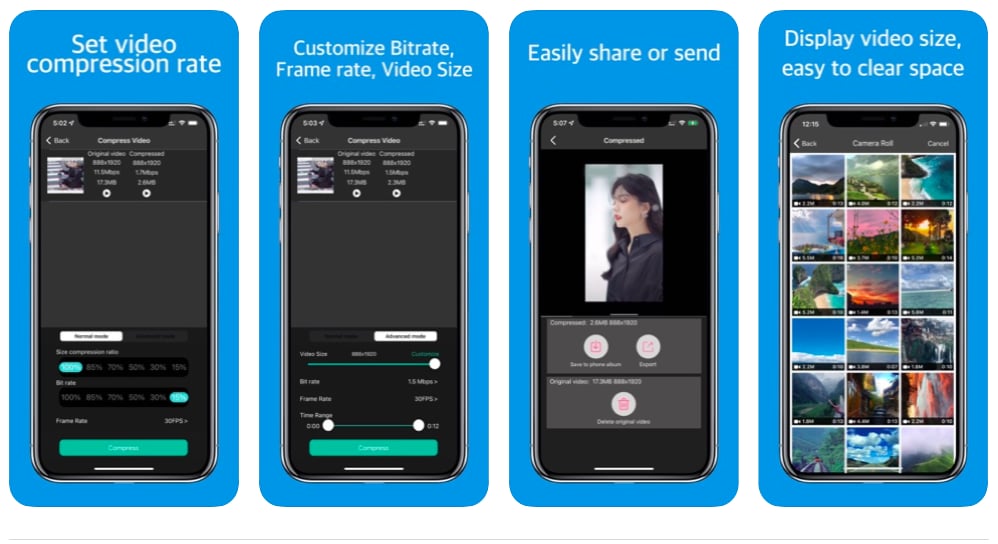 To start reducing the video size you need to launch the app and then select the video you want to compress. Then you will be forwarded to compress video where you set frame rate, video size, bitrate, etc. Once selected the app will automatically take you up to the next stage for compressing the videos and you can have your compressed video within a few minutes.
We have tried to cover every possible aspect related to the video compressor and how you can effectively use the software and online video compressor to reduce the size of your file. If you are looking for one of the best tool for compressing the videos then do look for the above listed one it will help you in ensuring that you have quality compression of videos.