Why need resize video size?
I made a video with sony vegas 7. I saved about 8 clips, each is about 2GB big! Does anybody know a free and easy to use software to resize the clips without losing too much quality? I mean normal movies sizes are 700 mb, I'd like to resize my clips to that size too. Please help.
Part 1. How to Reduce Video Size on Mac and Windows
To resize video file, there are 2 options for you:
#1. Convert your original video format to another format which saves video with smaller size. For example, saving a same movie in 1 hour, AVI file is usually too big which always occupies too much space of your device or computer, while FLV file will be smaller.
#2. Keep your file format but reset your video settings like resolution for reducing the video size.
No matter what choice you make, UniConverter helps you do the job! It works as a video resizer converter, which can both convert your video to other format with smaller size (resize video without losing quality), or resize video to a small size in the same format. Now you can get more features of this video resizer tool.
Get the Best Video Resizer:
Resize video to any size by customizing the video settings, including video resolution, bitrate, quality.
Easily convert video to 150+ standard or HD video formats, including MP4, FLV, AVI, DV, WMV, MKV, HD MOV, MTS, M2TS, etc.
Edit video with built-in editing tool. You can trim, crop, rotate videos or add subtitles/watermarks/special effects to videos.
Download video from 1,000+ online video websites, such as YouTube, Hulu, Vimeo, Dailymotion, AOL, and so on.
Transfer converted or downloaded smaller-sized video to your mobile phones or tablets to enjoy on the go.
Provide with several interesting handy tools like GIF maker, VR converter, screen recorder, cast to TV for your convenience.
Perfectly compatible with macOS 10.7 and later, and Windows 10/8/7/XP/Vista.
2 Ways to Resize Video on Mac and Windows with iSkysoft Video Resizer
Here we provide you both video tutorial on how to resize video on Mac and step-by-step guide for compressing video on Windows.
Step 1. Install the Video Resizer and Add your Video Files
Launch iSkysoft video resizer on your Mac or Windows, drag and drop your files directly to it. Alternatively, you can go to the Add Files button to import videos to the video resizer. If you want to resize the video in your iPhone, Android Phones or other mobile tablets, click the drop down icon to directly load from your device.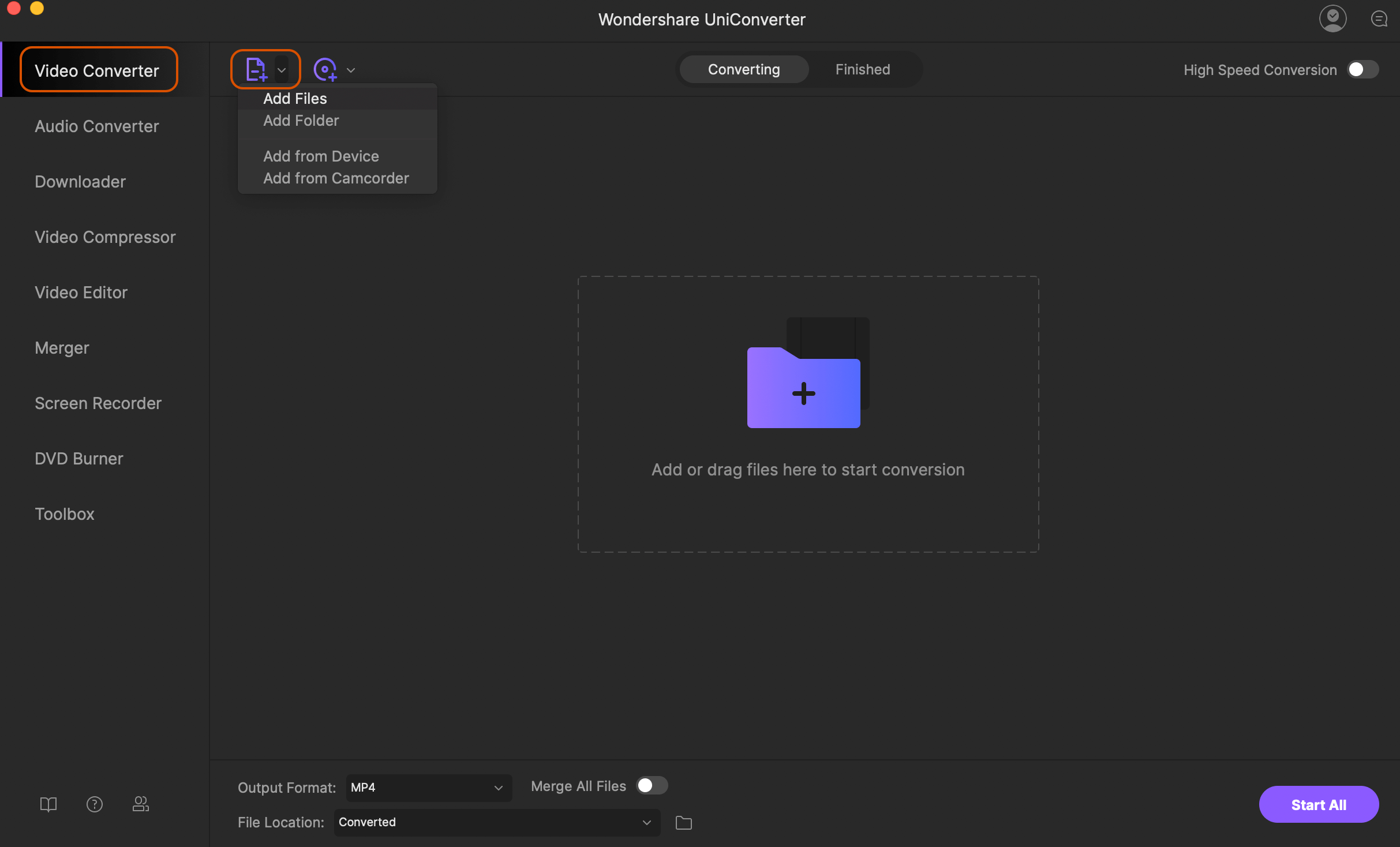 Step 2. Resize your video on Mac or Windows
To resize video, here you can:
Method 1. Choose a proper output format from the formats list to downsize video. Just like what have mentioned above, you can resize your AVI files by converting AVI to FLV, which is smaller size with same quality.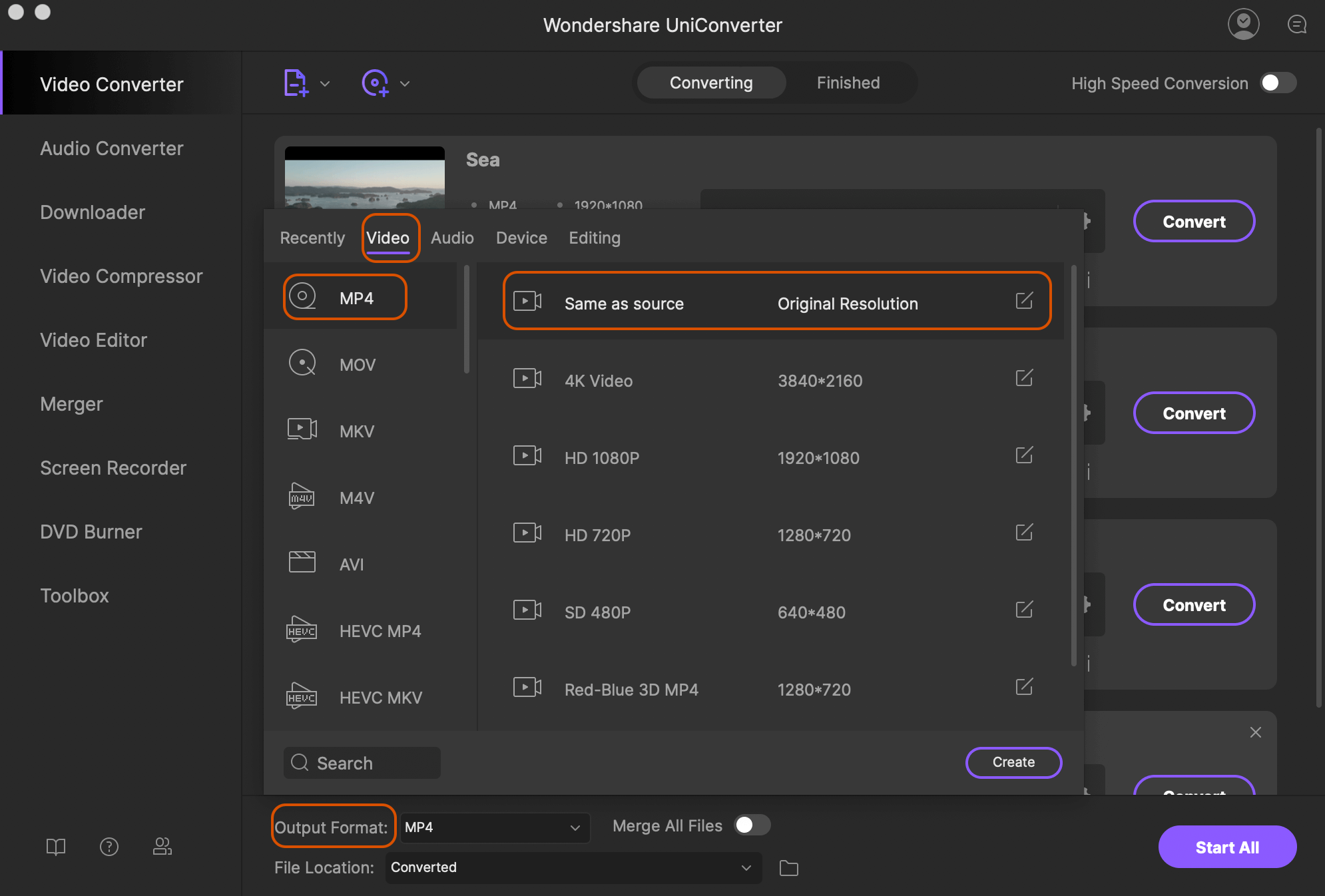 Method 2. If you don't want to change the video format, you can keep the same format but adjust the video parameter to change video size. For instance, you can lower down the video resolution to do the size reducing task. Here is how you can do it.
Choose the same video format on the right side. Click the Compress icon (which is marked in red in the screenshot below). The file size will change as you drag the bar. You can also see the resolution, bitrate, and quality here. Click OK when the video size is good for you.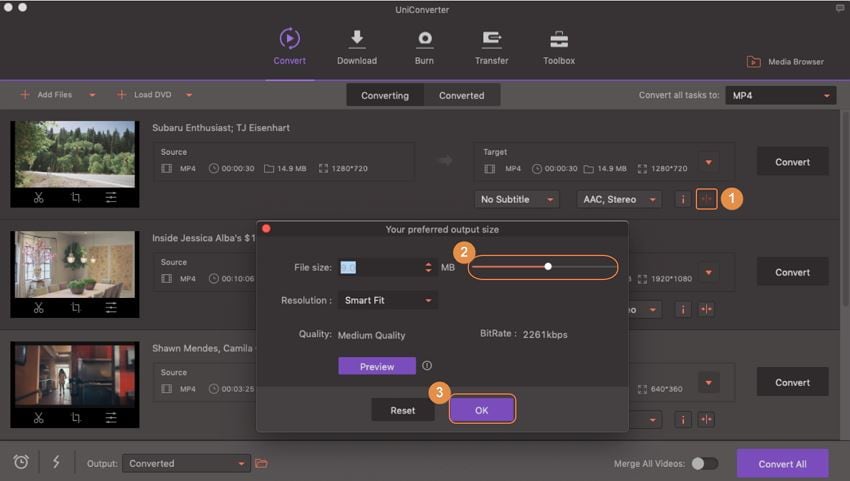 Optional: There is a in-built video editor that you can crop or trim your video as you want.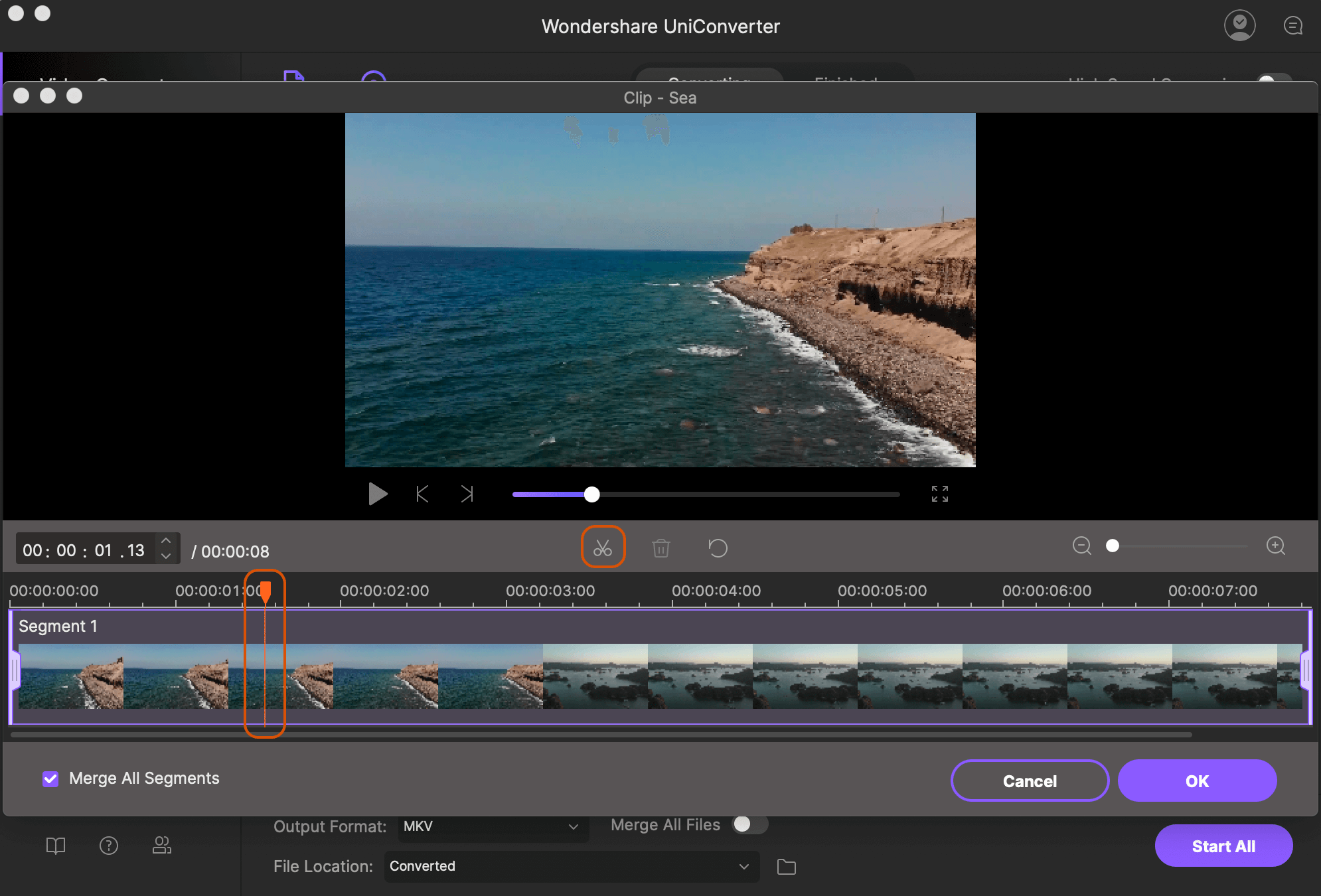 Step 3. Start the video resize task
No matter what kind of choice you have made on step 2, here all you need to do is to click the Convert button in the video display bar or Convert All option if you have inserted more than 1 video. This Video Converter will finish in seconds.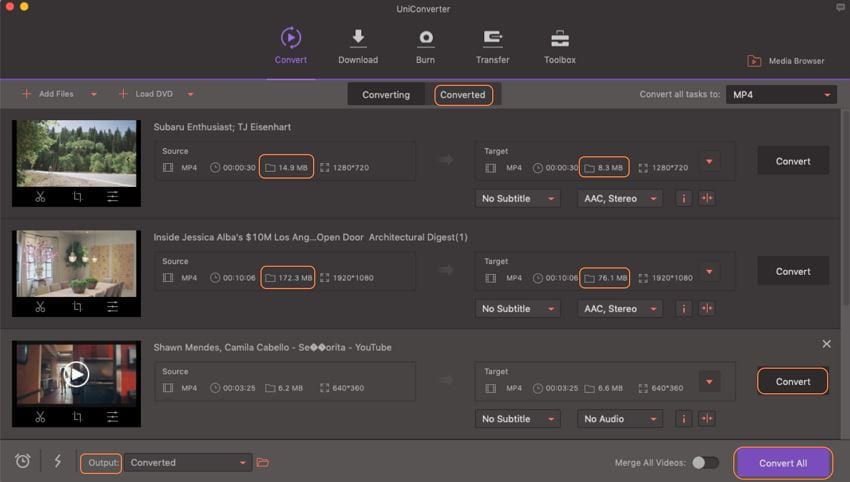 Part 2. Recommend 5 Free Video Resizer
#1. Windows Movie Maker
Windows Movie Maker should definitely top your priority list as far as the best free video resizer for your computer is concerned. This is a basic video editing tools equipped with numerous excellent features aimed at improving the effectiveness as well as user experience. Apart from video resizing, Windows Movie Maker provides other types of video editing requirements including audio change, and video clip cutting only to mention but a few. All these can be done with excellent precision as every user would wish. The tool supports a wide range of common video file formats like MP4, MOV, AVI, and WMV among others.
Pros:
• Windows Movie Maker features an intuitive interface and gives excellent results.
• The program is a total no-brainer tool.
Cons:
• With this tool, you cannot be able to save huge movies edited and crashes quite often.
How to Resize videos using Windows Movie Maker:
Step 1. Download Windows Movie Maker, install and launch it on your computer.
Step 2. Go to "Tasks" and then Capture > Import Video, to browse and then add local videos. Chose the videos you would like to resize and drag to the Timeline panel of the program.
Step 3. Go to File>Save Movie File and then "Create custom" settings so as to open the settings window. From this new window, make your own adjustments to resize your video.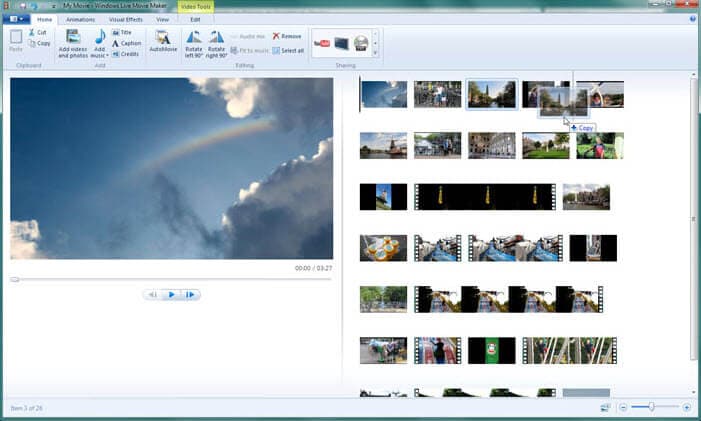 #2. iMovie
iMovie is no doubt among the best and highly rated video resizing tool for both mac and windows operating systems. Many users across the globe have been and continue to use this software thanks to its amazing capabilities. You can easily cut or resize your MP4 video file with ease using this good tool. One of the highlights is that this program features advanced options but is just a basic level video editing tool. There are indeed plenty of newer features incorporated especially in the Mac OS.
Pros:
• iMovie provides a way for users to select a theme.
• The editing options is much improved as there are advanced options available.
Cons:
• The tool lacks options for native AVCHD editing.
Guide on How to Resize Video Using iMovie:
Step 1. Launch the program and go to the project browser and select the video to be resized.
Step 2. Click on the crop button to commence resizing. Alternatively, press the keyboard shortcut R.
Step 3. Within the viewer, click on crop option, drag and reposition the rectangle to suitably resize your video. Stop pressing the resize once your size is achieved. You can choose to play the video on the viewer to confirm whether it is resized.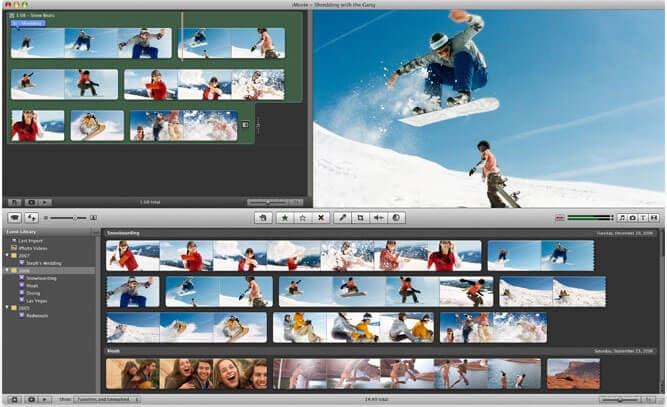 #3. Avidemux
Avidemux is one of the most popular, yet amazing video resizing apps for a computer. The video-editing tool provides an array of options for users as long as video editing come into play. With an intuitive interface, it becomes as easy as a cup of tea for users to navigate through the processes. Avidemux does not only support video resizing but support other common and fun video activities. Resizing your MP4 video file would be a super easy task.
Pros:
• This program is lightweight and hence does not stress the computer.
• This tool is capable of handling various range of formats.
• Avidemux is fairly simple.
Cons:
• This tool can be a bit complicated to new users.
How to Resize Video Using Avidemux:
Step 1. Visit the official Avidemux's page, download the program suitable to your operating system and install it on your computer.
Step 2. Launch the program from the start menu and go to the interested video. Drag the respective video and drop it to the main interface and click on the crop icon to begin resizing your video.
Step 3. Within the viewer, click on crop option, drag and reposition the rectangle to suitably resize your video. Stop pressing the resize once your size is achieved. You can choose to play the video on the viewer to confirm whether it is resized.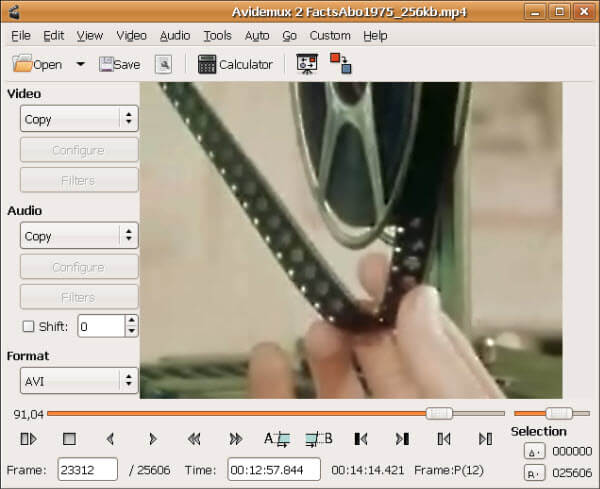 #4. Free Resize Video
Free Resize Video is generally among the most outstanding free video resizing application for computer. The tool features a number of excellent and useful advanced video editing capabilities and can be utilized to resize videos of diverse formats. In we can zoom in and zoom out any format for convenient resizing.
Pros:
• Supports large range of video formats.
• There are several video editing options available.
• The quality of the video obtained is high.
How to Resize Videos using Free Resize Video:
Step 1. Launch the program and press the + button to add the video.
Step 2. Supply new values for the width and height in the respective columns.
Step 3. Go to the "settings" button, select an output format and click on "Render" button to obtain the new video.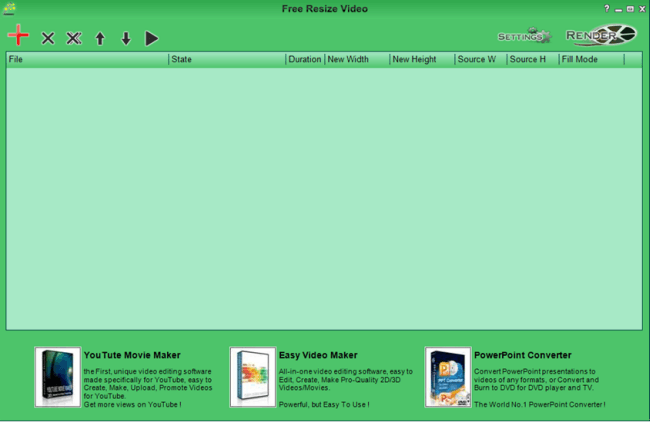 #5. VSDC Free Video Editor
This is arguably a top notch free video editor tool for windows. Compared to most of free video editors, this tool is considered an advanced program thanks to an array of advanced editing features. You can effectively crop, resize or edit your high quality or HD videos with ease depending on your interest. The user-friendly interface makes it quite easy for users to navigate through the program. You will also among others being in a position to access a range of useful filters and output options for your videos.
Pros:
• This program provides an array of useful video filters.
• VSDC Free Video Editor has a wide range of output options.
• This is an easy-to-use program featuring an intuitive interface.
Cons:
• The program requires a high level of computer resources specifically the CPU and RAM.
How to Resize Video Using VSDC Free Video Editor:
Step 1. Start a new project, select an HD option and drag the respective video on the program interface.
Step 2. In the left navigation menu of the Projects explorer double-click video "Scene" and then click on the video within the scene listing to display edit options.
Step 3. To get rid of some sections of video click on "Cut Region", set markers, "Add Area of Deleting" and "Apply Changes." You can add more than one cut region before applying.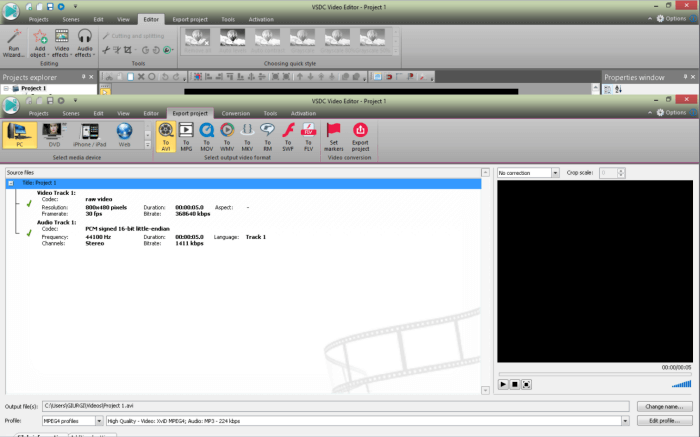 Part 3. Online Tools to Resize Video Online
Kapwing is a user-friendly studio video maker essential in carrying out the resizing of files in a simple manner. By using this online tool, you get to have the liberty of cropping, resizing the video file online according to your needs. Moreover, it can customize videos depending upon the media channel. So, if one is struggling to upload a landscape video to IG, Kapwing can flare it instantly. It leverages users with the advanced options like Speed Adjustment, splitting and merging videos and supporting text overlay in an easy manner.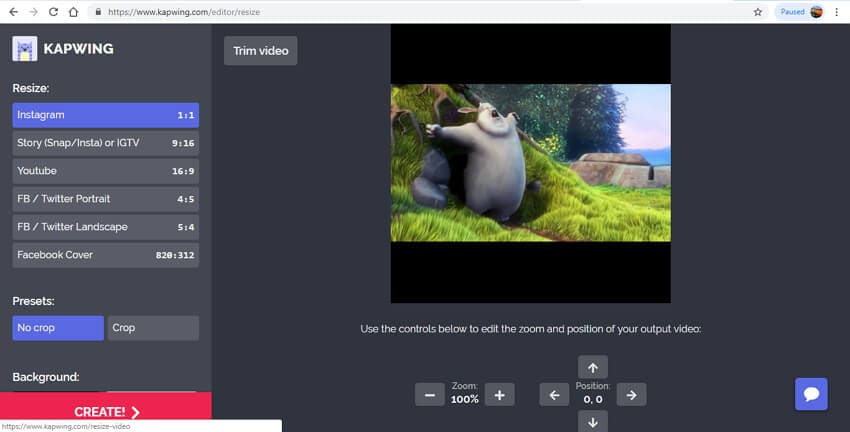 Media.io is an ever-famous online size compressor that users can bookmark! This handy tool is designed to work as a useful converter capable of converting .MOV, WAV, MP3, MP4 and several other famous file formats effectively. It can manage to set desired set of resolution. So, if you have a large file, media.io can resize the video online without having to put in any cost. In addition to this, users can dash in the file with respective edits, additions and export it to the desired location.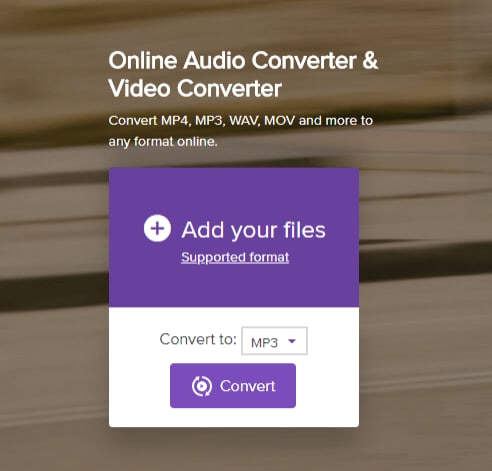 One of the simple and multi-purpose online tools vital in flaring videos in a great way is Online Converter. This is not just a converter but helps in efficiently resizing video online in just a tap. Apart from converting, it stretches support with a wide range of video files such as the mp4, avi, wmv, flv, mov, vob, 3gp and several other file formats. Also, making adjustments in the height and width is no task for this converter. Also, users needn't to worry about resizing the video online, as its user interface is very user-friendly and helpful.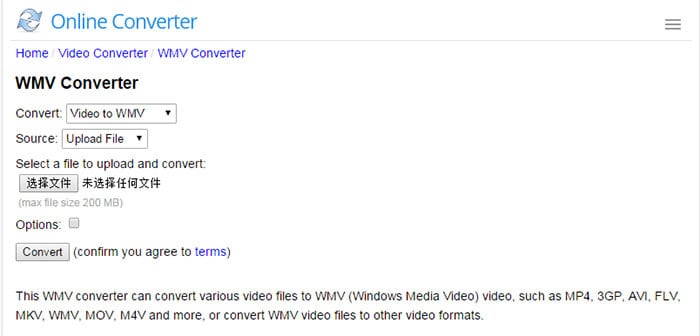 This online platform can also be considered in the bucket of essential tools helpful in compressing and resizing the desired video file easily. By using this resizer, you get to crop your desired video and fit it to fixed screen size. It just takes three simple steps if you wonder how to resize video online via this tool. In addition to this, resize video online can help you in adding black borders on top and bottom of the video.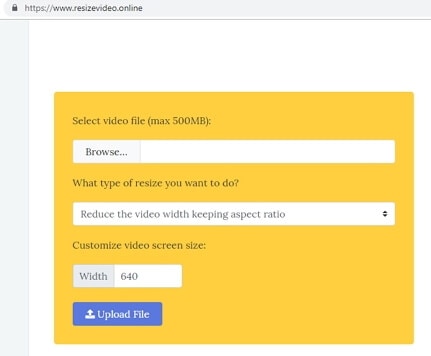 The last in our bucket of great tools is EZGIF.COM – an impeccable web-based solution that ensures to cover down a pool of file types such as MOV, WebM, MP4 and several others. It supports maximum of 100MB file size for resizing. This online free video resizer gives you the option to decide whether you wish to resize a local video or simply add URL from online website of the video to resize it.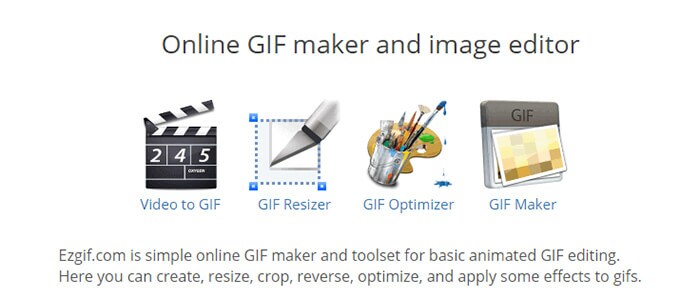 Part 4. Best Video Resizer for iPhone
#1. VivaVideo
VivaVideo is a common amazing video editing tool for both iOS and Android devices and probably an excellent choice for users. The tool allows users to perform quick trimming and merging of video clips on a net timeline without any lag. VivaVideo has an extremely wide range of content and provides over two hundred stickers, text arrangements, themes, filters, and transitions to play with among others at an absolute no cost. You can also make slideshows with ease using the built-in features using a few clips. The application's layout is quite outstanding as you can switch between different menu sections for various tasks.
Pros:
• The app provides an outstanding amount of content.
• The tool has an amazing layout that makes it easy to switch between different menu sections.
Cons:
• The program requires a bit of some learning curve.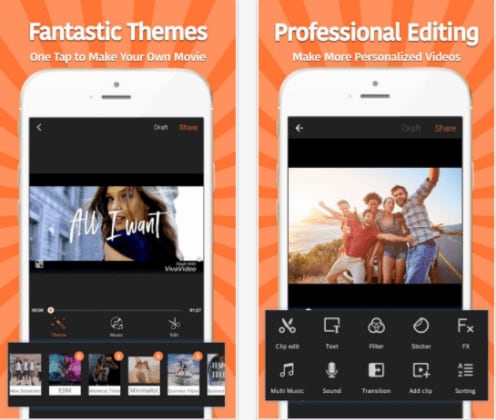 #2. Splice
Splice is no doubt one of the most outstanding free resizing applications for iOS devices. The video editior is easy to use with users required to select the video clip to be resized. The program's timeline would present each video as an individual clip to undergo editing if necessary. By tapping the respective video, you are sent to a separate area where you can choose to add effects, adjust text overlays as well as trim selections. When the changes are effected, you can go back to the main board for other clips. You can even add sound effects or record voice-over narration for the video f interest.
Pros:
• The program gives a good quality output.
• This program provides quick and easy editing.
Cons:
• Splice does not have all the themes and effects compared to VivaVideo.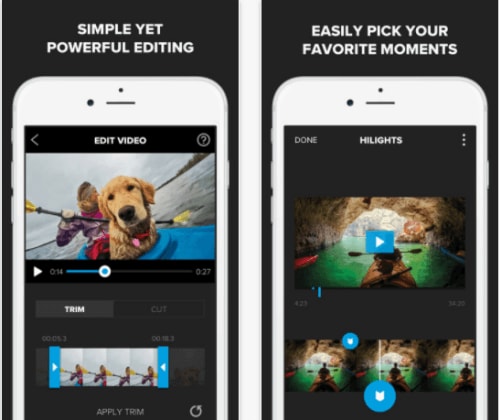 #3. Quik
Replay for sure isn't the most popular video editing application but deserves credit for its standout performance. The program allows users to do real-time edits without having to upload it to the server. Replay focuses on automatic creation of videos without the need for further editing. You can perfectly control your theme, music as well as video properties with great ease. Navigating through the program is easier than you thought, you begin by selecting the respective video and you will eb provided with a list of themes. With a few clicks, you will be able to trim or crop your video.
Pros:
• This program is easy to use.
• The interface is not complicated.
Cons:
• The best experience is realized after spending out some few coins.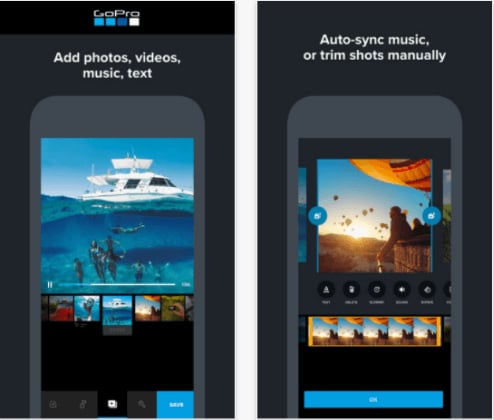 #4. iMovie
iMovie is arguably among the top rated video editing applications every iOS user would like to have. It is an app of its own kind featuring a mix of useful features geared towards a better user experience. It has an extremely good integration and takes advantage of latest features like 3D touch support, 1080p HD videos at 60 fps as well as ultra high-definition 4K footage. You can crop and trim your videos at your convenience. Furthermore, unique themes allow users ad tittles, transition, and music without the worry of cohesive design. With the built-in music and sound effects, you need not to worry about lacking your own music on-device. Another hit for this particular application is the ability to access movies on iCloud via Apple TV with iMovie Theatre. You can as well upload and share your resized videos directly to CNN iReport or on common video sharing platforms.
Pros:
• The user interface is quite friendly.
• The program provides a number of useful edit options.
Cons:
• Some effects are a bit limited.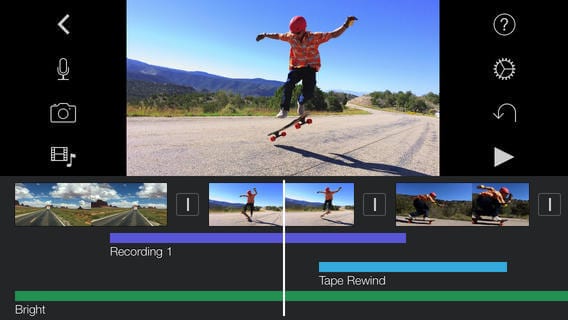 Part 5. Top Video Resizer for Android
#1. Video Compressor
Video Compressor is a powerful video resizer tool for android devices. The program is compatible with android versions beginning with 3.0. Compressing your video is not a difficult task at all and once done can be shared via email or on any other social platforms such as Facebook, WhatsApp, and Wechat among others. The main video formats supported here include AVI, MP4 as well as 3GP.
Pros:
• The program is compatible with many android versions.
• Resizing your videos is quite easy.
Cons:
• It supports a lower range of formats for Android.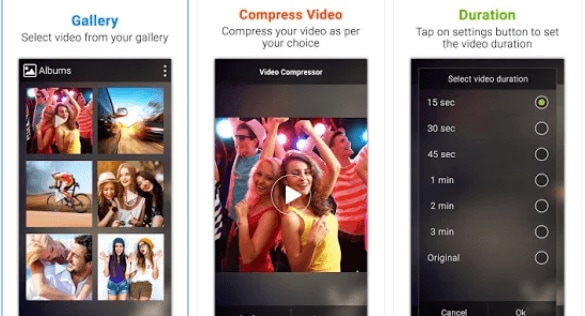 #2. Video Crop
Video Crop is another amazing video resizing application that is a perfect tinker tool for your video editing related problems. It is equipped with the relevant functions and capabilities to provide the most effective service and a perfect user experience.
Pros:
• This program provides one of the easiest video editing experience with flexibility in adjusting the necessary video parameters.
Cons:
• Some vital editing features are not provided.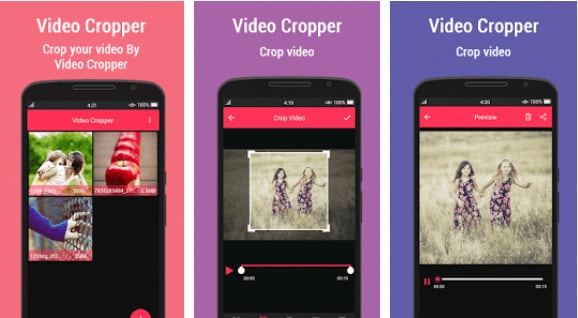 #3. Video Compressor by Sunshine
This is a very useful video resize tool popularly known as a "Sunny Burger". The tool is capable of handling several videos at a go. Resizing is super easy as you can use 3 default settings to compress your videos to 1080p, 720p and 480p.
Pros:
• The program has a nice looking interface.
• This tool supports multiple video editing.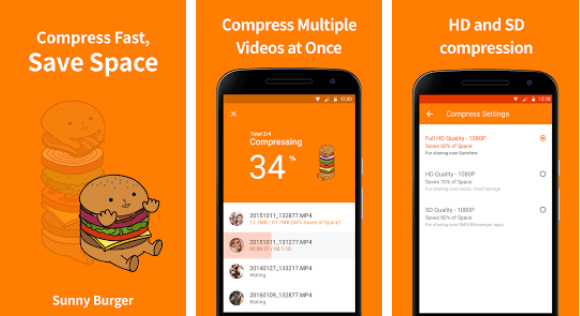 #4. VidCutter
VidCutter is a powerful free android video resizing tool with support of wide range of popular video formats like 3GP, MP4, MPEG, and WAV among others. You only need to set both the start and end time at the respective video and resized video is saved as a new video. You can conveniently trim your video with ease and without any issue.
Pros:
• The program supports popular video formats.
• This tool has an easy-to-use interface.
Cons:
• Advanced features are lacking.