There are numerous of audio codecs available in the market. There are lossless audio types like FLAC that accounts for flawless music experience. However, FLAC files are not very space efficient ones. Hence the need of FLAC compression arises. So, if you are one of those adventurous person who wants to take the game to the next level, then tune to the finest music stashed as FLAC files. Wondering what will be the perfect medium for FLAC compression that blends well with both the Mac or Windows systems? Well, here you can unveil a great tool to compress FLAC files, catering all the needs in an unimaginable way.
Part 1. Best Tool for FLAC Compression
UniConverter is packed with the latest features that manage to handle a variety of tasks and compress FLAC files speedily. This tool manages to work with both the Mac/Windows systems effectively. Users can enjoy the liberty of compressing, converting, in 90x speed. Whatever output you fetch, can smoothly be migrated to your iPhone as well as Android devices.
Get the Best MP4 to MOV Video Converter:
It offers great flexibility to compress FLAC or audio in other formats without losing the quality.
It allows you to change the bitrate, encoder, channel, sample rate flexibly.
It is capable of supporting speedy batch compression of multiple files in one go.
Compatible with a wide range of file formats inclusive of MP3, WAV, M4A, WMA, AAC, and 150+ other file types easily.
Convert and compress files shared in various media channels Facebook, YouTube, Vimeo, Vevo and several other platforms.
Moreover, it comes with built-in video editor useful to perform various functions like cropping, trimming, resizing, compressing. Users can also add watermarks, subtitles, update metadata info and dash in special effects for enhancing files respectively.
It also enables you to download online video, burn video to DVD, record video and more other features.
How to Perform FLAC Compression with UniConverter
Step 1. Add FLAC files to iSkysoft FLAC compressor
Install and open UniConverter on your Windows PC or Mac. Tap on the + Add Files in the Convert tab and proceed further. Now, you need to locate your FLAC files to import it to compress it. Batch process is supported.
Tips: If the FLAC files are on your iPhone, Android or external hard drive, you can connect the device to computer, and load FLAC files from it directly by clicking the drop-down icon next to Add Files.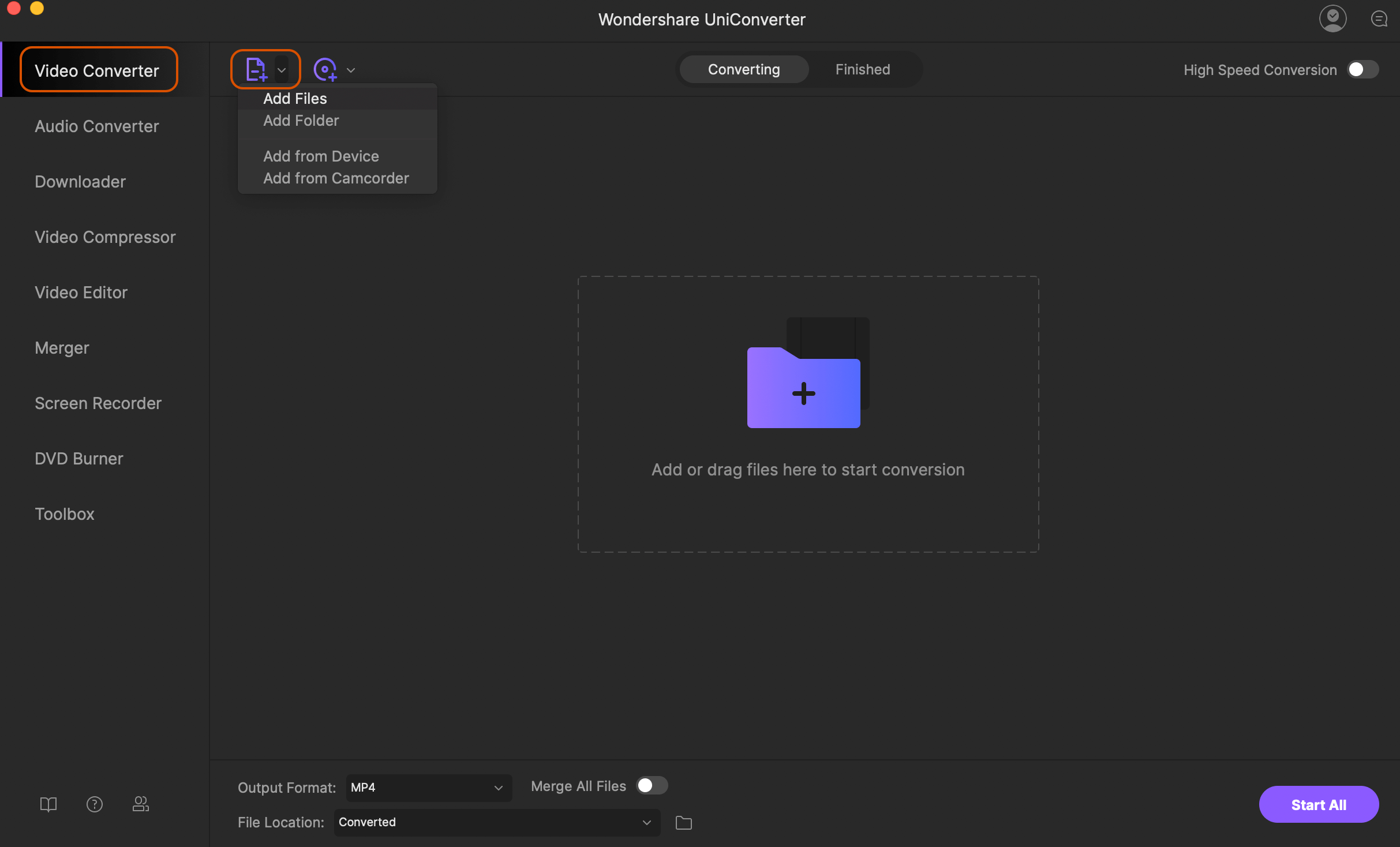 Step 2. Adjust settings for FLAC compression
Once the FLAC file gets imported properly, click on the drop-down menu of Convert all files to option. Opt for Audio and choose the FLAC format. Now, move your cursor to the edit icon, given the pop-up window. This will prompt a sub Setting window entailing features. From here you can adjust the audio encoder, channal, sample rate, bitrate for your FLAC files. Lastly hit the Create tab.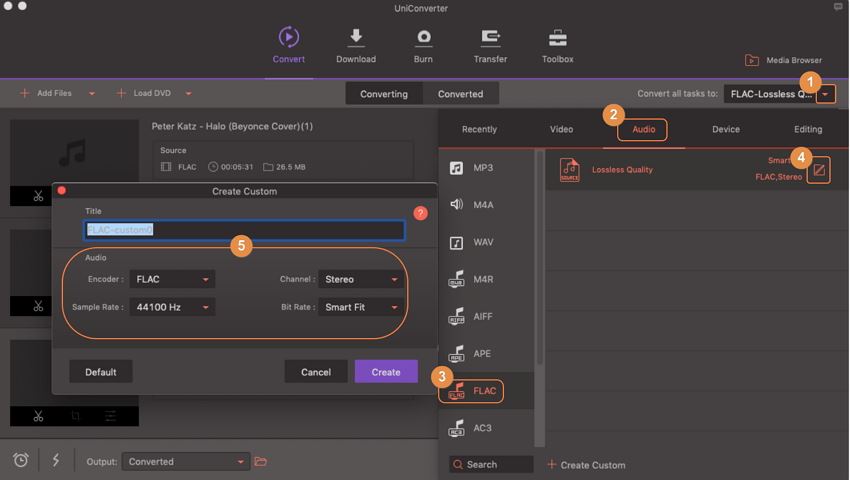 Step 3. Compress and export FLAC files
Once you are through the desirable editions, en route to finish off the task by tapping on Convert All option. You can see the FLAC files size have been reduce. Tada! This way you'll execute FLAC compression!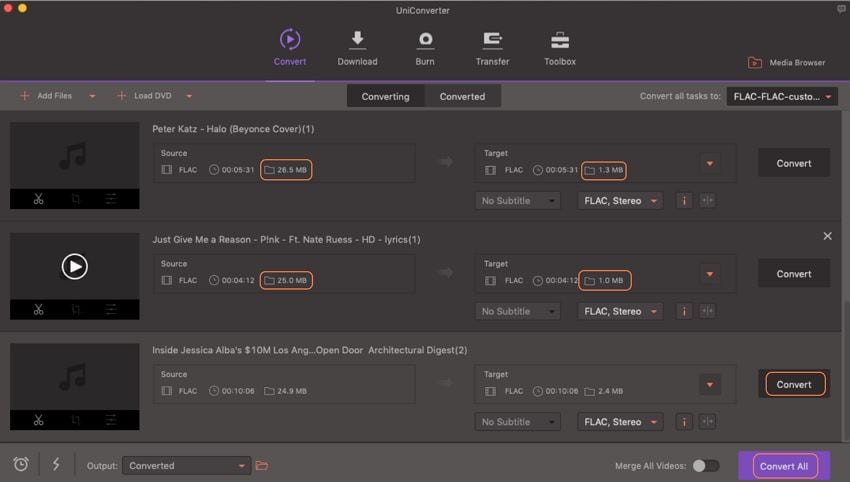 Part 2. About FLAC Format
What is the Bitrate for a FLAC File? Is FLAC Really Lossless?
In general terms, FLAC files are referred to the Free Lossless Audio codec – an audio format Audio is compressed in FLAC that does not dent on the quality of the audio file. They have garnered immense popularity in the music industry as it serves to be the cost-effective means of rendering a great audio experience. No other formats come in the league of FLAC for its space-efficiency. Unlike, its contemporaries, FLAC file does not have an auditory problems largely faced in the MP3 files. For the MP3 files, imbibes lossy algorithm that deletes lesser audible music content for reducing file size that directly compress music quality.
Needless to state, FLAC are actually lossless file and equate more or like a ZIP file. When played, its sound quality comes exactly the same even when unzipped. Gone are those days, when 'lossless' file was limited to uncompressed formats such as CDA or WAV. The FLAC files are up to six time larger than MP3. On the other hand, bitrate of the FLAC file you have is about 1/3 less than the bitrate of the WAV file. Whereas, it has half of the size of a CD, giving same boost in the audio quality. It must be noted, that FLAF are not limited to 16-bit (CD quality). Users can favorably purchase files streaming up to 24-bit/192 kHz for enhancing the boost experience.