- 'How can I upload longer videos to Twitter?'
Twitter is a great platform used by people for sharing the happenings around the globe and also putting forward your opinions, suggestions, and grievances. Though short statements are majorly used as posts on Twitter, a lot of people have started including relevant videos. Since videos are more engaging and interesting all online platforms and sites are using them to engage the viewers and Twitter is no exception to this.
Just like other sites and platforms, Twitter also has its own specifications with respect to the video size, time, resolution that can be posted on the site. The details of the specifications are as follows:
Minimum Resolution: 32 X 32 pixels
Maximum Resolution in Landscape Mode: 1920 X 1200 
Maximum Resolution in Portrait Mode: 1200 X 1900
Maximum frame rate: 60 FPS
Supported File formats: MP4 and MOV
Maximum Video Length: 140 seconds which is 2 minutes and 20 seconds. 
Maximum video size: 512MB
As listed above, the maximum length of the video that can be posted on the site is 140 seconds, but if you need to post a video longer than this limit, then? No worries as we are helping you to know the ways through which you can post long videos on Twitter. Keep reading.
Easy Way: Create a Twitter Ad account to post long videos
The general Twitter account allows you to post videos up to 2 minutes 20 seconds, and if you want longer videos to be posted, create a Twitter Ad account that allows posting up to 10 minutes of video. You need to create and sign-up for a Twitter ad account where you will be asked to provide your bank details. Don't worry as posting videos for up to 10 minutes is completely free.
Steps on how to post long videos on Twitter using Twitter Ad Account
Step 1. First of all, go to the Twitter Ad Account page and sign-up using the instructions. When done, log into your account.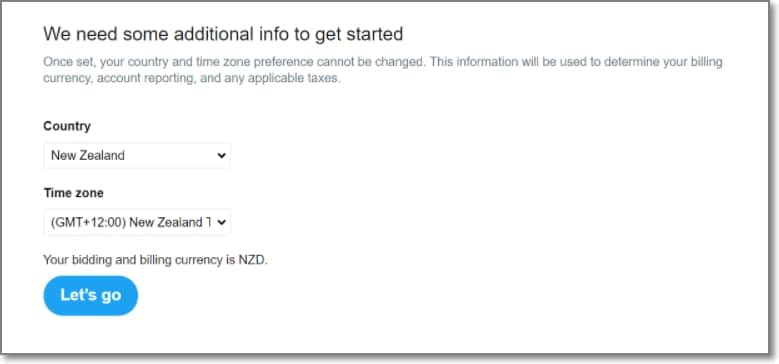 Step 2. Next, on the campaign creation page, go through the onboarding process. Enter your country and the time zone.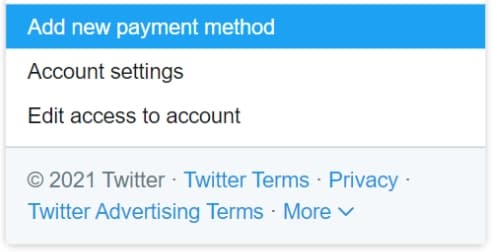 Step 3. Next, enter your name at the upper-right corner of the screen and a menu will open where you need to click on Add a new payment method.
Enter your billing and credit card information (this is for unlocking the ad account feature and nothing will be charged).

Step 4. After the card details are provided, a new menu line will appear on the upper-left screen. Here click on Creatives and then choose the Videos option. Now you can add and upload videos of up to 10 minutes for free.
Part 2. Video Toolbox Recommend – Wondershare UniConverter
Video editing is an essential task to make your videos look interesting and catchy and to get this task done, good professional software must be used. So, if you too have been looking for software to edit and polish your videos before you upload longer videos on Twitter, we suggest using Wondershare UniConverter. This Windows and Mac-based software is a complete video toolbox supporting a wide range of features.
Some of the key features and their uses are enlisted below.
Convert video
The built-in conversion tool of the software allows you to convert your videos in over 1000 formats and devices. The process of conversion is fast and simple and the tool also gives you the option to select the target file resolution and other parameters. Files are converted in lossless quality and batch conversion is also supported which saves time and effort.
Edit video
No matter whether you wish to crop the video, remove unwanted parts, add effects, or customize in other ways, Wondershare has tools to take care of it. Using the built-in editor video personalization can be done by trimming, cropping, cutting, adding watermark, adding subtitles, and more. The latest Smart Trimmer function of the software will let you trim the files automatically using AI. 
Compress Video
When your video files are large in size making them difficult to store, manage and share, compress them and reduce their size using the compression feature of the software. The videos in all key formats can be compressed in lossless quality by changing the file size, resolution, format, and bit rate. 
Download video
The built-in video downloader of the software is an excellent function that allows downloading videos from more than 10,000 sites including popular names like YouTube, Vimeo, and others. The videos can be downloaded in an array of formats and in high quality. 
In addition to the above, there is a whole lot of other features that can be used like DVD burning, video recording, GIF making, background removal, and more.
Get the Best MP4 to MOV Video Converter:
Easily compress long video for Twitter. You can customize video size as needed.
You can reduce file size, change resolution, bitrate, encode, and output format of the video in a hassle-free way.
Compress a wide range of video formats like MP4, MOV, AVI, FLV, MKV, MTS and other 150 formats.
Apart from compression, it helps in converting the video file in 90x faster speed.
It is the securest tool to compress the files and gives the output without compromising the quality.
More than compression, you can use it to convert, edit, burn video, and even download online videos from YouTube, Twitter, Vimeo, Facebook, Vevo, etc.
You can compress videos whether you use Mac or Windows computer.
[Guide] How to Compress Long Videos for Twitter with iSkysoft Video Compressor
Step 1. Import Long Video for Twitter to iSkysoft Video Compressor
Install UniConverter on your Mac or Windows PC. When it is done, launch it and look for the Toolbox tab from the main interface. Then choose Video Compress from the options. A pop-up window will show, where and you can hit on the '+' icon to add the video you want to compress and later upload on Twitter.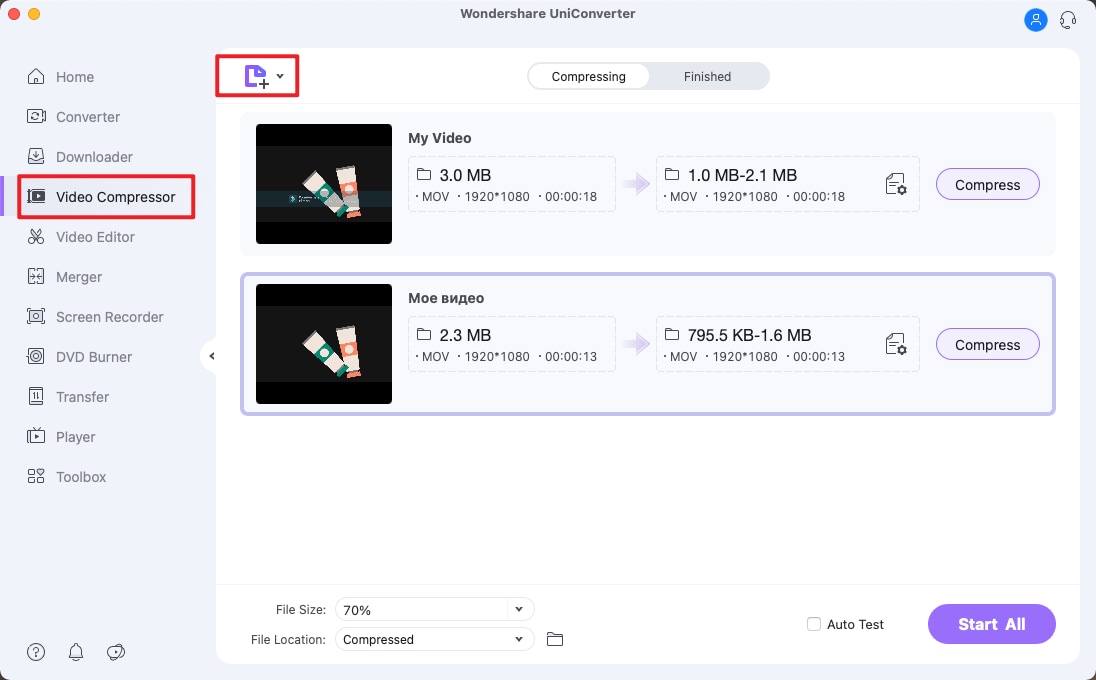 Step 2. Set the Parameters to Compress
To begin Twitter video compression, start dragging the slider available on the next screen. When you move the slider, you will see the changes with the different settings including video size, resolution, bitrate, quality etc., or you can simply change the settings manually too.
(To change more parameters like encode, frame rate, please see the guide How to Compress Video.)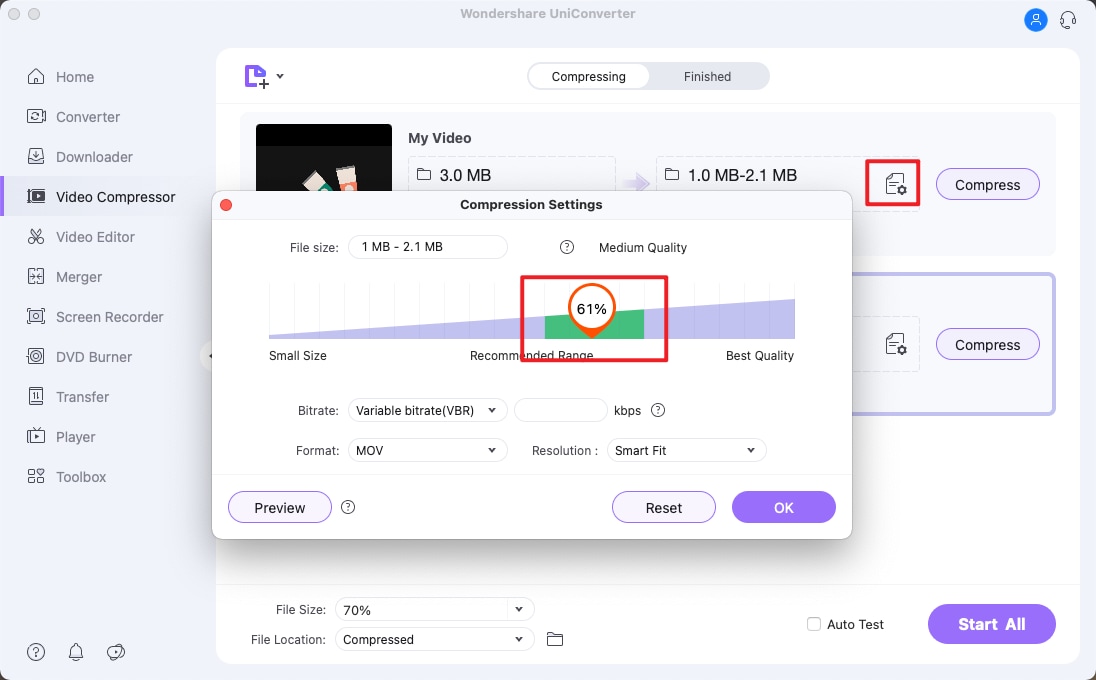 Step 3. Preview Changes and Get the Longer Video for Twitter
You can click on the Preview button after making the adjustments. This will have you look your video for 20 seconds. When you are happy with the changes made, click on the Compress button. Within no seconds, your video with the set parameters will be with you. Now it's good to go and upload your long video on Twitter.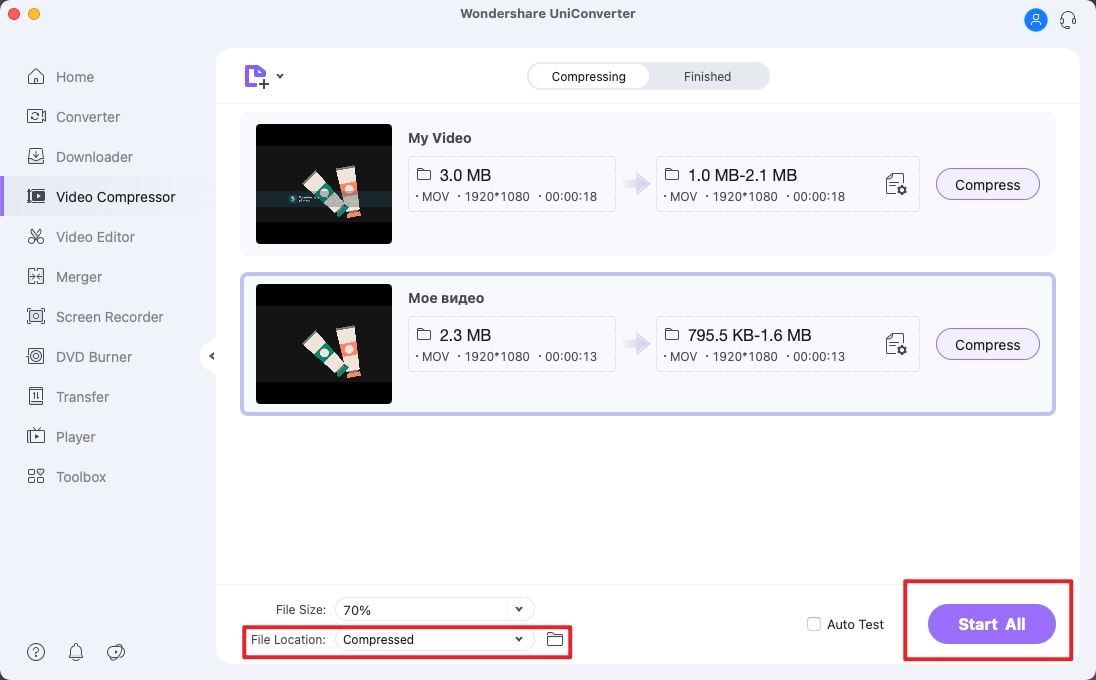 Part 3. Alternative Way to Upload Long Videos to Twitter
In case you aren't comfortable with Twitter video compression for uploading, we can suggest you an alternative way for it. As an alternative, you can simply upload your video to the websites that can support large sized videos. For this instance, we recommend you uploading video on YouTube. It will give you the link. You can then share this link to the Twitter. Let us understand this step-by-step.
Step 1: First of all, open your browser and visit YouTube on it. Now, tap on 'SIGN IN' and proceed with entering the credentials necessary for signing in.
Step 2: Followed by this, you need to hit on the camcorder icon/video icon/plus icon. On hitting it, you will get two options i.e. 'Upload video' and 'Go live'. Choose the former option.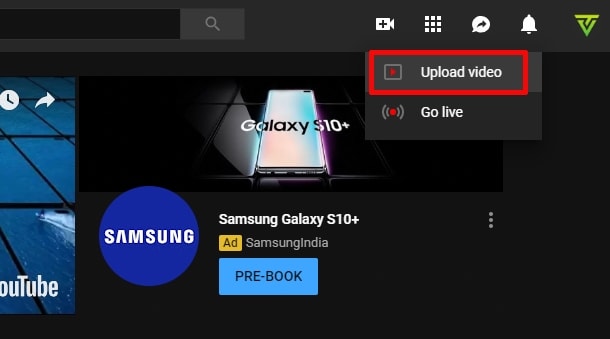 Step 3: Now, you are required to select the file from your PC. Browse for the video to be uploaded and wait for the uploading to get completed.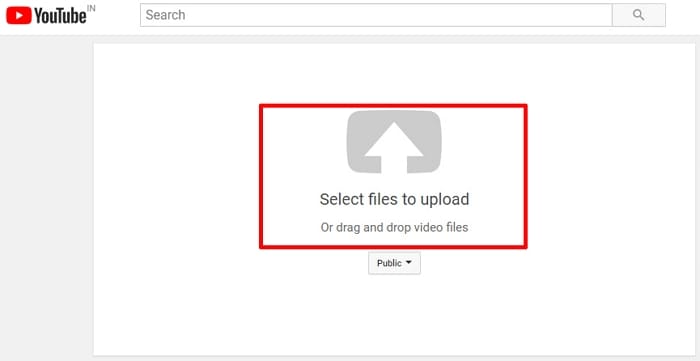 Step 4: On the following screen, you can notice the link on the left panel that will be used in the future for the video. Hit on 'Publish' lastly and then you can share the link on Twitter.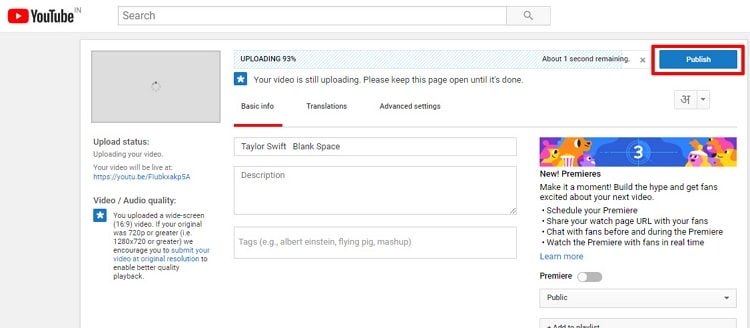 We shared with you the needed details on uploading longer videos to Twitter. We have always loved equipping you with essentials on different topics and will always be glad to share you the tips and tricks. We hope that you liked this article as well. If one of your friends and near ones are also looking for such suggestions or having same queries, you can share this post to them. Concluding the discussion here, it will be satisfying for us to know if this article met with your expectations. Do let us know your views on it. Thanks!