- "How do I send large audio files on WhatsApp?"
WhatsApp is our on-the-go tool for communication for corporates and friends. A good chunk of people uses it to sync with each other nicely. But in cases where the audio files are higher in size, the difficulty arises. Well, compressing the file is the only solution for this. So, in this article, we will acquaint you with 3 amazing ways to compress audio files for WhatsApp. Stay tuned!
Part 1. Best Way to Compress Audio Files for WhatsApp with UniConverter (Fast & Brilliant Way)
One may encounter a variety of software, rendering similar endeavors of compressing audios. However, garnering faith in a product that works smartly and gets you the hands-on experience with advanced features is crucial. To get all of that, allow UniConverter to be your assistant. Crafted to be at the cutting-edge technology, it is useful in compressing audio files for WhatsApp. So, whether you are working on Mac/Windows system, it manages to work with both amazingly. Once you are done dashing the desirable adjustments, you get the liberty of migrating audios as well.
Get the Best Audio Compressor for WhatsApp:
Capable of performing batch compression in a single shot and hassle-free way.
After compressing the audio file, you can effortlessly transfer it to the latest versions of Android and iOS devices easily.
Stretches compatibility with broad range of file formats like MP4, HD, MPEG, WAV, AAC, AVI and 150+ file types.
Download online videos from Facebook, YouTube, Vimeo, Vevo, etc.
With this tool, one can simply change the desired bitrate and resolution as per the requirements.
On a plus, the tool incorporates a handy video editor that manages several functions of cropping, trimming, resizing, and managing to add watermarks, subtitles and effects as well and converts video to different formats as well.
We will now understand how you can make use of UniConverter for compressing the audio file for WhatsApp.
Step 1. Add audio files to iSkysoft Audio Compressor
The very first step is to launch UniConverter on your working Mac/Windows PC. Download it, and go to the Converter section, and then add the long video that you want to reduce size for WhatsApp.
Tips: If the audio files are on your phone, you can connect the phone to the computer with the USB cable, and click the drop-down icon next to "+Add Files" to import the files.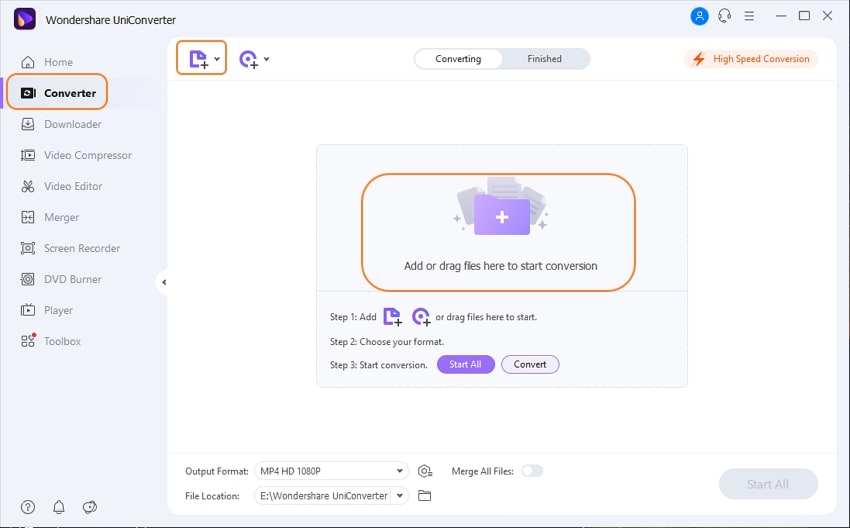 Step 2. Proceed with compressing audio file for WhatsApp
When your audio file gets imported successfully, you need to choose the format you want to compress to. Choose 'Settings' icon, a dialog box gets prompted, and set Bitrate and other settings like bitrate as you wish. After this, click on the 'Save' tab. Lastly, click "Convert" tab to get compressed audio.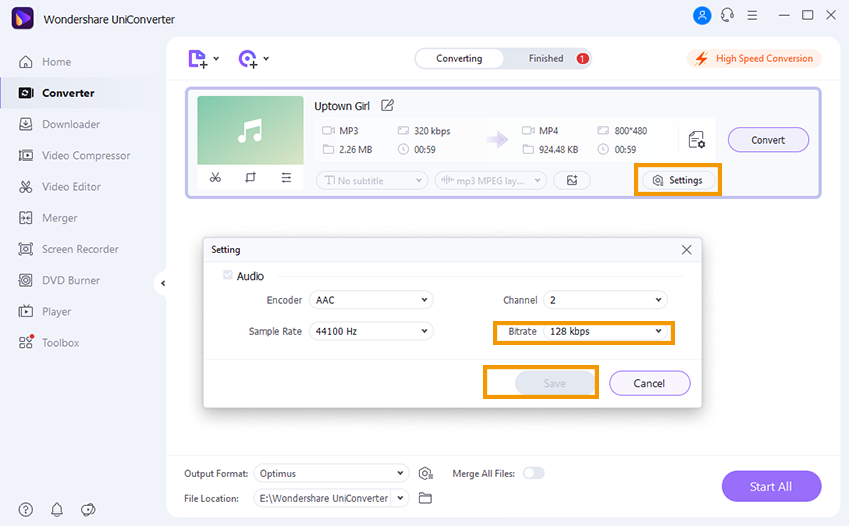 Part 2. How to Compress Audio for WhatsApp Using iTunes
The ever famous iTunes is a dynamic media player, capable of working as a mobile device management application. It is one of the considerable means of compressing audio files too. Let us quickly acquaint ourselves with the methodology of how to compress audio files for WhatsApp using iTunes.
Step 1: Head on to load iTunes by locating the "Applications" folder on the Mac or placed in the "Start" menu of Windows PC.
Step 2: Launch program's preferences window. From Mac, click on "iTunes" visible on the menu bar. Opt for "Preferences" in the drop-down menu. For Windows, click on "Edit" appearing in the upper menu followed by "Preferences"'. A new window will be prompted.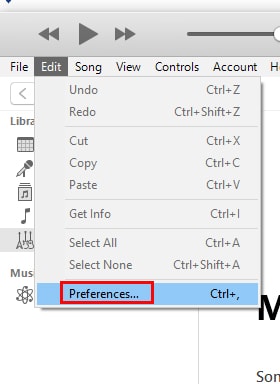 Step 3: Tap on "General" and press on "Import Settings" this will redirect another window.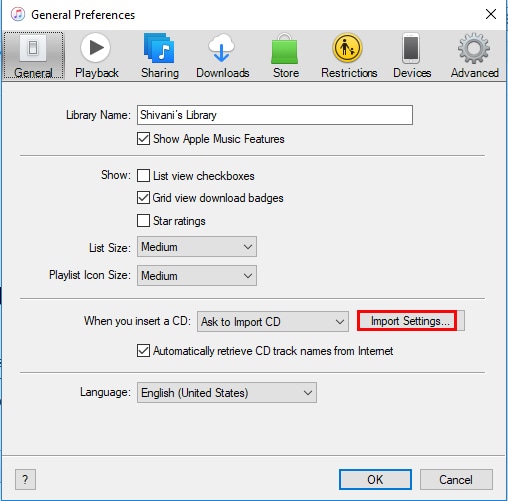 Step 4: From here, choose "MP3 Encoder" placed in the drop-down menu. From the "Setting" menu, select "Custom" and the next window will load.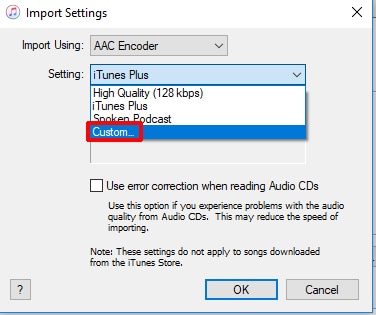 Step 5: Pick a favorable stereo bitrate. Lower bitrate will result in a smaller MP3 file size. Hit "OK" and shut all the windows except the main iTunes library window.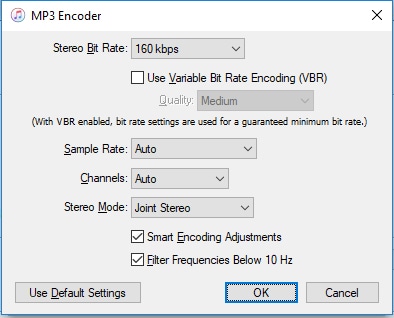 Step 6: Select the desired song from iTunes and reduce MP3 file size. Tap on the "File" menu and opt for "Convert" followed by "Create MP3 Version". iTunes program will create a copy of the song in a reduced bitrate and file size.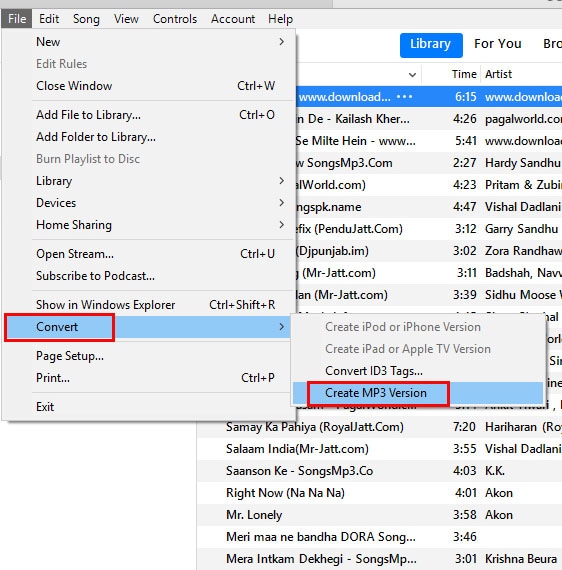 Right click the original song to trash it. Simply, tap on 'Delete' from the pop-up menu.
Part 3. How to Compress Audio for WhatsApp Using Audacity
Audacity is a well versed open-source editor for audio. This handy tool is immensely needful in making durable changes over the frequencies with its advanced features of Equalization, Bass, Treble, and compressing facilities. If you can't send large audio files on WhatsApp, follow the below guide to compress audio files using Audacity.
Step 1: Head on to download Audacity software over your existing system. Once the interface loads, tap on the "File" from the menu followed by "Open" and proceed with opting for the file you wish to compress. After this, ensure to click on "OK".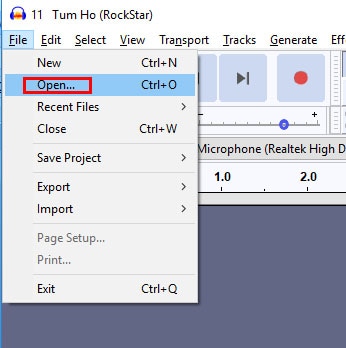 Step 2: Make further editions by clicking on 'Project Rate' and opting for a smaller value.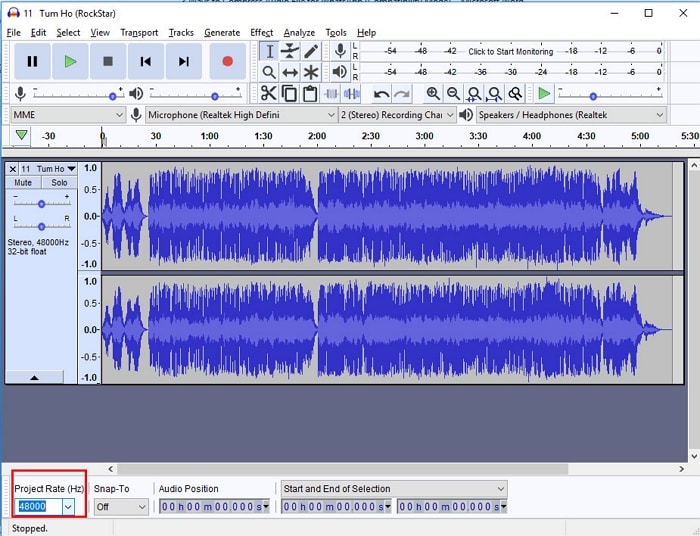 Step 3: Select the drop down arrow placed right next to your audio file name. Opt for the "Split Stereo Track" and select "Mono" placed near to the two tracks.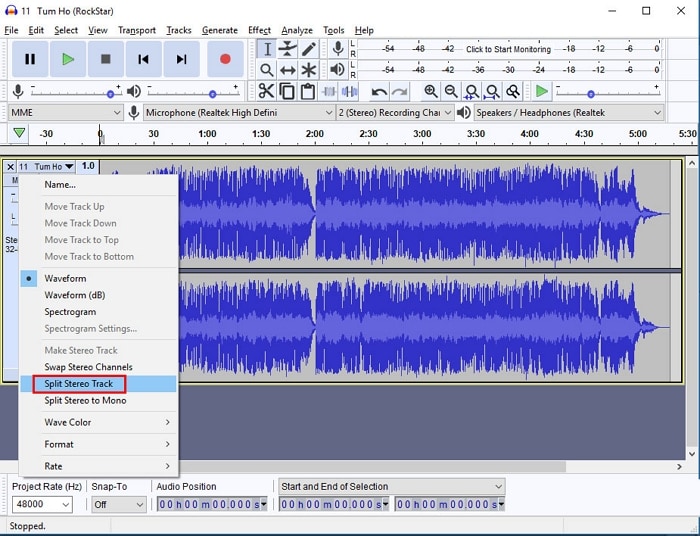 Step 4: Lastly, tap on "File" and opt for "Export" as MP3.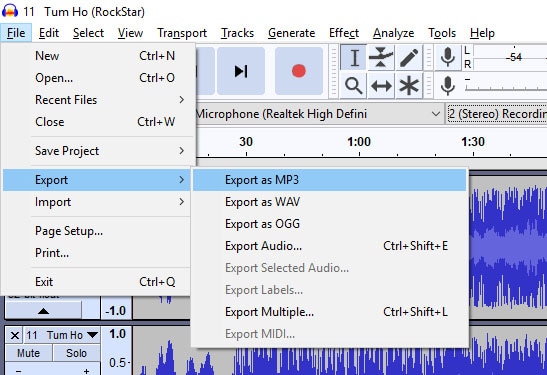 Note: Optionally, tap on "Effects", "Change Tempo" and slide the slider towards the right direction. Click on "Preview" for gaining an overview of the file and press on "OK", if content.