I have always failed to upload videos to YouTube due to various factors, any solution?
There are several reasons that may cause to YouTube uploading problems. Some of these issues include uploading a file that is too heavy for your Internet connections, and uploading videos to YouTube when you are not authorized. Besides, your browser may be obsolete and may not be supporting the video format that you are trying to upload. Most importantly, you might be trying to upload a video, which is not supported by the YouTube. For you to avoid such obstructions, make sure that your video is in the right format, size, and settings. For you to understand the right settings and formats, read the article below.
Part 1. Best Tool to Convert & Compress Videos, Upload Any Videos to YouTube
If your video is not of the format or the size limits supported by YouTube, you can convert or edit it to fit within limits. For you to be able to convert or edit your video, you will need the best video Converter - UniConverter. UniConverter a powerful tool that helps you convert and download videos to YouTube with ease. Besides, it helps you trim or cut or crop your video file so that it can fit within the size limit supported by YouTube upload. More so, apart from converting videos, it helps convert audios to the different output format.
Convert video output formats more than 150+ such as M4V, HD MOV, HD TRP, 3D MKV, 3D MP4, MPEG-1, DivX, MPEG-2, VOB, 3D YouTube, 3GP, HD MP4, HD MKV, MP4 HD MPEG.
Convert video and audio file to formats supported by almost any device, and directly choose your device module in the output bar.
Download and record videos from online streaming sites such as YouTube, Facebook, Vevo, Vimeo, Metacafe and others using and inbuilt media downloader and recorder.
Inbuilt media browser, which lets you browse and search for a file while uploading or converting them thus making it easy to import them to the program's window.
A variety of editing options to help transform your video with options that help you to crop, trim, and rotate your videos.
Perfectly compatible with macOS Sierra, El Capitan, etc. and Windows 10/8/7/XP/Vista.
3,981,454 people have downloaded it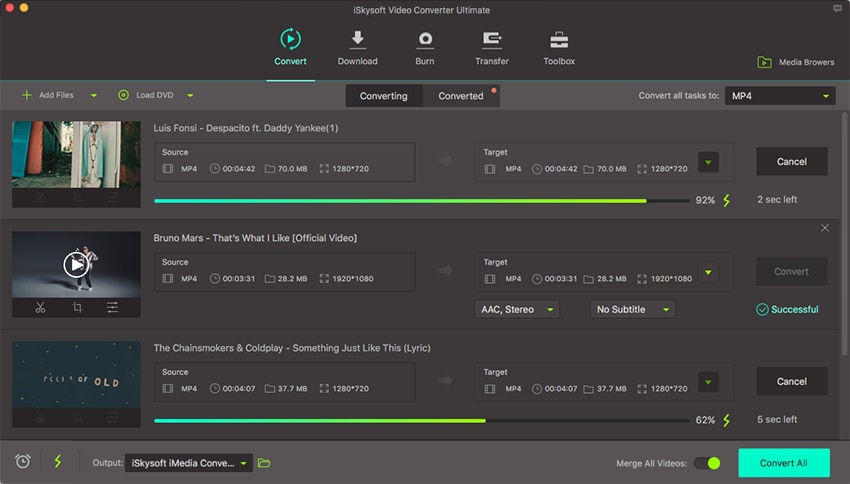 Part 2. YouTube Upload Settings Tutorial and Upload Limit
Video Code Settings:
is the commonly used codec in YouTube videos.
The settings required for video uploading include.
High profile.
Progressive scan (no interlacing).
Chroma subsampling 4:2:0.
CABAC.
Variable bitrates, no bitrate limit is needed.
Frame Rate:
The content should be encoded and uploaded in the same frame rate it was recorded.
The commonly supported frame rates include 24, 25, 30, 48, 50, and 60 frames per second. However other frame rates are also acceptable.
The interlacing content should be deinterlaced before the upload. For instance, 1080i60 content should be deinterlaced to 1080p30, running from 60 interlaced fields per second at 30 progressive frames per second.
Bitrate:
The following bitrates are recommended for uploads:
Type

Video Bitrate, Standard Frame Rate
(24, 25, 30)

Video Bitrate, High Frame Rate
(48, 50, 60)

2160p (4k)

35-45 Mbps
53-68 Mbps

1440p (2k)

16 Mbps
24 Mbps

1080p

8 Mbps
12 Mbps

720p

5 Mbps
7.5 Mbps

480p

2.5 Mbps
4 Mbps

360p

1 Mbps
1.5 Mbps
Supported video bitrates for HDR uploads:
Type

Video Bitrate, Standard Frame Rate
(24, 25, 30)

Video Bitrate, High Frame Rate
(48, 50, 60)

2160p (4k)

44-56 Mbps
66-85 Mbps

1440p (2k)

20 Mbps
30 Mbps

1080p

10 Mbps
15 Mbps

720p

6.5 Mbps
9.5 Mbps

480p

Not supported
Not supported

360p

Not supported
Not supported
To format your video into the right settings, on your YouTube account, go to "File Menu" choose "Save Movie" and then begin formatting your video to the right settings according to the instructions given.
Resolution and aspect ratio:
YouTube employs 16:9 aspect ratio players. In case you are uploading a non-16:9 file, it will still be processed and displayed correctly with pillar boxes or letter boxes offered by the player.
YouTube Upload Limit (Formats/Size):
YouTube uploading offers some restrictions to the file format that you can upload. Even if your video length and size are in the right limits, you need to check your file format. Some of the files supported by YouTube include:
FLV (Flash Video)
AVI (Audio Video Interleaved)
MOV (a QuickTime multimedia file format)
MP4 (A multimedia container format standard specified as a part of MPEG-4)
MKV (A free container format that holds unlimited number of audio, picture video, or subtitle tracks in one file)
MPEG (the Moving Picture Experts Group)
3GP (a multimedia container format defined by the Third Generation Partnership Project for 3G UMTS multimedia services)
WMV (Windows Media Video)
SWF (Shockwave Flash)
MP4 is considered the best video format, which can produce the best video quality and meet the YouTube upload size limit. If you have unsupported video format, you can convert it to supported file formats using video converters.
For standard YouTube accounts, the permitted upload size is 2 gigabytes, and it is equivalent to an HD video with a length less than 10 minutes. If your video is too large to be uploaded to YouTube, you need to turn to a YouTube video downloader and compress your video to file formats with a smaller size like AVI, 3PG, FLV, etc. Since 2010, YouTube has allowed video Uploads for video files with length up to 15 minutes. However, there are no length restrictions for partnership accounts. They can upload videos of any length and size. Use a video converter to cut or trim your video to the ideal length and size for YouTube uploading.
Part 3. Common Issues and Solutions to Upload Videos to YouTube
#1. How do I upload videos to YouTube?
To upload videos to YouTube, you need to "Sign in" to YouTube account. Next click on "Upload" and choose private settings before you click on "Publish" button. From there, click on "Done" and "Share" video to YouTube for viewing.
#2. How do I convert videos to YouTube supported file format for YouTube uploading?
YouTube supported limited file formats such as MOV, MPEG4, MP4, AVI, WMV, FLV, MPEGPS, 3GPP and WebM. For quick conversions you can use third party software to convert them.
#3. How do I upload videos to YouTube fast? When I try to upload a video, the video stalls at 8%. Is there any video uploading YouTube limits that I need to know?
YouTube Video upload limit is 15 minutes with a maximum size of 128GB.
#4. Is it illegal to upload a full movie to YouTube?
Yes it is illegal unless you have the rights of uploading it.
#5. What is the length limit for YouTube video uploads?
The maximum length of a YouTube video is 15 minutes.
#6. What are the video formats supported by YouTube uploading?
The supported formats are: MOV, MPEG4, MP4, AVI, WMV, FLV, MPEGPS, 3GPP and WebM.
#7. I export a video from window moviemaker. The video is 10 minutes long. But I can't get the windows movies maker video to YouTube. It tells me that I have the wrong file type. Any help?
You need to check the file format of the video since YouTube only supports these formats MOV, MPEG4, MP4, AVI, WMV, FLV, MPEGPS, 3GPP, WebM.
#8. I have created a 7-minute video, and I want to upload it to YouTube in 1080p.The video is within the size limits, but when I try to upload it, I get an error message saying I can't upload video in this format. How do I fix it?
You can convert the video to standard format supported by YouTube using a video converter such UniConverter.
#9. How do I delete my own videos on YouTube?
To delete your video, sign in to your YouTube account and click on "Creator Studio" button. Go to the left menu and clik on "Video Manager followed by Videos." Next, mark on the videos you wish to delete and click on "Delete" button.
#10. Are there settings that I need to change before uploading a video to YouTube?
YouTube allows you to manage information settings of your video as well as the private settings.