Help Upload HD Video to YouTube-UniConverter
Convert HD video to YouTube format with high speed.
Compress large video files to make YouTube upload easier.
Convert video to other 1000+ standard formats.
Download video from 10000+ sites with one click.
Other features include recorder, merger, editor, and so on.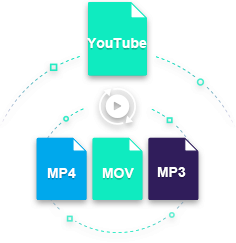 Uploading videos and getting many subscribers is not as easy as it seems. There are many YouTube channels, and different channels upload the same video, but we always prefer to watch the available video with the best quality. So, we can say that to take your channel to the top level with a huge number of subscribers, you need to focus on your video quality as it is an essential element for this. Most people upload videos in HD, but after uploading on YouTube, their quality is reduced. Before uploading, you must know how to upload HD video on YouTube so that uploading may benefit you. After uploading, YouTube starts processing it, and the video is automatically reduced to a low-quality video. Many essential elements need to be adjusted while uploading HD videos to show your audience HD quality videos.
Part 1. Convert HD Video to Right Format to Upload HD Video to YouTube Faster
What kind of video settings is the best for YouTube?
Ok now let's start discussing the elements that play a vital role in uploading your videos to YouTube with HD quality. Just focus on these points to realize how to upload HD videos on YouTube. If you want to know the solution directly, you can go to the solution part.
A container is part of a file that contains all the other files needed to playback a video. For example, a file extension is the representation of a container. It may include a video stream, audio stream, and Metadata. Mata data means data about data. If you want to know how to make HD YouTube videos easier,you must select YouTube's most supported MP4 container. 
Now let's talk about the codec. A codec is a combination of two words that are coder and decoder. The coder creates an encoded video and audio stream, which makes it smaller in size, and then decoder software plays it back with similar quality by following the rules set by the coder. Just like containers, there are different types of video codecs. If you want to know how to upload HD video to YouTube 1080p using the best video codecs, use the following video codec format: . 
Similar to video codecs, there are many audio codecs, and the best one depends upon your requirements. Codecs are one of the essential elements to upload HD videos on YouTube, so we cannot ignore them at all. As far as audio codecs are concerned, AAC-LC is the best choice as it qualifies channels of Stereo + 5.1 and the sample rate of 96 kHz or 48 kHz.
Let me tell you how to upload 1080p on YouTube using frame rate YouTube supports. Your video should be uploaded at the same frame rate on which it is recorded. (24, 25, 30, 48, 50, and 60) these are all some standard frame rates. Make sure to check the content whether it is interlaced. If it is interlaced, de-interlace the content you will upload. 
Bitrate is also said to be one of the essential elements that will be helpful to you if you are looking to know how to upload high-quality videos on YouTube becausebitrate plays a key role in this regard. The higher the bitrate higher will be quality of your video and vice versa.You need to know about some bitrates at standard and high frame rates.
To view HDR uploads on YouTube, the standard bitrates will be:
| | | |
| --- | --- | --- |
| Type | Bitrate for Standard frame Rate | Bitrate for High frame Rate |
| 4K | 44-56 Mbps | 66-85 Mbps |
| 2K | 20 Mbps | 30 Mbps |
| 1080p | 10 Mbps | 15 Mbps |
| 720p | 6.5 Mbps | 9.5 Mbps |
How to Let the Settings be the Best for YouTube with one click
This part will discuss two things, i.e., converting videos and upload videos on YouTube.
Detailed Steps:
Follow these steps on Uniconverter software to convert files into different video formats YouTube supports. If you want to know how to upload high-quality videos on YouTube, you must know how to convert videos into file formats that YouTube supports.
Step 1
Start Uniconverter on your PC and select the "Converter" tab from the left menu bar under the Home tab. Select the option at the top "Add Files" to add files or use drag and drop to select it.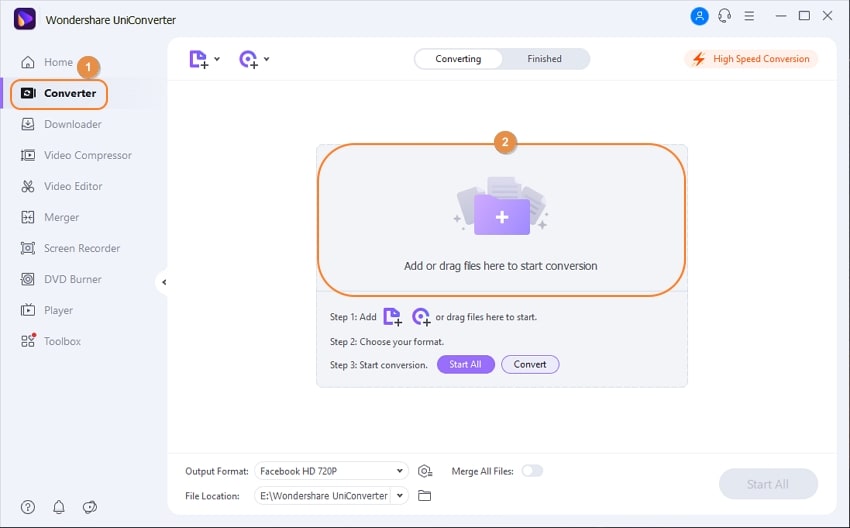 Step 2
Select the Web Video tab and select the YouTube as the output format, then choose HD 1080 quality.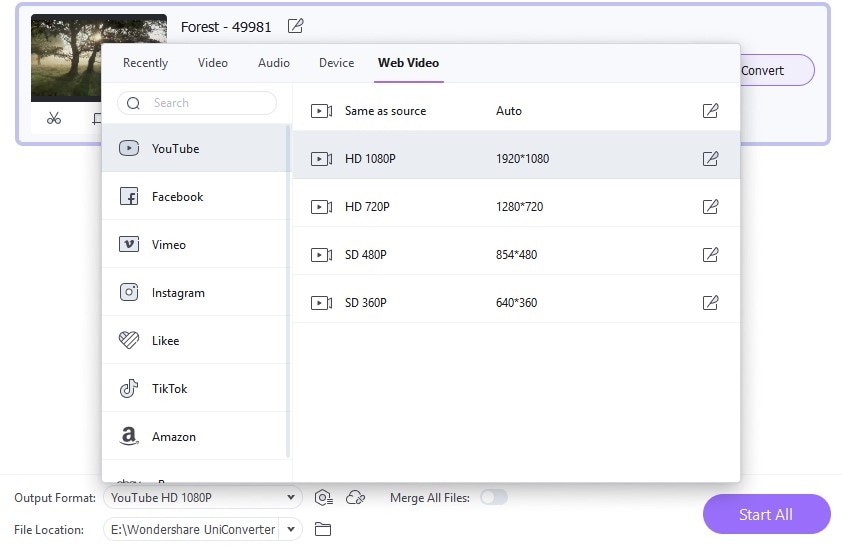 Step 3
Select the file location and click on convert to convert the video. It will be done in a while, and you can find it in a Finished folder. Now you can upload your video on YouTube now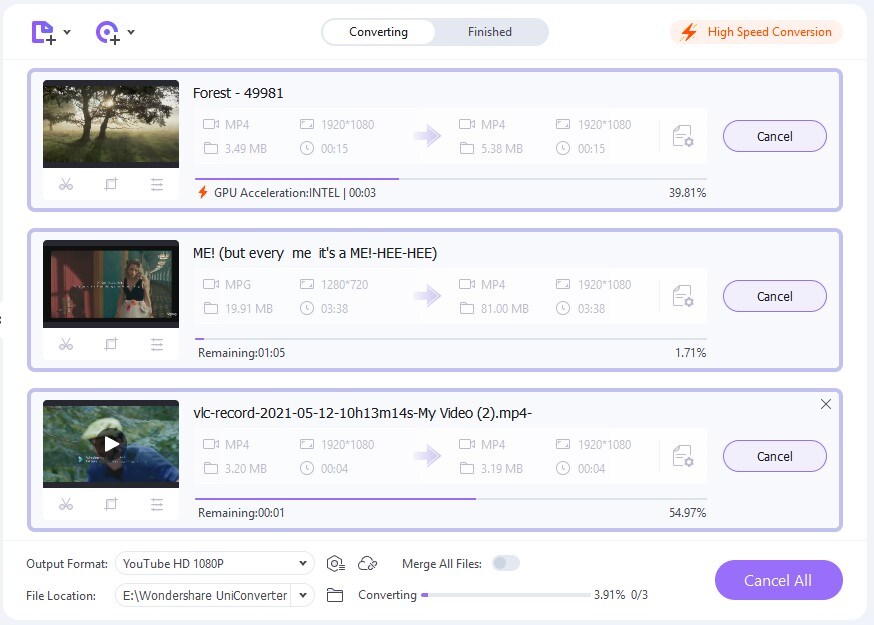 Detailed steps for How to upload HD videos to YouTube 1080p
Step 1: Log in with your account, and on your profile, click on Create button and select "upload video".
Step 2: A new pop-up will appear to choose the video you want to upload. Follow the recommended settings for encoding.
Step 3: Export the file and click on Open to select the video. The uploading might take an hour to complete.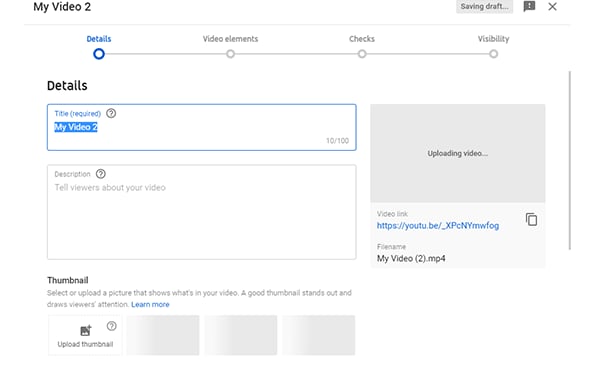 So, following these very simple steps, you will realize how to make HD YouTube videos. 
Part 2. Compress Video Without Losing Quality to Make Uploading HD Video to YouTube Easier
While discussing how to upload HD video on YouTube, ignoring the file compression feature is not recommended. Large files take more time to upload than smaller files. So, to upload videos on YouTube without compromising the quality, you are recommended to use the best software that will compress the file. Uniconverter is software that you can use on your PC to convert, compress and download videos from YouTube. Your question about how to upload 1080p on YouTube is more elaborated using Uniconverter as it will prove very helpful for compressing and resizing the file to upload easily without quality loss. 
Detailed steps
Step 1
Open the Uniconverter on your PC and select the "Video compressor" option you will find on the extreme left side of the interface. Then click on the "Add Files" option to select the file you want to compress or use the drag and drop method for this.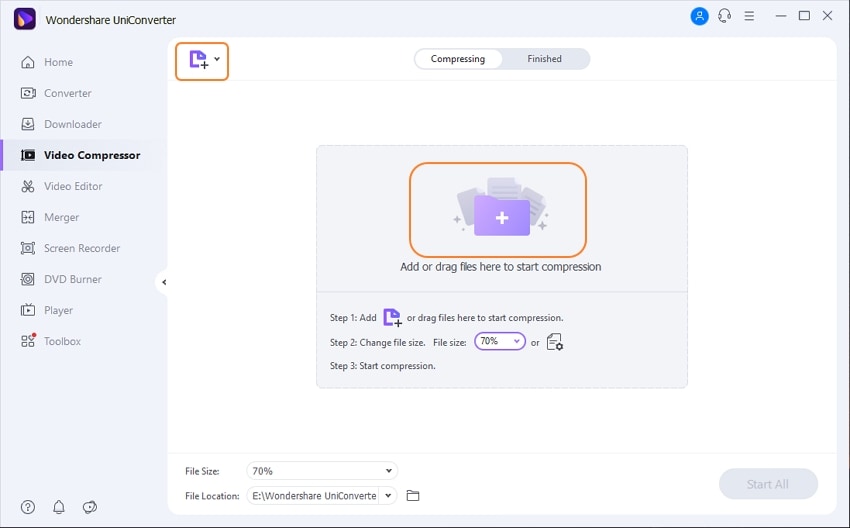 Step 2
Click on the Settings option and adjust the bitrate as per your choice by using the slider. Click on the "Preview" button to view the adjusted video.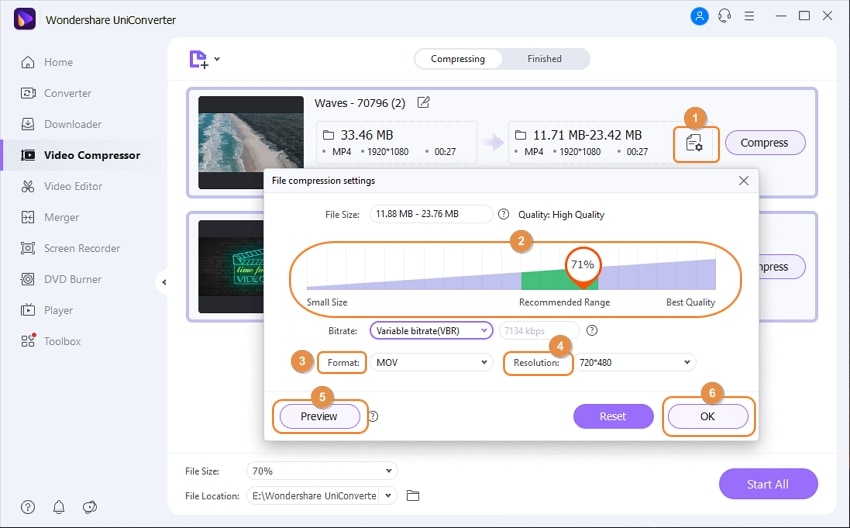 Step 3
Press the "Compress" button to start compressing the processing, and you can also select the file destination from the "File Location" tab.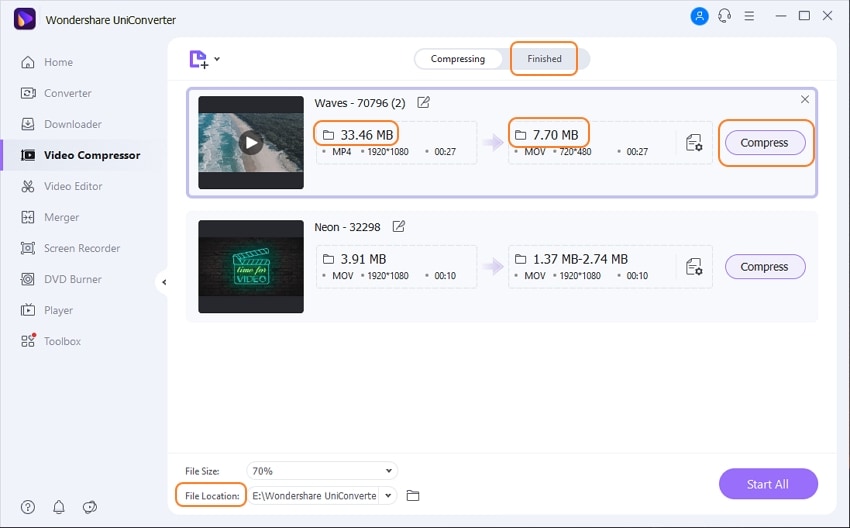 Step 4
You can also select the output format as per your choice to upload HD videos on YouTube. Several formats will be available, from HD 720p to 4K videos format. Then you can also select the quality from the quality tab. From the "Video" section, you can see the resolution, frame rate, and other options. Finally, click on save.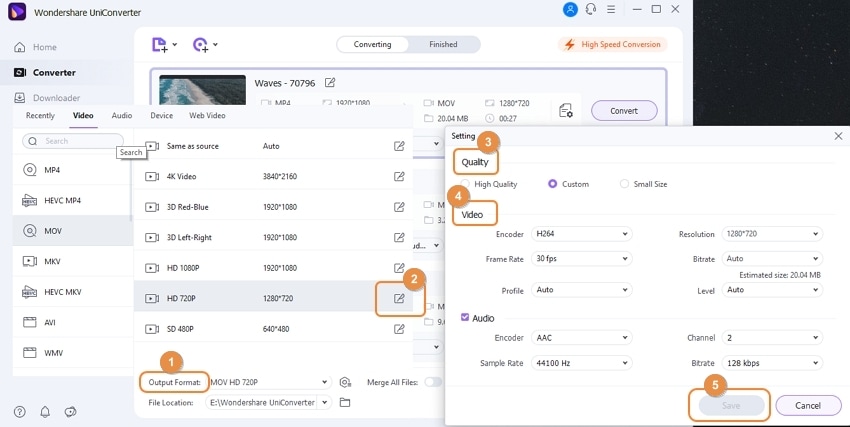 Wondershare UniConverter 13 - Best Video Converter for Mac/Windows
5,481,435 people have downloaded it.
UniConverter supports 1000+ formats and handles 90X faster conversion, ensuring that high quality is delivered at all times.
You can add the multiple files since the program does batch conversion of files.
The GUP acceleration can help you download online videos in high speed.
You can use the editing suite to make your results creative masterpieces.
This software facilitates file transfer to devices like Android and iPhone among others once the conversion is complete.
UniConverter is also capable of handling video compression hence ensures you acquire the video sizes you desire.
Part 3. Other tips on How to Upload High-Quality Videos to YouTube
1. Don't Post Video Right after Uploading HD Video to YouTube
OK now let's move to another interesting point that will also be helpful for you in getting the answer that how to upload HD videos on YouTube? If you have post a video on YouTube directly, the video will be shown in the low-quality result first, and the audiences will see a video that has poor quality. So, to avoid publishing low-quality video, you can save the video as Private first, after YouTube itself has completed the uploading process as per their terms and conditions, you can click the Edit icon then change the video Visibility to Public.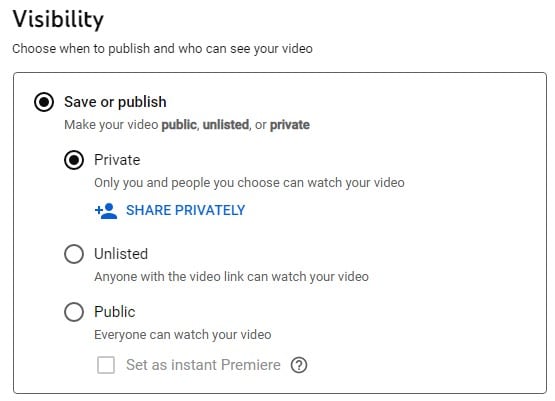 2. Trim some unwanted parts before uploading
It is a very common fact that long videos take a long time to convert compared to shorter videos. So, ultimately the processing time is dependent on the length of your video being uploaded. The best thing you can do is trim your video as much as possible. It will also benefit another way when the audience will get a high-quality video with complete information shortly. People don't have time to watch lengthy videos and get information very shortly. So, trimming before uploading HD video on YouTube is also a tool that is proved very helpful.