Convert YouTube videos to MP3 - UniConverter
High-speed Conversion in lossless quality.
Batch Processing to download and convert multiple files at a time.
Download video from more than 10000 video and audio sites.
Convert YouTube to WAV with custom quality settings.
Additional features include video burning, recording, compression, and others.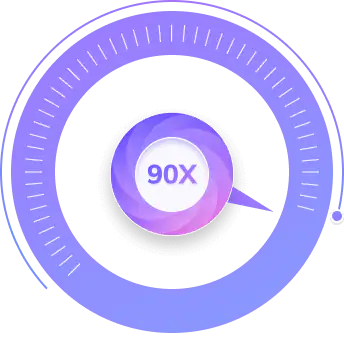 Sometimes, a YouTube video would work much better as an audio file. These videos include music videos, lectures, discussions, debates, and even some video podcasts that can be enjoyed without the visuals. In an audio format, content can be enjoyed anywhere.
While there are now many audio formats available, WAV (Waveform Audio Format) still stands as one of the most well-regarded. A lossless format, WAV files are containers for not just audio but also data such as track numbers, sample rate, bitrate, and other audio data, without sacrificing any of the quality.
Therefore, many users require a YouTube to WAV converter to extract the audio from videos at the best quality possible for later editing and listening.
If you're searching for a Youtube to WAV file converter, we've got you covered. Below, we've not only listed the best ways to download Youtube to WAV files but also where you can find YouTube to WAV online converters.
Part 1. 5 YouTube to WAV File Converters for Windows or Mac Users
The most common way to convert YouTube videos to WAV format is to use dedicated software. These are installed on your Windows PC or Mac and allow conversion using your hardware's capabilities. This means those with a beefy PC can use their hardware's power and enjoy faster conversions.
Generally regarded as the best Youtube to WAV audio converter, UniConverter is made iSkysoft and is suitable for both Windows and MAC devices. The software utilizes the full power of your computer's graphics card (GPU) and CPU resulting in blazing fast file conversions.
UniConverter supports downloading videos from over 10,000 sites, including YouTube, Hulu, Vevo, and Facebook. These can then be converted into WAV format using the software's intuitive user interface.
As well as facilitating the conversion of YouTube videos into WAV files, UniConverter also has a wide range of other tools, including a screen recorder, video editor and compressor, a built-in player, and a DVD burner.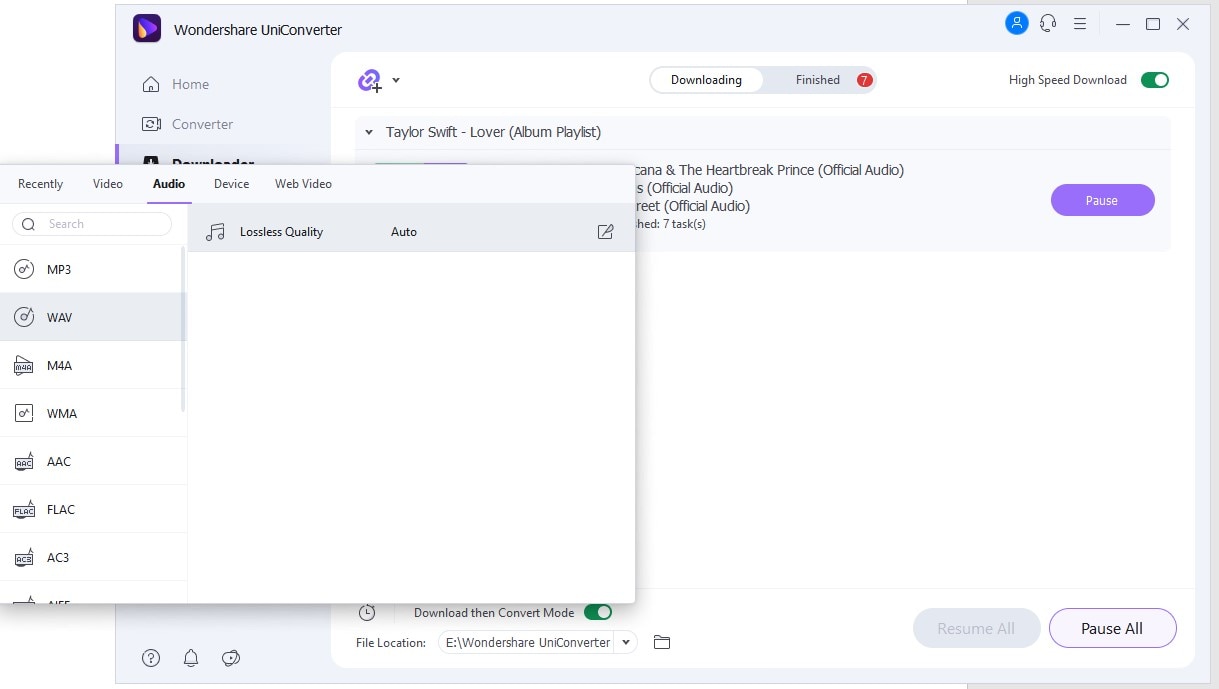 Pricing: Free to try; Annual: $39.99; 2-year: $55.99; Lifetime: $69.99
Pros
It supports convert YouTube playlist to WAV
It is a high-speed converter with GPU acceleration
Youtube to WAV converter Mac and Windows compatible
Cons
A Large number of features can be overwhelming
Ideal for: Those who want a hassle-free way to convert YouTube videos to WAV and don't mind paying for premium software.
Wondershare UniConverter 13 - Best Video Converter for Mac/Windows
5,481,435 people have downloaded it.
UniConverter supports many formats and handles conversion equally, ensuring that high quality is delivered at all times.
During the conversion process, you may add the multiple files since the program does batch conversion of files.
You can use the editing suite to make your results creative masterpieces.
This software facilitates file transfer to devices like Android and iPhone among others once the conversion is complete.
UniConverter is also capable of handling video compression hence ensures you acquire the video sizes you desire.
HitPaw Video Converter is another choice that both Windows and Mac users have at their disposal. The software supports more than 800 video and audio formats and can download YouTube videos directly from within the application.
A helpful feature that HitPaw has implemented is the ability to add Youtube playlists and channels as sources to download. This parses the list of videos within and allows you to export them to your preferred file format, including WAV.
The software is not free but offers a free trial and includes features such as a built-in video editor to trim and cut your videos before conversion, useful for times when you only want part of a video converted.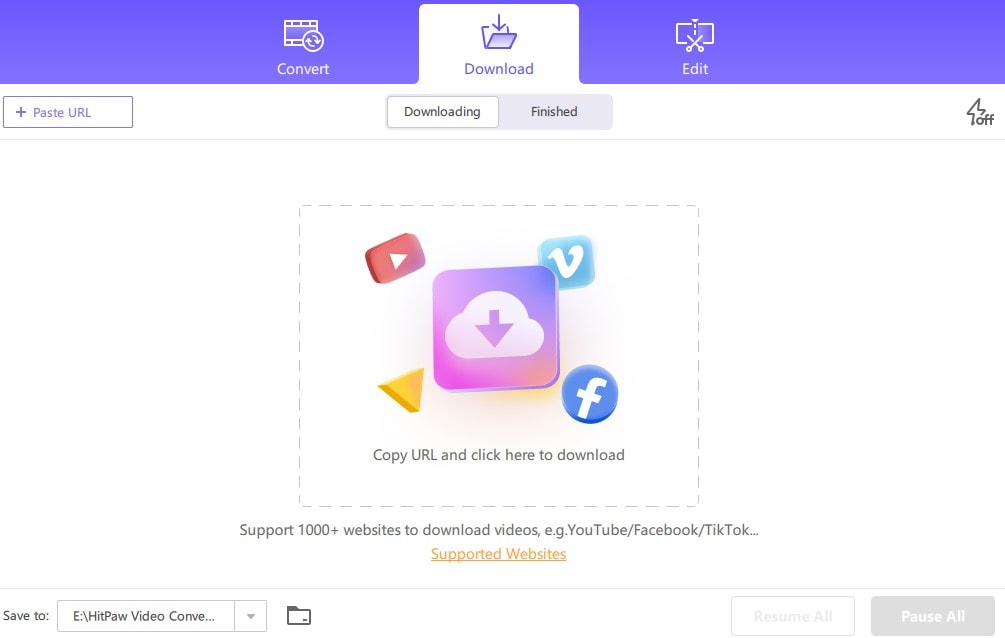 Pricing: Free to try; Monthly: $29.99; Annually: $59.99; Lifetime: $129.99
Pros
YouTube playlist and channel support for batch conversion
Cons
Trial limits conversion length
Watermarks added to videos during trial
More expensive than UniConverter
Ideal for: those who need a batch YouTube to WAV converter.
Another YouTube to WAV file converter is iMyMac Video Converter.
The software is similar to the previous offerings. It features a slew of features such as a video editor, extensive file and video resolution support (including ultra high definition 4k), and ways to enhance your file before exporting it in whichever format you like, WAV included.
It also uses your graphics card's CUDA cores if you're an Nvidia user, too, typically used to power graphics-intensive games. These are utilized to make converting up to 6x faster. The software also has broad device compatibility support, including presets for Samsung Galaxy hardware, iPhones and iPads, and other mobile devices.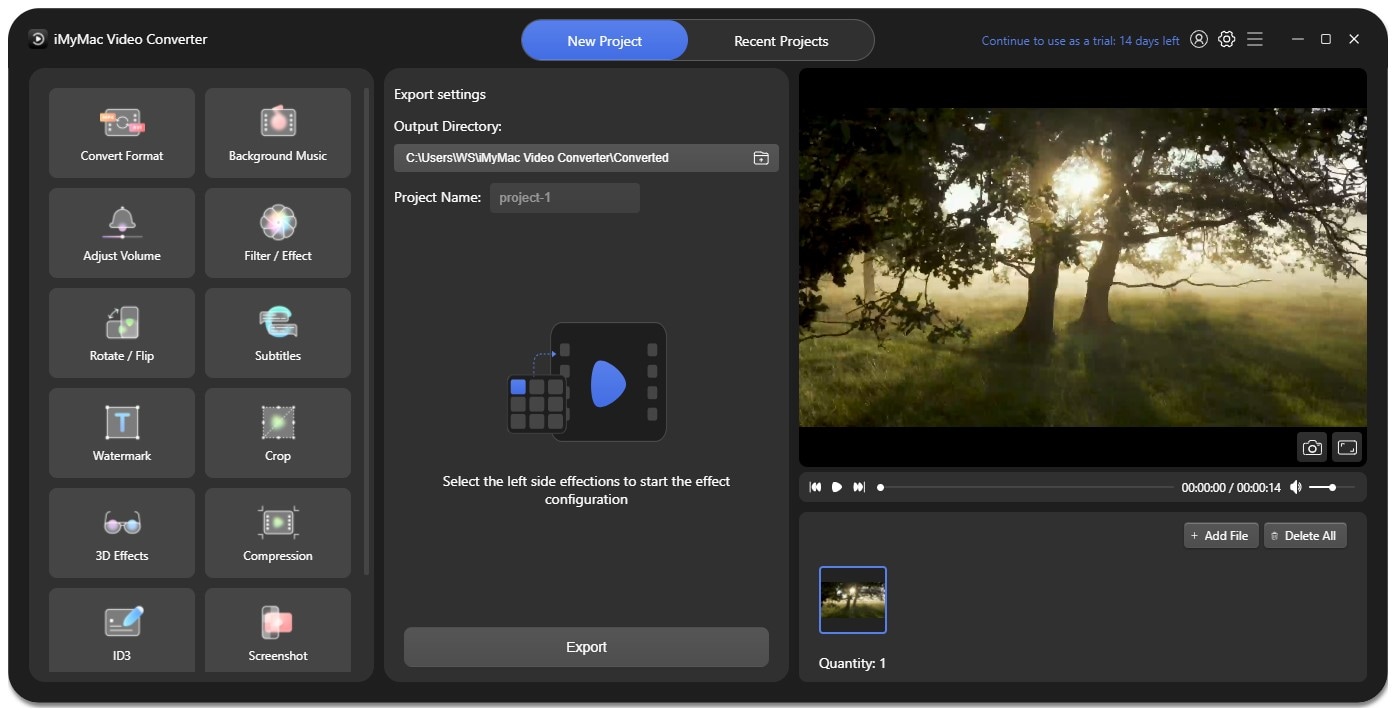 Pricing: Free to try; Monthly: $9.95; Annually: $19.95; Lifetime: $29.95
Pros
Wide file format choice including FLAC as well as WAV
Cons
Not as fully featured as other converters
Ideal for: users who might need to convert YouTube videos into other formats such as FLAC, especially Nvidia graphics card owners.
A YouTube video to WAV converter that's free to use is Media Human Audio Converter. This lightweight software is perhaps not as sleek as more polished and modern-looking applications on this list, but it offers a free alternative for those who do not want to pay to convert their videos to WAV.
As a free option, you'll need to download the video from YouTube first, as Audio Converter does not have this feature. Fortunately, MediaHuman has another piece of software, also free, to do this called YouTube Downloader.
The software is barebones in that it lacks many of the features the others in this list do and is, therefore, slower to convert to. However, it is a good alternative for those who cannot pay for more premium options.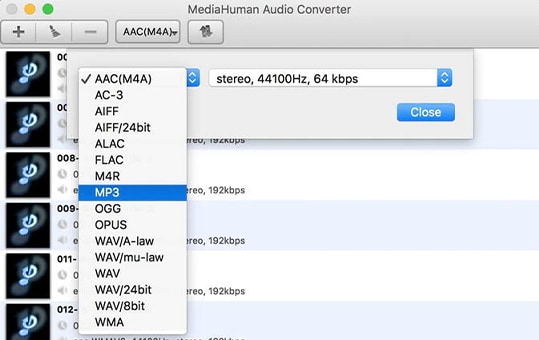 Pricing: free
Cons
Lacks many of the features other converters have
Need to pre-download the YouTube video
Ideal for: users who cannot purchase premium YouTube to WAV conversion products.
Another free and open-source option that works on Windows and Mac is VLC Player. Well known as the definitive video player for almost all devices, VLC can also function as a handy way to convert YouTube videos to WAV files.
As a free option, the conversion method is a little less streamlined but is still achievable for most users. Users simply need to: Copy the URL of a YouTube video. Then open the URL in VLC. Right-click the video and choose Tools > Media Information. Copy the URL at the bottom of the popup under "Location". Paste this URL into your browser. Right-click the video and choose "Save". After downloading the video, users can then use the "Convert / Save" to use VLC's YouTube to WAV converter for free.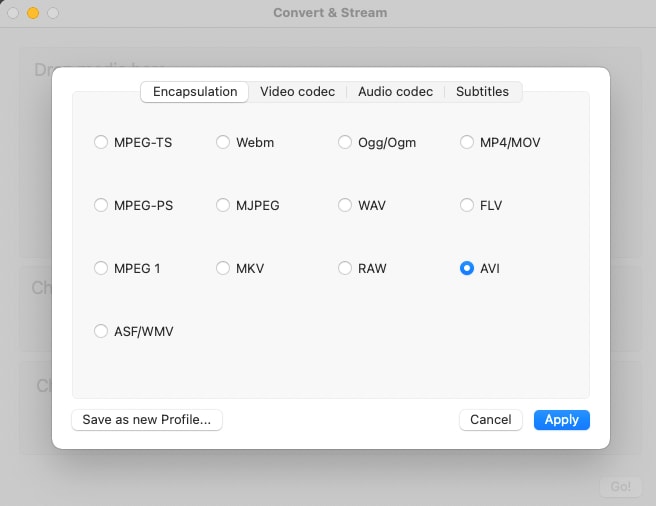 Pricing: free
Pros
Free, stable, open-source, and reliable
Doubles up as an excellent video player
Cons
Lacks many features of dedicated converters
Slower conversion with less feedback from the user interface
Ideal for: those with VLC already installed and don't wish to install additional software.
Part 2. 5 Best YouTube to WAV Converters [Web-based]
As well as dedicated offline software, there are now plenty of ways to convert YouTube to WAV online. These are ideal for those without access to a PC or older hardware that would struggle to convert videos.
As online solutions, you'll need access to the internet with the conversion process itself happening remotely in the cloud using server-grade hardware.
Loader.io is not just YouTube to WAV converter online but also features many other tools to download and convert online videos, including a 4k conversion too. The tools are free to use and cover costs through ads and partnerships.
It serves as a handy way to download Youtube to WAV files, though for those who need it. The interface is extremely basic, with just a URL input box and a dropdown list to choose your output format. As well as WAV, you can also select MP3, AAC, FLAC, and several other notable formats.
A useful feature of the tool is the ability to enter a YouTube playlist URL, with the player can handle the conversion of up to 20 videos all at once.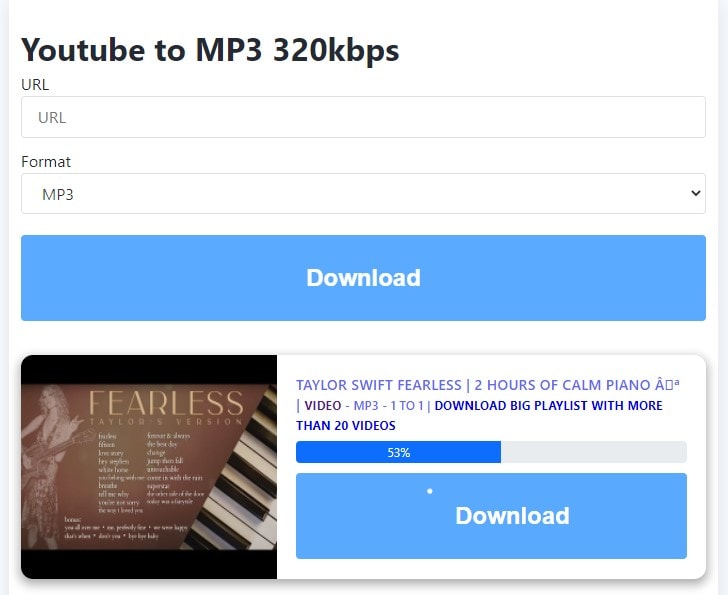 Pricing: free
Pros
Playlist conversion and downloading function
Cons
Conversion can be slow at peak times
Download speed can be slow
Ideal for: Those who need a simple way to convert multiple YouTube videos online.
One of the more polished online converters is Media.io, a feature-rich and cloud-based conversion solution that rivals some dedicated, offline applications in terms of tools.
The website includes three main tools: a video file converter, an online video editor, and a file compressor tool to reduce converted file sizes. For converting YouTube videos to WAV files, you'll want the converter tool where you can either upload pre-downloaded files or paste in the URL of the video.
The interface is simple with plenty of other file export options and WAV. File limits apply for free users with faster and concurrent conversions reserved for users with subscriptions and other benefits.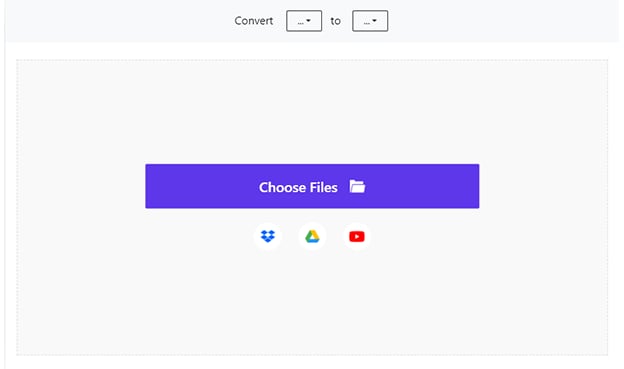 Pricing: Free; Basic: $2.95 per month; Pro: $6.66 per month
Pros
Fast conversions and downloads
Cons
Most valuable features behind a paywall
More than one subscription level
Ideal for: users who don't mind paying for premium features but want an online converter.
Zamzar is one of the oldest file conversion websites on the internet, created in 2006 by two brothers in England, UK.
The website supports more than 1200 different conversion types, including YouTube videos to WAV, without the need to download the video beforehand. This enormous amount of conversion combinations means Zamzar is the go-to online tool for many people who entrust that Zamzar will likely have the right tool for them.
This is partly to Zamzar's detriment, however. Most of the conversion tools are barebones, with the YouTube to WAV combination being a straight conversion without the ability to edit, trim, cut, or add any metadata. This is not necessarily a bad thing but may be too simple for some users' needs.
Zamzar features a scaled subscription model for free users limited in upload size and daily conversion amount. Paid users get faster conversions, online storage, higher speed downloads, and the ability to upload larger files.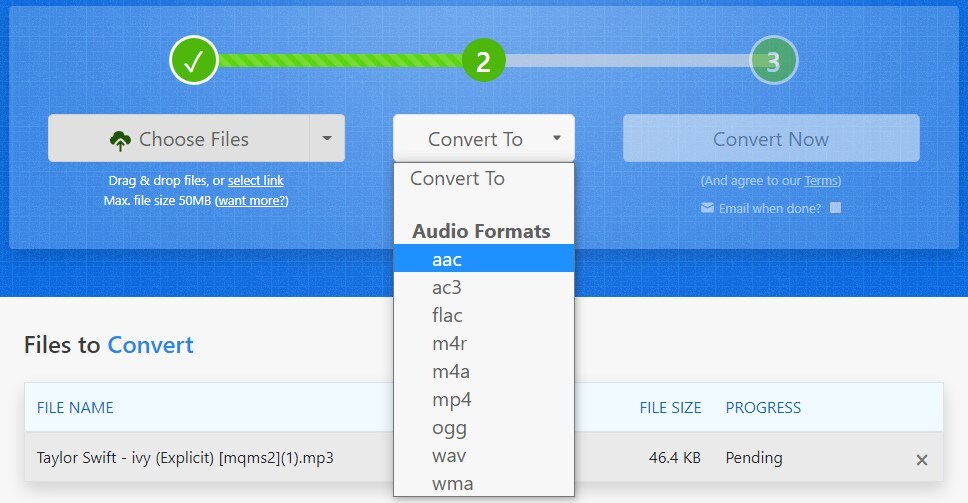 Pricing: Free; Basic: £7 per month; Pro: £13 per month; Business: £19 per month
Pros
Clean, easy to use interface
Fast conversions even on the free plan
Cons
No additional conversion options
Free users heavily limited compared to premium members
Ideal for: Users who require more than just a converter to download YouTube to WAV files but may also want to convert other files.
Convertio is a fairly robust cloud-based online converter that can convert YouTube videos to WAV.
The converter supports more than 300 different formats, meaning more than 25,600 different conversion combinations are possible. Being browser-based, users also don't need to download and install dedicated conversion software but can use this easy-to-use web app instead.
While Convertio has tremendous file support and is relatively fast at converting, it cannot convert from a YouTube URL directly, which means you will need to pre-download your video file beforehand, before uploading it to Convertio and converting it to WAV.
Free users are limited to uploading 100 MB files, and with most YouTube videos being many times larger than this, it necessitates a premium subscription.

Pricing: Free; Light: $9.99 per month; Basic: $14.99 per month; Unlimited: $25.99 per month
Pros
Enormous file conversion support
One of the fastest online converters available
Cons
Free accounts are not valuable to download YouTube to WAV file
Conversion too relatively barebones
Ideal for: users who don't mind paying for wide file format support and want a cloud-based solution.
CloudConvert is one of the most popular online video converters with support for more than 200 different file formats. While CloudConvert can convert YouTube videos to WAV, it is also used to convert documents, images, spreadsheets, archives, and audio files directly.
Like Convertio, however, CloudConvert cannot convert YouTube videos directly. So while it does support converting files from cloud storage and some video URLs, YouTube videos are not supported.
This means you need to pre-download your YouTube videos before converting with CloudConvert. But, with more than 1 billion files now converted, this is not necessarily a problem for some users who enjoy CloudConvert's intuitive menus and conversion options.
CloudConvert pricing is flexible and involves both a "package" and a subscription model. Packages allow you to pay for conversion minutes ahead of time and do not expire. Subscriptions, however, are 50% cheaper per conversion minute but expire each month.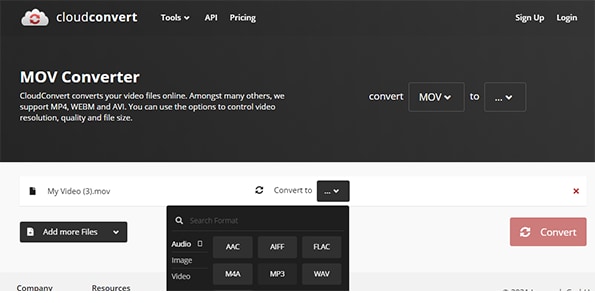 Pricing: Free; Package: $9.60 per 500 conversion minutes (no expiry); Subscription: $9.60 per 1000 conversion minutes (expire monthly)
Pros
Large file format support
Cons
Convoluted pricing structure
Free users are unable to convert YouTube videos to WAV unless the file size is tiny
Need to pre-download YouTube videos
Ideal for: users planning to do a lot of converting online.
Part 3. Frequently Asked Questions about YouTube to WAV Audio Converter
1. Is WAV better than MP3?
While MP3s are considered the most helpful sound format due to their smaller file size and compatibility, WAV files are better from a sound quality point of view.
When MP3 files are encoded, they are compressed to shrink their file size. In the process, the quality of the sound suffers. MP3 files typically range between 90 kbps and 320 kbps, depending on whether they are being used for the spoken word or music.
While MP3 is a "lossy" format, WAV is a "lossless" format, meaning the original audio's full quality is preserved. While this does result in larger filesizes from averaging a bitrate of 1,411 kbps, it also means a better listening experience.
When sound quality matters, WAV wins.
2. Is converting YouTube to WAV illegal?
Ultimately it is perfectly legal to convert a YouTube to a WAV file, but it might be illegal to download some YouTube videos, such as those with copyrighted music.
In most countries, using a YouTube to WAV converter to make a personal copy of a music video, for example, is against copyright law. Despite this, no conversion software users have as yet been fined for breaching this law or banned by YouTube for breaching their terms of service.
In reality, most users are downloading and converting YouTube videos for legitimate and fair reasons, with no risk of violating copyright law.