Some media players cannot play AAC files due to compatibility issues. The best way to play the AAC in such players is to convert the file into supported files such as MP3. If you want to play your AAC audio, you can do so on your Android, or on your computer. The best 10 AAC players for Android, Mac and Windows have been listed below.
Part 1. AAC Software - All in One AAC Player and Converter
UniConverter boasts the best conversion functions among all converters. It supports batch conversion of audio and videos, it is 90X faster, and it ensures zero quality loss. This AAC Converter converts almost any audio and video format, and you can convert between more than 150 file formats. Besides, it is also a AAC Player thanks to its inbuilt video player. You can easily download, convert, manage or play AAC files in this all in one video and audio converter.
Tips: UniConverter built-in player can help you play MOV, MP4 MP3, AAC files, etc. During the viewing, you can take the snapshots, adjust the voice volume, speed, and subtitle.
Supports batch conversion of audios and videos between 150+ video and audio formats.
Inbuilt video downloader that supports video download or record from more than 1000 sharing sites.
Internal editing tools for editing your file before conversion such as cut, crop, add subtitles and watermarks.
DVD toolkit that contributes to copy, burn, backup, and convert DVD content.
Ensures 100% quality retention with 90X faster speed than other video converter thanks to hardware and Intel techniques.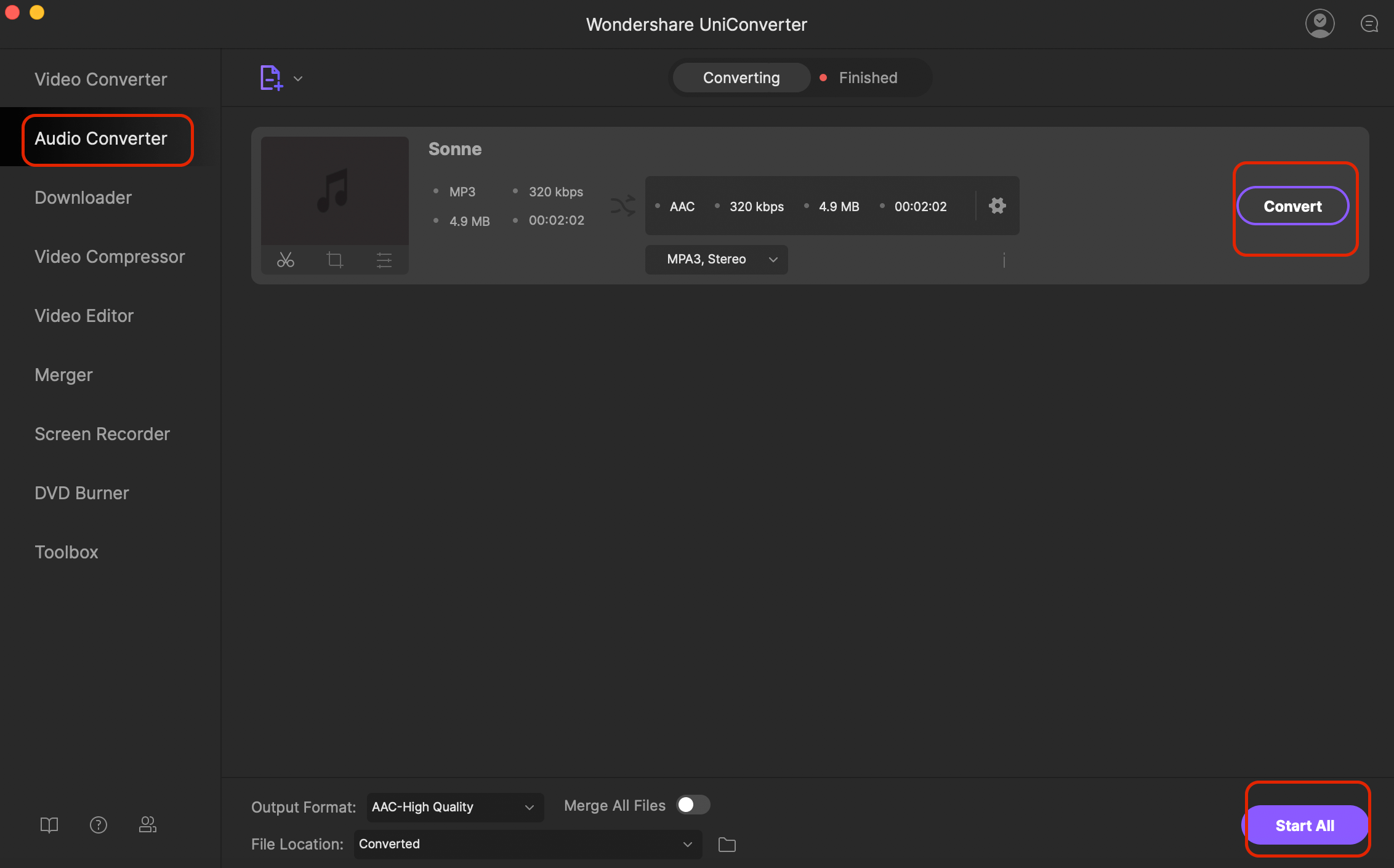 Part 2. Best 5 AAC Player for Mac & Windows
It is one of the lightest AAC music players for windows. It has an install size of 3MB. It supports files such as MP4, AAC, CD Audio, WMA, OPUS, FLAC WAV, AIIF, etc.
Pros:
It has a customizable interface.
It can transcode the supported audio formats.
Cons:
Supports Windows XP SP2/SP3 and later releases only.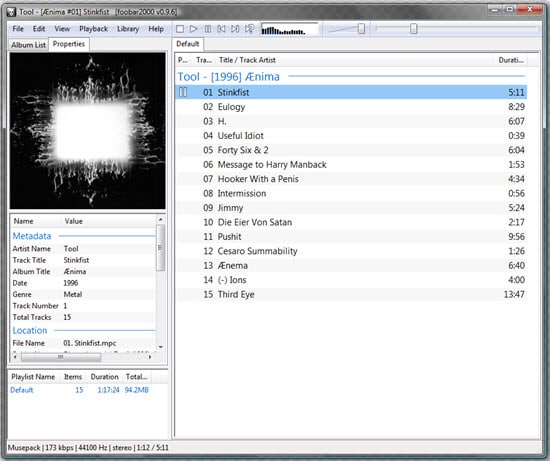 It is one of the best AAC files player since it handles large music library with many playlists. It supports CD playback and importing.
Pros:
It scans your computer for media files and sorts out the audios and videos separately from each other.
Cons:
You have to keep upgrading to the newest version.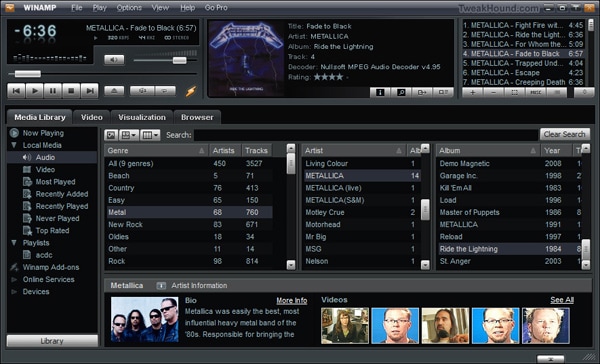 Decibel is a high-quality AAC file player that was previously known as AyreWave. It supports all lossy and lossless formats including AAC.
Pros:
It supports the playback quality for files sampled at all bit depths.
Cons:
The full purchase is available for $33.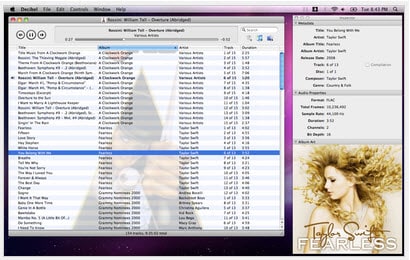 Vox has a streamlined user interface and a clean design that is also easy to use. The AAC player is smaller like a sidebar, and it can be minimized further.
Pros:
It supports Last.fm compatibility.
It supports MusizBrainz to fill in metadata gaps in your library.
Cons:
No format conversions.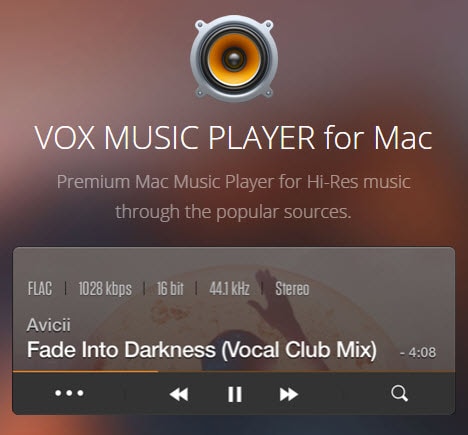 MediaMonkey is a powerful media management suite which finds the missing track information and fills the gaps. The supported file formats include AAC, MP3, WMA, MPC, APE, FLAC, WAV, WMV, MP4, MKV, etc.
Pros:
It offers an auto organizer and auto tagger.
Cons:
It has a significant learning curve.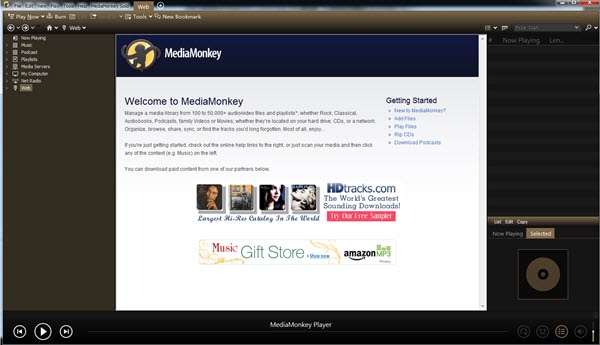 Part 3. Best 5 AAC File Player for Android
It is one of the famous Android AAC music players. It is safe for your musical needs.
Pros:
It has a 10 band optimized graphical equalizer.
It has a gapless playback.
Cons:
It displays the directory names of the songs and albums on the library making it look untidy.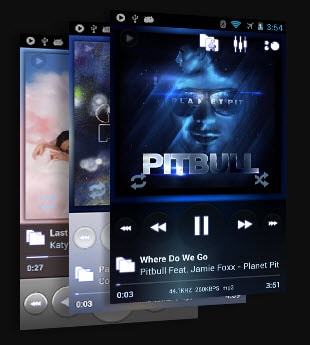 It is one if the best-looking AAC file player app on Android. It uses Last.fm scrobbling which help tailor playlist to your liking.
Pros:
It has a theme and lyrics support.
It supports gapless playback.
Cons:
You have to get the paid version for chromium support.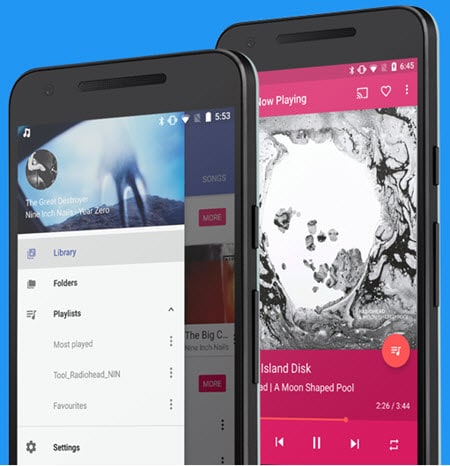 Neutron offers advanced settings and features and various digital sound effects. It supports AAC, MP3, and other music formats.
Pros:
It supports streaming of audios.
It has DSP support.
Cons:
Only Android 2.1+ is supported.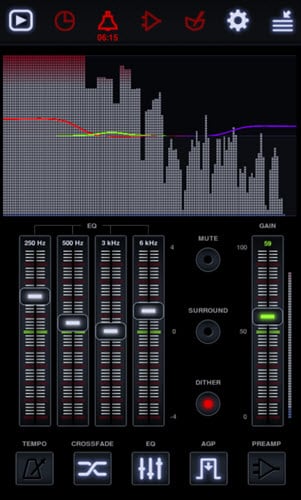 Rocket AAC Player is easy to user audio player for androids. It is integrated with iSyncr to support syncing of your iTunes tracks.
Pros:
It has a chromecast support.
It comes with an integrated video player.
Cons:
The premium version is not free.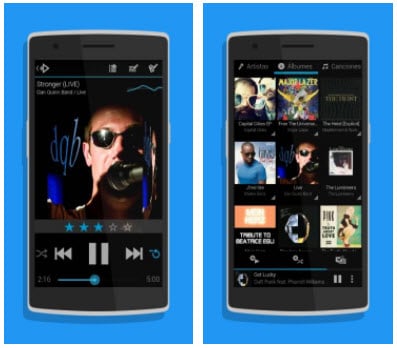 N7Player is an android audio player that arranges the music library by artist name in alphabetic order.
Pros:
It has multiple theme skins.
Cons:
The equalizer is available for Android 2.3 and higher.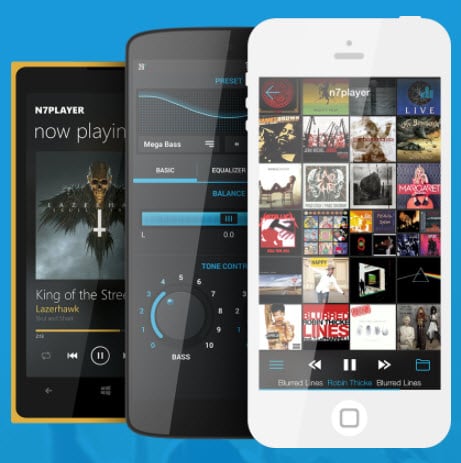 Part 4. Google Play AAC and HTML5 AAC Player
#1. What is Google Play Music? Does Google Play Music support AAC Format?
Google Play Music podcast and music streaming service. It is also an online music locker manage by Google. Google Play Music has standard accounts which provide users with storage of up to 50,000 files from their music collection at no cost. It also supports the ability to listen to the music through the service web player and mobile apps. Songs bought from the Google Play do not count against the 50,000 song upload limit. With a subscription fee paid to the Google Play music, users get access to streaming 40 million songs without any ads during listening. Besides, no limitation on the number of skips, and they can play music on mobile apps while offline. All new user are offered a one-time-30 day free trial for a subscription. The Google Play Music in computers can be accessed through the Google play while on smartphones and androids music can be listened through the Google Play app for Android.
The supported files for upload in Google Play music include AAC, MP3, FLAC, OGG, or ALAC. All non-MP3 uploads are converted to MP3.
#2. Does web browser like safari, chrome, Firefox, etc. support AAC format?
Different browsers do not support some media formats in their implementations of HTML5. For instance, Safari, Internet Explorer and Chrome support a container with the AAC codec. Opera and Chromium do not support the AAC format. Firefox supports the format only when a third party decoder is available.
Different media players can be used for HTML5, but sPlayer is the best. It supports multiple playlists and audio controls. It also supports radio/live stream and various audio formats such as AAC, MP3, OGG, M4A, OGA, and MP4. It also has a built-in instant search to help find a particular song in your playlist.