You will notice that your iPhone videos may fail to play on your Android and thus you have to convert iPhone video to Android compatible format. Therefore when you convert videos you will play them easily on Android phone. In this page, you will get the best iPhone to Android video converter - UniConverter.
Easily Convert iPhone Video to Android
With UniConverter you will be able to input media from your mobile phone, camcorders, and external hard rives, from your local hard drive or download them online and convert them to any output format. This intuitive tool is speedy since it is built with Intel & NVIDIA GPU hardware acceleration that speeds up conversion 90 times faster compared to other media converters. What other features does this software exhibit? Here are key features of UniConverter.
Get the Best iPhone to Android Video Converter - UniConverter
It converts videos to 150+ video & audio formats.
UniConverter can download media from more than 1000 web sharing sites like Instagram, Vimeo, YouTube, Blip, Spotify, Napster, Facebook and much more.
It is also built with a media transfer tool that enables you save and share media from computer to your Android phone, Apple device and external storage devices.
With its inbuilt DVD toolbox, you will be able to create DVD templates, convert DVD media, edit DVD media and copy DVD media.
It also has a video editor that allows you to trim, crop, add subtitles, add effects, add filters, adjust brightness, adjust saturation and one touch optimize functionality.
This software is also designed with a robust toolkit that houses a VR Converter, Metadata editor, GIF maker and a screen recorder.
How to Convert iPhone Video to Android using UniConverter
Here we prepare both video and step-by-step tutorial for your guidance, you can watch the video guide first to get a quick glimpse over how to convert iPhone video to Android device and then follow the instructions below to get started.
Step 1. Upload iPhone Video
Open the software on your computer and click on "Convert" button. If you have the iPhone video on your computer, you can just click on "Add Files" and browse them on your computer. If they are on your iPhone, you will have to connect your iPhone to the computer and then import from your phone.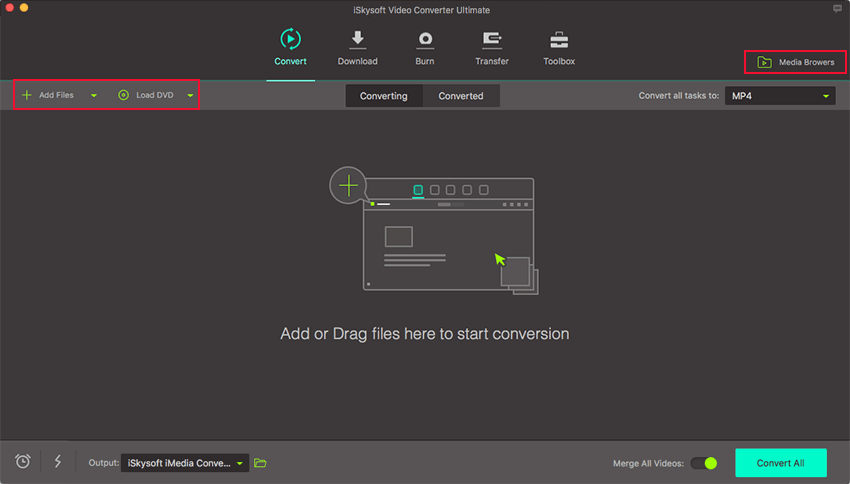 Step 2. Set Android Video Output format
The uploaded iPhone video will then appear in the window. Now, click on "Convert all tasks to" button and then click on "Device" button. From there you can choose Android device option such as Samsung, HTC, Huawei and any other that is compatible with your Android phone and move to the next step.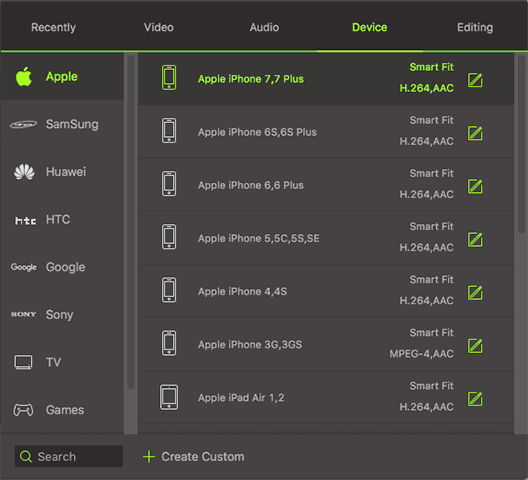 Step 3. Convert iPhone Video to Android video
When you have selected the right output format, you can then define the output location. After that, you can then go back and click on "Convert All" button at the lower right to convert iPhone video to Android video.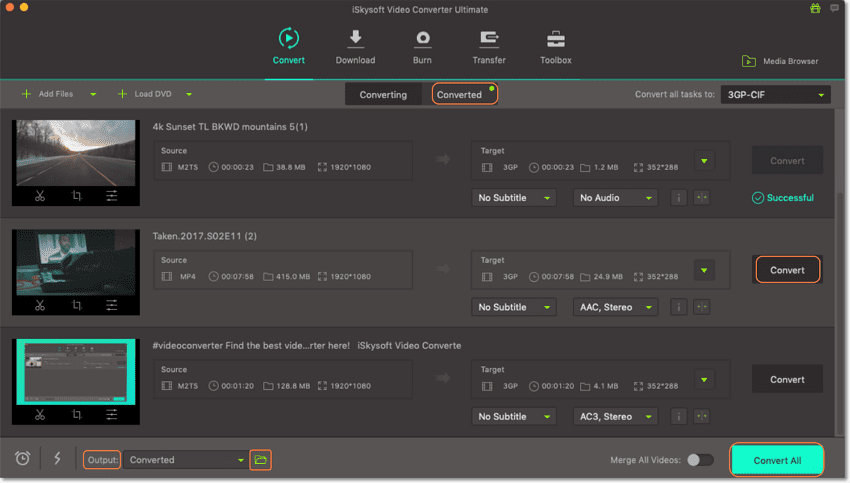 UniConverter enables you to directly transfer videos to Android phone after conversion. Now right click on the video in the "Converted" tab and add it to the transfer list for transferring to your Android phone.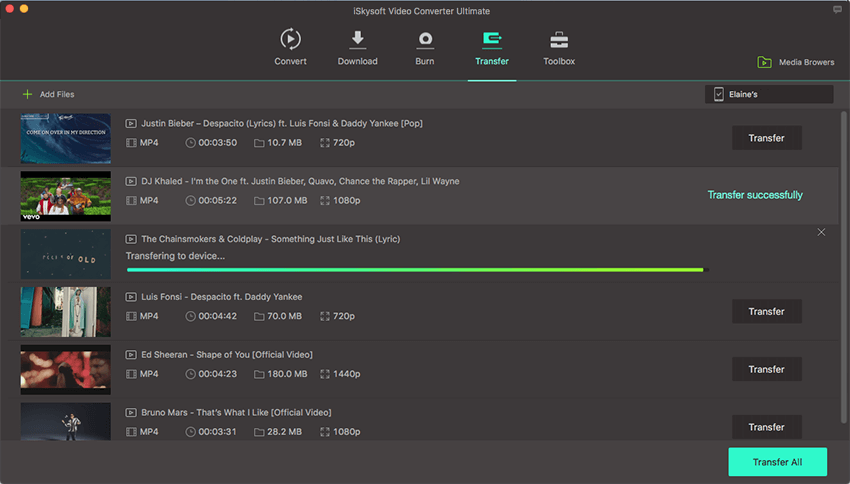 List of iPhone/Android Supported Video & Audio Formats
Audio
Video

Android

• 3GPP (.3gp)
• MPEG-4 (.mp4, .m4a)
• ADTS raw AAC (.aac, decode in Android 3.1+, encode in Android 4.0+, ADIF not supported)
• MPEG-TS (.ts, not seekable, Android 3.0+)
• FLAC (.flac) only
• MP3 (.mp3)
• WAVE (.wav)
• OGG
• 3GPP (.3gp)
• MPEG-4 (.mp4)
• WebM (.webm)
• Matroska (.mkv, Android 4.0+)

iPhone X

• AAC-LC
• HE-AAC
• HE-AAC v2
• Protected AAC
• MP3
• Linear PCM
• Apple Lossless
• FLAC
• Dolby Digital (AC-3)
• Dolby Digital Plus (E-AC-3), Audible (formats 2, 3, 4, Audible Enhanced Audio, AAX, and AAX+)
•
•
• MPEG-4 Part 2
• Motion JPEG


iPhone 8/7/6

• AAC-LC
• HE-AAC
• HE-AAC v2
• Protected AAC
• MP3
• Linear PCM
• Apple Lossless
• FLAC
• Dolby Digital (AC-3), Dolby Digital Plus (E-AC-3)
• Audible (formats 2, 3, 4, Audible Enhanced Audio, AAX, and AAX+)
•
•
• MPEG-4 Part 2
• Motion JPEG

iPhone SE

• AAC (8 to 320 Kbps), Protected AAC (from iTunes Store)
• HE-AAC, MP3 (8 to 320 Kbps)
• MP3 VBR
• Dolby Digital (AC-3)
• Dolby Digital Plus (E-AC-3), Audible (formats 2, 3, 4, Audible Enhanced Audio, AAX, and AAX+)
• Apple Lossless
• AIFF
• WAV
• video up to 4K, 30 frames per second
• High Profile level 4.2 with AAC LC audio up to 160 Kbps, 48kHz, stereo audio or Dolby Audio up to 1008 Kbps, 48kHz, stereo or multichannel audio, in .m4v, .mp4, and .mov file formats
• MPEG 4 video up to 2.5 Mbps, 640 by 480 pixels, 30 frames per second
• Simple Profile with AAC LC audio up to 160 Kbps per channel, 48kHz, stereo audio or Dolby Audio up to 1008 Kbps, 48kHz, stereo or multichannel audio, in .m4v, .mp4, and .mov file formats
• Motion JPEG (M JPEG) up to 35 Mbps, 1280 by 720 pixels, 30 frames per second, audio in ulaw, PCM stereo audio in .avi file format