MPEG-4 is a popular format for most media players. However, AAC has a better sound quality than MPEG-4 and is normally used when encoding the sound component of video clips. Due to the sound quality, you may want to convert MPEG-4 files to AAC for playback on your audio players. Converting MPEG-4 to AAC is very possible, and you just need an efficient audio converter to do the work. UniConverter will be a good option, and more details on its features and conversion procedures are discussed further in this article.
Best MPEG to AAC Converter
As media file users, we all need a tool that will convert our files without interfering with the original quality and have the work done in a short time. UniConverter is, therefore, the converter we are all looking for. The audio and video converter is an all in one tool since when using it you benefit from multiple functions. The features range from batch conversion to editing tools and video downloads among others. The conversion is also faster, and it helps save time wasted while using other converters. It is just the tool you need to install on your Mac or Windows PC and enjoy working with it.
Support more than 150 video and audio formats such as AAC, MPEG-4, MPEG-2, MP4, MP3, OGG, VOB, 3GP, MKV, WMA, AIIF, APE, M4A, WAV, etc.
Convert directly to the formats that are compatible with devices such as iPhone, Apple TV, iPad, iPod, gaming consoles and Android devices.
Download of videos from the popular sharing sites including Facebook, YouTube, Vimeo, Break, Hulu, Vevo, Instagram, and much more.
Inbuilt editor with editing options such as crop, bit rate, trim, merge, cut, special effects, subtitles, watermark, etc.
Ensures 100% quality retention of the audio and video during conversion at 90X faster than other converters.
How to Convert MPEG-4 to AAC using iSkysoft
Step 1: Add the MPEG-4 File to the Converter
Begin the conversion process by initiating the converter in your computer. The next thing is to import the MPEG files that need to be converted. For Mac users, you can import the file by clicking the "Add Files" button. You can also import the files in both computers through the drag and drop method. You can add as many files as you want for the conversion.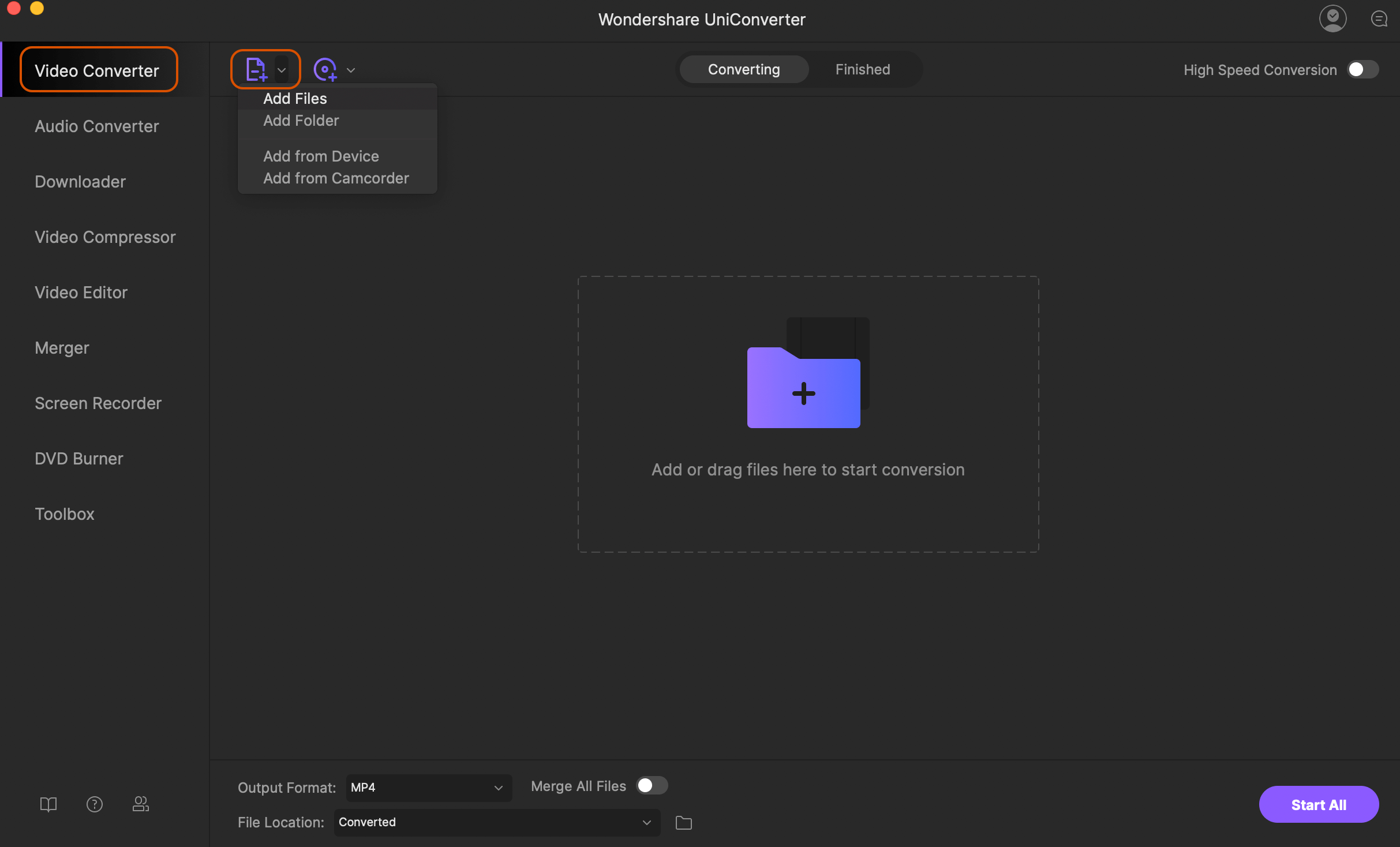 Step 2: Select AAC as Your Output Format
On the "Convert all tasks to" button, click the "Audio" button and then choose AAC from the listed options. You can change the encoding settings of the output file by clicking the "Edit" icon from there.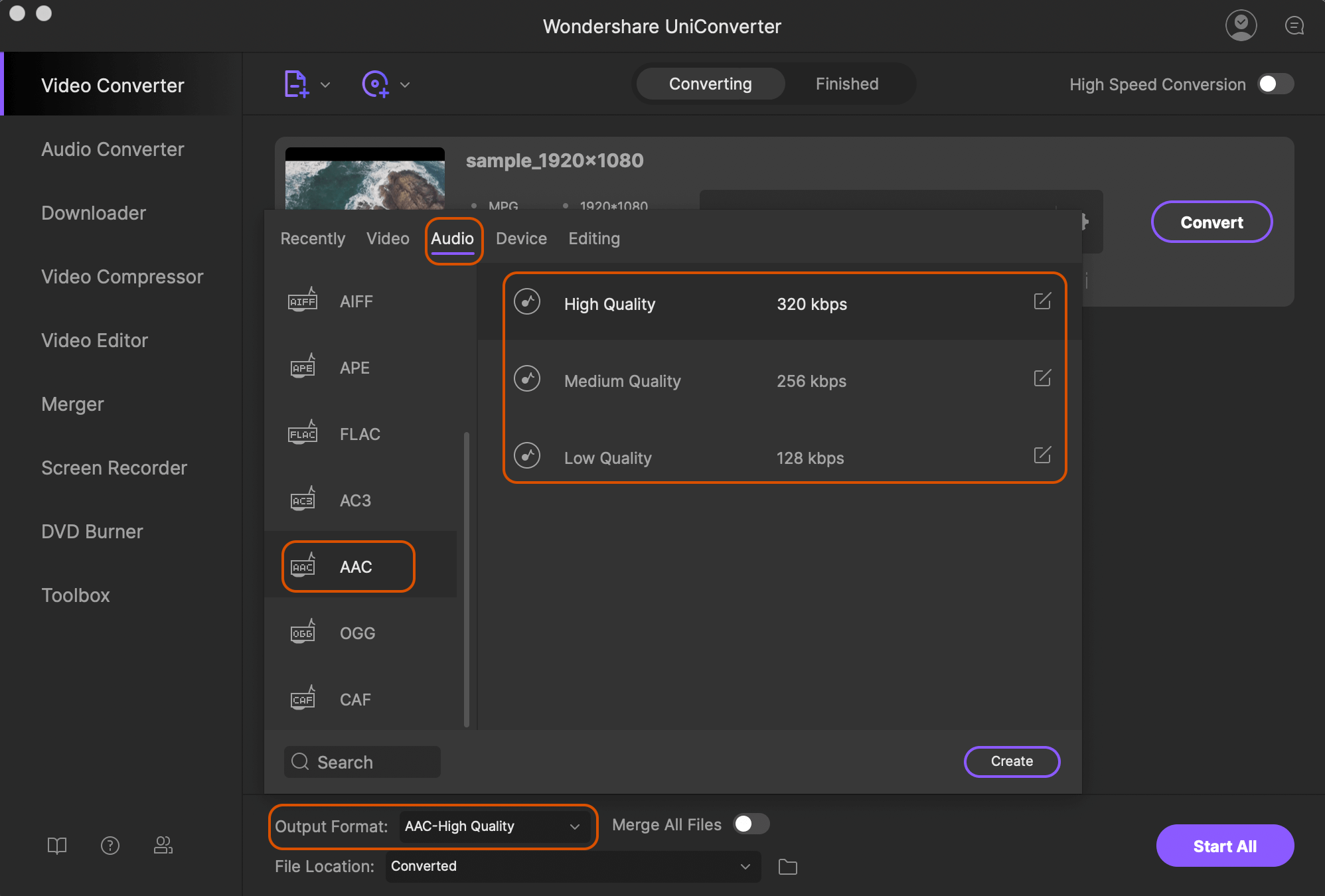 Step 3: Convert MPEG-4 to AAC
Once you are done changing the settings, you should select a destination for the converted file. Just click on the folder to save the file and then hit the "Convert" button. The MPEG-4 file will be converted to AAC within a short while.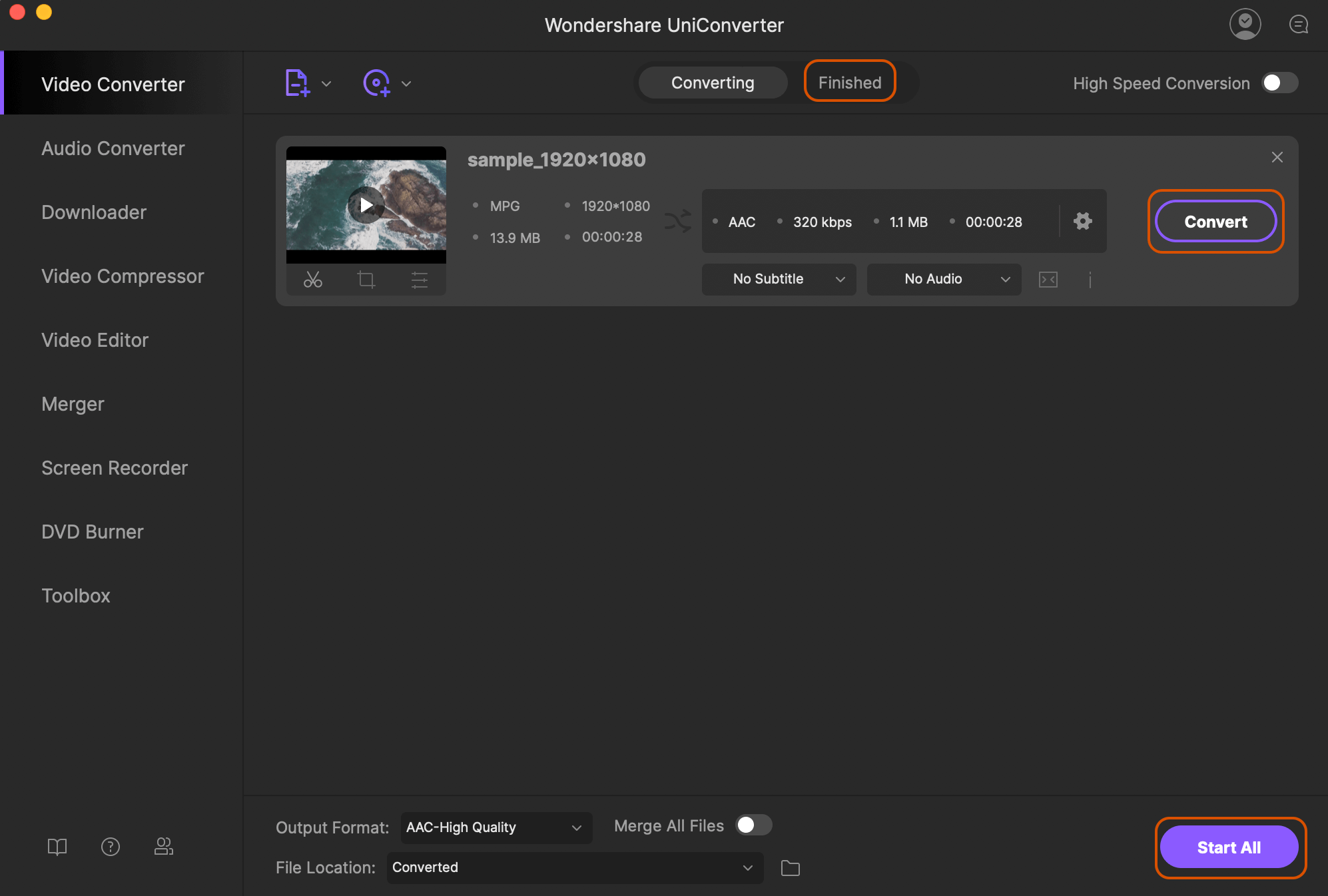 Tips: MPEG-4 vs AAC Format
What is MPEG-4 Format:
MPEG-4 refers to a compression method of the MPEG group designed for the compression of both audio and digital media data, especially for bandwidth (less than 1.5Mbit/sec bitrate, MPEG-4 includes both audio and video data, and it supports multiple A/V codecs. MPEG-4 files are mostly used for streaming videos over the Internet and for distributing video content over the web. It is also used in voice (videophone, telephone) and broadcast television applications. MPEG-4 files has .MP4 as the file extension. MKV is also a file container of MPEG-4. MPEG-4 provides functions such as improved coding efficiency of MPEG-2, ability to encode mixed media data (video, speech, and audio), error resilience to support robust transmission and the ability to interact with the audio scene generated at the receiver.
What is AAC Format:
AAC refers to Advanced Audio Coding in full. It is an audio coding standard for lossy digital compression. It is was designed to be the successor of MPEG-3 Layer 3 (MP3). AAC is the default standard audio format for iPhone, YouTube, iPod, iTunes, Playstation 3 and much more.
Differences between AAC and MPEG-4:
The connection between MPEG-4 and AAC is that AAC is part of MPEG-4 file format. AAC was developed as part of MPEG 4 which was an improvement of MPEG-2. However, the difference between MPEG 4 and AAC is that MPEG 4 is used for both audio and video compression while AAC is only used for audio compression. Basically, AAC is a subpart of the MPEG specification.