Sometimes you may want to upload audio such as WAV to YouTube or Facebook, but find out it's hard to upload audio to it; or you just sent the WAV file to your phone, but it didn't play. Now you are looking for a way to convert WAV to MP4. In this article, you can learn the top 4 WAV to MP4 converters online free and for Mac/Windows system.
Part 1. How to Convert WAV to MP4 on Mac and Windows
Widely support and fast conversion are the chief reasons why using UniConverter to change WAV files to MP4. You can convert to as many popular formats as possible without concerns of incompatibility. With UniConverter, you will get to enjoy super speeds for conversion with 90 times over others. This program offers lossless conversion, which means you can get the converted file with the same quality. What's more, have you ever yearned to personalize your videos? If yes, this software will allow video editing prior to conversion.
Get the Best WAV to MP4 Converter:
Flexible conversion

- Converts over 150 video and audio formats, including the popular MP3, MP4, MOV, AVI, VOB, MKV, WAV, ACC, etc.

Fast conversion

– With a new algorithm, it converts at 90X faster speed.

High quality conversion

– Maintains the quality of your videos after you have converted them.

Edit before conversion

– With the inbuilt video editor, you will be able to edit your videos before you convert them. Add special effects and more to liven up your videos.

Burn to DVD

– Burn video or audio to your DVD without the use of external burning tools.
How to Convert WAV to MP4 on Mac or Windows PC
Before getting started, you can watch the video below to get a quick look over how to convert WAV to MP4 on your Mac.
Step 1. Import WAV file to WAV to MP4 converter
Install UniConverter on Mac or Windows PC. Open it and add your WAV files to the program after clicking "Add Files". Or do it by dragging and dropping. There are those that allow for files import through the main interface where you will .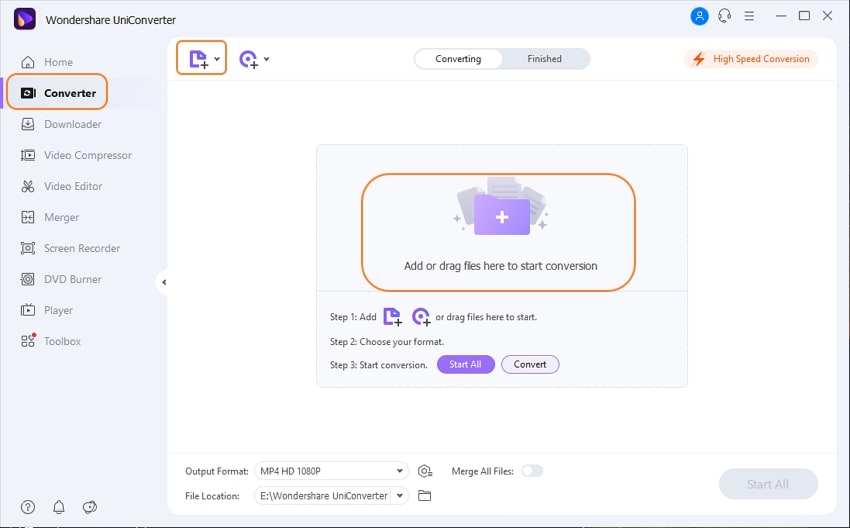 Step 2. Choose MP4 as output format
You are converting your WAV file to MP4. So please choose MP4 from the format tray. You can find it under the Video tab. Now it's up to you to choose the output quality, as there are options like The same as source, 4K, HD, SD, etc. Choose a specific directory of your computer where the converted files will be saved to.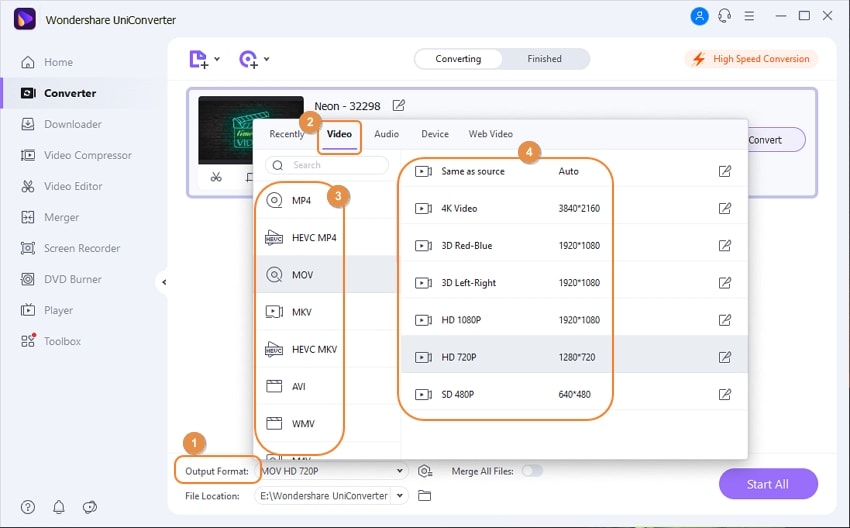 Step 3. Start Converting WAV to MP4
Clicking on the "Convert" button of the program will put the conversion process on motion. It will usually take 10 seconds to finish the conversion, but depends on the length of the file. When it finishes, you can find the converted MP4 file from the Converted tab. It is automatically saved on your computer. Click it to play or you can also transfer it to your iPhone or Android phone with the help of this program.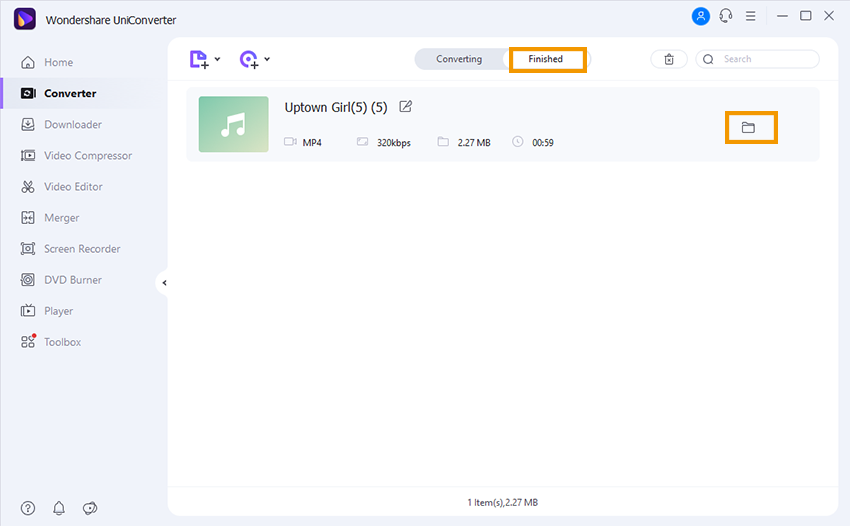 Part 2. Convert WAV to MP4 online with Recommend Free Online WAV to MP4 Converter
Online UniConverter is also a free WAV to MP4 online converter that you can use. It has fast upload speed and download speed. You can use this online video converter to convert WAV to MP4 online with ease. With Online UniConverter, you can convert video, audios, HD videos, SD videos and also output to device file types. Its user interface is simple, and you can upload files from your computer with a click. Here are the steps on how to convert WAV to MP4 using Online UniConverter.
Step 1. Open free online WAV to MP4 converter on your browser.
Step 2. Go to "Add your files" option and click on "Convert to" button. Choose the WAV file to be converted to MP4 and move to the next step.
Step 3. Next, go to select file type and choose "Video" format.
Step 4. You will have to select the "MP4" format since that is the desired format.
Step 5. Finally, click on "Convert" button. You will see an option that allows you to speed up the conversion, click on it if you have uploaded large WAV file.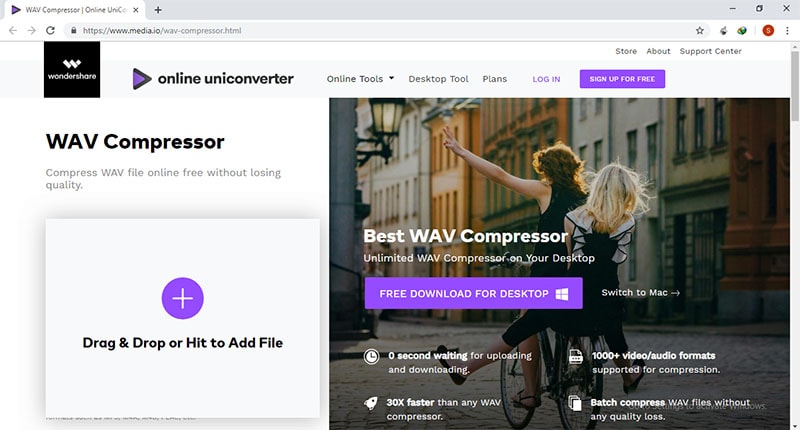 Zamzar is a reliable free online WAV to MP4 converter that converts files without any quality loss. This platform allows you to convert files freely from one video format to another or audio format. Some of the supported file formats include MP4, MOV, VOB, MP3, WAV and much more. Other than that Zamzar can also convert documents, images and PDFs. How to convert WAV file to MP4 with Zamzar?
Step 1. Go to Zamzar website on your computer and click on "Choose Files" under Step 1. You will be able to add WAV file from your computer.
Step 2. Next, choose output format. Under output formats, click on it and go for "Video" formats and click on "MP4" option.
Step 3. After that, go to the next step and provide an email address that the program will send the converted file.
Step 4.. Click "Convert", and Zamzar online converter will convert WAV to MP4 format. Once it is done, the program will notify you, and you can then head to your email address and download the MP4 file.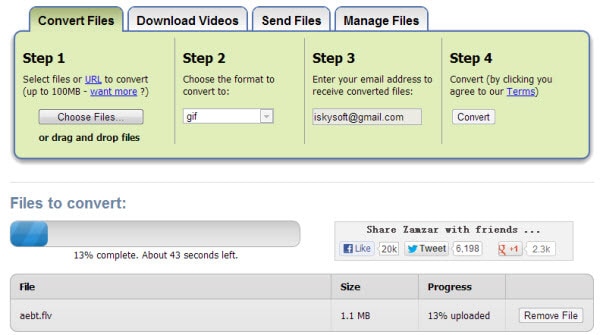 CoolUtilis.com is another online converter that will help you to convert MOV to MP4 with ease. It supports some audio formats like WAV, MP3, AAC and OGG and it can output them as MP4 format. Moreover, CoolUtilis website allows you to customize bitrate, sample rate and channels of your file before converting them. Furthermore, this free online converter supports conversions of other file formats like PDF, Excel, CAD, and images just to mention a few. Now let us have a look at how to convert WAV to the MP4 free online converter.
Step 1. Visit CoolUtilis converter website and then click on "Select Files" button. Select the WAV file that you want to convert and open with the online converter.
Step 2. Move to the "Set Convert options" and select "MP4" format. After that, you can do more settings like adjusting sample bitrate, channels and bitrate.
Step 3. From there, you can now convert your file and then click on "Download Converted File" button.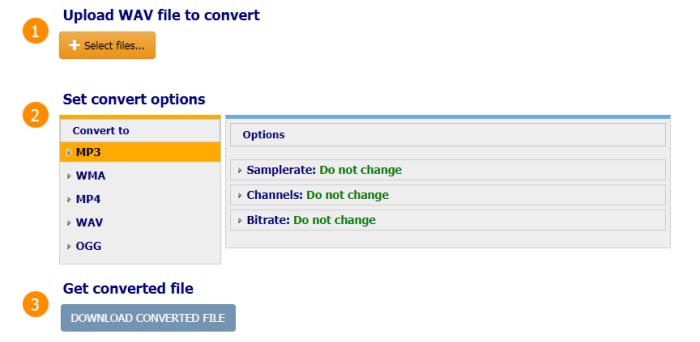 Note: Although there are many free online converter out there, they have common disadvantages. Free WAV to MP4 converter can only convert limited length of your file, and the quality will be compressed. And sometimes they contain ads in it. To avoid all of these, UniConverter stands out. It guarantees the output quality and supports more than 150 formats. Why not free download it and have a try!