When you choose a quality convertor from those in the online market, you will have no problems converting OGG to MP4. It will allow you some ease, flexibility and a feeling of efficiency in undertaking any video conversion. The best one should be available for free and well optimized to guarantee your converted videos of high quality.
In this article, you will get the best OGG to MP4 converter, and some free OGG to MP4 converter online. Also find the difference between OGG and MP4 video format in the last.
Best Solution to Convert OGG to MP4 Quickly
You will have more than a reason for choosing to use UniConverter in converting OGG to MP4 format. One of the benefits is ability to convert files in any of the popular audio and video formats that include WAV, MKA, MP3, FLV, AVI and MKV. The second benefit to enjoy in using iSkysoft is conversion of video to edit and share on different platforms including iMovie, Facebook and YouTube. It will offer you all the privileges that you will be looking for in a video converter.
Get the Best OGG to MP4 Video Converter:
With the ability to convert over 150 video formats, and also do so in batches, you will do a vast array of work quickly.
With a conversion speed of 90X, you will definitely be working faster than using other converter.
It enables you to convert online video from YouTube, Facebook, Twitter and any other online sites.
The inbuilt video editor allows you to edit video before you convert them.
You will be able to write your videos directly to DVD, without exporting to another DVD burner.
User Guide to Convert OGG to MP4 on Mac
Please note that iSkysoft video converter can work both on Mac and Windows PC. Here we show the guide on a Mac. Windows users can do the same on Windows computer. Also, please make sure to downlad this smart OGG to MP4 coverter frist. You can click "Free Download" buttons below to proceed. Now let's begin.
Step 1. Import OGG files
Make your OGG files to be converted, they have to be added to the program timeline and there are two ways to do that. One, drag and drop the files directly or use the menu bar to click on "File" then "Load Media Files". Batch conversion is possible so you can add more than one file at the same time.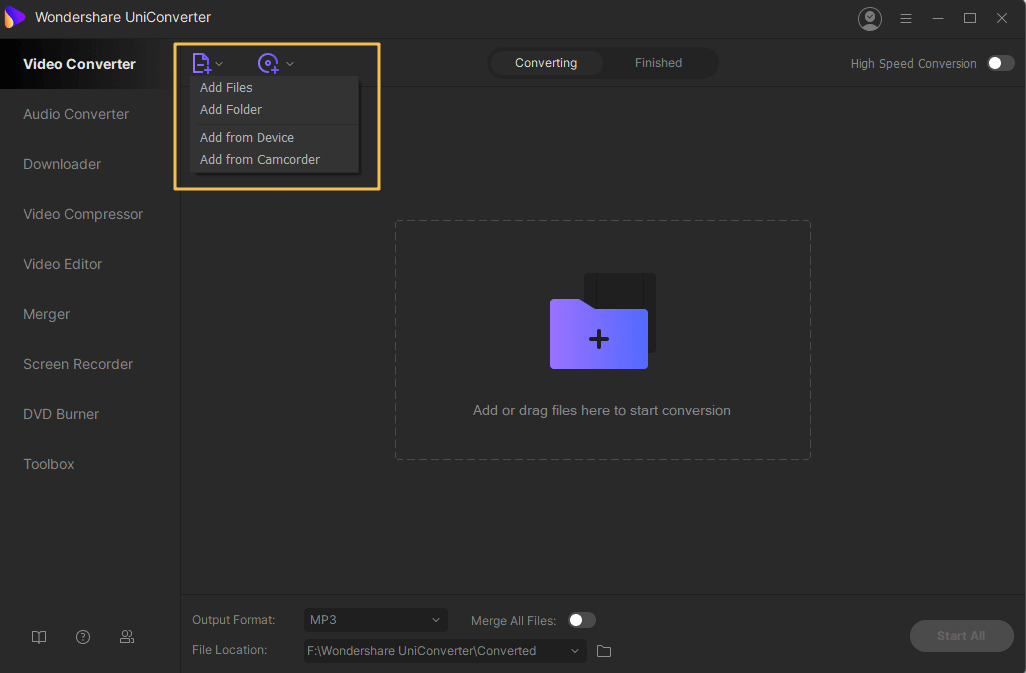 Step 2. Choose MP4 as output format
MP4 is the main output format and you should not hesitate in choosing that. Simply choose MP4 following the instruction in the screenshow below.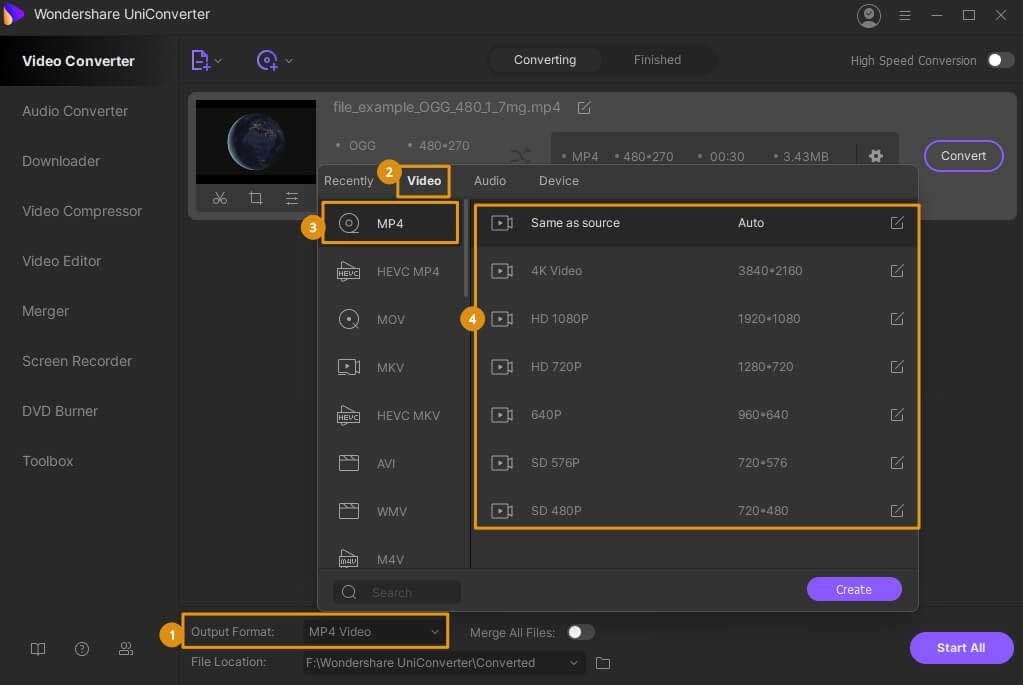 Step 3. Start Converting OGG to MP4
Once you have clicked on the "Convert" button, the process will begin. The period it takes to complete that will depend on size of the file as well as speed at which the convertor is working at. After a few seconds, you will get the OGG file in MP4 on your computer. Find it from "Converted" tab.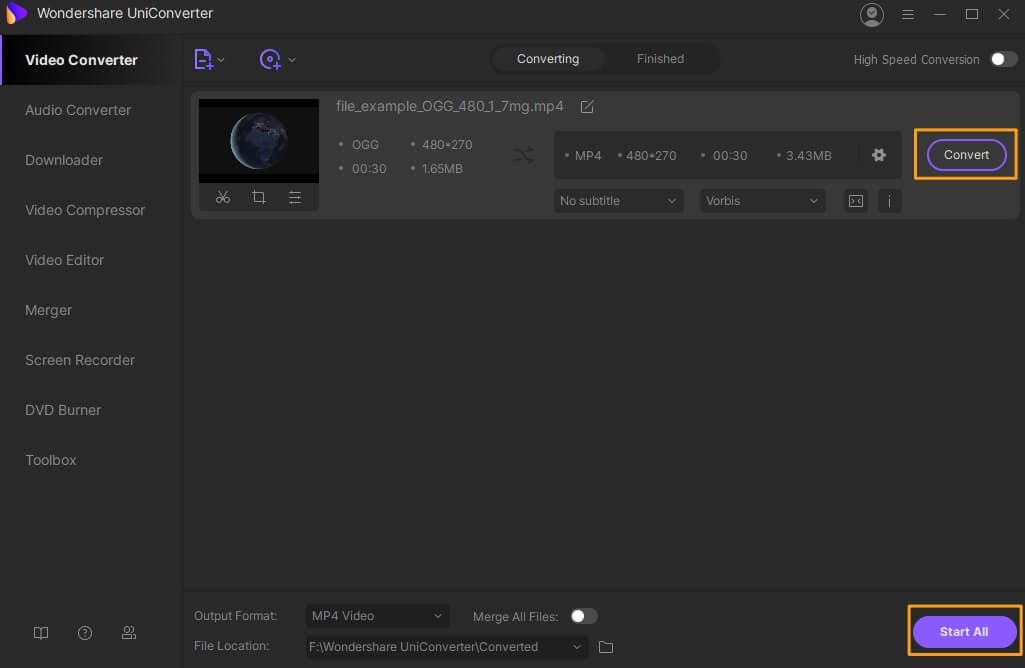 Part 2. How to Convert OGG to MP4 with VLC
The all-famous VLC media player is an all-rounder player, that can edit, convert and compress the files in an effortless manner. Thus, converting OGG file to MP4 is relatively simple and very easy to do. All you have to do is follow down the steps and derive how easy it is to convert OGG file to MP4 file!
Step 1: First and foremost, launch VLC Media player on your working system.
Step 2: Under the Media menu, click on 'Convert/Save' button. In case you are using Mac system, an option of 'Convert/Stream' will surface over the option you see in Windows PC.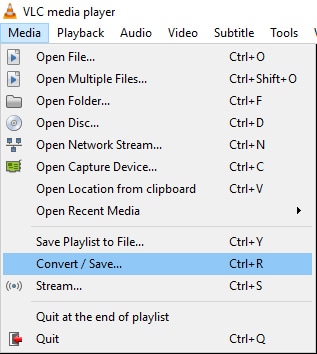 Step 3: Now, import the needed media file by clicking on 'Add' button.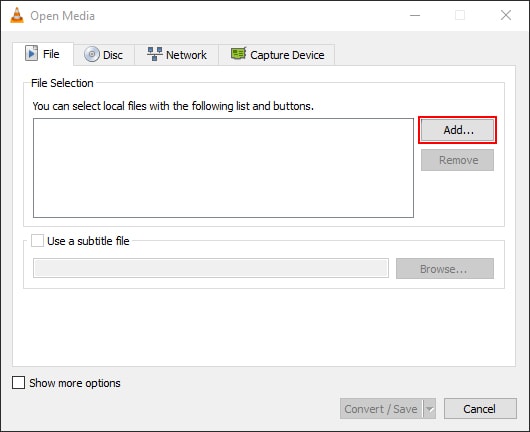 Step 4: Next, you need to hit on the 'Convert / Save' button below and select 'Convert' option.
Step 5: Ensure to convert the selected video file by tapping on 'Mp4' format, just opt for the 'Video-MPEG-4+AAC (MP4)' surfacing under the Profile drop down list.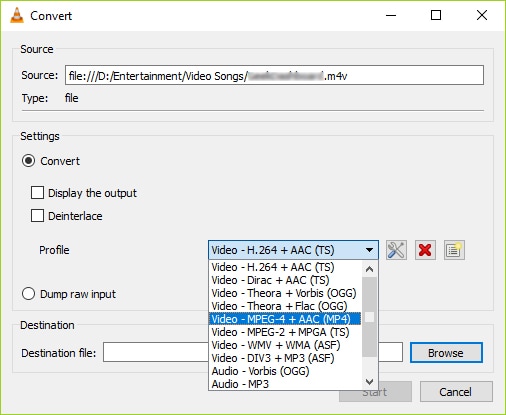 Step 6: Click on 'Browse' button appearing opposite to Destination file. Lastly, convert the file to MP4 file by hitting the 'Start' button featuring in the dialogue box.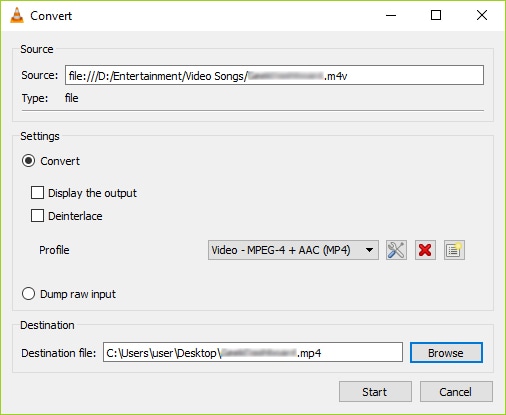 Part 3. Free Online OGG to MP4 Converter
Here is the compiled list of online OGG to MP4 format online converters that can lessen the burden of conversion!
1. Media.io
The first in our list is media.io, a brainchild of Wondershare essentially equipped to convert OGG file to MP4 format and many other. Media.io facilitates batch conversions and downloads speedily. You can convert down an array of formats such as MP4, MP3, WAV, MOV or OGG file format. Media.o also facilitates in editing, exporting desired output file to the location you prefer.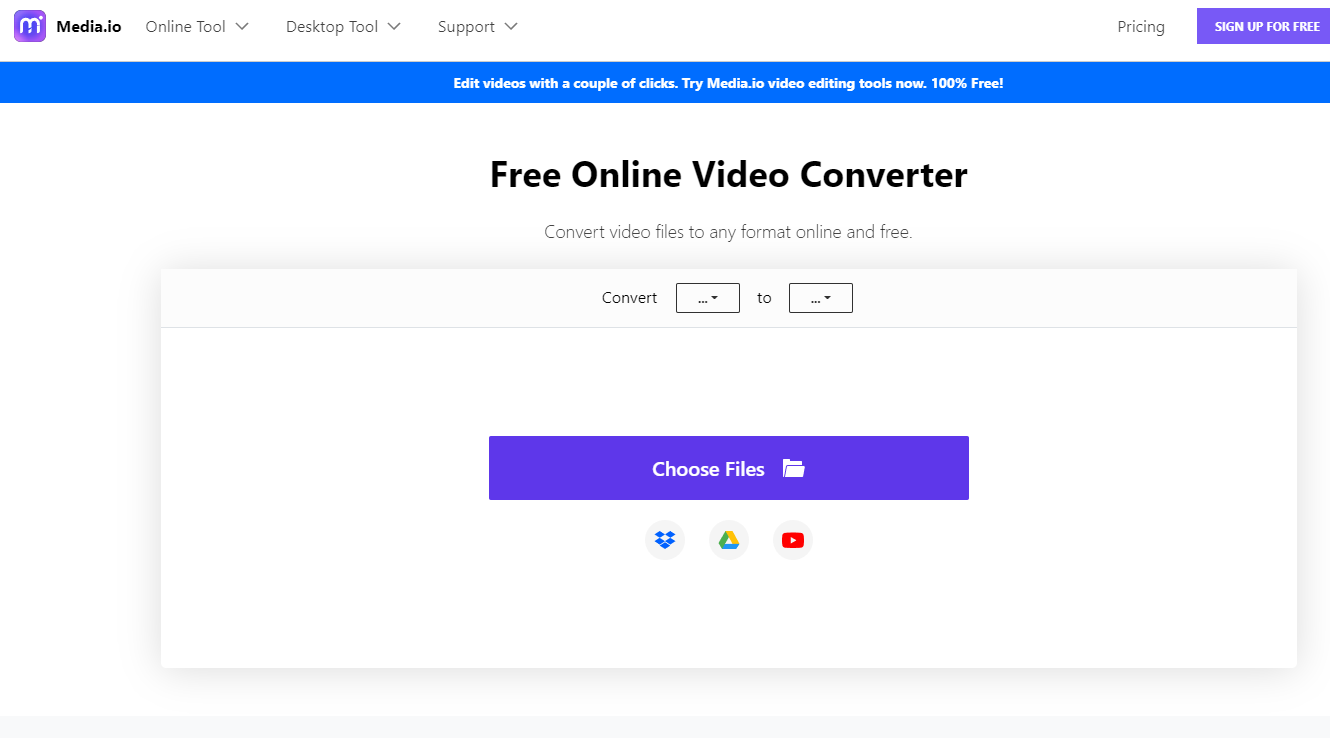 2. Zamzar
One of the free, online based applications is Zamzar that carry forwards process of conversion OGG to MP4 smoothly. This simple converter needn't to be installed in your system and fetch you the output in a desirably easier manner. Zamzar can be used by any layman, for its very user-friendly interface and covers popular formats and convert the conveniently.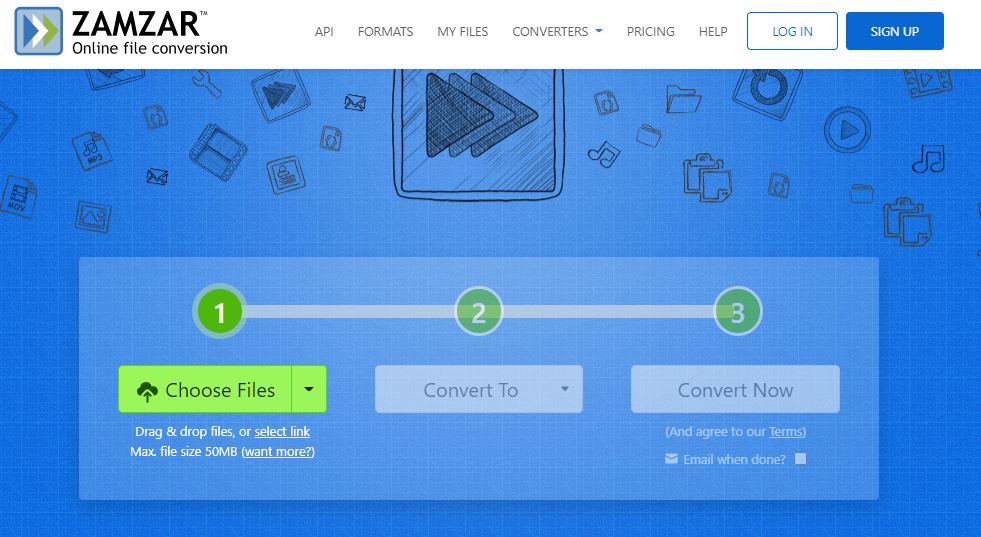 3. Coolutils
The other alternative way is Coolutil – a considerable converter, essential in converting OGG format files to a high definition mp4 file. It stretches compatibility with the GUI and running command line and execute up a range of formats in a super-duper easy way. Besides rendering the conversion service, it has an active base of customer care-fully assisting users with the queries.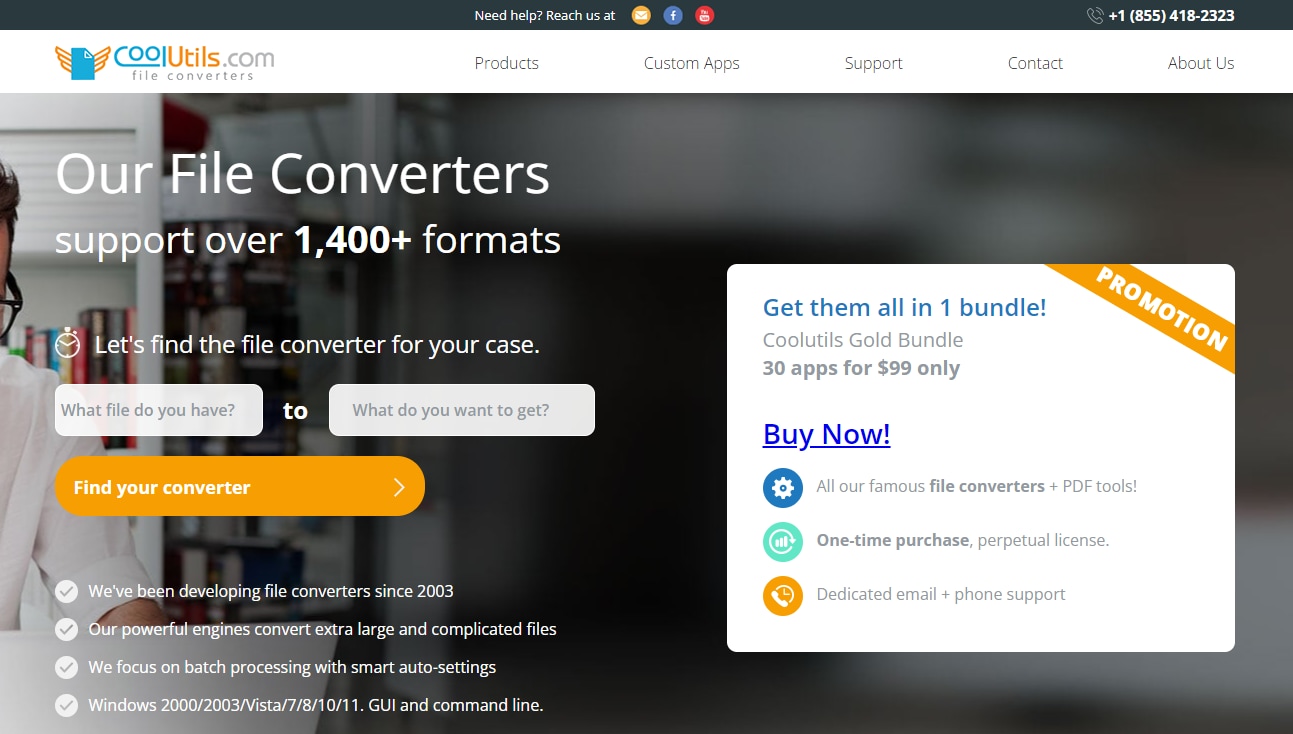 4. Convert Files
If you are searching for a simple and goal oriented software that can process conversion swiftly, Convert files is a right option for you. It securely converts file and extends compatibility with more than 200 file formats. Thus, converting OGG file to MP4 is a cake walk for convert files. One may exercise the liberty of processing conversion of audio, video, document, spreadsheets too.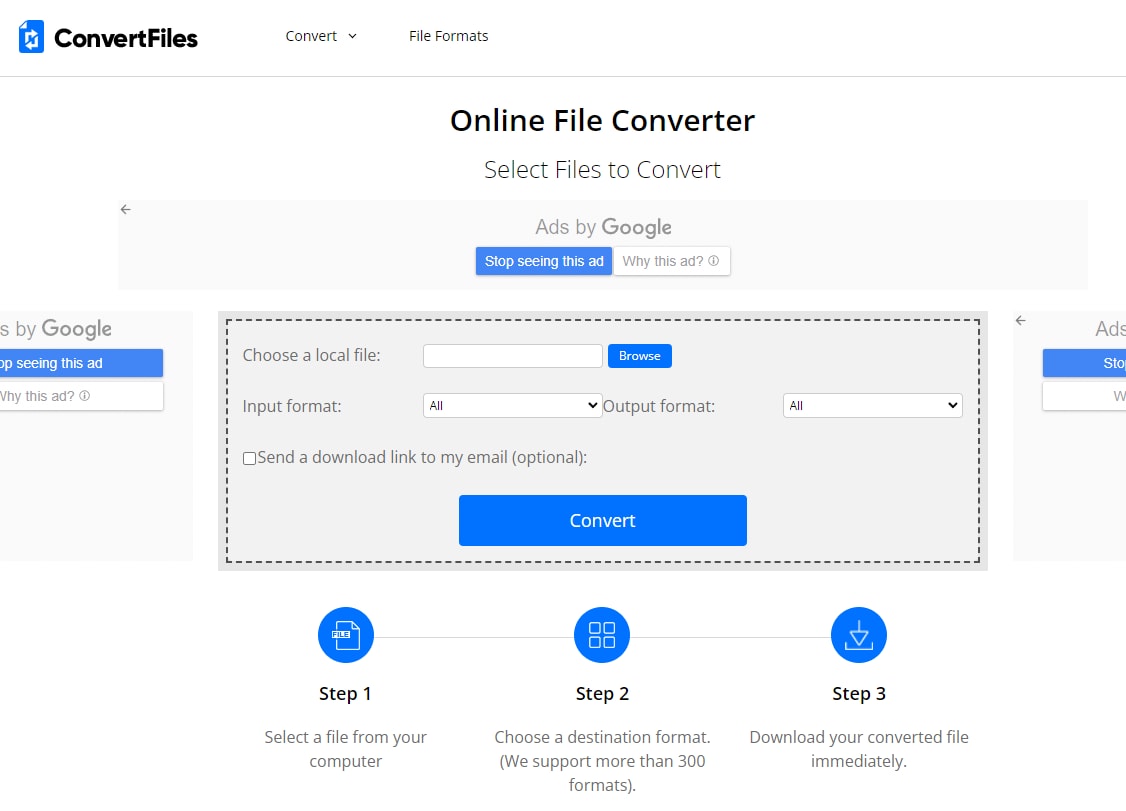 5. Online convert free
The last in our list is Online Convert free- a web based converter- designed to derive execution of conversion of the OGG file to the MP4 file. Online convert also takes the charge of converting a range of audio, photos, audio formats in a lightning speed. All that service without bearing a penny!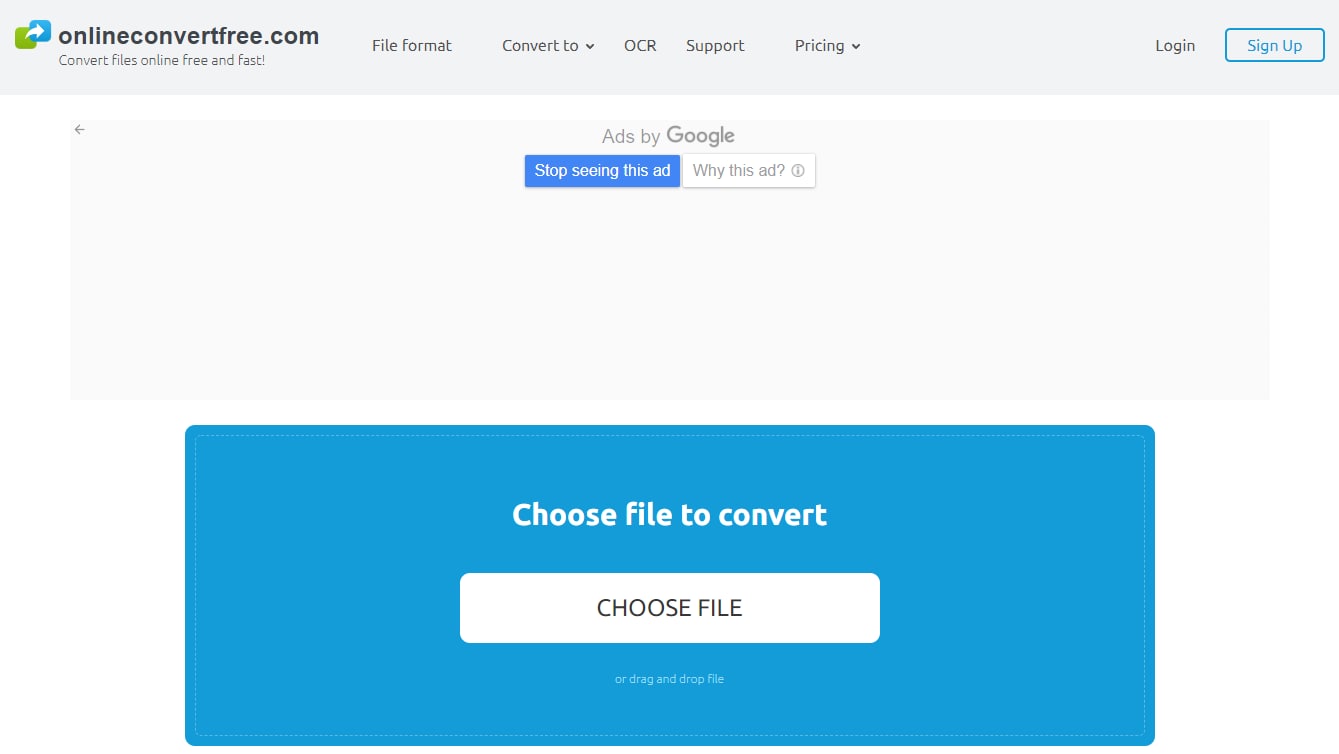 Part 4. Know More about OGG and MP4 Video Format
#1. What is OGG format?
In basic terms, OGG extension the Ogg Vorbis Compressed Audio file, where 'Vorbis' stands for the encoding scheme laid by the developers of the OGG format. It is essential in holding down the audio data. The OGG extension is useful in incorporating information of artist, the song and metadata. It is worth noting that Apple devices cannot play OGG format.
#2. How is OGG different from Mp4?
On the contrary, MP4 file is a universal format, stretching compatibility with almost all the media players available. Essentially, this multimedia container coupled with compressed data. But, it is persistent to drive out perfect quality of video format. Most importantly, the reduction of file size doesn't make the quality of the file suffer in any case. The mp4 file can be resized and can be converted from mp4 file to OGG format.