Edit Subtile-UniConverter
Create srt file for video with rich subtitle font.
Auto-generate subtitles from video in 100+ languages.
Visual Subtitle Timeline for real-time preview
Add subtitles to videos in more than 18 formats, export in MP4, SRT, USE.
Other features include recorder, merger, compressor, and so on.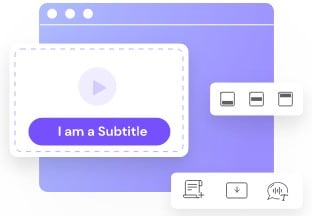 Are you attempting to get more people to watch your clips on YouTube, Facebook, or Tiktok? Viewer retention is an important aspect of any social networking platform's growth. Is it better to edit subtitles or captions? They're the key to making your films more interactive. Today's audience is impatient and demanding. Before people decide to watch the entire tape, they need to understand what it is about. Incorporating subtitles into your clips might boost their views by up to 40%. Today it's a common notion that automating subtitles is difficult, time-consuming, and costly for video editors. This article will show you five different ways to make your content more stunning by editing subtitles.
Part 1. UniConverter: Easy-to-Use Subtitle Editor
Let's save your time by showing you the best subtitle editor tool. UniConverter is a subtitle video editor software that you can use on your Windows and Mac to make your subtitles, make subtitles permanently. Also, you can generate the subtitles on your videos automatically. It will resolve all your issues and will provide you the maximum tools for creating and editing subtitles that you will find no need to search anymore. UniConverter provides subtitles in more than 100 languages and various font styles that other software and tools are not providing.
Detailed Steps
Step 1
To add subtitles to your videos, download, install, and launch Wondershare UniConverter. To import your video files, open the subtitle editor tool and select the video you want to add subtitles. You will see the option "Add File" click on it and proceed.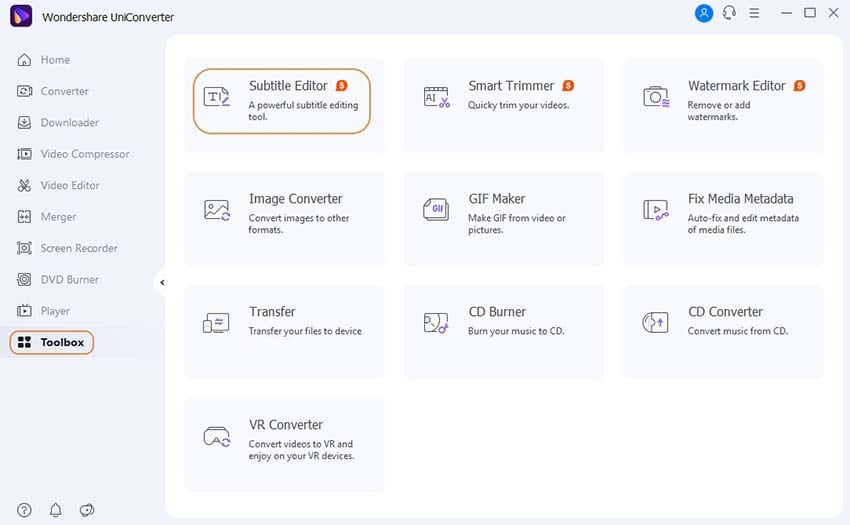 Step 2
In this caption video editor, click on the "Import subtitle File" to import the subtitle file you have in any of the formats that this software accepts. It could be an SRT, SSA, or an AAS file format. In this part, you will adjust the timeline, font size, style, and layout. If you have no srt files, you can type the subtitles for the video and edit text with the various settings. You can also save your time by selecting 'Auto Subtitle Generator', UniConverter will create subtitles from video automatically.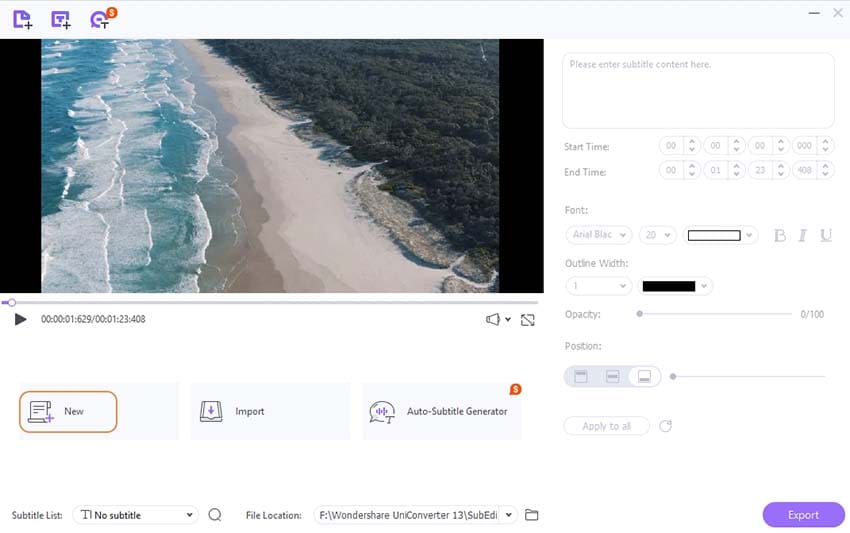 Step 3
Finally, select the file format and the file name with which you want to save the file and then click on the "Export" button to export your video file, and then you will be able to share it with your viewers.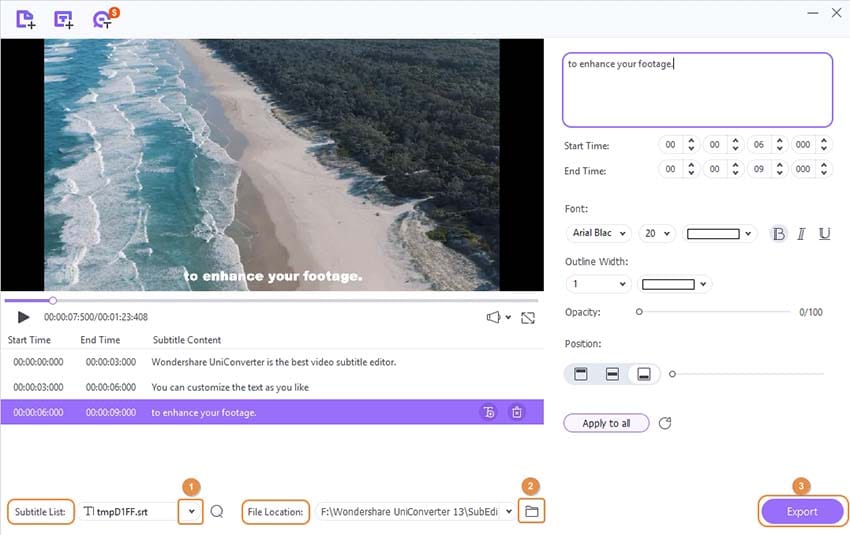 Pros
UniConverter supports more than 100 languages for creating subtitles.
It can auto-generate subtitles from video.
The font style is unique and has a wide variety. 
Cons
It only supports Windows and Mac and does not support other OS for subtitle editing.
Wondershare UniConverter 13 - Best Video Converter for Mac/Windows
5,481,435 people have downloaded it.
UniConverter supports 1000+ formats and handles 90X faster conversion, ensuring that high quality is delivered at all times.
You can add multiple files since the program does batch conversion of files.
The GUP acceleration can help you download online videos with high speed.
You can use the editing suite to remove video background, edit watermark and subtitles, and auto-trim videos.
This software facilitates file transfer to devices like Android and iPhone among others once the conversion is complete.
UniConverter is also capable of handling video compression hence ensures you acquire the video sizes you desire.
Part 2. How to Edit SRT File with the Professional SRT Editor - Subtitle Edit 3.6.4
3.6.4 Subtitle Editor Crack is a subtitle srt editor for videos. If a subtitle's start time is not coordinated with the movie, you may quickly alter it with Subtitles Edit. It is also used to create new subtitles from scratch (using the timeline, waveform, and spectrogram) and translate subtitles. Subtitle Edit for Mac supports over 80 subtitle types and includes a Google Translate auto-translation capability. Subtitle Edit is suited for you, whether a novice or an experienced user, regardless of how skilled you are in handling subtitles. You don't need to be an expert, Subtitle Edit is a simple and quick option for modifying subtitles.
Detailed Steps
Step 1

 Open Subtitle Maker in the first step.

Launch Subtitle Edit, drag your video file to the playing section. Then the waveform will pop up, from where you can add text to the video. If you have a srt file, you can also upload it by clicking 'Open' and edit srt file on Subtitle Edit.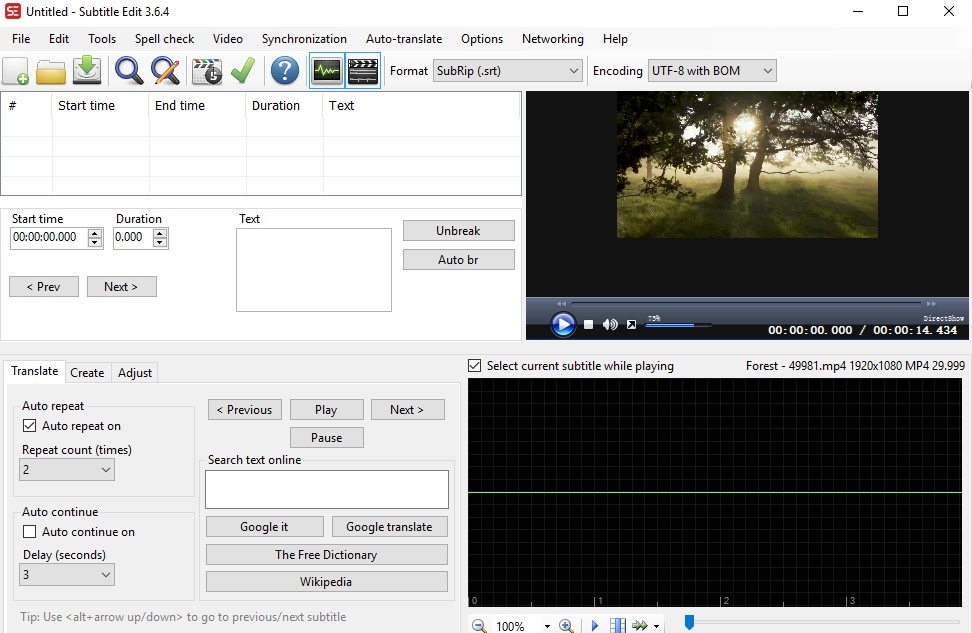 Step 2

 Add and edit subtitle

Choose a part of the waveform, right-click it, then select 'Add text here'. Now you can add the subtitle on the Text box. On the left side, you can adjust the start time and the duration. If you find you've added the wrong text, you can right-click the clip's waveform and choose 'delete text'. For one who wants to change the subtitle's color, click the subtitle and then change the color by choosing a color option.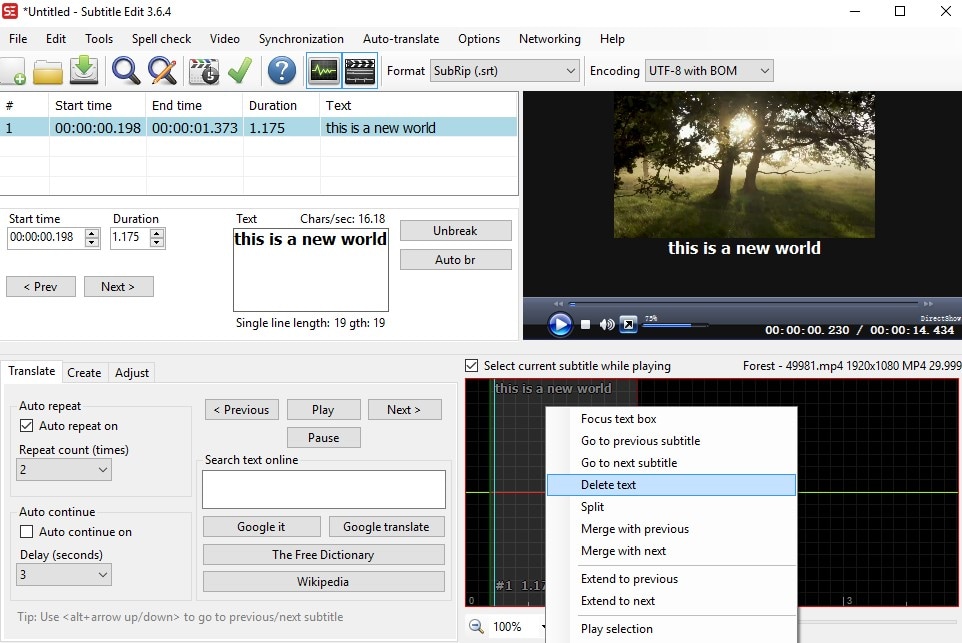 Step 3

 Export video

If you are satisfied with the result, find 'File' on the top menu, then choose 'Save as' and keep the file on your local explore.
Pros
Subtitles may be added or edited for your videos using a free online subtitle srt editor. Free of distractions and clutter.
Cons
This program only makes and edits srt files.
For tasks with overlapping sound, this isn't the best option.
Part 3. VLC - A Free Subtitle Tool
VLC Media Player is a multimedia player that is free and open-source for editing subtitles. Its consumer interface makes adding subtitles and titles to videos and movies a breeze. Whether you're using Windows, Mac, or Android, there are numerous options. Using the best subtitle software VLC Media Player, there seem to be two ways to add tags and subtitles to films and videos. You may insert subtitles directly into the video clip or create a sidecar captions file beside it. In truth, the best strategy to use is determined by your aim. This is the preferable method for participants requiring subtitles to be submitted as a separate document.
Detailed Steps
Here are a couple of options for uploading your captions or subtitle file to VLC now that you're doing it:
Method 1

Incorporate Subtitles into Your Videos

You may use a service like Revolution to add subtitles to a clip securely. This subtitle tool will offer you a completely subtitled video with both the captions irreversibly hardcoded. In this manner, they will be activated automatically on every player, notably VLC. Brake pedal, an open-free video involving cooperation, may also decode the SRT file. To do just that:
Go and acquire a professional subtitle file in the caption video editor for the SRT format file.
Launch the film on a Mac, then select the Subtitles tab on the top menu.
Choose Add Additional SRT from the Audio drop-down option. You may now add as many subtitles files as you would like for as many dialects as you want.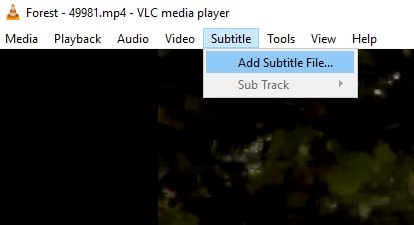 You'll be able to save all the files when you've picked the folder where you wish to save them. That's all there is to it — you're done!
Method 2

Download a Captions File in VLC Media Player Manually

You only need to follow the following basic guidelines to open a captions file in VLC Media Player immediately. To begin, give both the movie and subtitle files the very same name (different extensions are fine). Second, make sure they're all together in the same location. That concludes our discussion. VLC will instantly indicate the presence of a linked subtitle file and play this simultaneously as the video stream. This is also possible with VLC for iPhone, smartphone, and Samsung.
Pros
VLC Player is a free subtitle editor multimedia media player that can play files, DVDs, cameras, gadgets, and streams.
MPEG-1/2, D, MPEG-4, ASP, MPEG Layer 1/2/3, DTS, and more formats are supported.
Transform video and sound, sync captions, filter video, and audio, and add additional effects.
Decoding on the hardware level. The loading of media is quick.
VLC Media Player enables screen capture.
Cons
The VLC video player has a complicated user interface.
VLC is unable to play broken or incomplete videos.
Some sound and video formats still require the installation of codecs in the video subtitle editor.
VLC Player occasionally fails when playing or inserting subtitles.
The loudspeakers will be damaged if you use VLC to play videos at a high level.
Part 4. CheckSub: An Interesting Subtitle Editor Online
Enhance your presence by making powerful videos. Recently, making good videos was a difficult task. Checksub is a new approach to transforming your video into engaging content. Your viewers will see them. Subtitle editor Checksub now makes it possible to make powerful videos in a matter of seconds. Isn't it absurd to invest additional time subtitling your clip than preparing it? Yes! You'll be able to enjoy doing subtitle editing online. It worked to make it possible for you to personalize subtitles to your liking.
Detailed steps
Step 1

 On the UI, add your clip.

To begin, create an account on the Checksub platform. Choose your video and upload it on CheckSub, click the video you upload, then a 'Edit' option will appear, click on it. Now you will be directed to another page.
Step 2

 Add and edit subtitle

On the new page, type the text for the clips. There are many subtitle styles you can choose from. Click 'Style', then change color, background, position, ert. If you want to change the subtitle text, just to to 'Replace' icon, now you can replace the original text with the new one.

Step 3

 Save the SRT, VTT, or captioned video as an SRT or VTT file.

You may then export your subtitles if you're pleased with the transcription. You have the option of downloading an SRT or VTT file. You may also use burn-in subtitles in srt editor online while exporting your movie. To do so, go to the "Export" menu and select "Export Video." After that, you'll have accessibility to the editor, where you may change the look of your subtitles. After that, you may finally save your video as an MP4 file.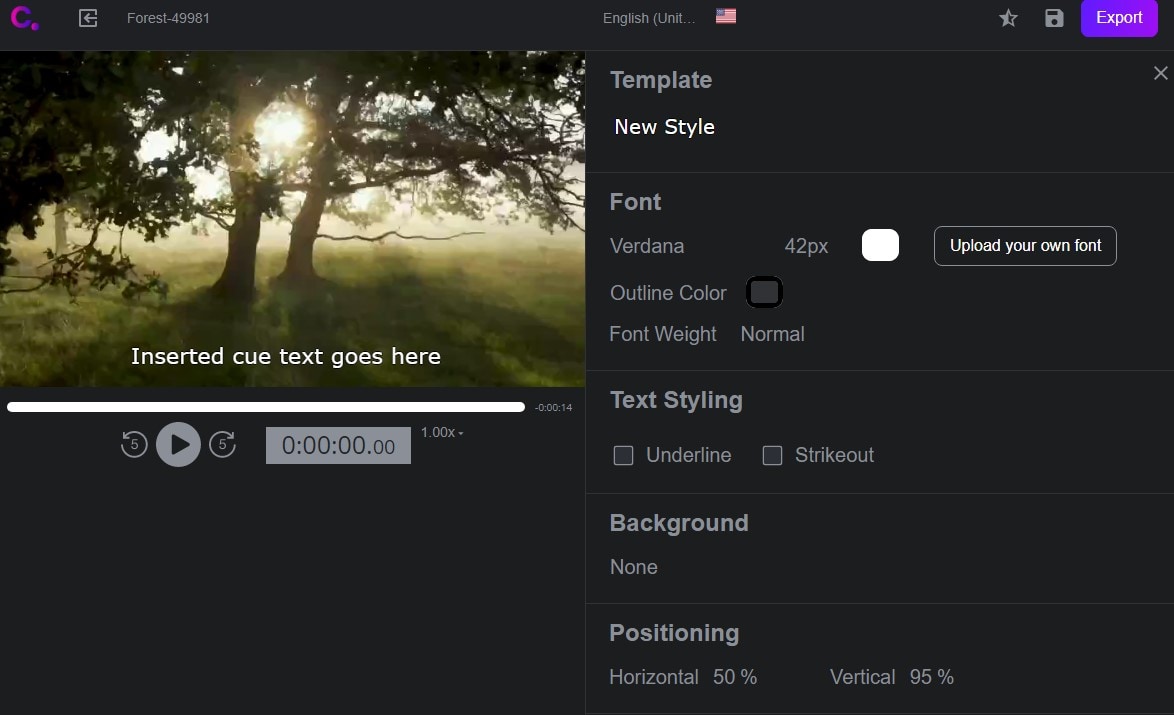 Pros
A large number of languages are available and excellent machine translation.
A platform for collaboration with subtitling professionals in subtitle tool
One of the most advanced speech recognition systems available in free subtitle editor.
Customer service that is dependable and proactive
Cons
Customization options will be increased.
The processing of subtitles might be a glitch at times.
Speech recognition is still not 100% accurate.
Design that needs to be improved
Part 5. Helpful Tips for Editing Subtitle
1. The 5 Best Subtitle Downloaders
Luckily, you have many possibilities for downloading subtitle edits online from online services. It is incredibly simple to locate and download the subtitle edit on mac that you want. This article will look at some of the greatest places for downloading subtitles online.
OpenSubtitles
English Subtitles
Subscene
YIFY Subtitles
Subtitle Seeker
2. How to Extract Subtitles from DVD
Handbrake is a popular DVD ripping tool that can also do many other things. It is available as an open program that runs on Windows, Mac, and Linux. Handbrake is a fantastic means of extracting subtitles from DVDs on a Mac. While using the Handbrake application to rip DVDs, the sub edits are not removed by default to keep the file size minimal, but the captions may be acquired using the utility in the video subtitle editor.
3. Best Fonts for Subtitle
Creating or producing videos isn't enough to make great digital content. You must take the necessary steps to ensure that your films reach the intended audience. Having understandable subtitles for your videos is one method to achieve. The typeface of your subtitles is crucial to the success of your video in subtitle edit software. On the other hand, Subtitle edit downloads are supposed to improve the clarity of your video, not to detract from it.
Conclusion
Subtitling your films isn't nearly as difficult as a few years ago. You may automatically edit subtitles to your movie using video editors with just one click. You can add captions and subtitles to your film. Adding subtitles to a video might mean the difference between losing or attracting a new audience. Adding subtitles to your videos will benefit your audience and increase interaction.