The need for compressing video, audio, image, and other files arises quite often due to different reasons like sharing files, playback on portable devices, saving storage space, and others. Good compression software here helps you to get the task done in a professional manner. Know about different types of best compression software below.
Part 1. Top 3 Video/Audio Compression Software
With high-quality video formats and files available the size of videos have become quite large which makes them difficult to share, store and even play on portable devices. Using one of the compression programs for videos, you can shrink your file size in good quality. For your reference, popular video compression software is enlisted below.
When it comes to compression of video files in multiple formats, you can completely trust on UniConverter. This professional tool supports almost all video formats including HD for your file compression needs. The videos can be added from your system storage or directly from a device if required. The process of conversion takes place by changing file parameters and maintaining the original file quality at the same time. The preview function facilitates to check the file before the process. To take care of your creative needs, a complete video editor comes packed with the software that allows trimming, cut, rotate, add effects, and perform other editing functions.
Get the Best Video Compression Software:
Facilitates compressing video files in an array of formats including MP4, MOV, AVI, FLV, WebM, and others 150+ formats.
Lossless quality file compression at super fast speed.
Allows to preview the file before the process to ascertain the size and the quality.
Comes with a complete video editor for file customization with features like trim, crop, effects, watermark, rotate, and others.
Allows transferring compressed files to iPhone, Android, and other devices for playback and other purposes.
Allows changing file resolution, frame rate, encoder, size, format, quality and other parameters for compression.
Burn videos to DVD with templates easily.
Download videos from online sites like YouTube, Vimeo, Dailymotion, Facebook, and more.
Support on macOS 10.7 Lion to 10.15 Catalina, and Windows 10/8/7/XP/Vista.
Guide to compress videos using UniConverter
Step 1. Run iSkysoft Video Compressor and add video files
Launch UniConverter and select Convert section from the main program interface. Click on the +Add Files button to select and load video files from your system. Multiple files can be added. You can even drag and drop-down the files to the software interface.
Note: Clicking the drop-down option at +Add Files will allow adding files directly from the connected mobile devices.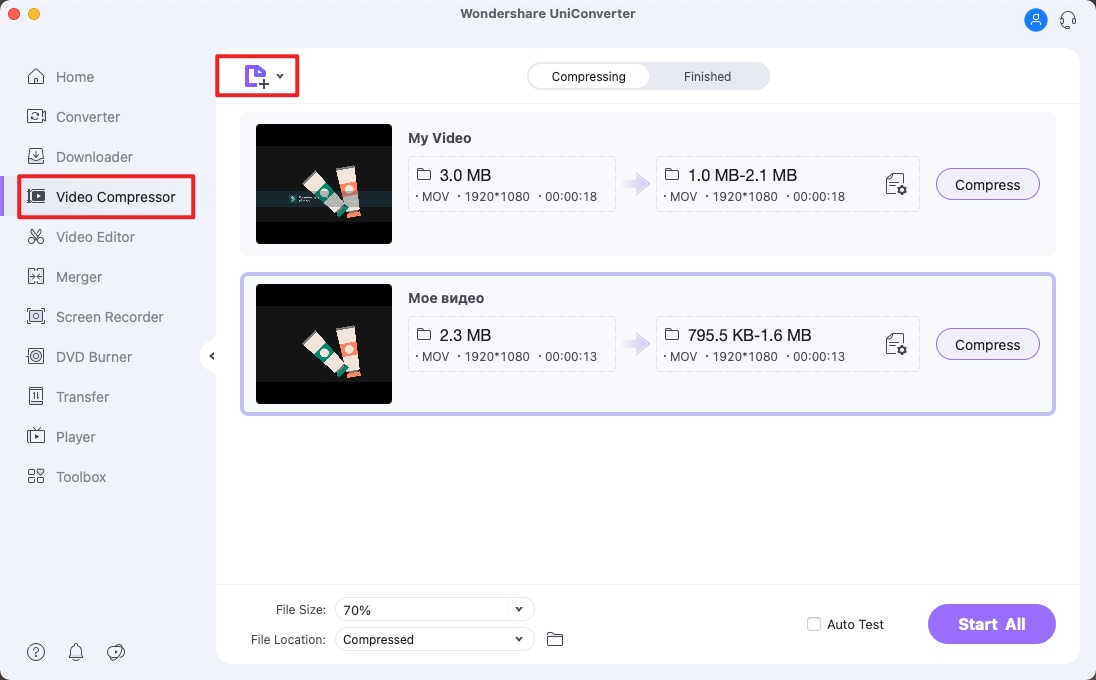 The video editing can be done after the files are added by selecting the editing icons under the thumbnail image. Videos can also be trimmed of unwanted parts to compress and reduce file size.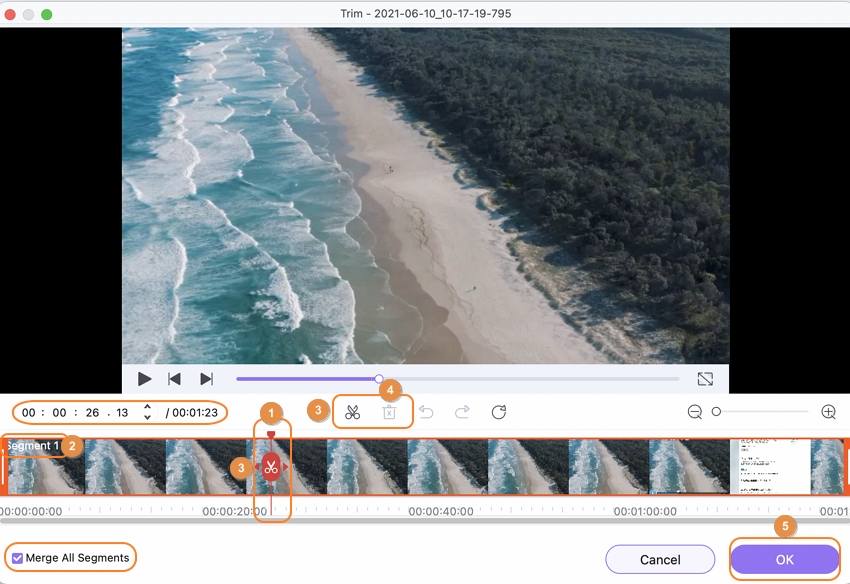 Step 2. Choose compression settings
To compress a single file, click on the compress icon at the Target menu section. A new pop-up window will open from where slide the progress bar to select the compression percentage. The file parameters will automatically change as per the percentage selected. Alternatively, the parameter values can also be selected manually. Clicking on the Preview button will help to check the file.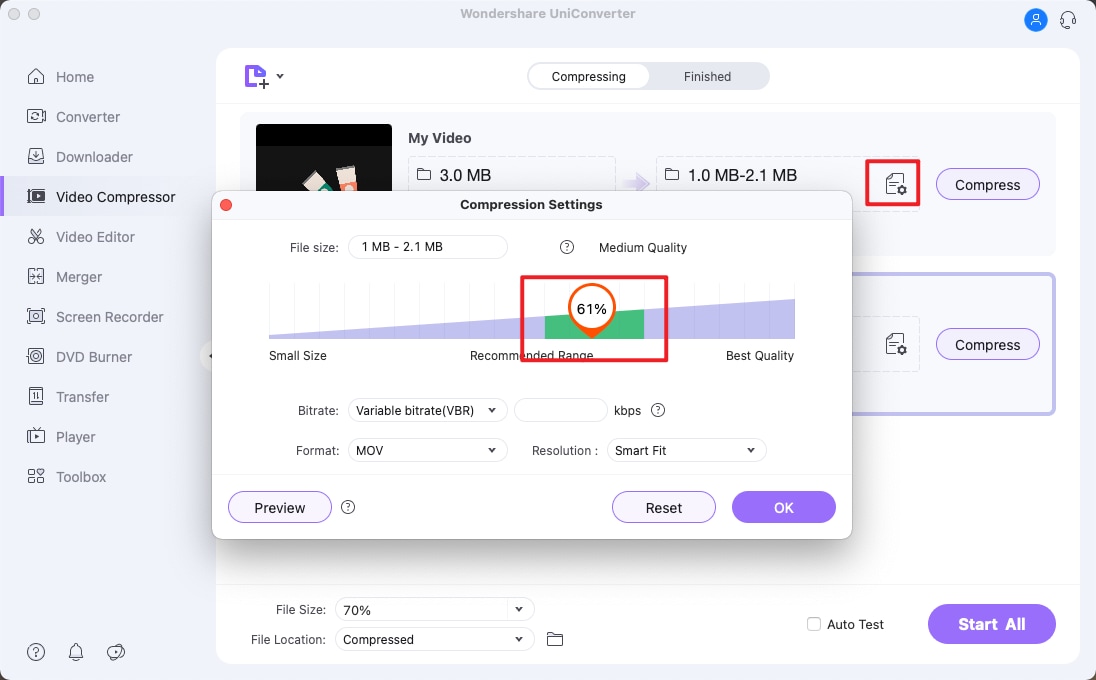 For batch compression, click on Convert all files to option on the top-right corner and then select the target format. Next, hit on the +Create Custom button to change file parameters and compress the videos.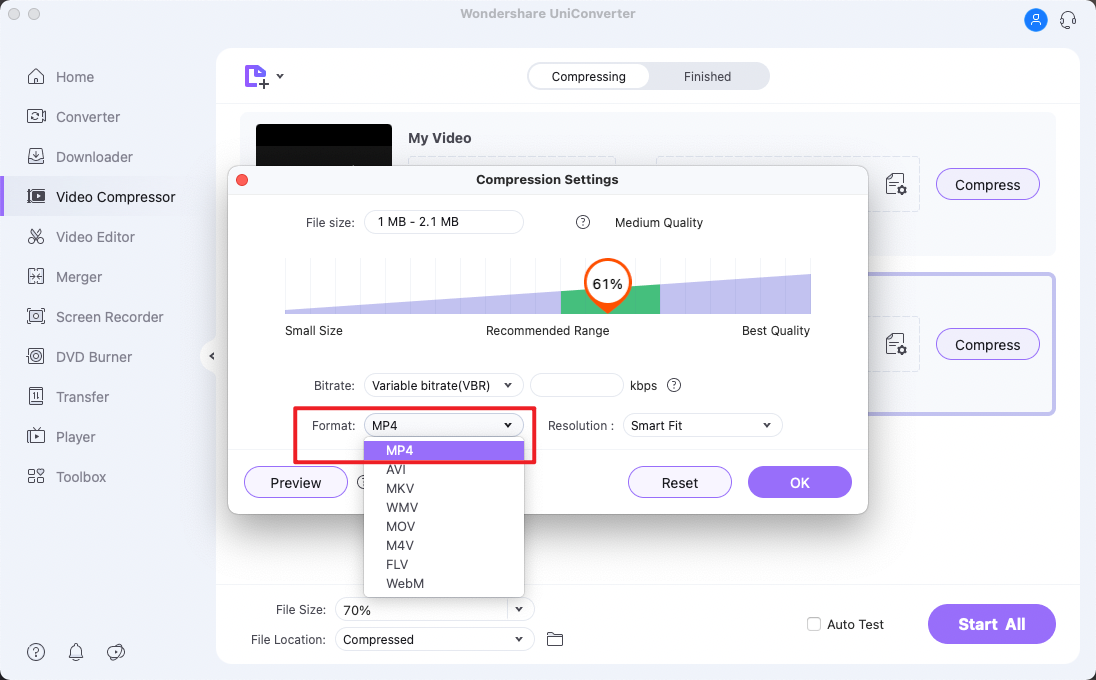 Step 3. Compress videos
At the Output tab, the location for saving the processed files can be selected. Finally, hit on the Convert All button to start the process.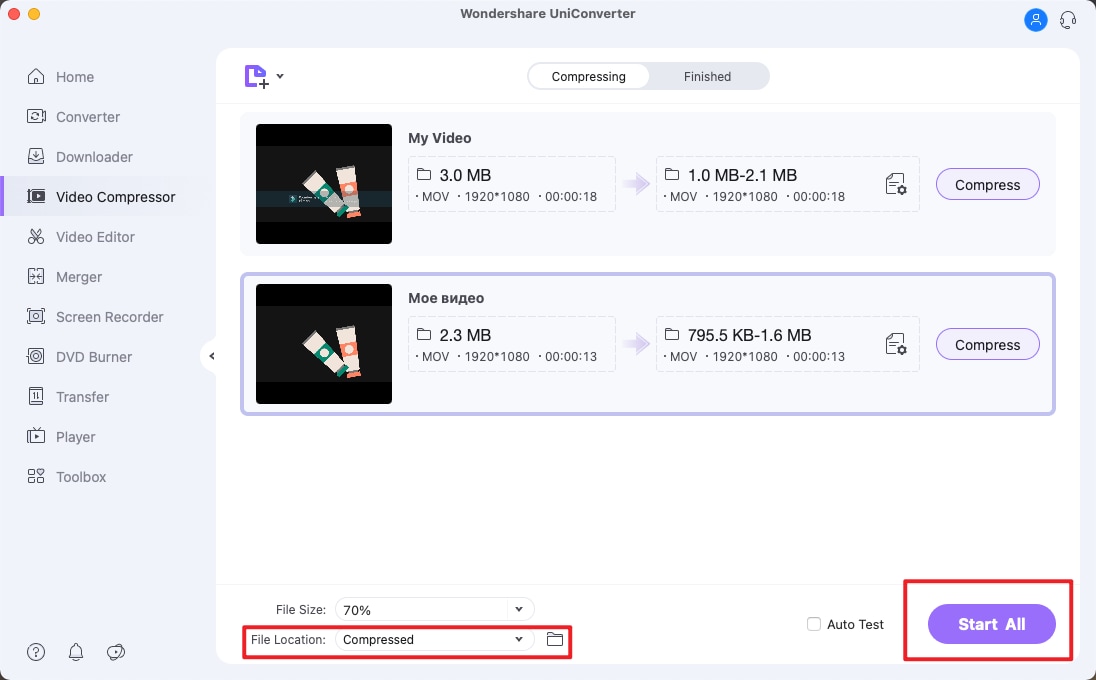 #2. Handbrake
With multi-platform support for Windows, Mac, and Linux, Handbrake is a popularly used open source video transcoder that is free. The program supports adding almost all types of multimedia files and videos from DVD and Blu-ray disc for the task. Using the software you can edit the video frame rate, quality, codec, bit rate and other parameters for file resizing. The program also supports a number of optimized profiles for an array of devices like Apple, Android, Fire TV, and others. Additional features include video filtering, chapter markers, batch scanning, live static and video preview, and others.
Pros:
Free to use with multi-platform support
Allows adding almost all video files formats and files from discs
Cons:
Supports only MKV and MP4 as output format
Limited options for file editing and additional features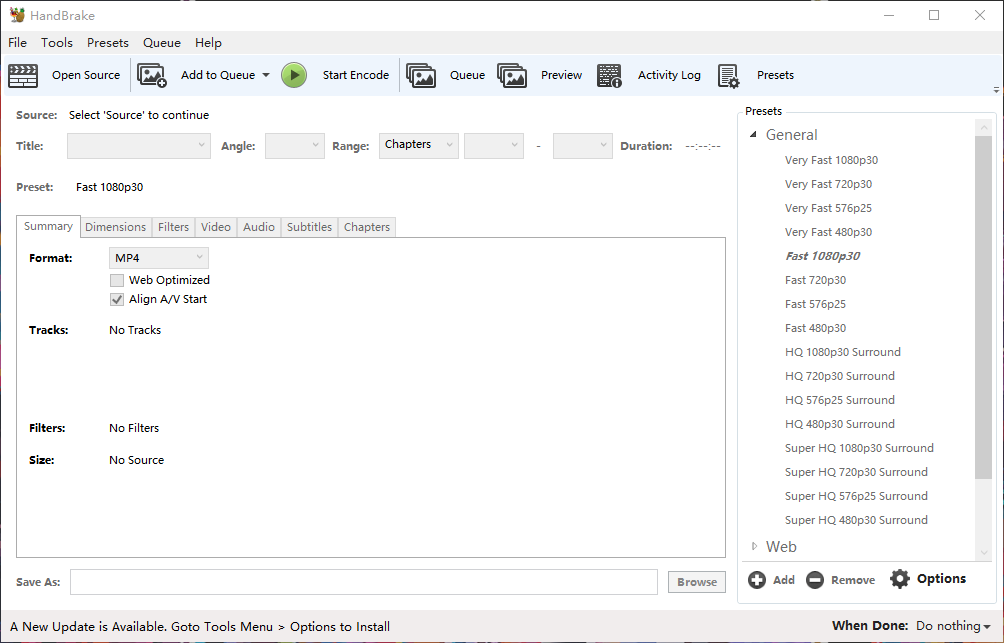 #3. Freemake Video Converter
For Windows users, Freemake Video Converter is a decent video tool-box that facilitates video compression and other functions supporting over 500 formats. You can get rid of the unwanted parts of the videos to reduce its size. Compression of files can further be achieved by changing its parameters like frame rate, resolution, bit rate, and others. Simple interface and wide array support makes this program popular among users.
Pros:
Free program with supports to more than 500 formats
Comes with decent options for file editing and other functions
Cons:
The software is available for Windows systems
The output file quality is not as good as paid professional programs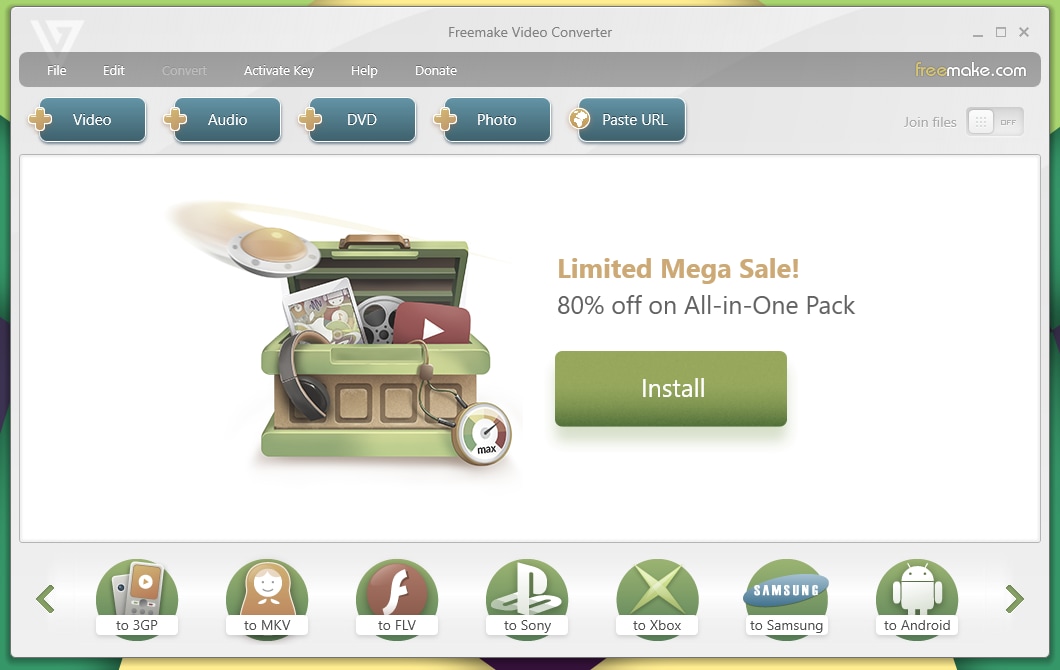 Part 2. Top 3 Images Compression Software
Image compression tools come handy when you want to upload your large size images on social media platforms and other sites. There is a long list of these programs available and to make your search task a little easier, know about the top 3 image compression software below.
#1. Caesium Image Compressor
This is one of the most popularly used image compression and optimization tool that is available for download on the Windows system. With its wide range of features, the software is apt for casual users, photographers, businesses, bloggers, and others. The simple interface of the software is divided into 3 major sections including Compression, Resizing, and Output. Using the compression function of the software the image files can be compressed by fixing their formats and quality. The resizing feature of the tool facilitates setting the absolute or relative size of the images as needed. Compressed images can be added to the new folder with unique suffixes at the output folder.
Pros:
Allows compressing a complete folder of images at a time
Facilitates setting the format, size, and ratio of the image files
A portable version of the program available as well
Cons:
Does not allow changing the quality of the image files in PNG or BMP formats
App requires regular updates as it is sluggish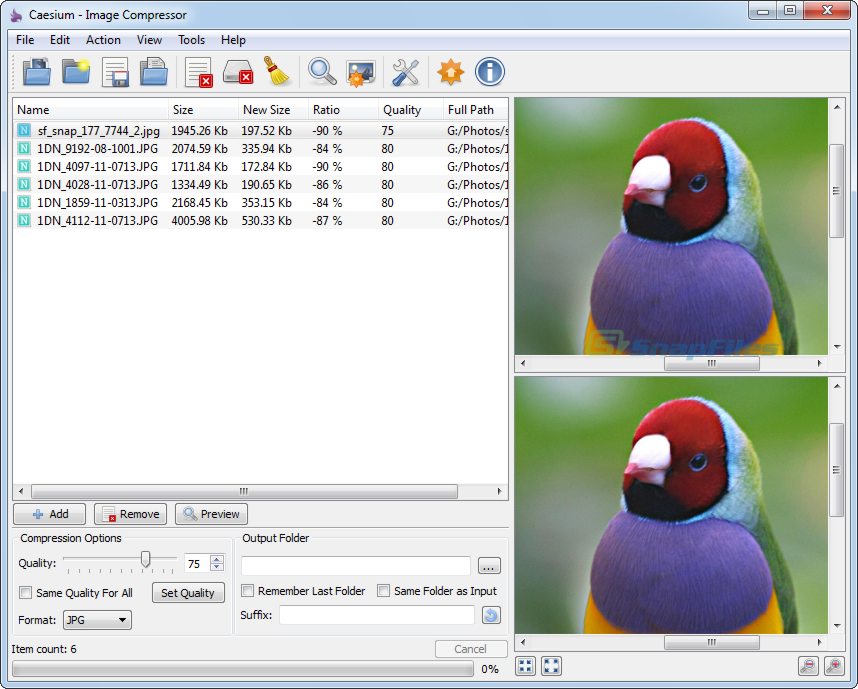 #2. JPEGMini
With JPEGmini, you can compress your image files up to 80% without compromising on the file quality. The program facilitates adding types of images to the tool including hi-resolution files for the compression purpose. The app comes with a simple interface where images can be easily added and compressed for easy upload and storage. If the image files are edited with settings options, the app saves both the original as well as the compressed files, else the original files are overwritten by the compressed images.
Pros:
Allows compressing images up to 80% while maintaining the resolution and quality
Simple and user-friendly interface
Cons:
Does not come with additional and advanced features
There is no slider for selecting the quality of the image file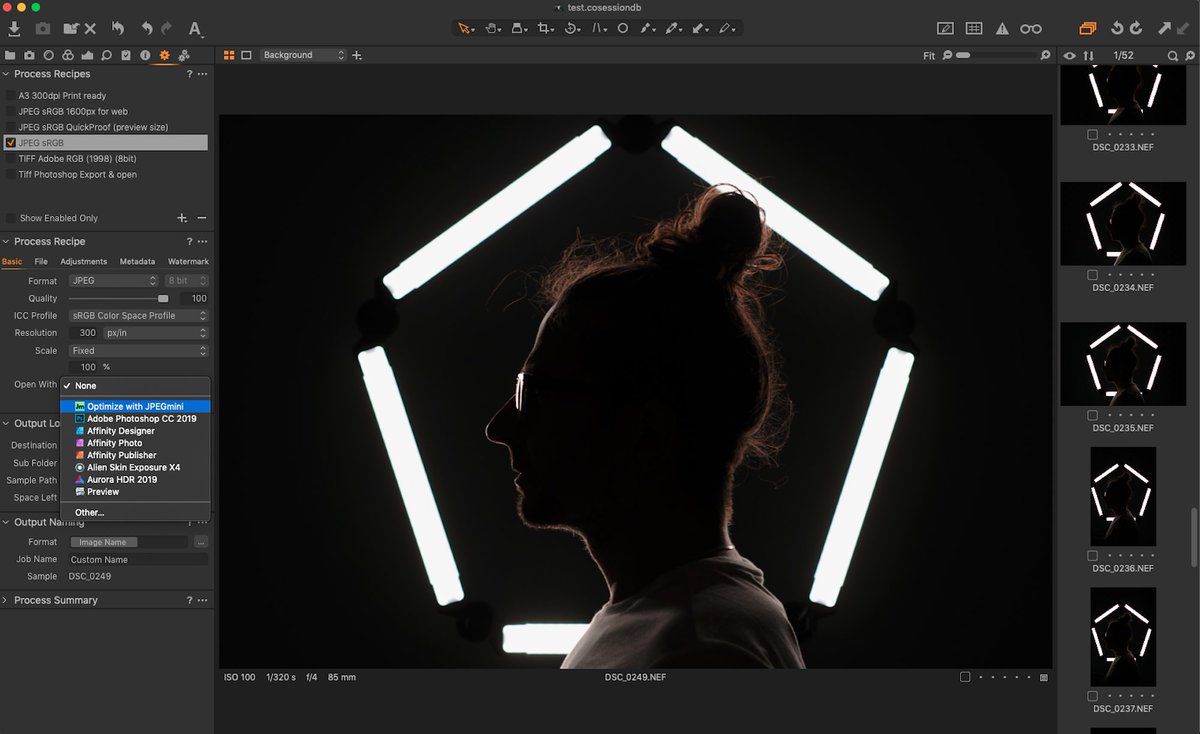 #3. Mass Image Compressor
Using this app, multiple image files can be compressed and optimized at a time. The software supports compressing the files by up to 90% in decent quality. The file dimensions and the quality can be selected by the user for the compression purpose. The image metadata- EXIF tags are preserved by the software. The formats of the image files can also be converted to PNG or JPEG using the app. Option for overwriting the original files is also there. There is also a preview window that allows checking the image file and the size.
Pros:
Preview option to check the image file
Facilitates batch compression of images by up to 90%
Image Metadata is preserved
Cons:
Does not allow compressing and optimizing single file at a time
File quality is compromised during the process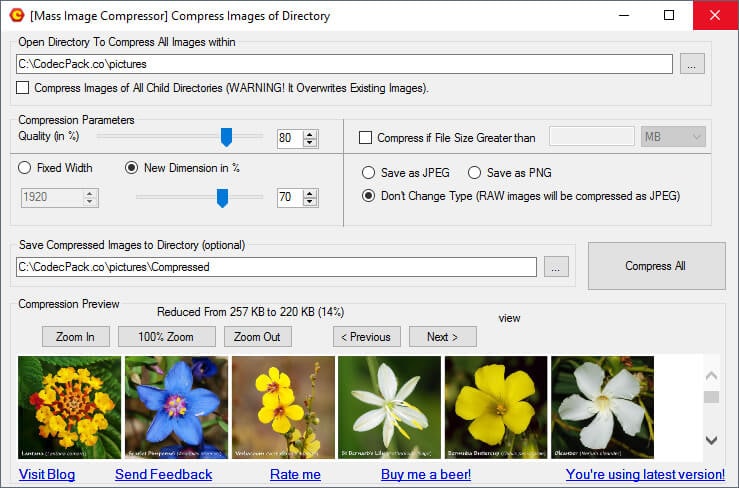 Part 3. Top 3 File Compression Software
With documents of varied types occupying your hard disk storage, compression becomes a necessary step to create storage space for other important files. Moreover, file compression also becomes important when large data needs to be sent over email or the internet. In all such situations, the need for good file compression software arises. We have picked the top 3 apps in this category for your reference.
#1. WinZip
WinZip needs no introduction when it comes to file compression. Over 20 versions of the app have been released which makes it the original, eldest and one of the most widely used compression tool. Almost all file formats are supported by the software where they can be reduced in size to share as a mail attachment. Additionally, the software also is used for encryption, accessing, and managing the files on your PC as well as cloud storage. The app is available for download on Windows PC.
Pros:
Reliable software to compress files in almost all formats
Comes loaded with an array of advanced features like the splitting of files, cloud support, security options, address book management, slack support, and others
User-friendly interface
Cons:
Paid software
No option for online storage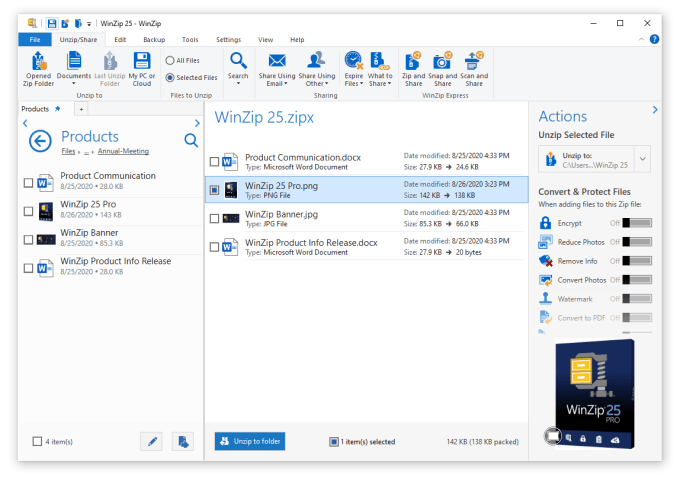 #2. WinRAR
Another excellent and widely used file compression tool is WinRAR. The app is capable of supporting all compression formats including RAR, ZIP, ARJ, TAR, and others. An array of multimedia files can be compressed and archived in a simple step using the app. To provide security and protection to your files, the app comes with 256-bit password encryption, along with authenticated signature technology.
Pros:
Comes with a free trial version for 40 days
Allow compressing, archiving, as well as converting files
Damaged archives can be repaired using the program
Offers security to your files
Allows splitting archives into separate volumes
Cons:
Expensive software
When RAR is used as the compression format a number of program features may not function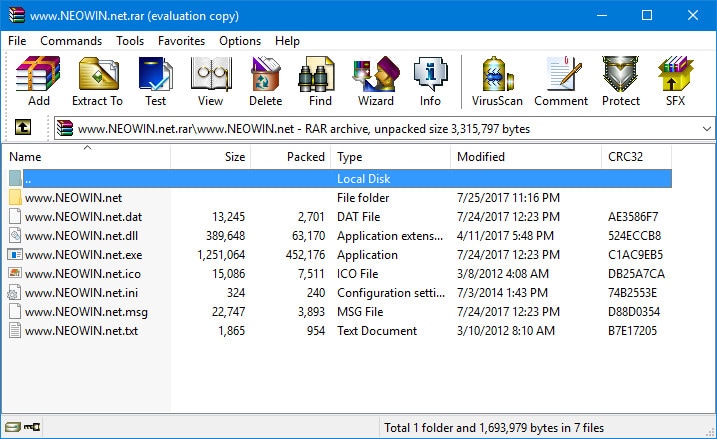 #3. 7-Zip
This is free to use open-source software that facilitates high compression ratio to files in a number of formats. An array of compression formats for packing and unpacking is supported by the app including its own format- 7z. The software facilitates compressing files in large size up to 16 billion gigabytes and at high compression rate using the solid compression. The interface is user-friendly making it apt for all types of users. The app features a plug-in for FAR manager, command line version, integration with Windows Shell, and AES 256 encryption for 7z and ZIP formats.
Pros:
Supports large size file for compression in high ratio
Encryption of files for protection
Attractive interface with an array of context menu entries
Cons:
Compatible only with Windows system
The solid compression process of the app makes the task very slow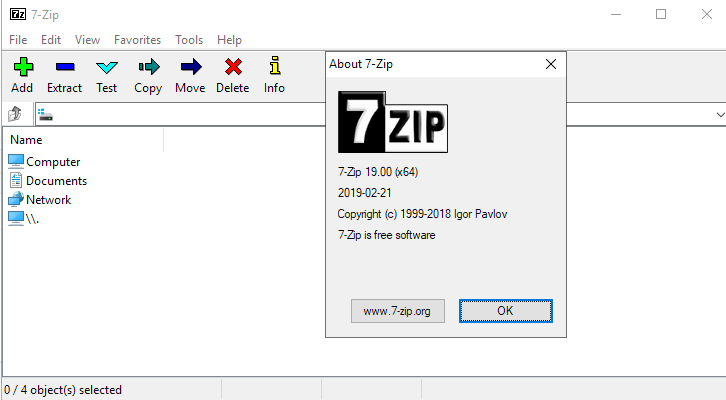 Above listed are a number of compression programs for all your file types including image, video, and documents. Look out what are your major requirements are and then choose for the most suitable program. If you are looking for the best compression software, UniConverter is definitely the one to install. The program allows compressing files in an array of formats using a few simple steps and in high quality. Moreover, an array of other functions is also supported, thus making the software an all-in-one video toolbox. GetUniConverter on your Windows or Mac system and enjoy compressing, converting, downloading, and transferring your files in an array of formats.