Have you ever come across any dis image or ISO files? You might try to open it from your native media player but that just doesn't happen at all. What on earth is an ISO file then? Basically, it is an archive file consisting of the data files for your archived CD/DVD or optical disc. In, order to make it playable or at least useful, converting ISO to AVI can surely prove to be of much help to users. As, the AVI files can easily be played in Windows Media Player, Adobe Premiere, Studio and many such platforms. For that, a good converter is the need of the hour. Here we would enlighten our users with the best ISO to AVI converter. Get it right below!
Part 1. How to Convert ISO to AVI
Type in "Converters" in Google and it will fetch you hundreds of results. That might drive you to wonder which converter can be really of good help to you, right. Well, before you jump off into the balcony of options, get the most powerful, stunning and reliable converter that not just tips off converting but goes more than a mile. It is UniConverter! Designed with the team of dedicated professionals, this product is compatible to work with Windows/Mac systems. It is the simplest yet effective ISO to AVI converter that burns DVDs, provide a pool of templates and does way more! Moreover, it is flared to edit, compress 4K videos into a relatively smaller size too.
Converts ISO files to AVI format and does other conversions in a 90x lightning speed and ensures good video quality.
Supports batch conversion of several files and merge them as per one's need.
Compatible enough with more than 150 formats inclusive of MP4, AVI, SWF, ISO, SRT, MOV, MPEG etc.
Burn DVDs, offers creative templates and make edits over the files without reloading.
Downloads videos from a wide range of popular video streaming sites like Twitch, Facebook, YouTube, Vevo, Vimeo etc.
Built in editor that can execute edits, advancements to the files like editing, adding effects, watermarks, subtitles etc.

How to Convert ISO to SVI with UniConverter
Step 1. Insert the ISO file(s) in program
To fully utilize this program, carefully download and install on your system or PC respectively. Run the program and open its main interface. Over there, just tap on the Convert tab. Now, you're required to upload the ISO file(s). Simply, use Load Files option and opt for Load ISO Files to add the ISO files to the program. Users can also process multiple files in a single batch.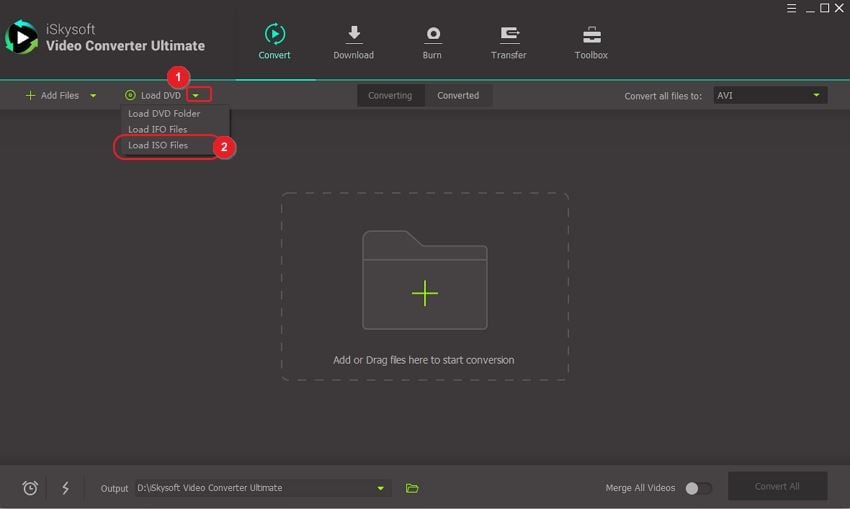 Step 2. Choose AVI as output format
The uploaded file will appear over the conversion board. The next step is to opt for the desired output, which can be done by using Convert all files to: menu placed at top right section. Here, choose AVI format under the Video category.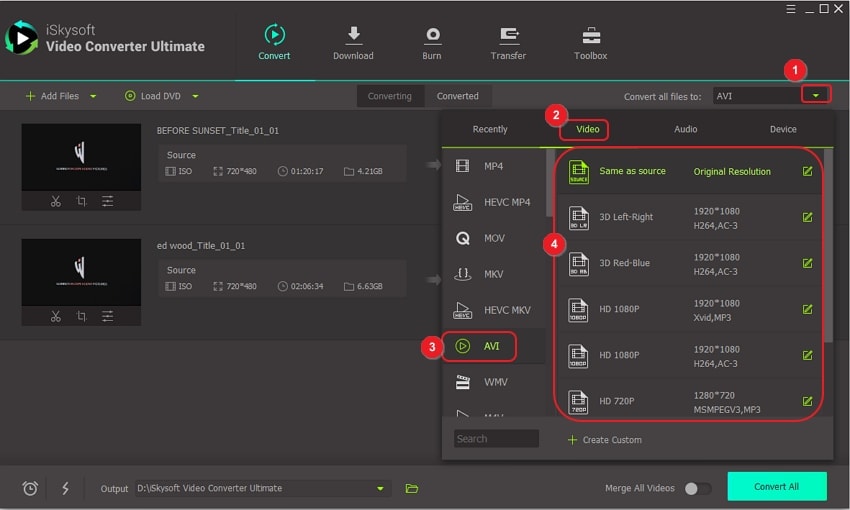 Step 3. Convert ISO to AVI!
After you're through with the customizations, safely proceed to converting the ISO files. Just, tap on the Convert All tab or the Convert option appearing in the target section. Voila! Fetch the ISO files in AVI format from the Converted section respectively.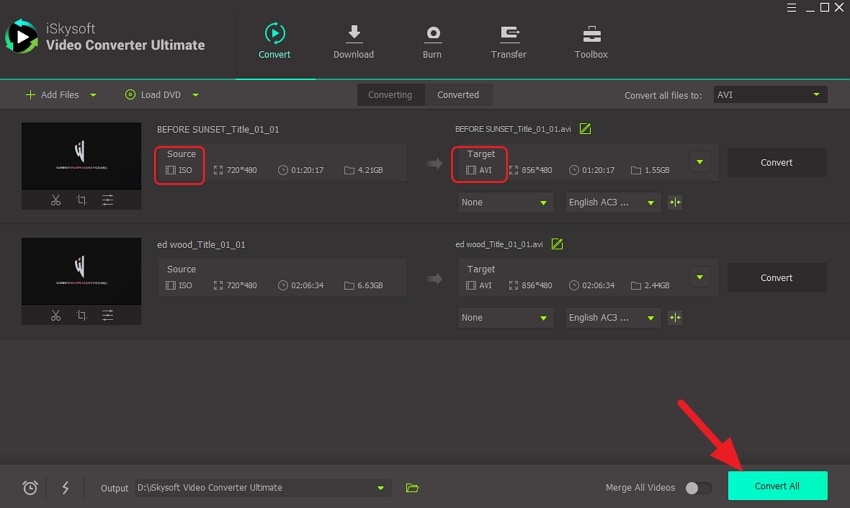 Part 2. How to Convert AVI to ISO File
As we know UniConverter is capable of performing an array of conversions. Similarly, converting the AVI file format to ISO is no task for it. Whatever AVI file you have or recently converted can be burn to ISO effectively. Here is how to convert AVI to ISO:
Step 1. Add the AVI files
To kick-start the process of burning, just ensure to get the software on system respectively. Install and open it. Simply, tap on the Burn tab. Insert the AVI files from + Add Files option.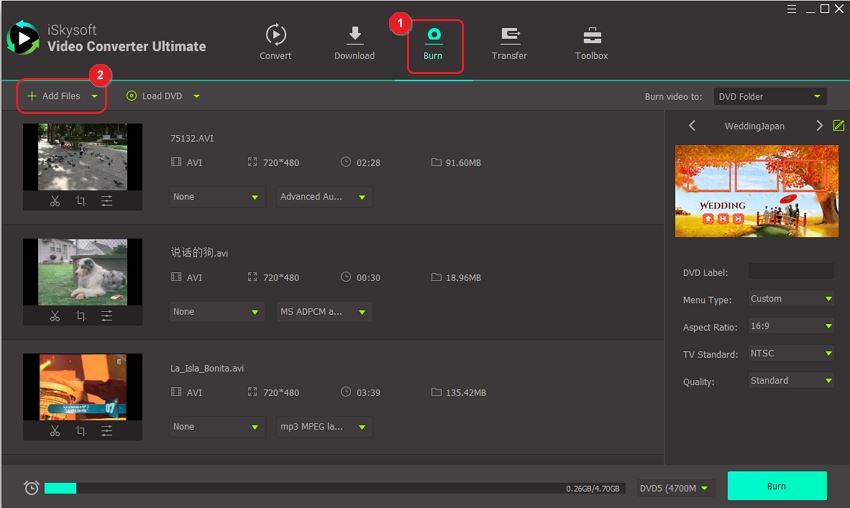 Step 2. Choose ISO File
Click on the Burn video to: option and select ISO File.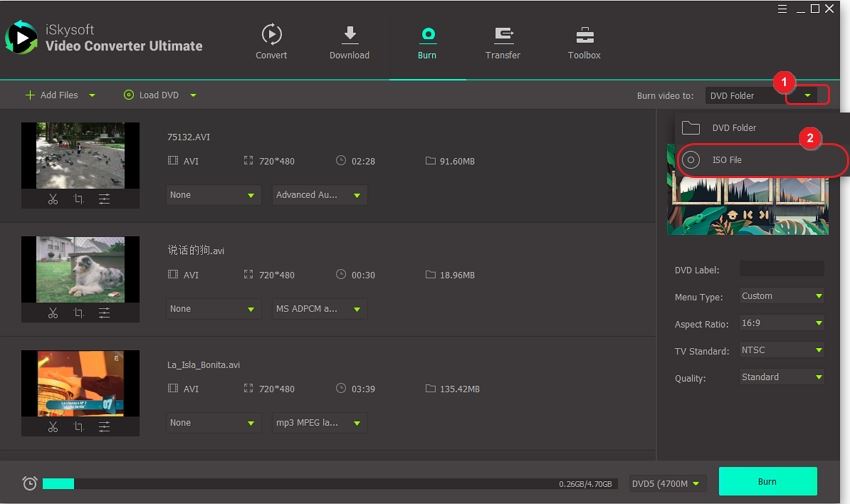 Step 3. Convert AVI to ISO
Now you can go for the templates available on the right panel. Simply use the right and left arrows to scroll through the templates and choose the appropriate one. Finially, just hit on the Burn button to start converting AVI to ISO.