Can I batch convert FLAC to MP3 on Windows?
UniConverter is an ideal Audio Converter, which can batch convert FLAC to MP3 on Windows within 1 minute. It is a cross-platform media converter which supports more than 160 Audio & Video File formats. It has a unique wizard style interface to make batch processing easier. You can easily upload FLAC media files, stream it in the in-built media browser and then convert it into MP3 file format easily.
Part 1. Most Effective Tool to Batch Convert FLAC to MP3
Get the Best FLAC to MP3 Converter:
Best FLAC to MP3 Converter: Convert FLAC audio files into MP3 to play all music files on your iPod or MP3 player for better output quality.
Tons of Preset profiles: Choose from a wide range of preset options such as Android phones, smartphones, Apple devices, YouTube videos etc.
Integrated Editing Tools: Built-In Editing Tools supports trim/crop/merge/rotate videos, adjust volume, aspect ratio and so on.
Supports Advanced Editing File formats: Convert any video format into advanced editing file formats which consists of advanced tools such as iMovie, Final cut Pro and others.
Online Media Downloader and Converter: With In-built media downloader, you can download and convert videos from over 1,000 media sharing websites such as Vevo, Facebook, Metacafe, Vimeo, Dailymotion etc.
3,981,454 people have downloaded it
How to Batch Convert FLAC Audio Files to MP3
By following this tutorial, you can batch convert FLAC files into MP3 format.
Step 1. Import FLAC Files in UniConverter.
Launch the FLAC to MP3 Converter, import FLAC Files by choosing the 'Add Files' option to Load FLAC Media Files. Alternatively, you can drag and drop the FLAC Audio files into the program.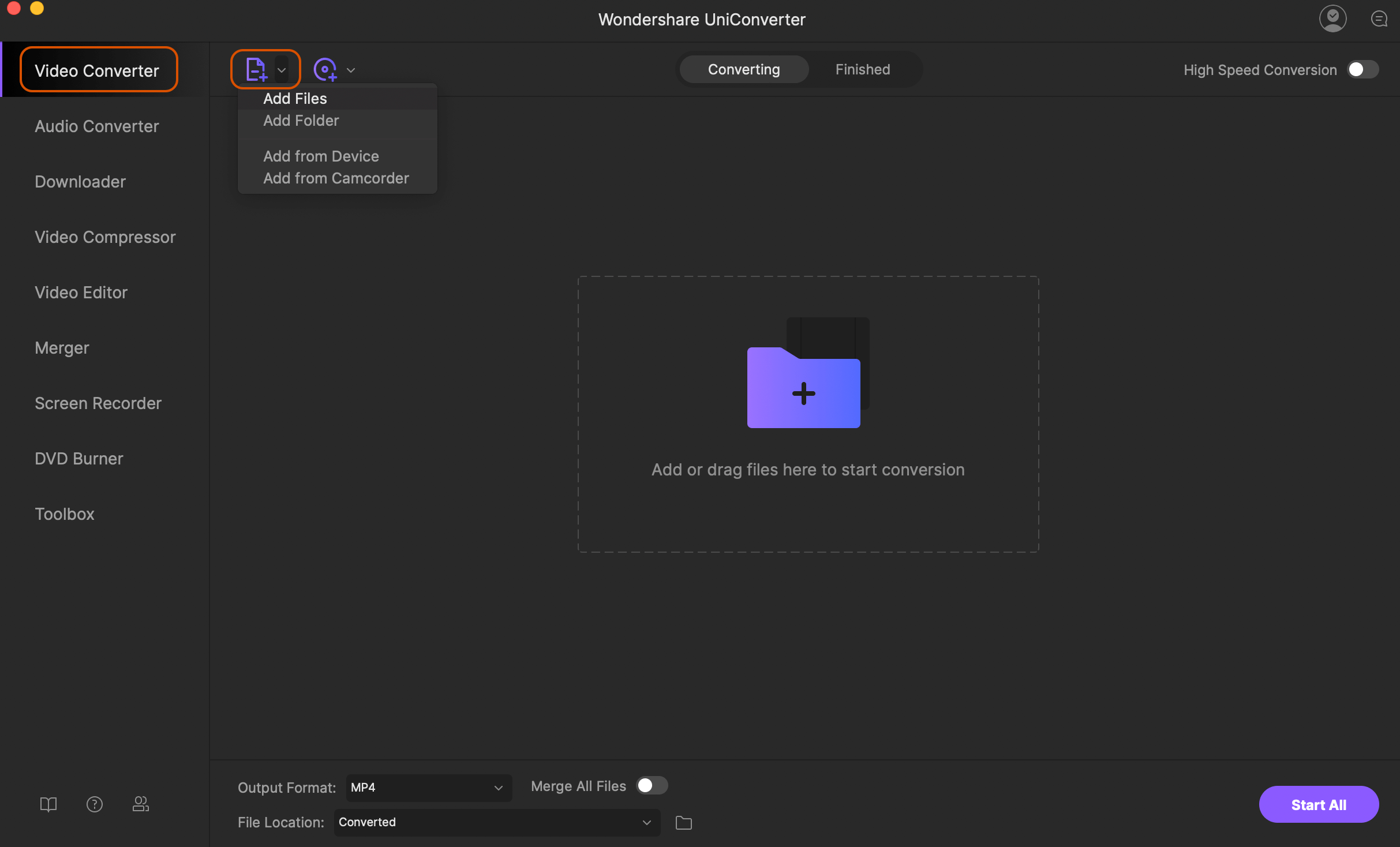 Step 2: Customize Output Settings by selecting MP3 (Output Format).
After adding the FLAC target files into the program, choose an output format. You can choose any audio file format from the Audio category. Select MP3 as output format. You can also change the audio settings by selecting the settings option. You can edit, enhance audio settings, change volume settings, trim or encode audio settings easily.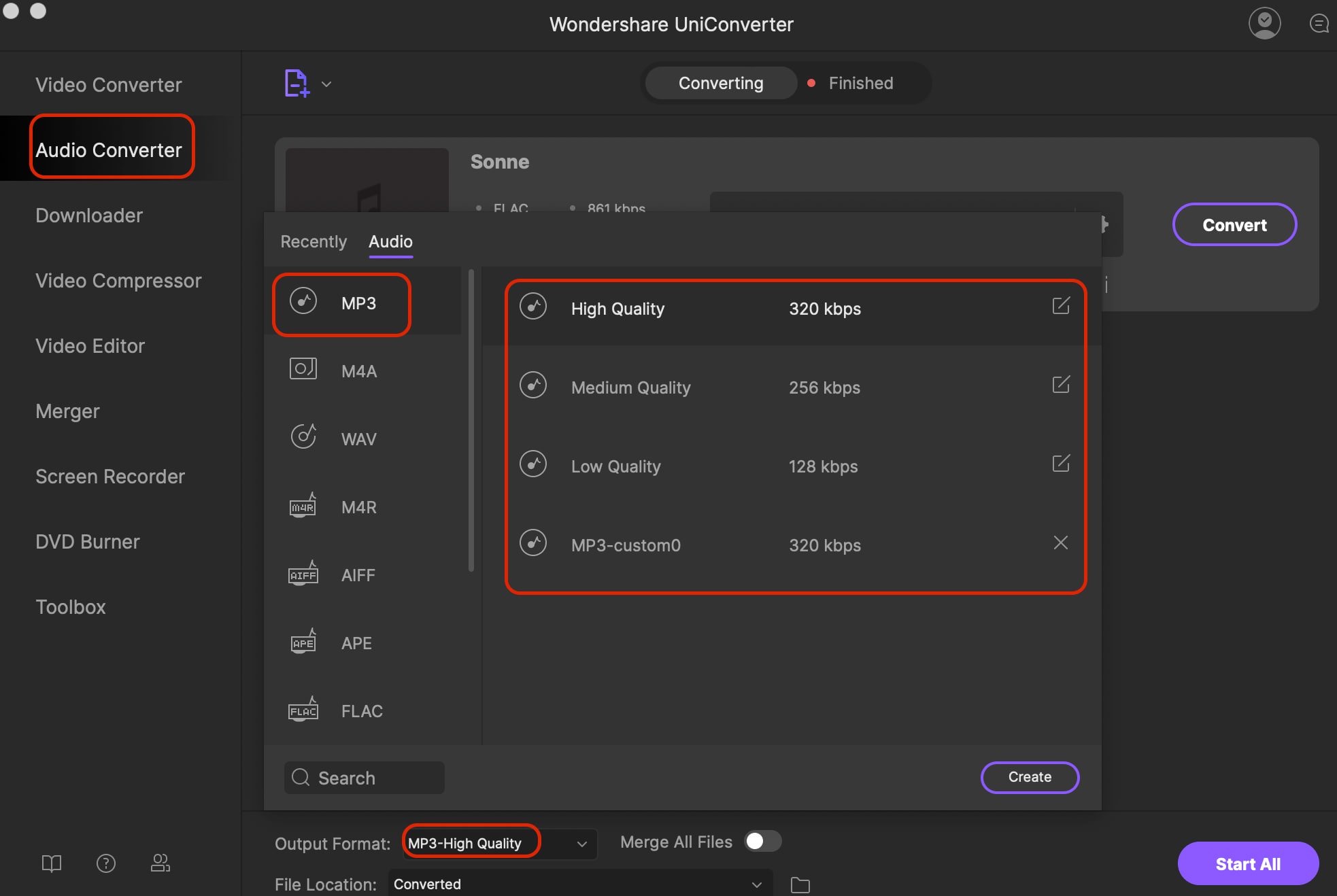 Step 3: Convert FLAC to MP3.
Before you start conversion, identify the output folder or file destination, so that the converted MP3 files will be saved securely. After these settings, select 'Convert'. The batch processing will take time, based on the size of the selected FLAC files. Rest assured, your FLAC files will be converted into MP3 with 90x faster speed.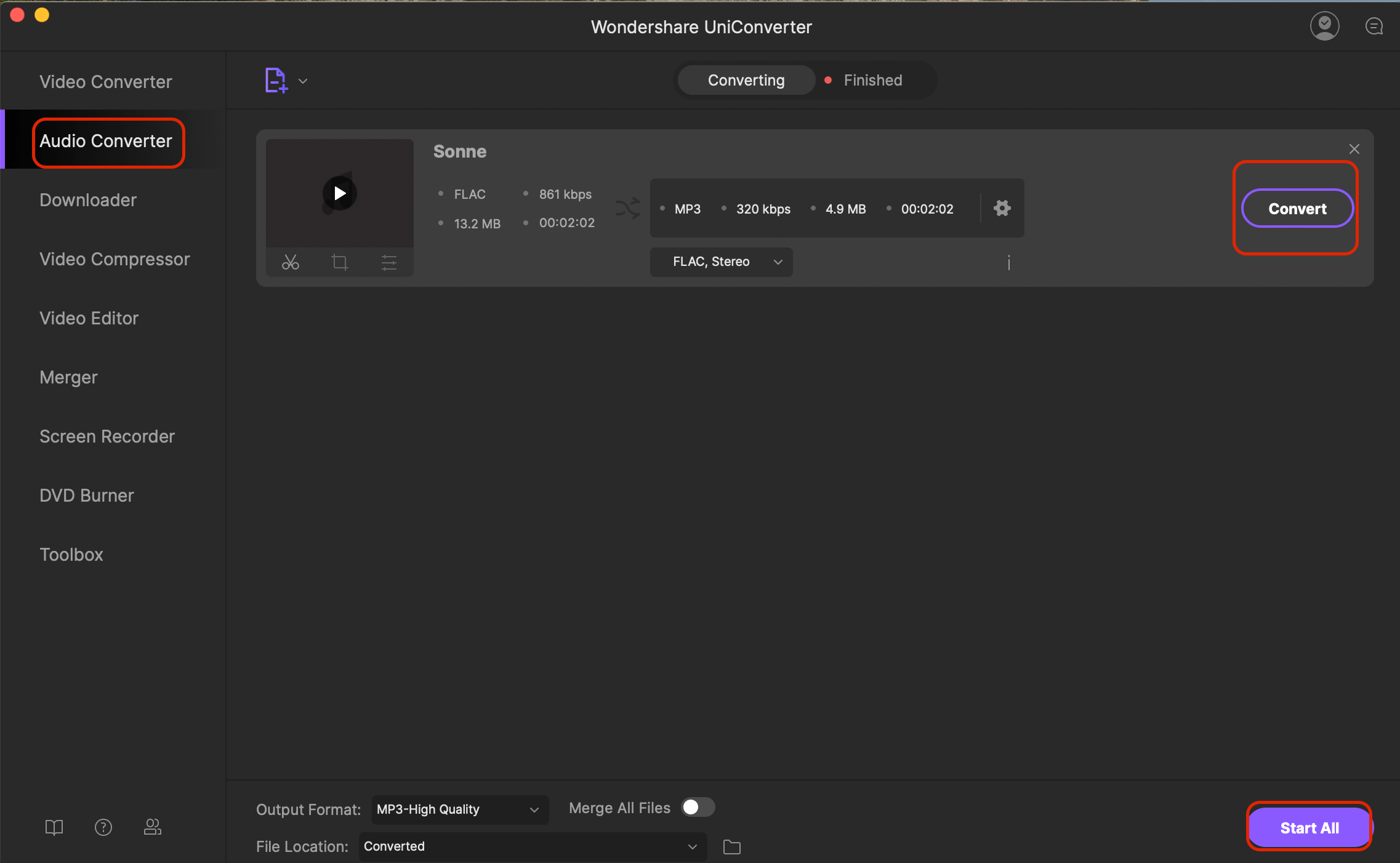 Part 2. Other FLAC to MP3 Converter Alternatives
MediaMonkey works as an Audio Converter as well as Music Organizer. It is one of the best software's which can manage and convert Music files easily. It is well-known for preserving the original quality of the audio file. Moreover, it automatically finds the tag details of the Music file from the Web. It also allows batch conversion of FLAC files to MP3. It can also search duplicate songs, music files or audio files easily.
Pros:
Manages your Music Files efficiently.
Quick, Easy-to-use and Reliable FLAC to MP3 converter.
Supports batch processing of FLAC to MP3 with intact audio quality.
Supports renaming of Music Files.
Cons:
Provides Misleading Title/track numbers.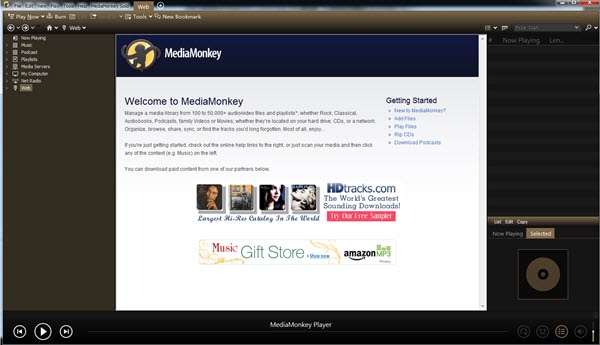 FFmpeg is a freeware which can handle batch processing of FLAC files into MP3. It is compatible with all operating systems like MigaOS. Mac and Windows. Its main functions are Decode, Transcode, Encode, Stream, Mux/Demux and Filter any number of Media Files easily. It can be used for batch processing, transcoding, playing or streaming Audio files.
Pros:
Supports all types of Codecs.
Wide variety of Configurations.
Cons:
Needs to Update on new codecs such as Opus.
Only suitable for Tech-heads.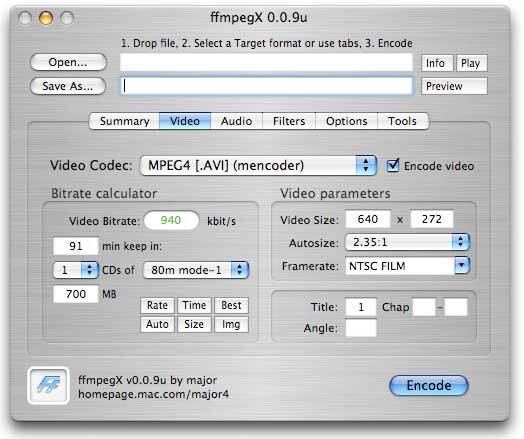 WinAmp provides wide array of functions and tools to convert FLAC audio files into MP3 efficiently. You can easily batch convert Audio files, adjust equalization rate, customize audio settings or auto tag audio file information. Moreover, you can rip or burn MP3 files in a CD, encode Audio files or edit audio settings as per your requirement. Users can organize or batch convert any number of audio files within minutes.
Pros:
Supports more than 60 Media File formats.
Batch Process FLAC Files to MP3 easily.
Supports other Common Media Formats such as CDA, ASX, AIF, WEBM and M3U.
Cons:
Ineffective Technical Support: No Phone or Email Support.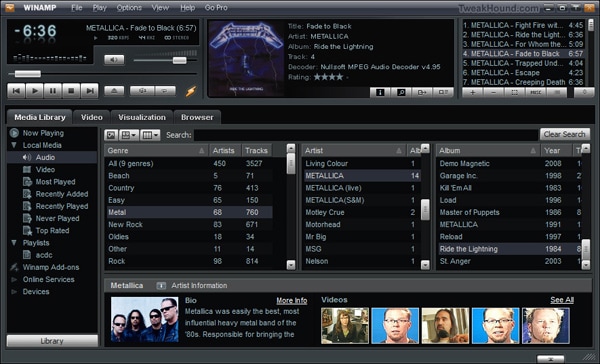 Tips about FLAC Format
What is FLAC File Format?
FLAC is also known as Free Lossless Audio Codec. It can easily compress any audio file without damaging the Audio quality. It is an Open Source Codec which can also be used to decode, stream or play audio files. It is compatible with RealPlayer, Windows Media Player and VLC Media Player. The audio files/samples are compressed with FLAC audio encoding algorithm.
What's the difference between MP3 and FLAC?
1. Audio Quality
The main difference between MP3 and FLAC is that, FLAC keeps intact audio quality while MP3 fails to maintain the original audio quality. In short, MP3 is a lossy Audio format. However, MP3 files can be shared over the internet with amazing speed, as it easily reduces the file size 10 times than the normal Audio file size.
2. Compatibility
Compared to FLAC, MP3 is widely accepted and used because of its flexibility to play music files. MP3 Audio files can be played in programs like RealOne, iTunes, WinAmp or Windows Media Player. FLAC is not compatible with certain devices like smartphones or other portable devices. While MP3 can be played in any Portable device easily.