MP4 to AVI: How to Achive It with the Best Free Converters
Go to Mac
Go to Windows
MPEG-4 OR MP4 for short is a multimedia container that can store audio, video, and subtitles as well. MP4 is just like the video version of the audio formats' MP3 because like MP3, MP4 is widely accepted by different devices and has no problem with streaming on websites it is better for distribution and usage on multiple platforms thanks to the rate with which it can be compressed. AVI on the other hand is designed to hold different video and audio streams for synchronized playback. It is one of the most commonly used formats especially for series and TV Shows, this is because of its high compatibility across all platforms besting even MP4. While some TV won't be able to play MP4 files, no TV ever rejects AVI. AVI contains lossless video meaning that it can store high-quality video(s) with low size.
So why should you convert MP4 to AVI? Well, first, in terms of video quality, AVI beats MP4 hands down. While MP4 has different high resolutions that can indeed compete with other top formats, AVI still has higher quality. In terms of size, however, MP4 is smaller in size and AVI has large sizes. If this bothers you, you can just compress it and since AVI is a lossless format, compressing does not reduce its quality. Below are some of the popular MP4 to AVI converters.
---
Part 1. Top 5 MP4 To AVI Converters for Free
VideoProc is a top dog in the conversion world. Edit, convert, resize/compress high-quality videos with large sizes without quality loss with incredible speed. It supports more than 300 file formats, 370 input, and 400+ output formats. It supports all the popular formats both video and audio. It supports any video shot with Android, iPhone, and Camcorder, or any other devices capable of making 4k videos or less.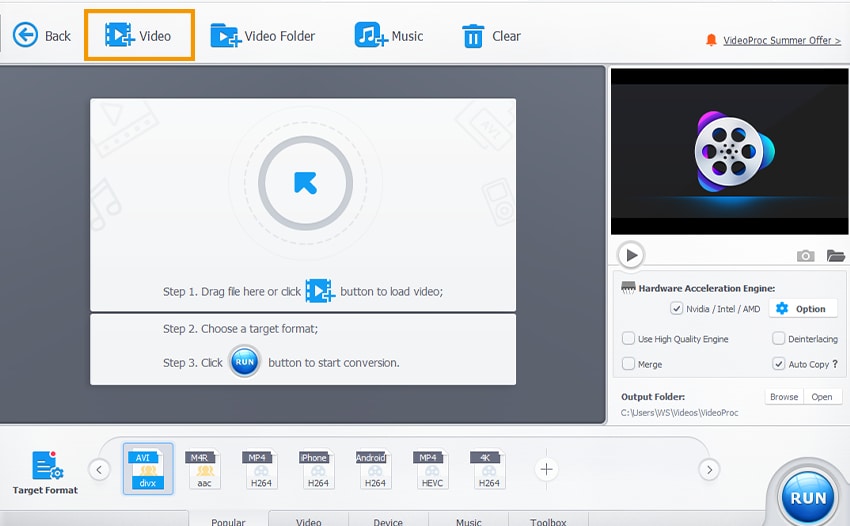 Pros:
Quick and easy to install.
Can download from your social media if you just log in directly using Video Proc.
Supports device conversion.
Cons:
While it works perfectly and smoothly on Windows and Mac, Video Proc has no software for Linux.
In the free trial, you can only convert a maximum of 5-minute video and you can't edit to your heart's content.
Any Video Converter is a free video converter that boasts of having millions of users around the globe. It is a video converter, video editor, and DVD Burner. It doesn't reduce the quality of the video during conversion. You can convert videos to any format although Any Video Converter creates a distinction between its supported input file formats and supported output formats. Meaning that it doesn't support all the formats it converts to and it has formats that it can accept but it can't output to that particular format.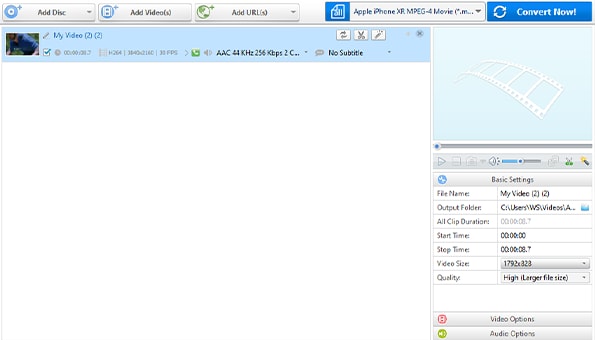 Pros:
It has a lot of input formats.
Conversion to device formats is available.
Cons:
Promotes the download of its PRO version after every conversion.
The number of supported files in output and input does not tally.
Downloads additional files after installations.
Freemake as one of the top multimedia converters definitely wouldn't disappoint you either if you are converting MP4 to AVI or any other formats. Including audio, video, and image formats, Freemake Video Converter supports 500+ media formats. It can easily convert to device-supported formats and it can convert files of any size and quality. Freemake Video Converter supports all popular formats like AVI, MP4, MP3, MKV, M4V, MOV, Divx, Xvid, , and so on.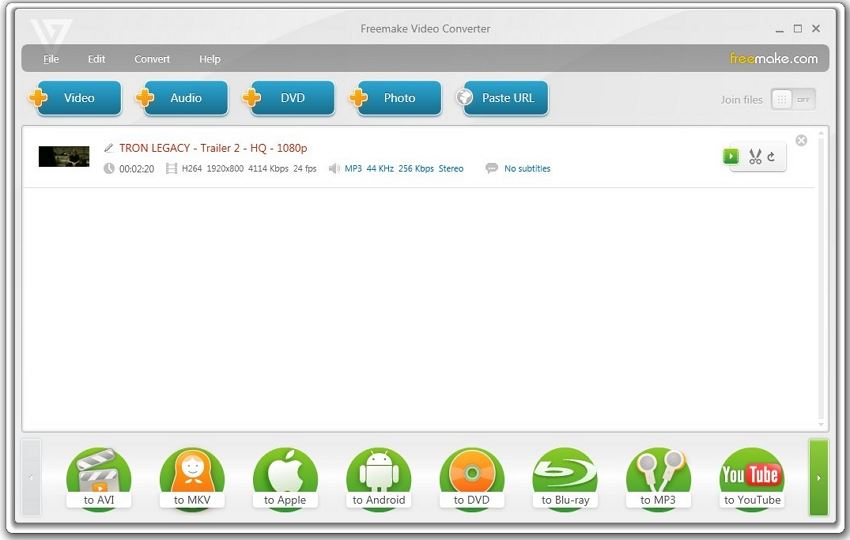 Pros:
Supports a lot of formats.
It has an audio extractor for extracting audio from videos.
Supports conversion to devices.
It is completely free.
Cons:
The upgrade and update is irregular and customer service is almost non-existent.
The conversion speed is below average.
Praised as one of the fastest video converters for both Windows system and Mac as well. Vidmore is a comprehensive, high-performance, and powerful multi-media converter. It supports the conversion of over 200 formats. Convert to any format quickly without risk of losing your video quality. It can convert to and from all the popular formats and also allows exporting of video files into a wide range of devices. Its tech team is active as new features are being released occasionally. As for its built-in presets, Videmore Video Converter has 100+ presets ready for use including conversion to gadgets and devices.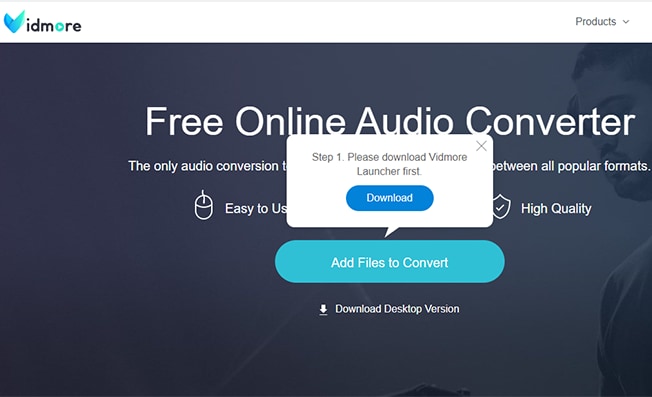 Pros:
Compared to other converters, Vidmore Video Converter is very fast in conversion.
Easy to use and navigate.
Its video editing tool is very good.
The software can perform other functions as well.
Cons:
It has a limited amount of supported android, iPhone, and other devices formats that it can export to.
WinX Video Converter comes with a lot of packages. It can convert, compress/resize, cut, and merge as well as download high-quality videos. On the converter part, WinX can convert almost any video format. It can convert most of the popular formats like AVI, MP4, WMV, MOV, MKV, and so on. You can convert easily to any video format. It has more than 400 conversion presets and the software has a low requirement that won't take a toll on your system.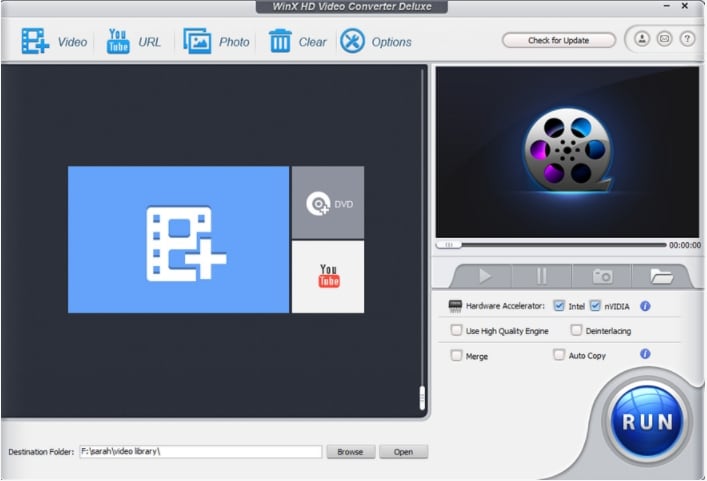 Pros:
It has the free trial period.
Supports lots of video formats.
Free tech and customer support.
Cons:
Slow conversion speed.
Limited actions and functions while using the free version.
---
Part 2. How To Convert Mp4 To AVI Using UniConverter
UniConverter is by far one of the best media converters because not only can it audios to videos and vice versa, it can also convert videos to image format, compress audios and videos with zero quality loss, merge multiple audio and video files into a single file for optimum playing experience, it also has DVD burner option, you don't need long and complicated steps, UniConverter can access your computer and help you smoothen your conversion. You can also download videos with this UniConverter, by copying the download link from any website and pasting it on UniConverter, you can easily download videos from social media and streaming apps, like Facebook, YouTube, Vimeo, VEVO, Instagram, and lots of other websites. You can record your screen with the Screen Recorder tool It also has Player; a tool that can play just about any video and audio format. You're not sure if your video player will play a particular video or audio file because of its format? Erase those kinds of worries with WonderShare UniConverter. With the new and improved UniConverter 13 comes new and more interesting features as well.
Steps in converting MP4 to AVI using UniConverter
After launching the software, the default screen will be on the "Home" screen, click on the Converter tab to move to the Converter interface.
Add file(s) by clicking on the Add file icon at the top left corner of the folder in the middle of the interface. The drag and drop function is also available for easy importing of files directly from your file explorer or finder.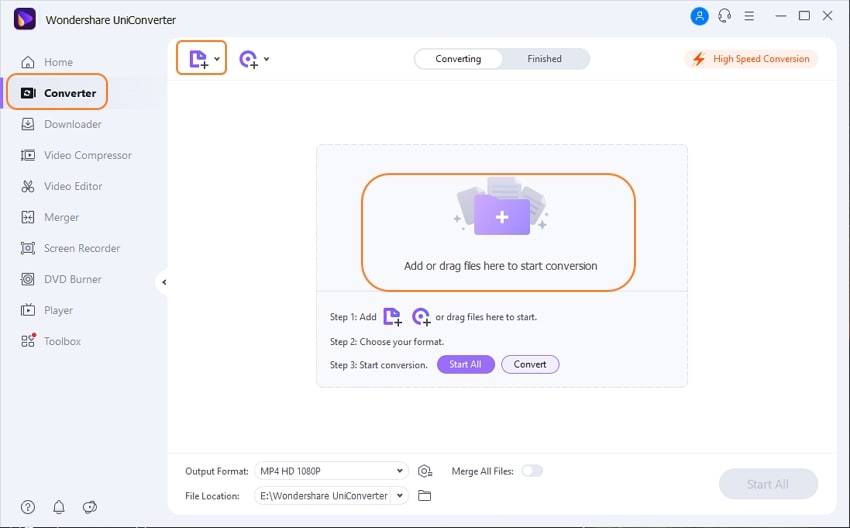 Choose Output Format and Set Parameters
Immediately the file(s) have been uploaded on UniConverter, the screen automatically changes to the Output Format screen. Choose your desired output format. In this article, we are converting from MP4 to AVI. To choose the output format, click on the "Select Format" icon to the left side of "Convert". A new window pops up, click on "Video" from the list at the top and scroll down until you see AVI. Select your preferred resolution, just know that the higher the resolution, the higher the size of the video that comes out.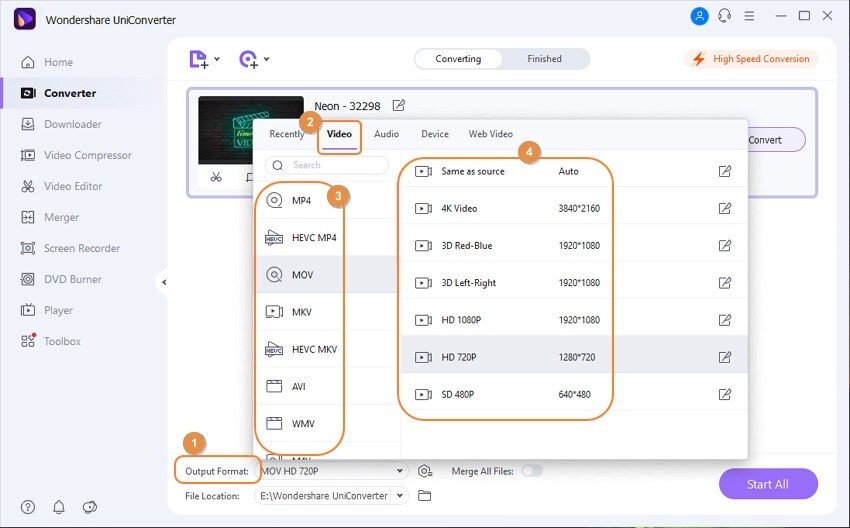 By default, files converted or compressed or any other thing you do in UniConverter saves to UniConverter folder in your local disk. To select your own preferred save location, click "File Location" at the bottom part of the screen and select your directory. You can now click on "Convert" but if you are converting more than one file then click on "Start All".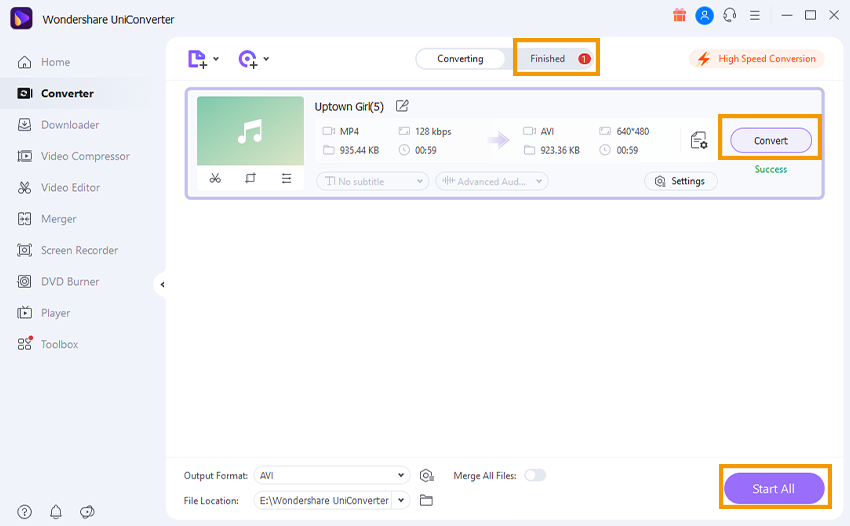 Note:
This guide is based on the new UniConverter 13. So if you are yet to update your UniConverter or if you are just downloading yours, make sure it is the new UniConverter 13.
---
Conclusion
In this article, we have touched on some of the differences and advantages AVI has over MP4 some of which are also the reasons you should convert MP4 to AVI. We also mentioned some of the great converters that can achieve this effortlessly as well as the pros and cons. However, in terms of the conversion speed and the number of supported formats, we recommend UniConverter 13. Possessing a conversion speed that can complete your conversions in seconds; at most minutes, along with a variety of other tools like the "Video Compressor", "Player", "Downloader", "Merger" etc. UniConverter is an all-rounder and a one-stop shop for all your media editing tools. It is also one of the best for converting MP4 to AVI and it won't lose quality after conversion.
AVI
1. Convert AVI

2. Convert to AVI

3. Play AVI

4. Edit AVI