Help Upload MP3 Files to YouTube-UniConverter
Convert MP3 to YouTube supported format with 100% original quality and 90x faster speed.
Edit files after converting MP3 to YouTube or other formats.
Convert MP3 to other 1000+ standard audio and video formats including device optimization.
Download video/audio from YouTube and other 10000+ video and audio sites directly with one click.
Other features include recorder, merger, compressor, and so on.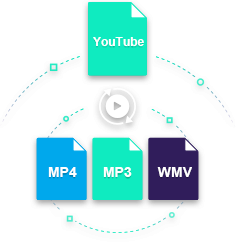 It's funny and most likely annoying knowing that you can't upload an mp3 to YouTube, known as the number one online video streaming platform. There are times when you have audio content in mp3 format and intend to share it on YouTube, but it seems impossible cause YouTube doesn't support the uploads of audio files directly. I know this pander you to ask how some YouTubers upload audio files to their channel? Keep your worries down as we'll be delivering the possible ways for you to upload MP3 to YouTube with no complication.
Method 1. Upload MP3 to YouTube for Free Using Windows Built-in App
Windows Built-in App like Photos could be used to upload mp3 to YouTube for free. We know this might sound impossible and insane since Photos is a built-in app that functions as an image viewer and sometimes a media player but trust us, it's possible. So If you're interested in knowing how it works, you can follow the steps below. 
STEP 1
Once you have your PC booted, search for the photos App using the search option on the start window > Launch the built-in software > click "New Video" from the top right side of the interface and select "New Video Project" from the displayed menu > Name the project and click on "OK" to start the project.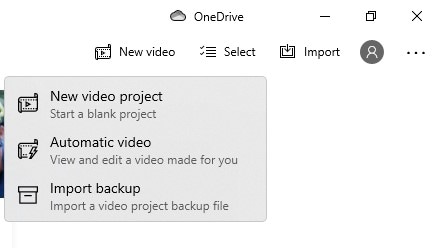 STEP 2
You'll need to add a video to the project library by simply clicking the New Video Project, and then dragging and dropping a image from the location to "Storyboard" that's below the project library > Right-click on the Image > select "Duration" from the provided options on the menu > customize the length/duration of the image as the same as that of the MP3 file, then click "Change".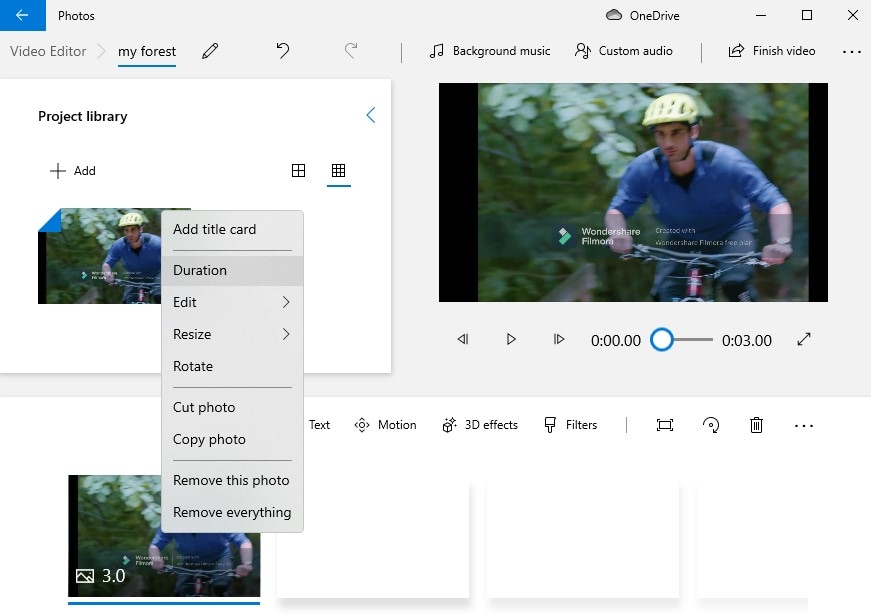 STEP 3
Once you're done, click on "Custom Audio" from the top right side of the Photos interface > click on "Add Audio File" from the right side of the newly displayed Interface to add the MP3 or audio file you'd love to upload to YouTube. (You can add filter, 3D effects, motion to your work by using the available options you'll see below the large image thumbnail). Finally, click on "Finish Video"> select the "high 1080p" quality as required, click on "Export" and that's all.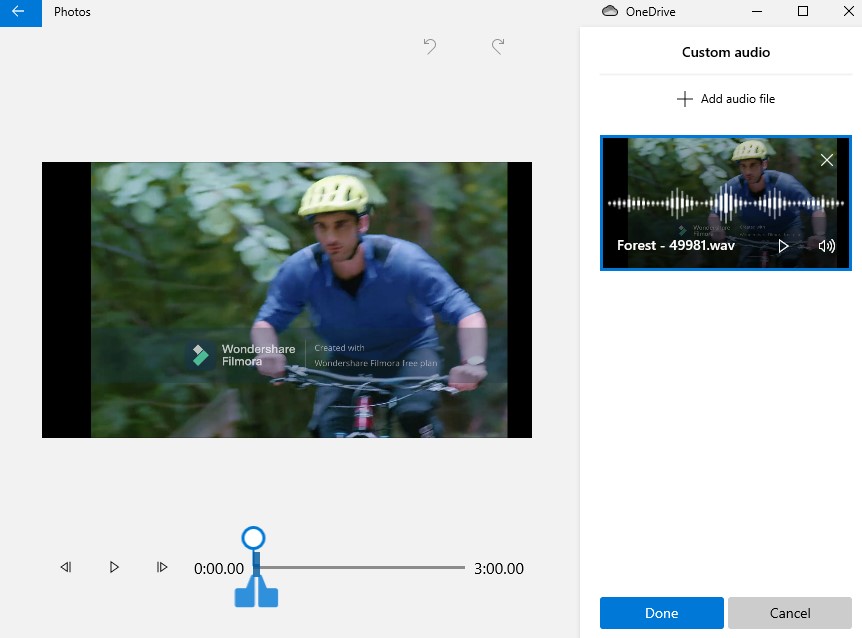 Note: After this, we know the next big step you'd love to take is uploading the edited file on YouTube. Now, visit YouTube > click on the "Camcorder" icon at the top right of YouTube's interface > click "upload video"> select the file > add title, description, and tags, and upload it.
Pros
Users can convert mp3 to youtube upload by adding 3D effects, motion, filters, and more
Users can also utilize the built-in app as a YouTube watermark adder
Cons
It only supports Windows 10
Users can't change from one audio format to another audio format
No high-speed conversion tool
Method 2. Convert MP3 to YouTube to Upload Using Offline Apps
Even though the Windows 10 Photos App is made intuitive for Windows users to edit an image, add background music to an image to upload mp3 to YouTube for free, and more, It still comes with distorting complications when it pertains to uploading mp3 to YouTube, or compatibility with other operating systems. This is more of why we're optimistic and have provided the best offline apps you can use at your pace.
We've got the amazing Uniconverter 13 as the first option for you. It's an intuitive software designed to make all of your media works perfect and adorable in terms of editing, converting, compressing, and even burning of media files like audio, video, and photo files, with a fair opportunity to upload them to YouTube. Aside from the fact that the software can be utilized as an mp3 youtube upload converter, you can also use it as a downloader, media player, screen recorder, and more. So if you'd love to experience the quality of this software in Youtube mp3 uploading, then you can follow the steps below.
STEP1
Download and install Uniconverter 13 on Mac or Windows PC > launch the intuitive software in no time > click on the "Converter" tab you'll see on the left side of the main interface and click on the "Add file" icon or the drop-down option you'll see at the top right corner of the converter's interface to import the mp3 to be converted to YouTube format.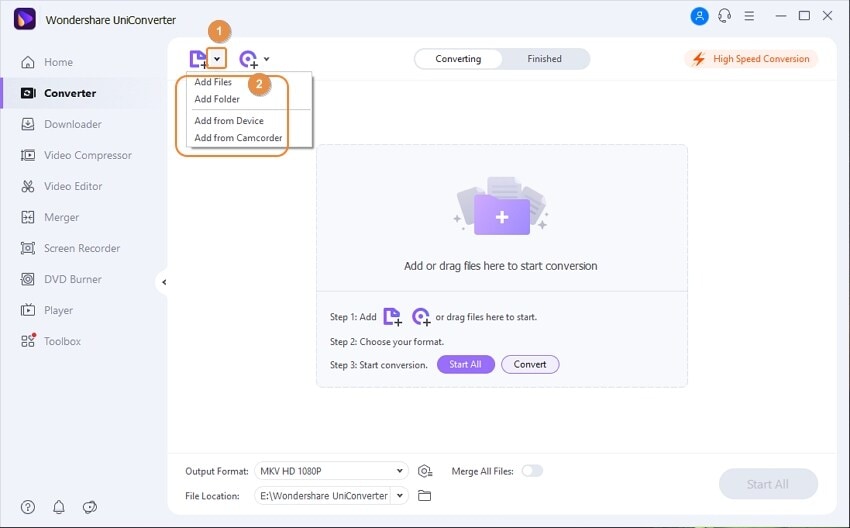 STEP2
Now, click the "Output format" drop-down option you'll see at the bottom left of the converter's interface > select "Web Video" from the appeared menu > select "Youtube" and choose the quality you want to convert the YouTube mp3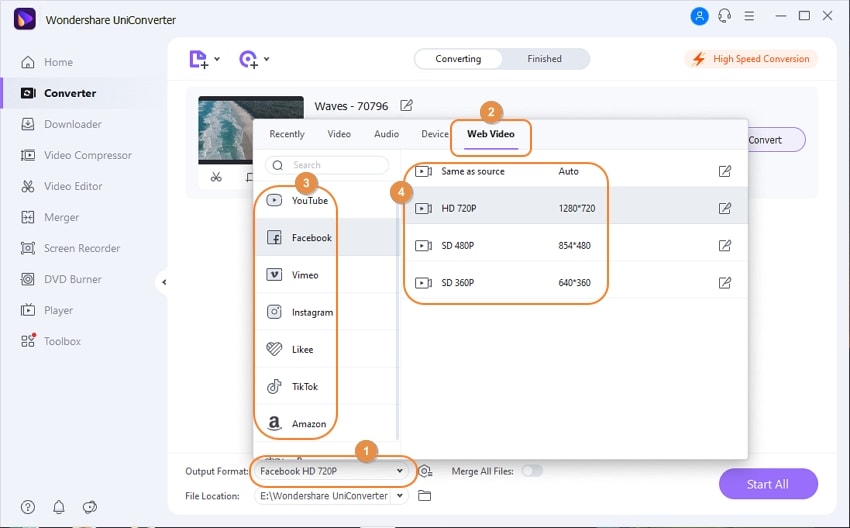 STEP3
Immediately you're done, hit the "Convert" or "Start All" button to begin the conversion. Before you start converting, If you'd like to speed up the conversion, you can enable the "High-Speed Conversion" tool you'll see at the top right side of the interface. You can upload your MP3 files to YouTube Now!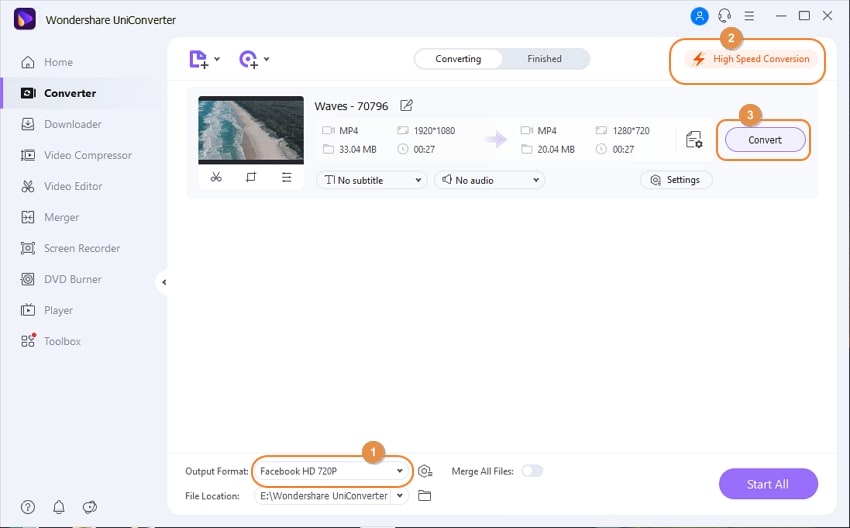 Pros
One amazing feature you'd love about Uniconverter is its Auto fix media metadata feature. It supports all YouTube formats
A friendly user interface that supports high-speed conversion
Cons
The high-speed conversion feature only works with the Pro Version
Only 30% of your conversion will be delivered if you're a free trial version user
A subscription plan might be a bit expensive to casual users
Wondershare UniConverter 13 - Best Video Converter for Mac/Windows
5,481,435 people have downloaded it.
UniConverter supports many formats and handles conversion equally, ensuring that high quality is delivered at all times.
During the conversion process, you may add multiple files since the program does batch conversion of files.
You can use the editing suite to make your results creative masterpieces.
This software facilitates file transfer to devices like Android and iPhone among others once the conversion is complete.
UniConverter is also capable of handling video compression hence ensuring you acquire the video sizes you desire.
Amazingly, who'd have ever thought that VLC, which is a universal media player, could function as an mp3 youtube upload converter? The word "VLC" is popularly associated with a media playing software that is widely known to play media files of different formats, add subtitles, use play speed to fasten or slow the speed of a playing media file, and more. Cutting a long story short, if It's in your Interest to upload mp3 to YouTube, then here are steps to abide with.
STEP 1
Download and install the VLC media player on your PC > launch it once it's installed > click on "Media" from the menu bar > select "Convert/Save" to load the audio file you wish to upload to YouTube > from the newly appeared window click on the "+Add…" button you'll see > select the file to be converted and click on "Open" from file's location window.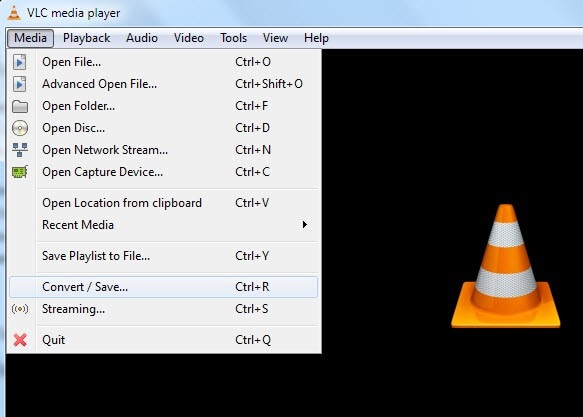 STEP 2
Once the file is already added, all you need to do is scroll down and click on the "Convert/Save" button you'll see beside the cancel button below. Immediately you click the button, you're automatically exited from the Open media window and brought to the Convert window > from the newly appeared window click on the "Profile" drop-down option to select a format that supports YouTube from the several options you've got. (As we want the best for you, we advise you to choose Video - + MP3 (MP4)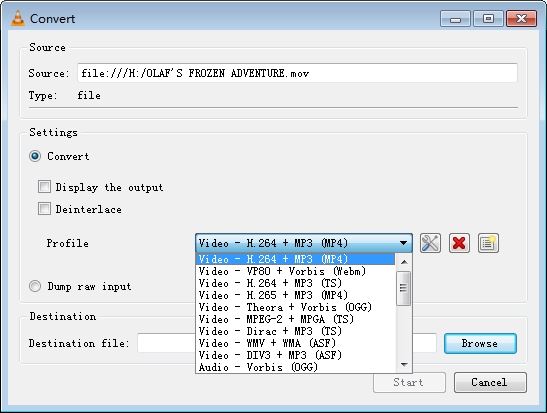 STEP 3
After you've selected the output format recommended to you, now click on "Browse" at the bottom right on the covert window, choose a location you'd like to save the file > rename it, and click on "Save". After this, click on the "Start" button on the convert window and wait patiently while your file converts.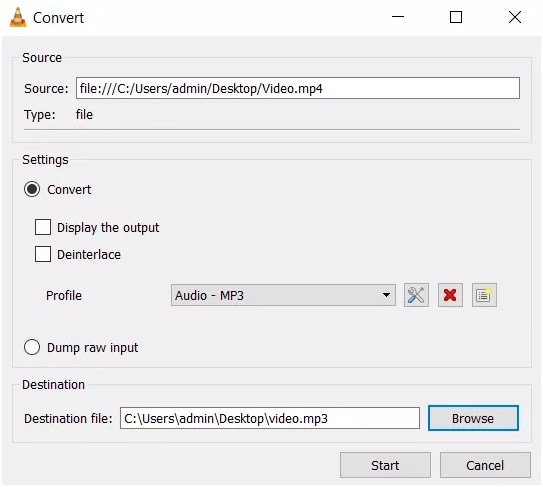 Pros
VLC support almost all audio/video formats, you know, if not all
It supports the H-264 video codec 
Conversion on VLC media player is free
Cons
The user interface is not friendly as It requires a bit of review on how to use it
You can't upload your converted file directly from the media player
It has no high-speed conversion tool
Method 3. Use MP3 to YouTube Upload Converters with Internet Connection
FreeConvert.com is an online solution that you can utilize as an mp3 to YouTube upload converter. Without any doubt, the software can be used to upload mp3 to YouTube for free, the same way you can use it to download from YouTube and other streaming platforms by copying and pasting URLs when you have good internet access. If you're a user who does not like to use offline converters, you can utilize the steps below to use the online converter.
STEP 1
First of all, ensure that your device is connected to the Internet > load Freeconvert.com to a browser available on your device. After the software has loaded, the primary step after loading the online software is to import the MP3 to be uploaded to YouTube.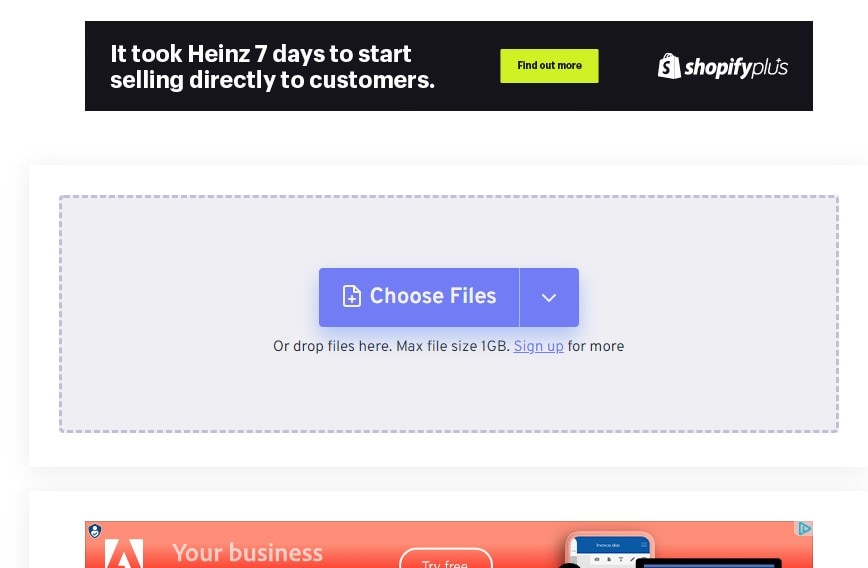 STEP 2 
All you have to do is click on the "Choose File" button > search through your device's local storage to add the mp3 you'd like to convert to a YouTube-supported format. After importing the file to the online software's Interface, click the "Output" drop-down option > click on the "Video" tab and select "mp4" or any other format available.
Note: if you'd like to change Video Codec, Video Screen Size, Video Aspect Ratio, rotate or flip video, add subtitle, and more, you can click on the "Gear" icon (setting icon/ Advance Options icon) beside the output format option.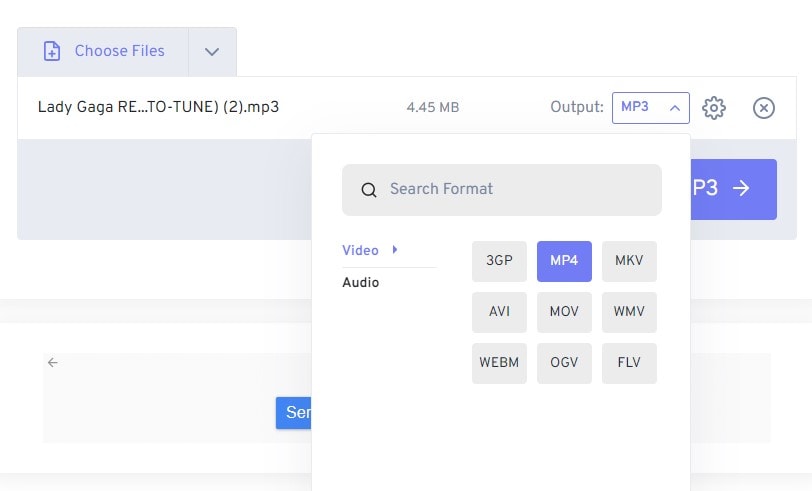 STEP 3
Once you're done with all requirements, you're now permitted to hit the "Convert to MP4" button by clicking on it to begin the conversion > after this, download it to save it on your device.
Now that you have the file saved to your device, you can now upload it to YouTube.
Pros
Freeconvert.com offers a free version
The software supports batch file conversion 
You can convert mp3 to youtube upload in different formats as it supports multiple video formats 
Cons
The free trial version limits users to only basic features in terms of conversion length, numbers of files to convert at a time, and many more
The free trial version contains ads
The online software has no high-speed conversion tool
This is another online software to deem if you are a user who'd like to upload mp3 to YouTube for free. Aconvert.com is a software developed to see to media conversion, cutting, merging, cropping, rotation, and padding. Since the mp3 youtube upload converter has only a few features to discuss, we'll save you time and go straight into the how-to-use steps to guide you if you're convenient using this provided solution.
STEP 1
Ensure that your device is connected to a good Internet network > launch the online software (Aconvert.com) on your device by loading it on any available browser, then wait for the interface to display
STEP 2
Once the software displays, click on "File" to select the location you'd like to import the mp3 file you want to upload to YouTube > click the "Choose Files" button beneath the file option. Once the mp3 file is imported, click on the "Target Format" option and select your preferred output format. Afterward, click on "Options" just in case you'd like to change the size, bitrate, or frame rate of the file mp3 to be converted to YouTube-supported format.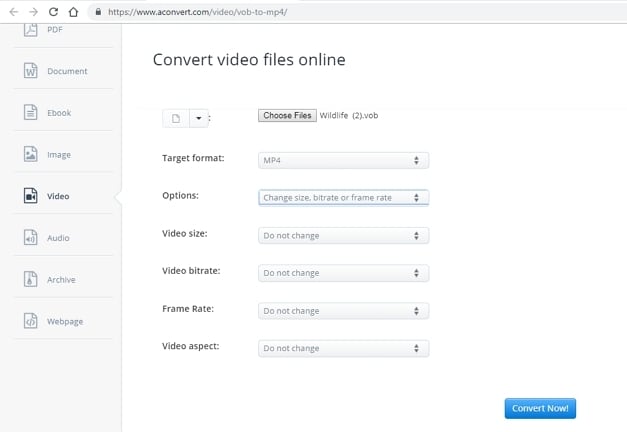 STEP 3 
Once you're done, click on the "Convert Now!" button and wait for the mp3 to be converted completely.
Pros
Aconverter.com is free to use
The software also supports multiple formats
It supports PCs and mobile devices such as smartphones, and the like of others
Cons
It does not support batch file conversion
No high-speed conversion tool is available, and saving the file to your device comes with a lot of complications a times
Tips for Uploading MP3 to YouTube 
Uploading mp3 to YouTube requires a little knowledge. But eventually, some ignorant YouTubers overlook it, which is more of a reason they encounter difficulty when trying to upload mp3 to YouTube. If you've also been making this mistake, then here's an opportunity for you to get it right.
1. Make the file smaller in size
Since It's an mp3 or, better still, a large audio file, you can reduce the size of the file by changing it to a format like H-264 mp4. This format ensures that the size of the file is not too big.
2. Make the file in the best format for YouTube
To have the best output quality when you want to upload mp3 to YouTube, you must consider requirements like Container: MP4, Audio codec: AAC-LC, Video codec: , Frame rate, Bitrate, Resolution and aspect ratio, and Color Space.