MP3 is one of the most popular audio formats that are profoundly used by most people. It had gained popularity due to its ability to compress a file to one tenth of its original size by discarding the information that cannot be perceived by the human ear. The quality of the audio did not appear to be much compromised. However it did not stand to meet the high quality requirements of the iPhone users. M4A was developed by Apple, it is superior to MP3 in providing a lossless file compression and subsequent increase in quality. Apart from the technical aspects a more appealing factor is that it is not restricted by the Digital Rights Management. It is very essential to use the best MP3 to M4A audio converter like UniConverter for best results. Learn more about how to use iSkysoft iMedia Converter and iTunes for converting MP3 files to M4A on your PC.
Part 1. Convert MP3 to M4A with No Quality Loss
UniConverter is the ultimate tool you can choose to meet your media requirements to convert audio and video files from one format to the other. It supports about 150 different formats to facilitate conversion virtually to any kind of format on the globe. The software stand at its best to perform compressing, recording, streaming, downloading and burning media files with additional functionalities for adding and enhancing visual and sound effects to the media files. It is the best MP3 to M4A audio converter, as it has a simple user interface and facilitates easy navigation through the product even for novice users. You can get deeper insight to UniConverter's capabilities by counting on its salient features.
Easy MP3 to M4A Conversions: The conversion of MP3 files into M4A format can be done in batch or single file conversions.
Simple Steps for Instant Conversion of MP3 Files: It takes only 3 steps to perform the conversion.
Speedy and efficient Conversions: The MP3 to M4A conversion speed is 90X faster.
Best Media Quality: The quality of the converted audio and video files as par excellent.
Edit MP3 Files before conversion: It houses editing features like trim, crop, watermark, brightness, volume and rotate.
Organize and Merge Media Files: The software can be used to rearrange parts of media files and later merge them into a single file.
Screenshot: It can be used to play DVDs and to take screen shots of the video.
DVD Compatible: It is a complete DVD toolkit, allowing you to burn, backup, convert to different DVD formats and to edit the DVD before converting.
3,981,454 people have downloaded it
Steps to Convert MP3 to M4A Using iSkysoft
Unlike the Windows version, the Mac version of UniConverter does not extend support to DRM-protected audio files. The procedure to convert files with UniConverter is generic for audio and video files for all combination of media formats. Here are the simple steps for conversion.
Step 1: Add MP3 files to this MP3 to M4A converter
Launch the MP3 to M4A converter after installation. You can add input file or a batch of MP3 files to the converter by drag and drop the preferred file from the finder program, or choose File and click Load Media files to locate the mp3 file.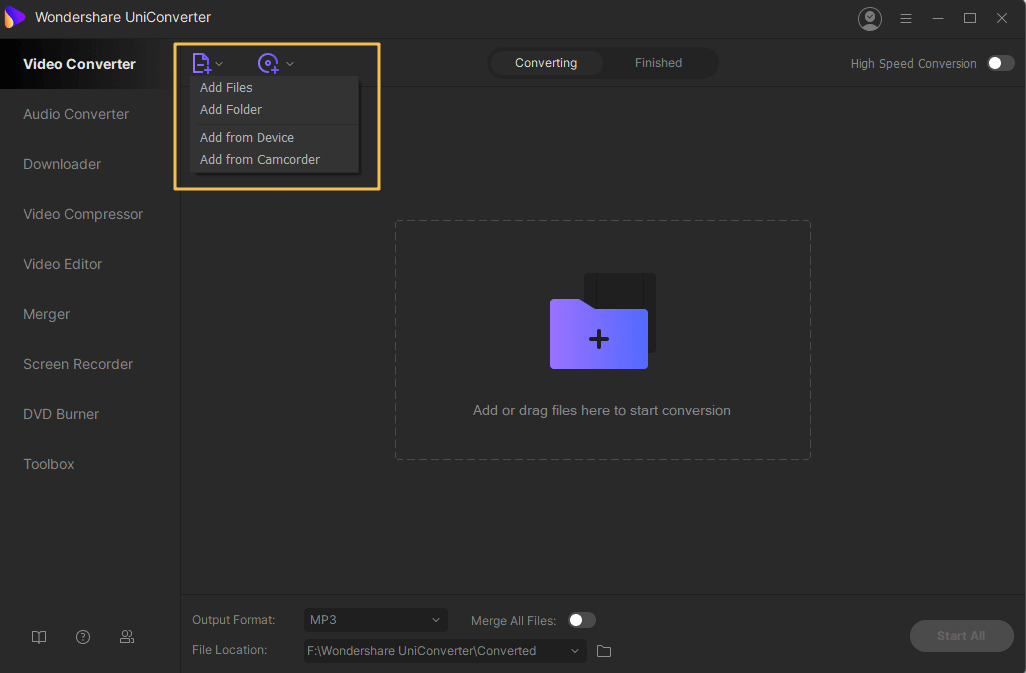 Step 2: Choose the output audio format (M4A)
Choose an audio format M4A from the Audio category. Apart from MP3 to M4A conversions, users can perform other media conversions such as MP3 to AAC, AIFF, FLAC, AA, WMV, OGG and more.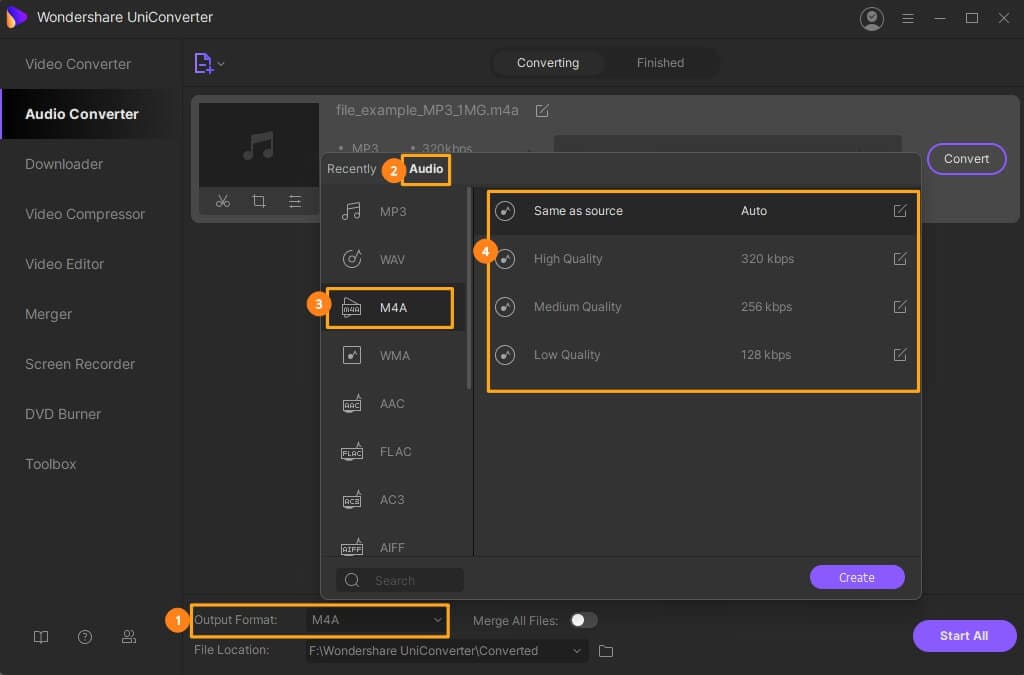 Step 3: Start converting MP3 to M4A
Change the settings of the M4A output file if you like. In the audio settings window, you can alter the codec, channel, bit rate and sample rate as per your requirements. Higher bit rate and sample rate is always associated with better audio quality and large file size, while smart fit option or a lesser rating on bit rate and sample rate means a smaller sized file. Then choose a destination folder from output folder icon or you can keep the same default folder settings. Click the convert button. All the imported MP3 files will be converted to M4A format.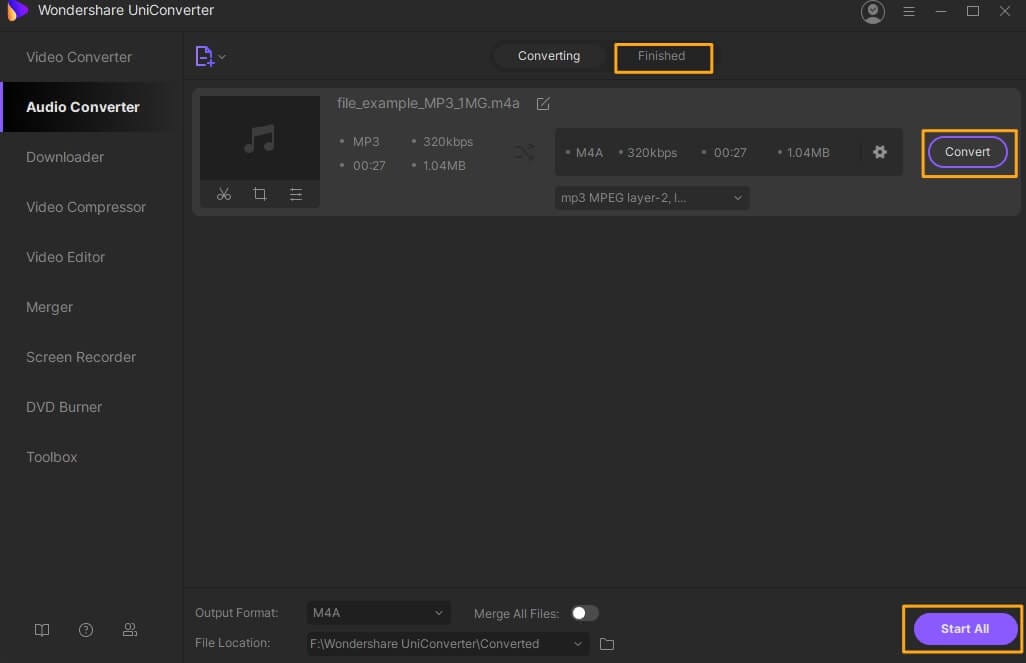 Part 2. How to Convert MP3 to M4A in iTunes
MP3 was developed by Moving Picture Experts Group (MPEG). It is an audio format that uses lossy data compression technique to reduce its file size, yet it doesn't let the listeners to find any change in quality. M4A was developed by Apple with Advanced Audio Coding (AAC) technique and it performs a lossless audio compression. The conversion from MP3 to M4A becomes mandatory when you look for more quality and less disk space utilization. iTunes is the default tool that you could consider to convert a MP3 file into a M4A format. Here is guideline to perform the MP3 to M4A audio conversion.
Step 1: Launch iTunes, add MP3 files to library and then open Preference.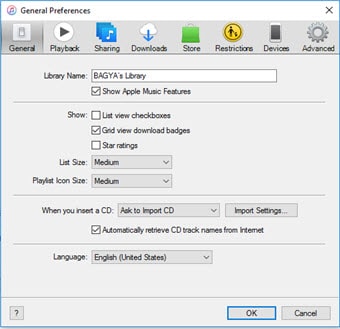 Step 2: Go to 'Import Settings' of Preference and choose 'AAC Encoder' and click ok.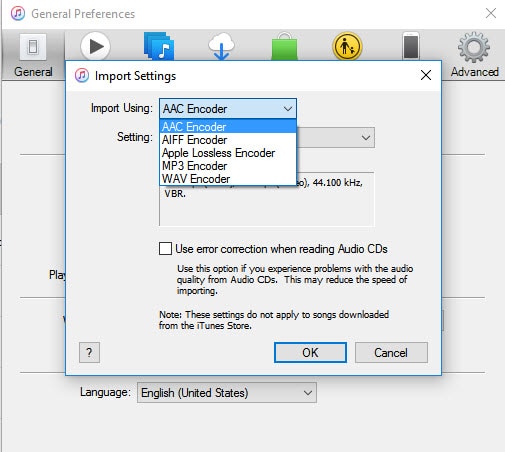 Step 3: Select and right click the target MP3 audio file to create AAC version. iTunes will create and store a M4A version of the file under the same name.