Is it possible to convert MP3 to FLAC?
Converting MP3 to FLAC becomes easier when you use a powerful MP3 Converter like UniConverter. FLAC is a trending audio format, which is preferred more compared to MP3. It is a well-known fact that MP3 losses original quality during conversions while FLAC uses unique compression technique where it does not lose any audio/video data during compression. In short, FLAC is an advanced version with higher audio quality with lossless compression. Find out more about how to use UniConverter to Edit, Share or Convert MP3 files into FLAC with only 3 easy steps.
Best Tool to Convert MP3 to FLAC
Many users find it difficult to convert MP3 files into FLAC with original audio quality. It is well-known that FLAC files cannot be streamed in devices which are compatible with MP3 file formats. UniConverter provides the best solution to convert any MPEG-1/MPEG-2 files into Free Lossless Audio Codec file format. Converting popular Audio formats like MP3 becomes easier when you use UniConverter. It is the top-rated program in the market, which works as an editor, media player or converter. It is specially designed to suit the needs of professionals or novice users. Compared to other media converters, UniConverter can convert any media format with no compromise in audio/video quality. Make sure that you use the original MP3 audio file to encode the audio files into FLAC to attain highest audio quality. However, you won't lose the audio quality when it comes to MP3 to FLAC file conversions, as FLAC keeps the original data of any media file.
Key Features of UniConverter - Video Converter
Allows to convert MP3 files into FLAC with original quality and it supports many options such as add metadata, playback MP3 media file, channels and more.
Perform all types of editing functions such as change voice over audio format, extract audio files, record audio files, change audio codec settings, etc.
Support speedy conversions of other video or audio files into Free Lossless Audio Codec (FLAC) file format from more than 150+ formats.
Essential Editing tools for perfect audio conversions like merge MP3 Files, edit Audio files, change Bit Rate, change channels, stereo settings, etc.
Flexible and reliable Audio and Video Converter for Windows 10/8/7/XP/Vista and macOS 10.15 Catalina, 10.14 Mojave, 10.13 High Sierra, 10.12, 10.11, 10.10, 10.9, 10.8, and 10.7.
Step-by-Step Guide of UniConverter - Best MP3 to FLAC Converter
If you want to perform MP3 to FLAC audio conversion with high audio quality, then UniConverter is the ideal program for your PC. With this simple user guide, you can convert any MP3 files into FLAC easily.
Step 1: Import Target MP3 files
Once the MP3 to FLAC converter is launched, start adding MP3 media files into the program. Drag and drop the MP3 media files into the main interface of the program. Alternatively, users can also use the "Add Files" option to load MP3 files from your PC.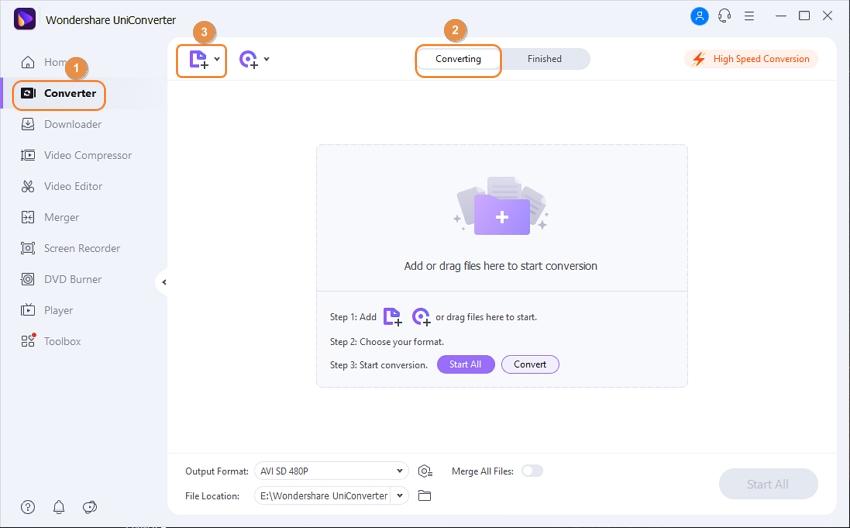 Step 2: Select 'FLAC' from Optimized Presets
Click the Audio Format Category to choose FLAC as output format. In the same way, you can choose other media formats from Video, Audio or device category for direct conversion of MP3 Files.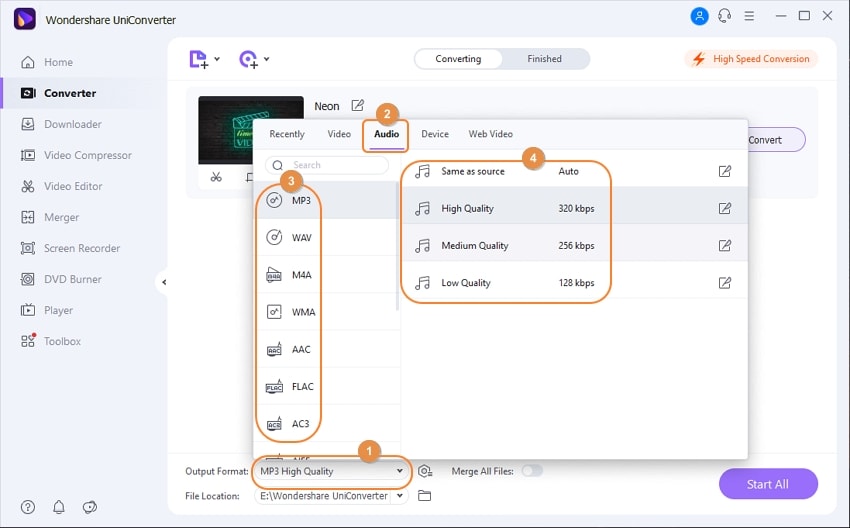 Step 3: Start MP3 to FLAC Conversion
After performing necessary changes, you should choose the file destination from output folder icon. Click 'Convert' command to finish the conversion process. You will receive the FLAC file with original audio contents, unless you changed the MP3 audio settings before conversion. Use editing tools, to trim, change bitrate, audio codecs, sample rate or other default settings if required.