Where can I get free MP3 converter online?
You may be used to converting MP3 on your Mac or Windows PC, but you do you that there are online MP3 converters on the web that you can use to convert other music files to MP3 or convert MP3 songs to other formats? If you hold the same question, you've come to the right place. This articles list the best 10 online MP3 converters that supports converting MP3 to different formats.
Part 1. Top 10 MP3 Converter Online
#1. Audio Online Convert
Audio Online Convert is reliable online converter that supports different audio formats like MP3, APE, WMA, FLAC, AIFF, OGG, OPUS and M4A. You can upload the file that you want from your computer or paste its URL and do the conversions. On this site you will be able to do other conversions such documents, videos, images and ebooks.
Pros:
It supports many output formats.
It supports conversions of quality MP3.
Cons:
You need to sign up to convert a file that is more than 100MB.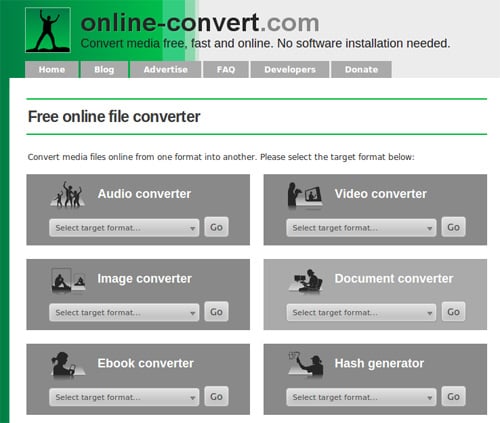 #2. Online Video Converter
With this online converter you will be able to convert files to MP3, AAC, OGG, M4A, WMA, FLAC, and WAV formats. However, this supports only files that are online. You just need to paste the URL and begin the conversion. You can make the output settings before converting the file to MP3 format.
Pros:
It supports several video formats.
It is easy to use.
Cons:
You cannot upload files from your computer.

#3. Convert2mp3
This is another online video converter that supports conversion of files from different formats to MP3 format. It supports output formats like MP3, WMA, OGG, M$A, FLAC and AAC.
Pros:
It can download videos from YouTube and Dailymotion.
It can convert video formats.
It is simple to use.
Cons:
It supports limited online sharing sites.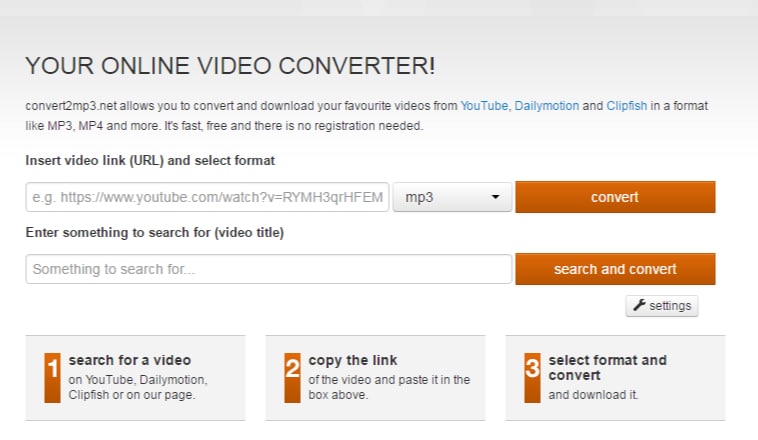 #4. Media.io
With Media.io you can upload your video or audio file and convert it to MP3, WAV, OGG or WMA formats. The website is well designed to allow you upload file, set output formats, select output quality and convert file.
Pros:
It is compatible with over 150 file formats.
It is fast when uploading files.
It supports batch conversion.
Cons:
This tool has file size limitation.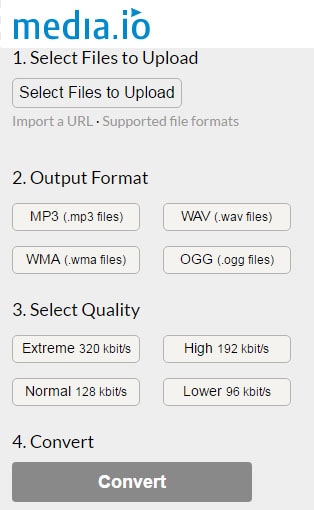 #5. Zamzar
Zamzar is a popular audio converter that supports several file formats. It is speedy and allows you to upload files from your computer or download files online. Zamzar is also a document converter, image converter, video converter and CAD converter.
Pros:
It supports video and audio formats.
Its user interface is simple.
It can compress files.
Cons:
You need to provide and email to download the converted file.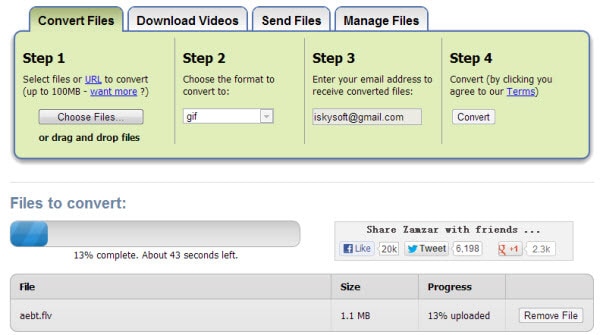 #6. Conversion Tool
With online conversion tool, you will not only convert your files to MP3 but also Mp2, OGG, OPUS, M$A and much more. All you need to do is to upload the file from your computer or one drive, select output setting and convert it. With this online converter you can also convert HTM and URLS, PDFS, videos, documents, and eBooks.
Pros:
It supports many audio formats.
It is built with other converters.
Cons:
You need to register to use more features.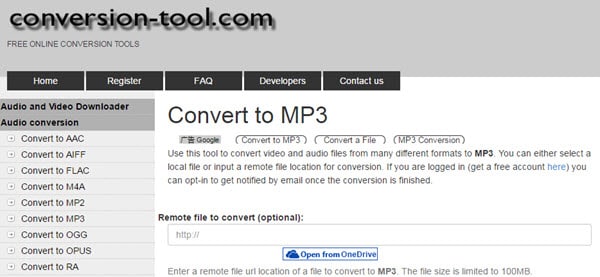 #7. ClipConverter
ClipConverter is a online converter as well a online downloader. It supports audio formats like MP3, M4A and AAC. It also supports video formats like MP4, 3GP, MOV and MKV among others.
Pros:
It supports audio conversion.
It can download files from YouTube.
Cons:
It is slow in conversion.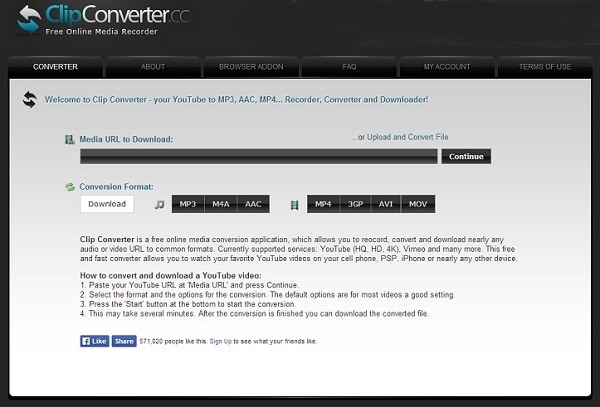 #8. Swift Converter
Swift Converter is a well-designed online MP3 converter that supports audio formats like FLV, MP3 and others. Using this software is simple, you just need upload file and convert to the preferred format.
Pros:
it is an audio, image, document and 3D converter.
Cons:
It is limited to 100MB file size.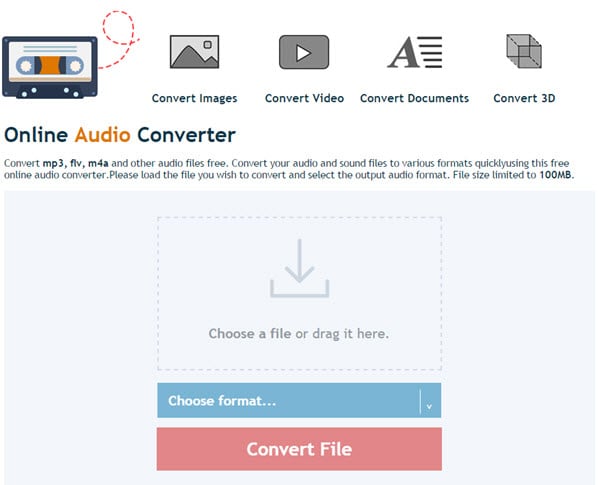 #9. CoolUtilis
CoolUtilis is another online MP3 Converter that cannot miss on our top ten. It is an all in media converter that supports audio files, videos, documents PDFS, HTML and much more.
Pros:
It supports audio formats like MP3 WAV, MP4 and WMA.
It allows one to change audio settings.
Cons:
The supported file should be less than 100MB.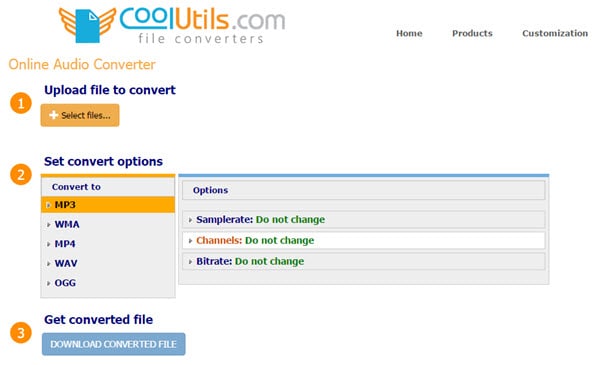 #10. Convertio
Another online convertor that you can look for is Convertio. You can upload videos, audios and convert them to MP3, OGG, FLAC and much more. Convertio also supports conversion of CAD, Vector, Images, documents, Archives, Presentations and fonts.
Pros:
It supports different file formats.
It can upload files from computer, Dropbox and Google Drive.
It is simple to use.
Cons:
It only supports files of up to 100MB.

Part 2. Best MP3 Converter for Desktop
For MP3 desktop conversions, you need to download a software known as UniConverter. It is a media converter that supports audio formats and video formats absolutely including MP3 conversion between different formats. It supports over than 150 file formats. For the emerging formats they are freely updated after purchasing this software. It can also burn media files and edit files. It is built with a video editor that enables its users to adjusting brightness, saturation, volume, aspect ratio as well as cropping, rotating, merging and trimming parts of the video.
Get the Best MP3 Converter for your Mac and Windows:
Online downloader that supports many popular sharing sites like YouTube, Facebook, Vimeo, Hulu, Metacafe and much more.
Support conversion of HD video formats and standard video and audio of more than 150+ formats.
Convert audio and video to different device formats such as Game Consoles, Android Phones or devices, iPhones, iPads, iPods, etc.
Allows download of online videos from a range of video streaming websites including the likes of Facebook, VEVO, Vimeo, and others before conversion.
Support batch conversion of videos and audios with conversion speed 90 times faster than other video converters.
Perfectly compatible with macOS 10.12 Sierra, 10.11 El Capitan, 10.10 Yosemite, 10.9 Mavericks or earlier, and Windows 10/8/7/XP/Vista.