Convert MOV TO AVI-UniConverter
Convert MP3 to WMA or other 150+ video & audio formats.
Batch converts MP3 to WMA in 90X high-speed.
Convert online videos from 1,000 popular sites to WMA.
Transfer WMA files to iPhone, iPad, Android, and other devices.
Powerful toolbox includes Fix Metadata, GIF Maker, Screen Recorder, VR Converter, etc.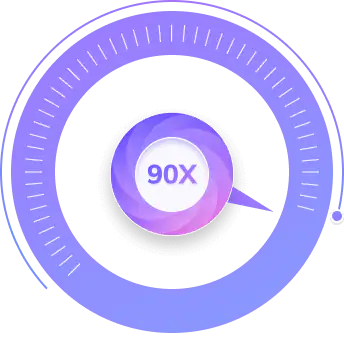 We often see the audio file format as MP3, but you will be surprised to know that other than MP3, many audio formats are more suitable than MP3. WMA is also an audio file format just like MP3, but WMA is more reliable because it provides more audio quality than MP3. In addition, WMA covers less storage space compared to the MP3 files, and also, the bit rate of the WMA format is better than the MP3 format. Now, let's look at various MP3 to WMA converter tools.
Part 1. 5 Best Free MP3 to WMA Converters on Windows
Using different tools on your Windows, you can easily convert MP3 files to WMA to get some more free space and high audio quality. So let's begin to see some free tools best for such conversion.
Windows Media Player
Windows Media Player is one of the most popular and widely used media players. It also supports video files but is preferred more for audio files. It has a user-friendly interface and can convert MP3 to WMA easily. Some other features are also available to enhance the quality of your audio file accordingly. To convert MP3 to WMA, click the "Options" from the "Orginaze" drop-down menu. Then from the "Rip Music" section, choose WMA as the format, and then you will see a audio file in WMA format at the bottom of the page.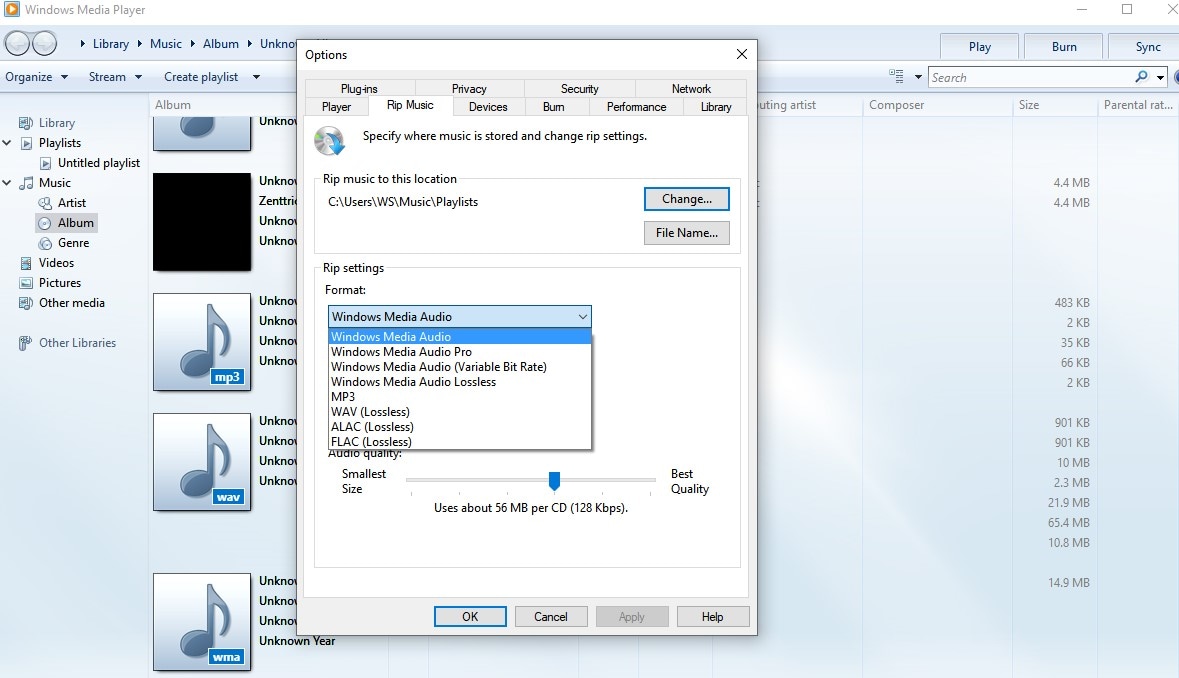 Pros
Windows Media Player is a simple and easy to convert file software.
Files can be converted free of cost.
Cons
Its features are not much perfect for professional editing.
Windows Media Player and VLC Media Player are both popular worldwide. VLC is the best option for watching videos, but it would not be wrong if we say it has many additional features like convert MP3 to WMA. VLC Media Player is also one of the best choices for converting MP3 to WMA-free. Most people are unaware of these features because they only consider that it can only play media files.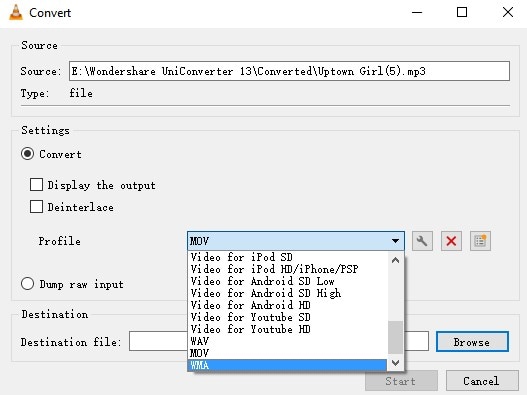 Pros
File conversion from MP3 to WMA is free. 
File size can also be reduced using this Media player.
Cons
Difficult to use for new users.
VLC players crash most of the time
MediaHuman Audio Converter is also a desktop application best supported on both the Windows and Mac OS. This software converts your music files into various formats to enhance the quality and is a free tool to convert MP3 to WMA. MediaHuman Audio Converter can convert multiple files simultaneously. In addition, it supports almost all the key audio formats. To realize the MP3 to WMA conversion, you just need to import MP3 on MediaHuman Audio Converter, then choose WMA as the output format and click the "Convert" button to turn MP3 to WMA.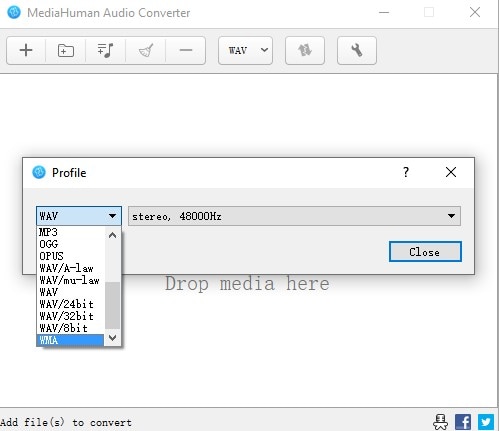 Pros
File conversion is free of cost with additional editing features.
It can be used for the batch conversion.
Cons
It requires 70Mb of hard drive file space.
Additional settings during file conversion might be confusing.
Converterio is an MP3 to WMA converter online that supports all popular audio formats. The interface is made user-friendly for the ease of users. Sure, files are 100% safe; no other person can access your files on this website. More than 300 file formats are supported for fast and easy conversion. With file conversion, other factors for editing your video are also available, like the aspect ratio, video quality, rotation, etc.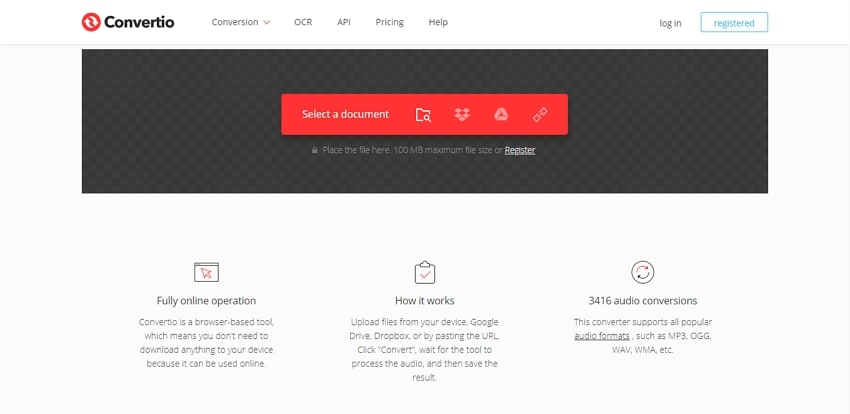 Pros
Conversion takes place in the cloud. No computer memory is utilized.
Maximum within 1 or 2 minutes, your file will be converted with quality results.
Cons
The file size is limited in all packages except the highest unlimited package. 
Once you have paid for the package, you cannot get your paid amount returned as some companies return.
Zamzar is also an MP3 to WMA converter online. It can convert files into more than 1200 formats. It has been providing its services since 2006 with positive customer reviews. It is straightforward to use. Go to the official website and import the file you want to convert. Then select the output format and click on the Convert button.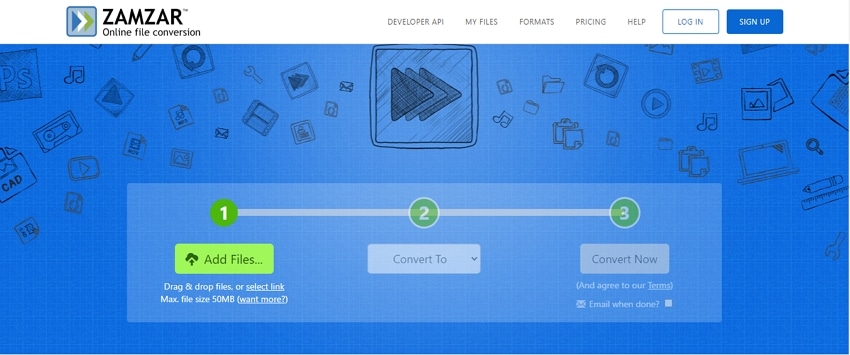 Pros
If you can't convert any file, customer support is there to help you with no waste of time.
It is also best to convert MP3 to WMA.
Cons
The time required to convert files is 10 minutes, while other tools provide it faster.
The maximum file size that it supports is 2 GB.
Part 2. 5 Advanced Tools to Convert MP3 to WMA
Let's discuss some more tools with advanced features to make your video conversion more perfect and fast. MP3 to WMA conversion is also possible using these tools. In this part, we will also discuss their key features and use steps to make you people able to understand and convert the files.
UniConverter is one of the fastest file converter software with an additional unique feature to make your video attractive and more professional. It supports all the popular formats, including MP3 and WMA. This UniConverter also allows batch conversion with its guaranteed feature that no quality is lost while converting MP3 files. It also allows the conversion of files for specific compatible devices like iPhone, Android, game consoles, etc. UniConverter is also named MP3 to WMA converter with extra fast conversion speed and more than 1000 video and audio file formats. 
Detailed steps:
Follow the below-mentioned steps on UniConverter for MP3 to WMA conversion:
Step 1

Install and launch UniConverter

Download UniConverter on your PC and launch it to start the conversion process.
Step 2

Import Files to convert

Select the converter tab from the list on the left side. Then click on the "Converting" tab. Next, click on the "Add Files" icon to select the MP3 files or use drag and drop to select files.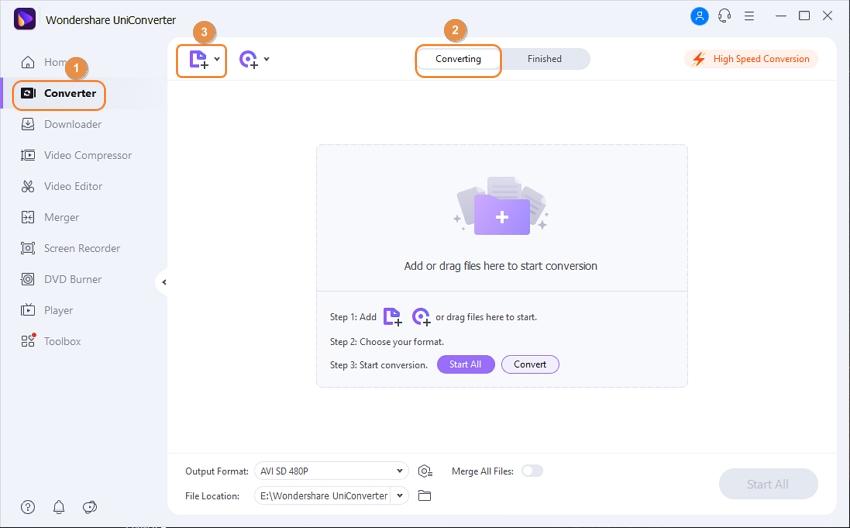 Step 3

Select Output Format and convert

Click on the output format drop-down list and select "WMA" from the audio tab. Then click on the convert tab to start converting the file. You can also add extra features to your audio file as per your requirements to make it more professional.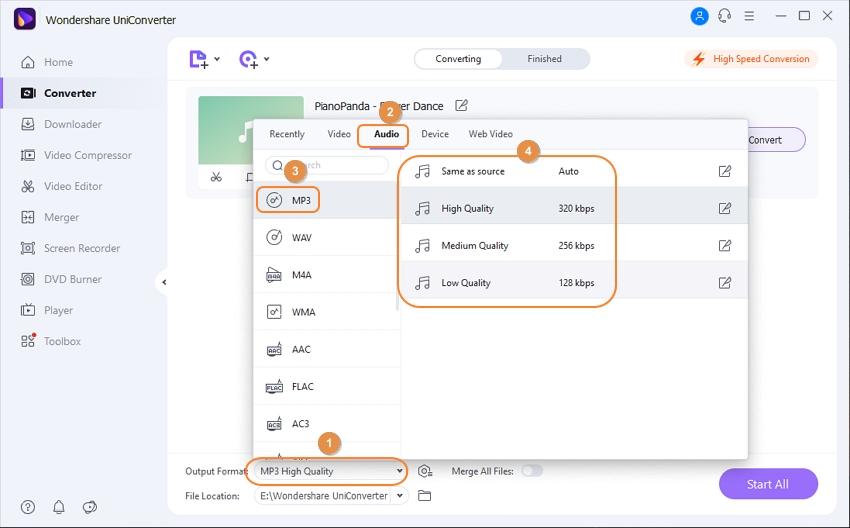 Pros
It supports all the popular formats for file conversion.
The conversion speed is the fastest, with no loss in the audio quality.
Cons
Not supported on iOS or Android devices.
Wondershare UniConverter 13 - Best Video Converter for Mac/Windows
5,481,435 people have downloaded it.
UniConverter supports 1000+ formats and handles 90X faster conversion, ensuring that high quality is delivered at all times.
You can add the multiple files since the program does batch conversion of files.
The GUP acceleration can help you download online videos in high speed.
You can use the editing suite to make your results creative masterpieces.
This software facilitates file transfer to devices like Android and iPhone among others once the conversion is complete.
UniConverter is also capable of handling video compression hence ensures you acquire the video sizes you desire.
HitPaw is another offline tool that you can download for various audio and video file conversions with ultra-fast speed. It enables you to download audio and video files from more than 10000 websites. For example, you can download MP3 files from YouTube Music, SoundCloud, Bandcamp, Mixcloud, Vevo, etc. You can use HitPaw to convert MP3 to WMA for free or with some expense. In addition, it includes a built-in editor to cut and merge your audio files as per your need.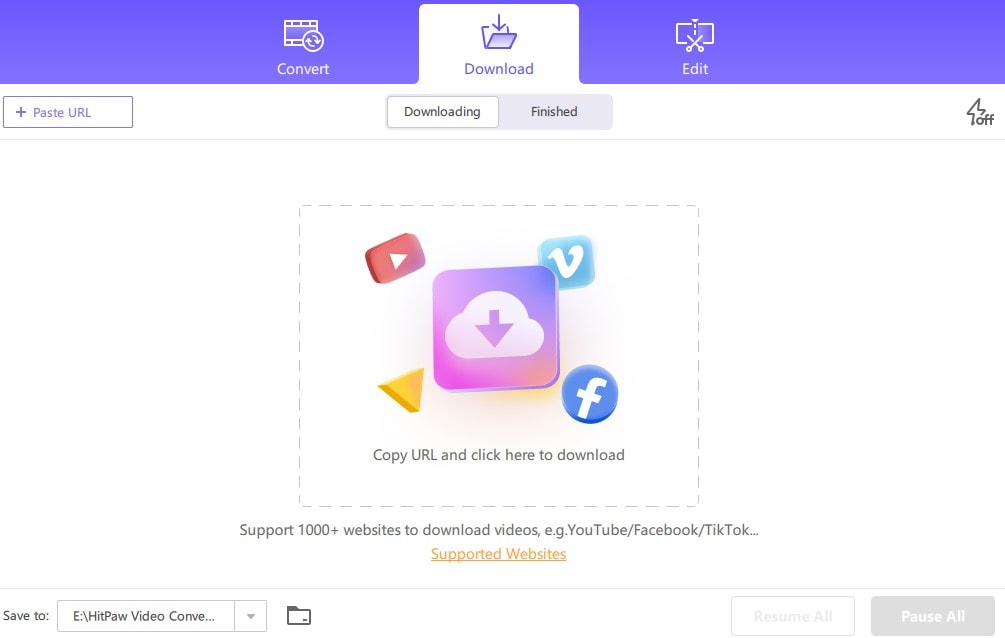 Detailed Steps
Step 1: Download the Hitpaw. Download the software on your PC and then launch it. After launching it, open the converter tab.
Step 2: Import the MP3 file. On the Convert page, you will click on the "Converting" tab and then from the drop-down menu, select "Add Audio" or drag and drop the MP3 file.
Step 3: Output Format. Go to the audio option, select "WMA" as your output format from the list shown, and click on the "Convert" button to start converting. 
Pros
All popular audio file formats are supported.
It supports almost all the latest devices of iPhone, OPPO, Huawei, HTC, Sony, etc.
Cons
Prices are higher as compared to other software.
FonePaw is almost similar to the Hitpaw Video Converter tool with just a minor difference. You can use FonePaw for MP3 to WMA file conversion without losing quality and with a 6X faster conversion speed. User is facilitated with batch conversion to save time and avoid irritation. It also provides additional features to cut and merge various audio files for better quality.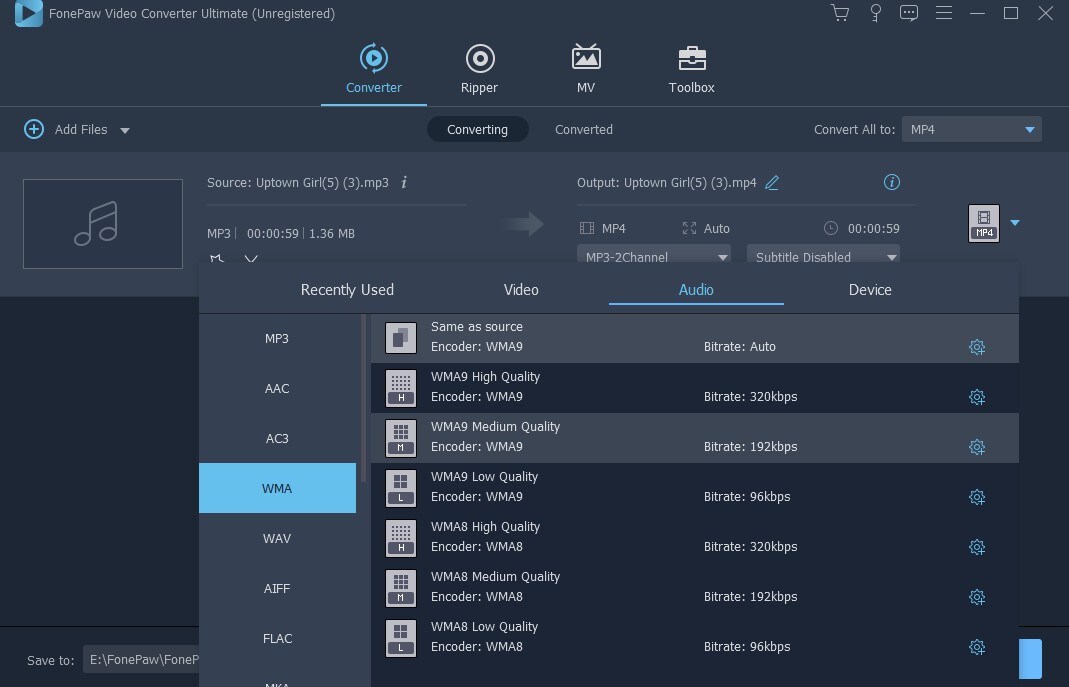 Detailed Steps
Step 1: Download the FonePaw. Firstly, download the FonePaw application on your PC and launch it.
Step 2: Add files. After launching the FonePaw, go to the convert option and click on Add Files option to select the MP3 files or drag and drop to add files.
Step 3: Select Output Format. Select the output format as "WMA" and convert the files. You can also edit them as per your need. 
Pros
This MP3 converter can cut and merge the audio files.
Free to download with fast and high-quality results.
Cons
Difficult to use for new users.
The trial version only allows a file of 5 minutes, not more than that.
AVC (Any Video Converter) is the most commonly used software for file conversion on a PC or laptop. It has a wide variety of file formats, including audio and video files. Millions of users use this tool worldwide and are satisfied with its services. It has both free and paid versions. It is fully secure for your data and is ads-free software. It supports 100+ inputs, and audio quality after conversion is not compromised. It works well on both Windows and Mac.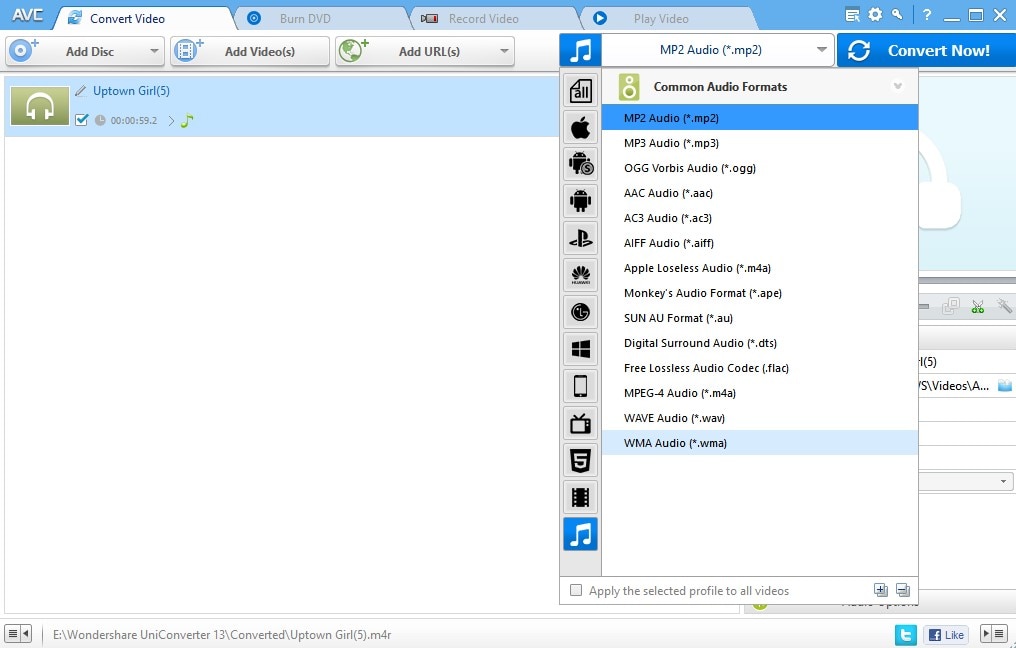 Detailed Steps
Step 1: Install the application. Install the application from the official website or any trusted website that provides its access and launch it.
Step 2: Add Files. After opening its window, you will see an option of "Add Files" on the top of the screen. Click on it and add all the MP3 files you want to convert or drag and drop them.
Step 3: Select output format. Near the "Convert Now" option, you will find a drop-down menu list, choose WMA from that list, and click on the Convert Now button. Your files will start converting one by one.
Pros
Fully secure and easy to use for audio conversion.
It is an ads-free software.
Cons
The file conversion speed is comparatively slower.
The trial version has limited features as compared to its Ultimate package.
Vidmore Video Converter helps convert all audio formats, i.e., MP3, AAC, M4A, WMA, etc. This audio converter is very beneficial for converting larger formats to much smaller audio formats to minimize the file size, which helps us save space and achieve a more compatible audio format, just like MP3 to WMA conversion. This tool is also helpful for extracting audio from any downloaded music video. Vidmore Video Converter helps convert the audio or video files to any format for your device. The file conversion will be lossless, so no quality is lost during conversion.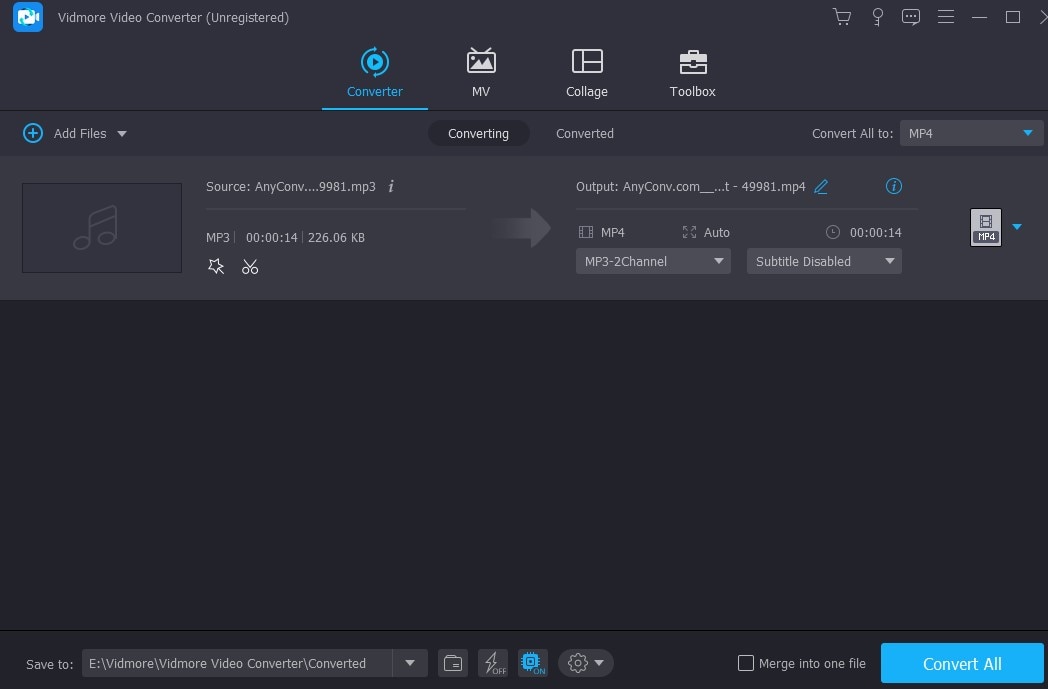 Detailed Steps:
Step 1: Click Add Files. Download the application and install it. Next, open it and then click on "Add Files" then, you can choose any audio file from the computer you want to convert.
Step 2: Choose the output format. Choose the output format for the audio file. In this case, we choose WMA.
Step 3: Start to convert. Click then Convert to convert your audio file into the desired format.
Pros
It is a fast conversion app that requires less time to convert any file.
The quality of files is not compromised while using this tool.
Cons
This app cannot be used on Android and iOS versions.
New users will face a little difficulty in using it the first time.
Part 3. Q&As about MP3 to WMA Conversion
1. Can iTunes convert MP3 to WMA?
iTunes is not feasible to convert MP3 files to WMA, and the primary reason is that iTunes does not support this output format. However, you can use the above applications to convert this file type. 
2. Will converting MP3 to WMA lose the audio quality?
It will affect the audio quality while converting the files from MP3 to WMA, but the effect is so minor that it is tough to notice, so you can convert it without hesitation if you need the file in WMA format.