Crop MP3: Top 6 MP3 Croppers On PC in 2023
Go to Mac
Go to Windows
Mp3 is an audio file that is mostly used to transfer records and for the storage of sound records. Mp3 cropper is software used to edit audio which is carried out by the use of web applications and desktop applications. We use mp3 cropper to create a ringtone from one's favorite song, we crop mp3 file to remove the unwanted session from particular music, people crop mp3 file to reduce the size of the original files, an online mp3 cropper allow users to crop mp3 files on the go, it also allows merging of mp3 files.
---
Part 1. 3 Recommended Softwares to help you Crop MP3
UniConverter 13 also known as Wondershare UniConverter is a prestigious video and audio tool, it is a multipurpose program that comes with mouthwatering features such as a video editor, DVD burner, mp3 cropper, video compressor, and many more. The major benefit of UniConverter is the extensive amount of features e.g. convet video for different devices, compress video whilst saving quality, and also change 2D videos into 3D videos. It builds video before converting with other features which include; cropping, trimming, rotating, and other features. On the other hand, it also supports the conversion of media files to Audio. A user can import videos or audio to the mp3 converter, choose the output format then start to covert.
Steps in Cropping MP3 with UniConverter 13:
Launch UniConverter and Add MP3 Files
After you must have installed UniConverter13, run the software. The first screen is the Home screen, look to the left and select Converter from the list of tools. The screen changes to the Converter interface and from there you click on the folder in the middle of the page or the Add File icon at the top left corner to add your MP3 file.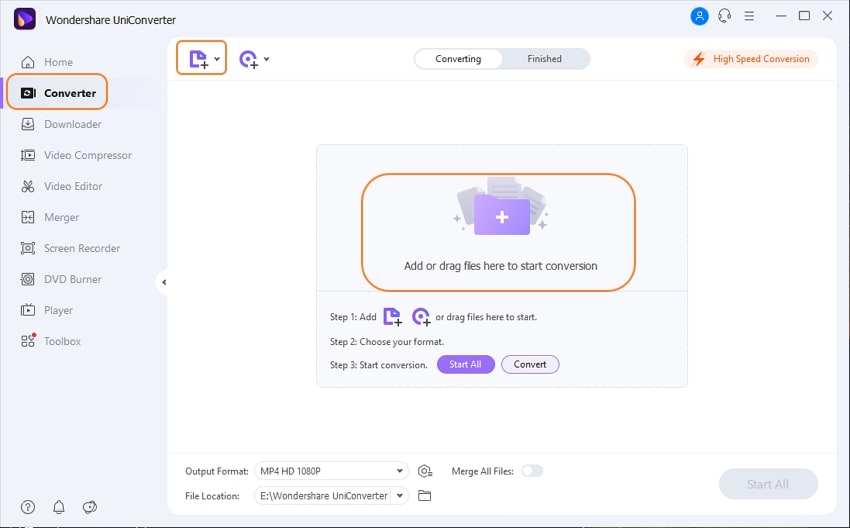 The second method is to go to Video Editor instead of Converter. From there click on Crop and you will be prompted to add your video, the next screen is pretty much similar in the next step.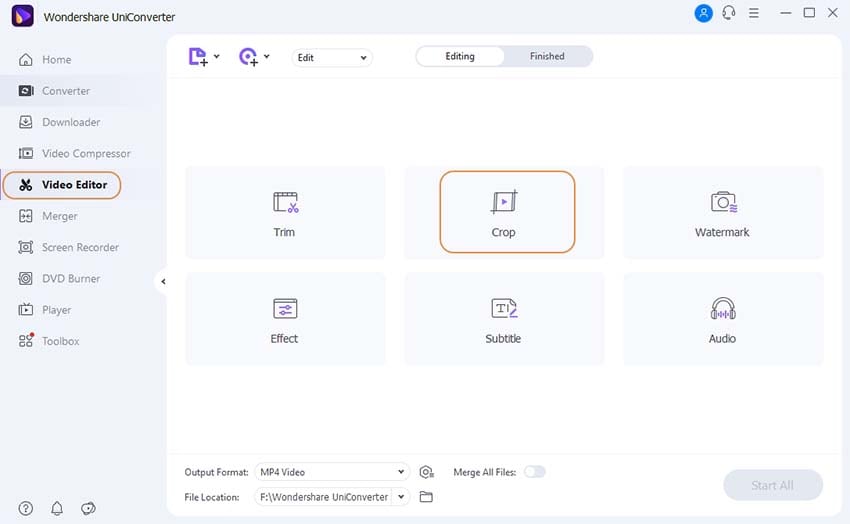 Once the MP3 has been added, the screen changes once again, and here you can customize whatever settings you want to make to your MP3. Under the image of the MP3 you uploaded, you will see three icons; the trim, crop, and effect icon respectively. Click on the Scissors icon which is the trim and on the next screen you will be able to cut out any part of the audio you don't want. When you are done click on OK.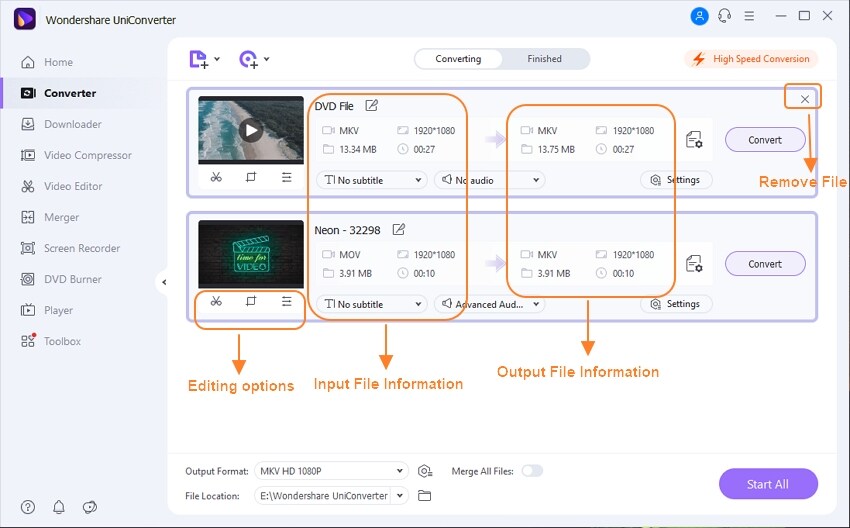 If you are using the first method i.e. Converter tab then you will be required to click on Convert but for the second method, just click on Save and your cropped MP3 file will be saved to your designated directory. You don't know how to set your directory? Just click on File Location on the bottom part of the interface.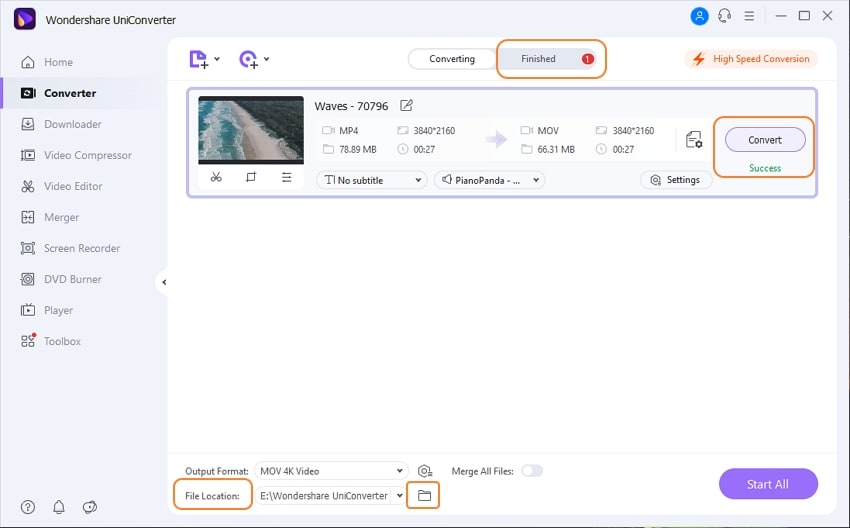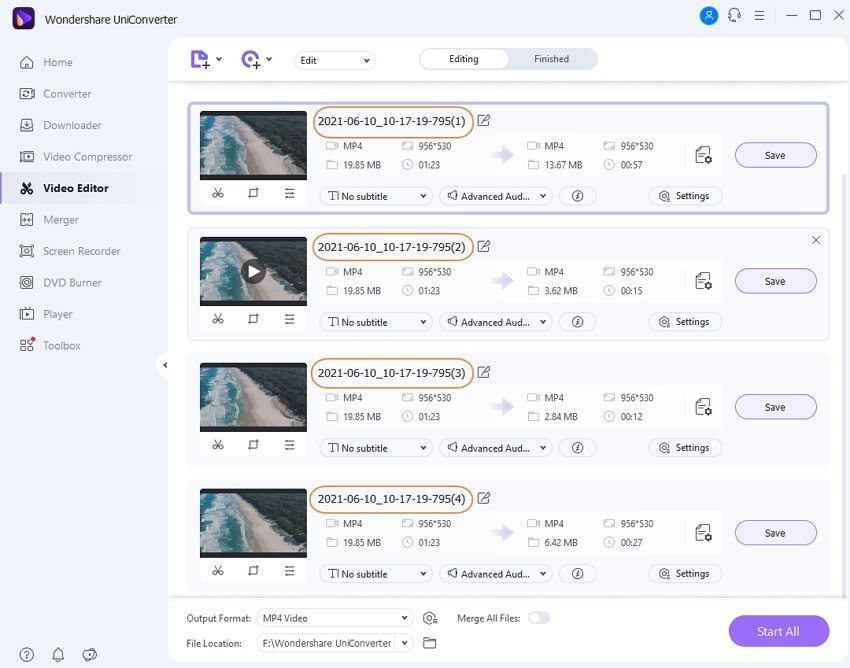 It is originally a music downloader for iPhone users. More like Google Play for Android but even better. You can download and buy premium and exclusive songs on iTunes, arrange your library and set a playlist, and lots more. Now and then, you come across parts of songs you don't want to listen to, iTunes Library can be used to crop the mp3 file. Generally, iTunes wasn't developed to be used as an mp3 editor, so it doesn't have some certain features of an editor.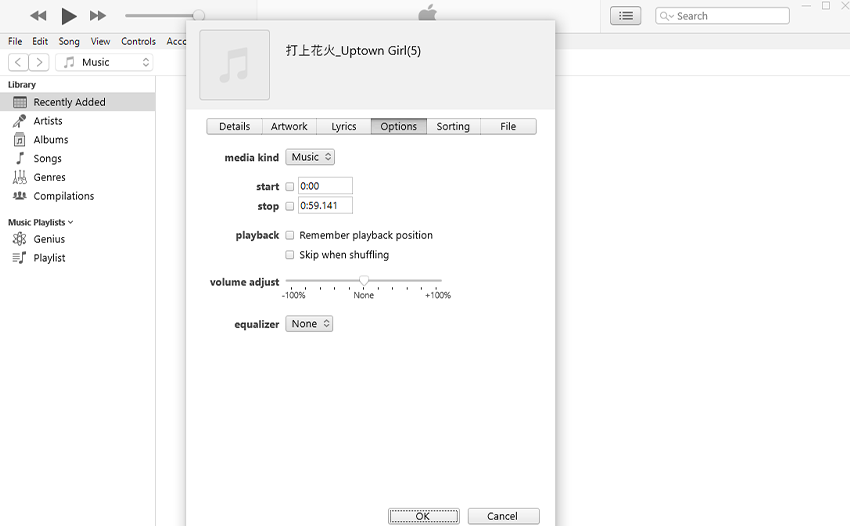 Steps to Cropping MP3 on iTunes: Launch iTunes on your PC, import the mp3 file to iTunes Library on your PC by clicking on Add file to Library from the menu, right-click on the imported file, select Get Info from the context menu, then proceed by clicking the options tab. Set the start and stop time by checking the boxes and inserting the new time for the new file to be created and click on ok. To export the file, select Create New Version and also select Create AAC version. The new file will be shown alongside the old file.
Pros:
It is cost-efficient as iPhone users can download files from iTunes for free.
Cons:
It is only iOS-based and each update consumes more space than the last making it take up so much space.
VLC is a freeware that is available across multiple platforms and is acknowledged by all as one of the best media formats. It is commonly known for its basic function i.e. playing media files, but it can also function as an mp3 cropper on the PC in an easy way, it also allows the user to perform editing techniques like adjusting the settings of an equalizer to get a yearning sound.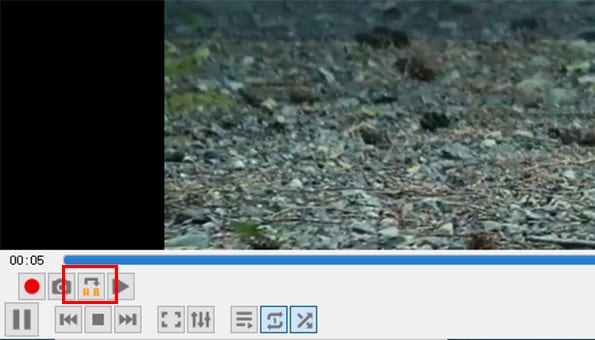 How to Crop MP3 Using VLC Media Player: Launch the VLC media player on your PC, on the VLC window, navigate and click on view on the main menu and click on the advanced controls option from the context menu. Meanwhile, four new icons will appear above the play icon. Insert the mp3 file with the VLC media player, adjust the progress bar to determine the start point and then click on the record icon to begin cropping. Then click on the same icon to stop cropping when it reaches the point you want the file to stop. Automatically, the file will be saved on the local folder of the PC.
Pros:
It is also a media player, one of the best multimedia players, and is available across all platforms.
Cons:
The features are all too clustered and unrelated that they might confuse a first-timer, while the media interface is friendly and easy to navigate, all other functions are complicated to use.
---
Part2. Good Websites to Crop MP3 Online
It is a free online tool that is used to crop and resize media and audio files which is used for cropping and trimming images, videos. Croppio allows its users to crop mp3 online without downloading/ installing any application on their device. Its features consist of tools that can be used to make a ringtone online just by uploading the track and cropping the desired part. Another feature that Croppio provides is the fade-in and fade-out effect which can be applied to any mp3 files after the files are imported successfully.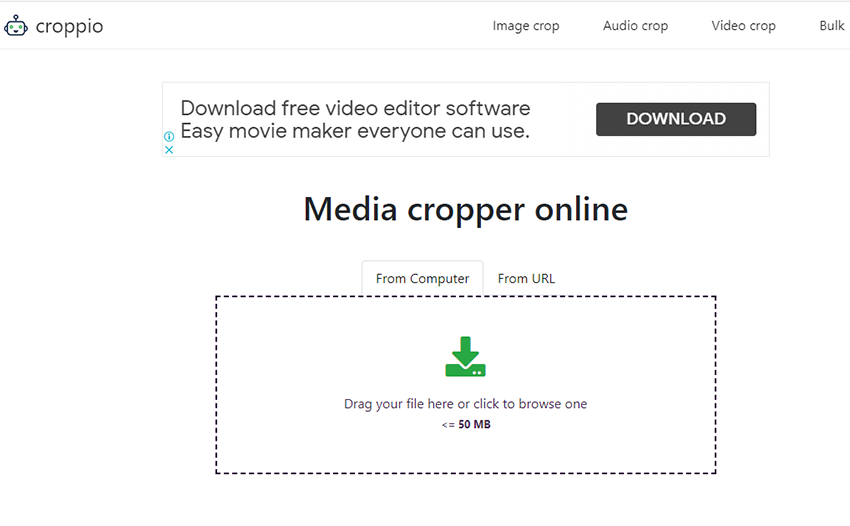 Steps to Crop MP3 with Croppio: Upload your mp3 file from your device (android, windows, iPhone & others) select the start and finish line of the mp3 record. Apply fade (in/out) effects to the file, click on the download button to save your mp3 file.
Pros:
It has a drag and drop option and you can download files and cut them straight using a URL.
Cons:
There is a limit on the size of file that can be uploaded at once and it also doesn't support many formats.
A superb online tool that provides essential features to trim mp3 files quickly and easily. It provides audio files in the best quality, users don't have to worry about downloading the complete version of the audio file, users can edit as many times as they intend to. all that is required is to import an audio file from the device and set the start-end timeframe before you begin to crop. Or you might feel there's a need to reduce the size of an audio file to free up some spaces on your device.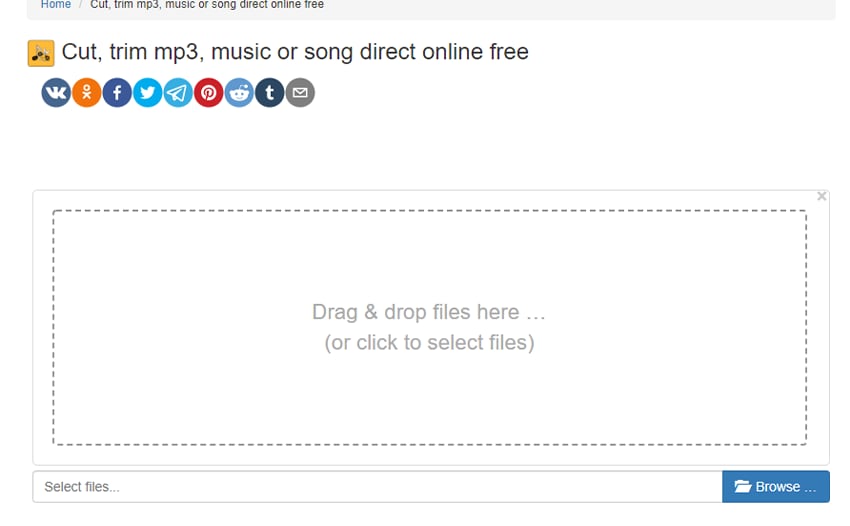 Steps to Cut MP3 with Inettols: All you have to do is to insert the URL- (https://inettols.net/audio/cut-mp3-music-or-sing-direct-online-free) to your phone/PC browser. Drag the file into the box provided or rather click on Select files to import your file, set the timeframe you want to begin to crop and also the time you want to stop it. Choose your output format then Cut.
Pros:
It doesn't reduce the sound quality of your audio even after you have used the cutter multiple times.
Cons:
Supports a limited number of audio formats, that you may not even find the format you are looking for.
Mp3cutter is a web-based tool that has few features to help you cut mp3 and audio files. There is no need to install any software on your device or PC, you can also use it on devices such as windows, mobile devices, Mac. To make your trimmed audio file sound original, you can choose to apply the fade-in or fade-out options. Mp3cutter can cut/trimmed audio files in different formats, so definitely it is not just for mp3 files. This tool usage is free, fast, and user-friendly.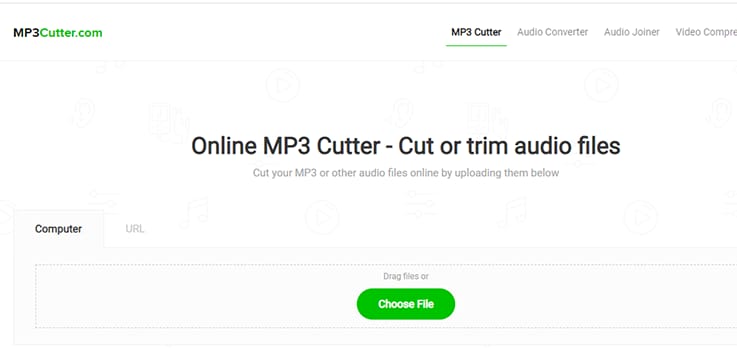 How to cut mp3 using MP3cutter.com: Open mp3cutter.com and import your mp3/ audio file. Enter a start time and end time. Select fade in/ fade out (optional). Click the Cut audio file icon to cut your mp3/audio file.
Pros:
It has a simple straightforward design.
It allows you to upload MP3 by inputing the web address.
Cons:
Ads exist on the interface.
---
Looking at the software and the online tools, one would notice that there are certain limitations and restrictions imposed on each one of them. While this might be deliberate, none of them matches up to UniConverter in terms of functionality, features and tools, and conversion, compression, and merging speed. UniConverter also possesses a media player that can play virtually all media formats, either video or audio. Also, some of the steps we may have summarized for ease of access, are way more complicated than they look, and deviating from any of the steps might ruin your MP3 in the process of cropping. Another strong point of UniConverter is that it saves the results separately from the source file and you get to decide whether to delete the source file or not.
MP3
1. Convert MP3 to Audio

2. Convert MP3 for Device

3. Convert MP3 to Video

4. MP3 Tips

5. Play MP3

6. Upload MP3