The Top 9 Online Tools to Help You Convert WAV to MP3 Online
Go to Mac
Go to Windows
Most of us have this aversion for third-party apps, no matter how much hyping it gets, we just don't trust these apps and sometimes we just download them for a particular task and remove them immediately before they cause damage to the system while some of us just want to keep that precious space on our system for emergency purposes as such, we do not download any apps we know we won't be using on a regular. Online converters are simple solutions to this dilemma. Of course, you can just download from a trusted site but do you want to know a fun fact about online converters? They work solely on the network meaning they are browser-based as such, you won't need to worry about compatibility, as long as you have a very stable internet connection, you can convert easily and quickly on any device. Converting online is much more convenient especially if you don't want to download software. Some of these Online converters however, stand out among the rest, we have made a list of the top 10 Online WAV to MP3 converters.
---
Part 1: Best Online Tool to Convert WAV to MP3 : Online Uniconverter!
Online Uniconverter is a leading name in the converter section. It easily tops any other converter because of its wide array of tools available for use. You can not only change WAV to mp3 quickly but also with high quality, supporting over 1000+ other media formats, you just can't get enough of this tool. You can also compress audio/video, extract audio from video, merge audios or videos, make GIF using Online Uniconverter, you can also burn DVDs or CDs, download YouTube videos, record your screen on its desktop version called Uniconverter.
Steps to convert WAV to MP3 using Online UniConverter
Visit Online Uniconverter, then click the "Audio Converter" tab. And then you can upload your WAV file through the device or cloud (Google drive, Dropbox and YouTube supported).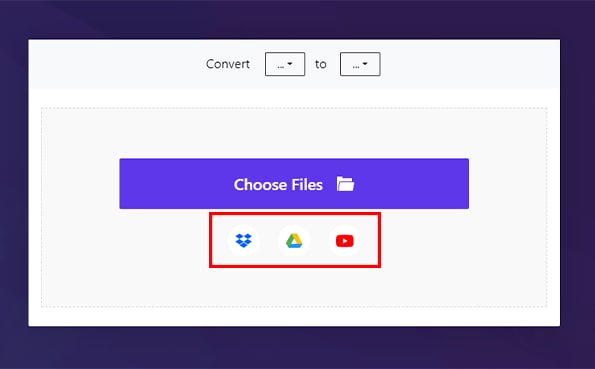 Select MP3 format and click on convert. Your conversions would be done in less than 10 minutes.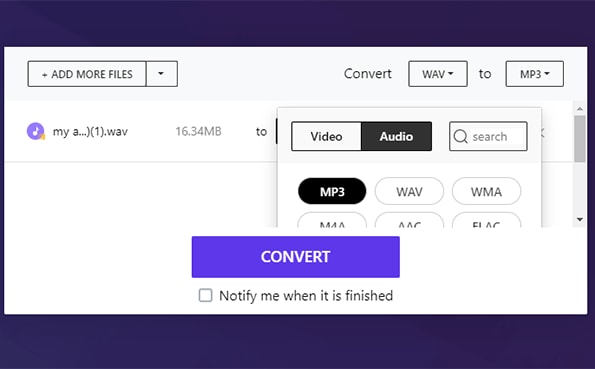 You can now download your file for storage on your local disk or upload them directly to cloud.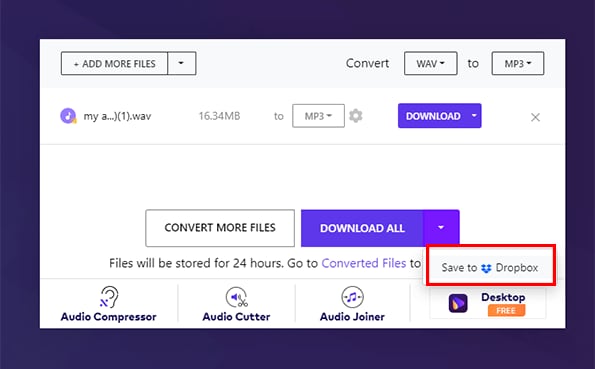 ---
Part 2: Other Converters to Convert WAV to MP3 Online
Cloudconvert is another really amazing online WAV to MP3 converter. It supports over 300 formats, you can convert videos and audios and in the process of conversion, you can also set the bitrate of your audio. Bitrates affect the quality of your audio but know that increasing the bitrate increases the file size as well but hey, you'll get a high-quality audio so all is good.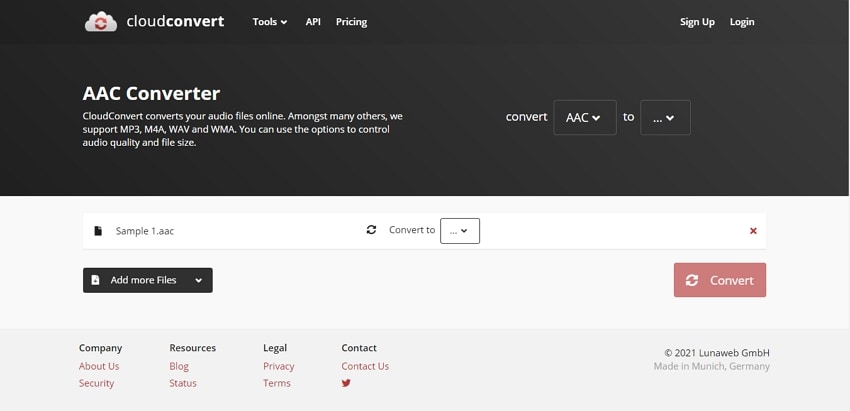 Official Website: cloudconvert.com
Converting Steps
To select your file, click on the 'select file' tab and choose your file. Or by clicking on the arrow beside the 'select file' tab, you can see a list of other options; you can choose to upload by pasting URL or from OneDrive, Google Drive, Dropbox or your computer.
There is an option to choose input format and output format. The input might be unnecessary because Cloud convert automatically detects the format of the file you uploaded, there are a few exceptions though but it recognizes all common formats like MP3, WAV, FLAC, M4A and so on.
After everything is set, click on 'convert' to start.
Download your file after WAV to MP3 conversion.
ZamZar is a freeware meaning it is a free online tool that requires no download. Its WAV to MP3 conversion speed is fast and it also supports a whole lot of media formats including but not limited to audio formats, video formats and document formats. It is a conversion made-easy online converting tool. It supports over 1000 file formats including audio, videos, PDFs and images. It boasts of being able to complete its conversion in less than 10 minutes.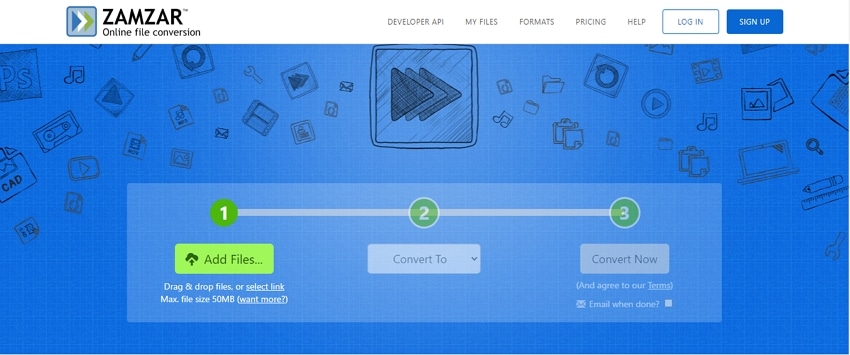 Official Website: www.zamzar.com/
Converting Steps
Upload files on Zamzar by clicking on the 'add files' tab or you can just copy the URL for the audio.
Select MP3 as the output format.
Click on "Convert" and download the file once it is done.
Convertio is guaranteed to be one of the best converters you can find, not only limited to online converters here. Its function, tools and ease of use make it more than capable of rivaling some of the best online and software converters. Although it only supports a little more than 300 file formats, its user-friendly interface and design can easily be navigated by anyone with no prior knowledge. All need to do is upload your file, choose the format and convert; easy! You can convert more than one file with completely different formats at the same time. Convertio can easily topple most of the converters on this list.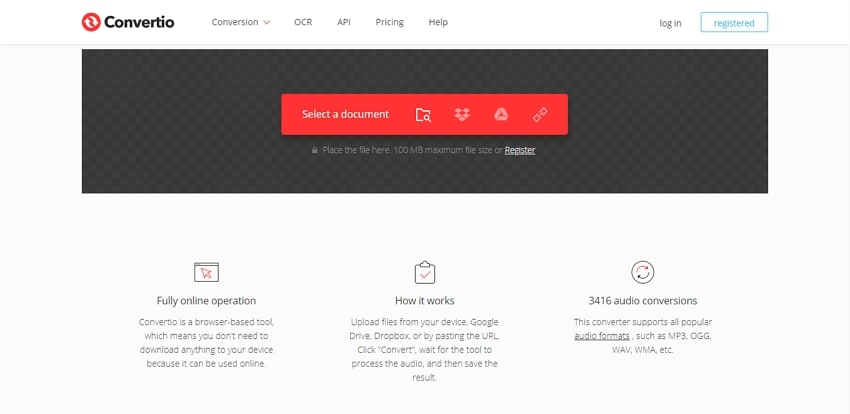 Official Website: convertio.co/
Converting Steps
Choose a file by clicking on the red 'choose file' tab. Convertio can upload from the cloud as well.
Choose the MP3 format you want to convert to.
Start conversion, the speed of conversion is dependent on your network.
Download the file once it is done converting.
Another free online WAV file to MP3 converter. Online Audio Converter processes your conversion quickly and faster than most converters. Convert audios to different formats, it supports common formats like WAV, MP3, MP4, M4A and Supporting over 300 file formats including popular formats like WAV, MP3 and others, you can extract audios from videos and choose the output format and quality of your audio before conversion. The three easy steps for conversion have been labeled on their site. Feel free to explore more of their features.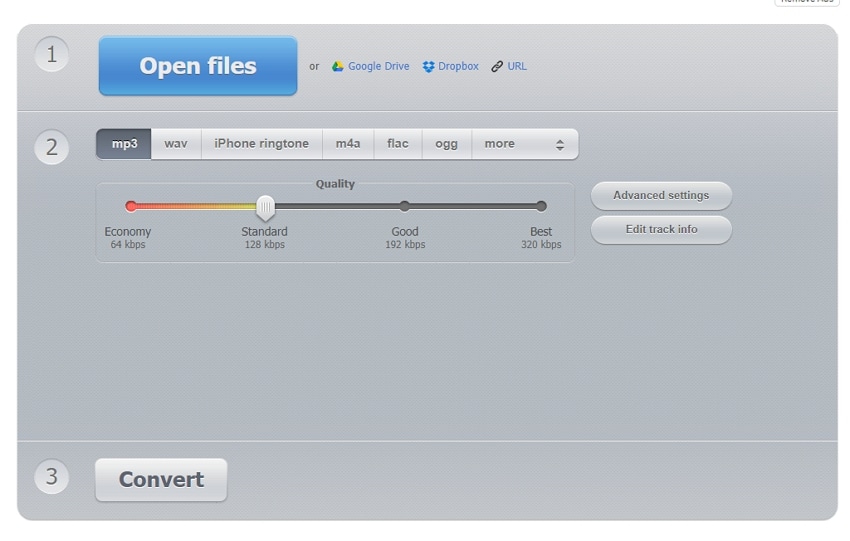 Official Website: online-audio-converter.com/
Converting Steps
Click on add files to include the file(s) you want to convert or you can just drag and drop the file if you are using your computer. Online Audio Converter also supports uploading from cloud so you can utilize any of the three ways of adding files to the website.
Choose WAV from the list of formats provided.
Click on 'Convert' to start the conversion process.
You would need to download your file after conversion.
Evano's strong suit is in its beautifully designed interface. It is simple and straightforward enough for a new visitor to successfully complete their task without any other help. Coupled with its long list of supported formats makes it one of the best online converters. Their conversion speed is also faster than most other online converters.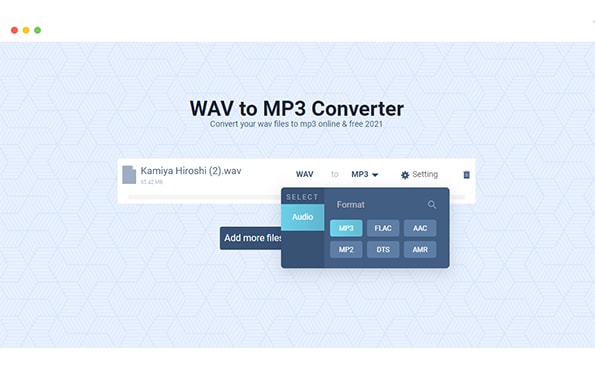 Official Website: evano.com/
Converting Steps
Click on 'add files' and choose the WAV files you want to convert to MP3.
Click on 'audio' or 'video' to view the list of available formats. Once you click on 'audio' a new box appears listing all the audio formats available on the platform.
Select MP3 format and start conversion.
Download your files after the conversion is completed.
FreeConvert supports over 500 media file formats. Just upload your files and convert them to MP3 format. If not, you can also upload from Google Drive and Dropbox. While most online converters allow you to upload a maximum of 20-50 MB file(s) on their site, FreeConvert has a limit of 1GB and it is all for free.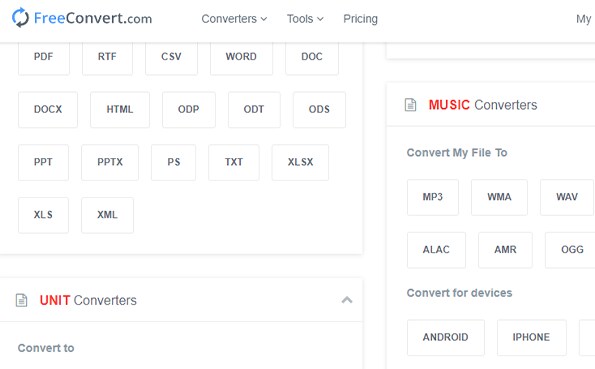 Official Website: www.freeconvert.com/
Converting Steps
Upload the WAV file you want to convert.
Click on the blue 'select files' tab or tap arrow beside it to view other options.
Click on 'select output' and start conversion.
Download the file on your device.
Music Gateway is an unusually rare site that opens the gateway to the music industry for you. It contains a lot of features and functions that can make your music career smoother. The list of Music Gateway features are kind of more career-oriented. It has something like; Band name generator, Lyrics tool, Cloud storage and Converters, this site is worth visiting for people who want to take up music full time.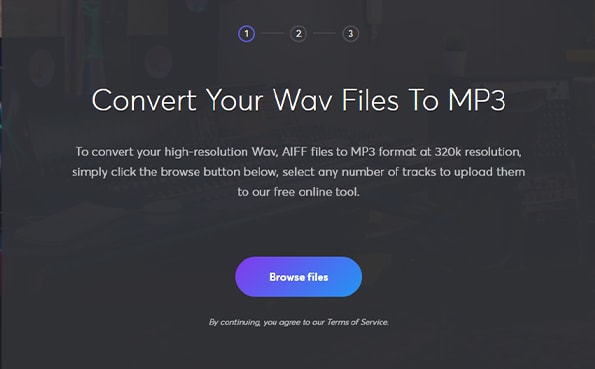 Official Website: www.musicgateway.com/wav-to-mp3-converter
Converting Steps
After accessing its site, you might overwhelm with the long list of tools made available on the platform, just locate Free Music Tools and from the list select WAV to MP3.
Click on the Browse file and select your WAV file from your system.
Wait for the file to upload and click on convert.
Download your file after the conversion is done.
Online Free Convert otherwise known as MediaShare Online Video Converter is an incredibly useful converter that lets you easily convert audio and video formats. It supports popular formats like MP3, M4A, AVI, WMV and more. Its interface is beautifully designed with a lot of helps to guide you to complete your conversion. They have a long list of available tools for different processes, you can compress, convert, cut & merge audios and videos.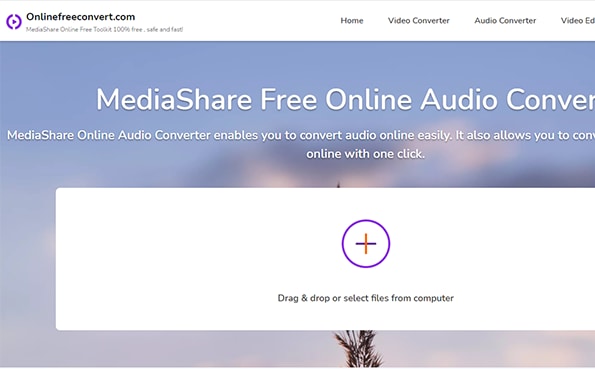 Official Website: www.onlinefreeconvert.com/audio-converter.html
Converting Steps
On getting access into their site, you will see a '+' sign placed in a circle, click on it to add files from your PC or phone. Note that depending on the toolbox you select, the site might reject your upload of the wrong file format. Meaning that if you select the MP3 toolbox, you can't add a video format for conversion.
After uploading your files, you can select convert to start conversion.
---
Does converting WAV to MP3 lose quality?
Yes, the difference between mp3 and WAV is not only in its size but also its quality. WAV is a very high-quality lossless audio format but its size is also six times that of mp3. Mp3 on the other hand focuses on reduced size than quality but that doesn't mean the quality is trashy, the quality of the WAV format makes it such that not all audio players and devices can bring out its full potential. Mp3 just makes sure you can play your music on any of your devices.
Does Uniconverter has Windows or Mac Version?
Yes, if you consider getting the software, it available on both Windows and Mac.
Is Online Uniconverter safe?
Yes. Some of the websites out there probably feature malware and viruses that come in the form of plug-ins and ads. However, Online Univonverter has been verified using different anti-virus scanners just to make it super safe for you. It is safe and reliable.
WAV
1. WAV vs MP3

2. Convert WAV