How to Convert FLAC to MP3 Easily-7 Converters that may Help You
Go to Mac
Go to Windows
Have you ever wondered why MP3 is the most common of all audio formats? Why you seldom see or hear of any other format? First, you should know that All audio formats are of two types, either they are lossy or lossless. Lossless audio formats like FLAC and WAV have higher sound quality but they have very limited compatibility, only a selected few devices can play them and their sizes are too large that a few downloads might fill up your memory space that is where lossy formats come in. True they have lower quality but their sizes have been compressed and they are compatible with most if not all systems one of such formats is the MP3. Converting FLAC which is a lossless file to MP3 is not hard if you use simple and easy-to-use converters. Some of these converters are beginner-friendly meaning you don't need any prior knowledge in coding to use them. One of such is the Wondershare Uniconverter.
---
Part 1: Try Best FLAC to MP3 Converter: Uniconverter!
Uniconverter can not only help you convert FLAC to MP3, but also help you to download YouTube video and audio, compress files, record screen, burn DVD and so on. Uniconverter supports over 1000+ formats meaning it can convert just about any format from audio to video to images. You can download from video streaming sites as well not only YouTube. Uniconverter allows download from sites like Hulu, Facebook, VEVO, Vimeo and so on. Even though the sites are limited, you don't really have to worry, as Uniconverter supports a lot of sites and there is a very high chance it can support the site you are planning on downloading from.
Steps to convert FLAC to MP3 using Wondershare UniConverter
Download, install and launch Uniconverter
Uniconverter is available on both Windows and Mac. When it is done installing, just run the software.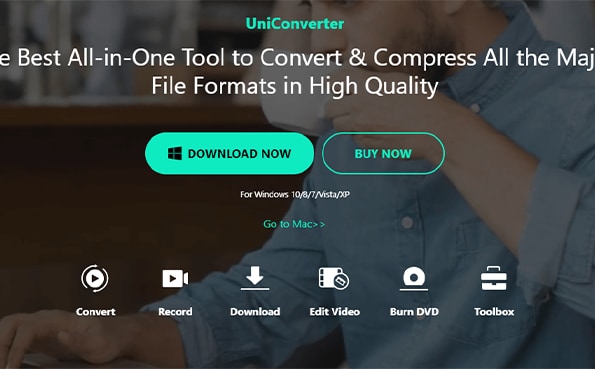 To add files, you can either click on the + sign at the left side of the screen or you can simply drag and drop the file into the software.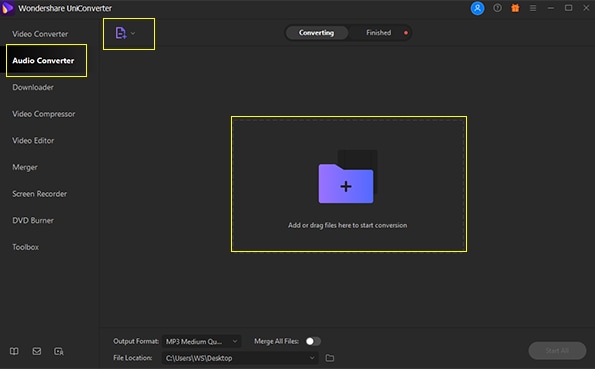 A dialog box appears and from the left side, you can select the output format while the right side has the available quality. Select the output destination and click on start all.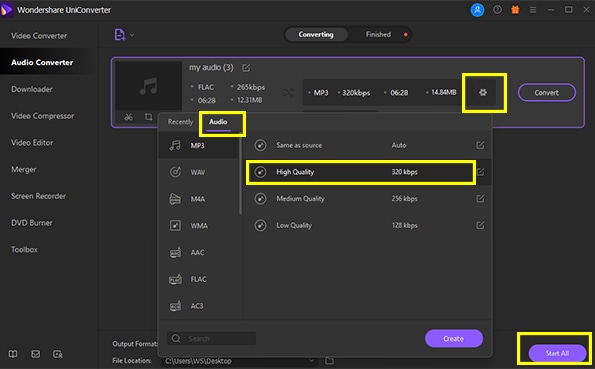 Click on the 'finished' tab to see your result, or you can find the MP3 files at the file location you've set.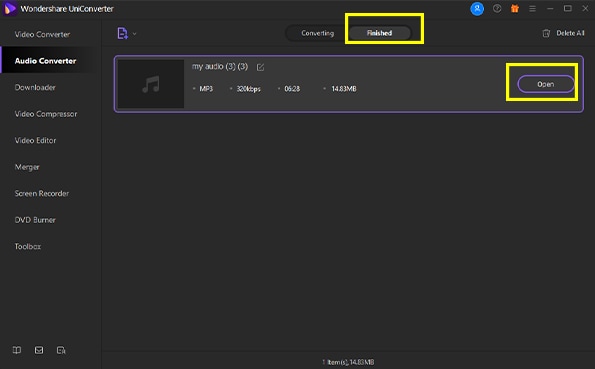 ---
Part 2: Use Other Good software to convert FLAC to MP3 (Mac & Windows)
Audacity is a free sound-editing application for both Windows and Mac. It can convert to different audio formats and the quality of the sound won't be impacted. Its extra feature 'The Beat Analyzer' allows users to change the speed and pitch of their music.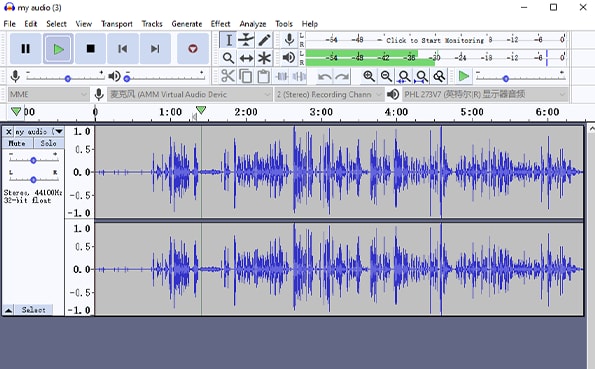 Download Link: www.audacityteam.org/
Pros:
Audacity can record with the aid of your device microphone.
It has the background noise removal feature.
Reduction and amplification of volume and pitch of an audio file.
Cons:
There is no option that allows you to share your works directly to the net or social media.
Audacity is not the best for making the podcast, unless you install an encoder.
The interface is not user-friendly.
Steps to converter FLAC to MP3 with Audicity
To add files, click on Open. This will launch your file explorer and you can add the FLAC files you want.
Click on File then export. For converting to MP3, choose to export as MP3.
The audio file should appear as a blue wave on your Audacity interface.
Once you've selected the file and the file format, you can then convert.
Plan/License and Pricing
Audacity Audio Converter is absolutely free. It is available for download on Mac, Windows, Linux and other Unix-like systems also for free.
Freemake Audio Converter is a freeware (free software) with video and audio converters, a user-friendly design and a database that supports lot of media formats.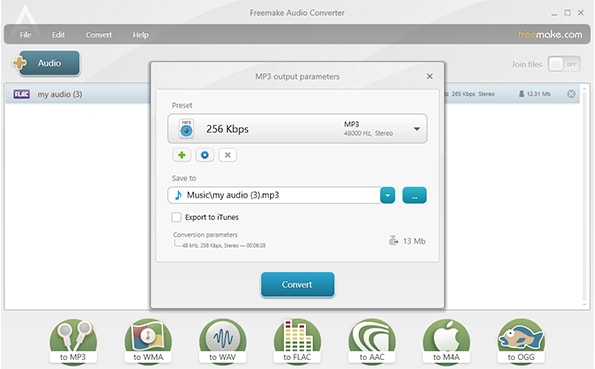 Download Site: www.freemake.com/free_audio_converter/
Pros:
It supports a lot of media file formats.
Freemake can help burn file into discs directly.
It can download and convert from video sharing websites online videos.
Cons:
Compared to other paid converters, Freemake's conversion speed is slow.
Irregular updates.
No customer service support.
Steps to converter FLAC to MP3 with Audicity
Click on 'add' to choose the files to be converted.
Select the format you want to convert to from the list at the bottom of the home screen. If you're converting a video, there's an additional option that allows you to edit various aspects of the video
Choose the folder the converted file would be saved to.
Select Convert to start the conversion process.
Plan/License and Pricing
Plan/ License

Price

Freemake Video Converter
Free
Freemake Video Converter Gold Pack
$19/ One-time payment
MediaHuman Audio Converter
MediaHuman Audio Converter is a free audio conversion software. The application can be used to convert different audio and video file formats that are compatible with different devices.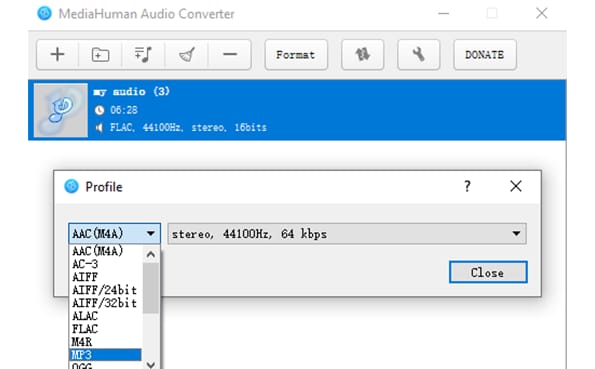 Download Site: mediahuman.com/audio-converter/
Pros:
Easy-to-navigate UI and amazing user experience.
Supports a long list of formats.
Can link and convert files directly into your iTunes.
Cons:
No extra/ advanced features.
Steps to converter FLAC to MP3 with Audicity
Go to the toolbar and click on 'add'.
Select the file you want to convert.
Or
You can launch your file explorer and drag the video from there into the app.
Choose MP3 as the output format. Then click the "Convert" tab.
Plan/License and Pricing
MediaHuman is a freeware and is absolutely free. It needs no registration and there are no hidden charges. Convert your audios and videos on Windows and Mac for free.
AII2MP3 is a conversion application that can convert media files to MP3. It supports over 50 formats including: WAV, FLAC, OGG, M4A, MP3, AIFF etc.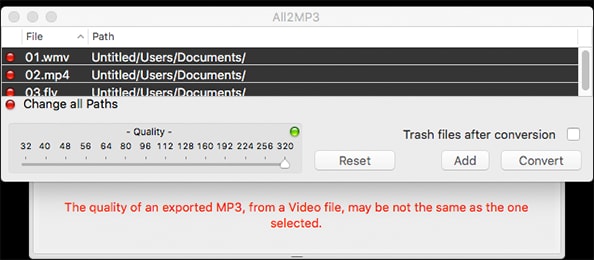 Download Site: tresrrr.com/all2mp3forwindows/
Pros:
It is completely free.
Simple and easy-to-use User's Interface.
Conversion does not really affect audio quality. Unless you're converting from lossless to lossy audio formats.
Cons:
It doesn't support batch conversion.
It converts all audio formats with the exception of m4a which is native to iTunes.
Steps to converter FLAC to MP3 with Audicity
Drag your FLAC files into AII2MP3.
Set the quality you want, you can also choose to set the default option.
Click the "Convert" button to start converting.
Plan/License and Pricing
All2mp3 (alternatively ALLtoMP3) is a free conversion tool that lets you convert any other audio format to MP3, making your music or beats readily accessible across all devices.
Aiseesoft is the perfect video converter for small-time conversions. Good for personal use and for storing videos on devices.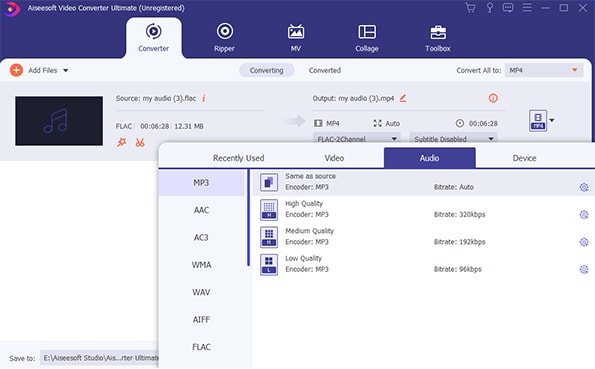 Download Site: www.aiseesoft.com/
Pros:
Whether you are converting audio files or video files, Aiseesoft Audio converter ensures no loss of quality during the conversion process.
Aiseesoft Audio converter can convert to device formats which means its supported formats can work on different devices.
The ability to convert multiple files at once is nigh indispensable in media converters. Aiseesoft Audio converter is one of those converters that can convert different files at once.
Cons:
One of the drawbacks to Aiseesoft Audio Converter is that it doesn't have a built-in disc burner, you might have to download a plug-in.
Their plans are expensive.
No customer service support.
Steps to converter FLAC to MP3 with Audicity
Launch Aiseesoft you've downloaded.
Upload FLAC files by Clicking "Add Files", you can also upload the FLAC file folders on it.
Choose the MP3 format on the drop-down list, then start FLAC to MP3 conversion.
Plan/License and Pricing
Plan/License

Price ($)

1 Year – 1PC
39.20
Lifetime – 1PC
55.20
Lifetime – 2 to 5 PCs
119.00
---
Part 3: How to convert FLAC to MP3 in itunes?
Below are the steps in converting FLAC to MP3 for iTunes. We will be stating the steps for Windows and Mac simultaneously: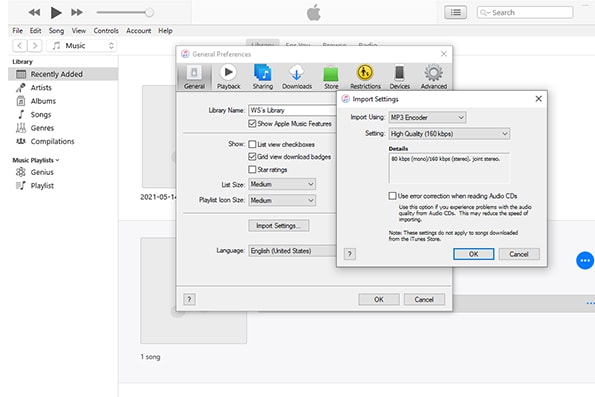 Step 1. Launch the iTunes for Windows software and as for Mac systems, just open Apple music.
Step 2. For Windows, click on Edit then Preferences and on Mac it is Files > Preference.
Step 3. Click the General tab in iTunes for Windows and on Apple music click on Files tab and Import Settings..
From here on out, it is the same procedure for both
Step 4. Here you choose the output format for your audio file.
Step 5. Choose the the song(s) you will be converting.
Step 6. Again, click on File > Convert, then Create.
---
FLAC (Free Lossless Audio Codec) is naturally a compressed audio file and it size is smaller when compared to WAV and other lossless. Even though it has that characteristics, its size is still six times that of MP3. Imagine converting an 8mb mp3 file to FLAC, you'll get 46mb, now imagine MP3 files of 50mb, 100mb or more. A lot of us like to be able to listen to our music across devices that's why it necessary to convert FLAC to MP3. In the article we have stated FLAC to MP3 Mac and Windows converters and the one most recommended would be Uniconverter, for its versatility and ease of access.
MP3
1. Convert Audio to MP3

2. Audio to MP3 Converter Online

3. Programs to Convert Audio to MP3