The 10 Best Desktop Software to Convert M4A to MP3
Go to Mac
Go to Windows
M4A is likely to replace MP3 in the nearest future but right now, it is nowhere near that level yet. M4A like MP3 is a lossy audio format meaning that during the process of compression, these two lose some audio data which results in a fall in the audio quality but because M4A utilizes Advanced Audio Converter (AAC) which allows it to lose fewer data and retain most, it also compresses file tighter than MP3. The result of all this is higher quality and lower file size. That's right, M4A is not only smaller in size compared to MP3 but also of a higher quality but M4A is not as widely accepted or compatible/available with some devices as such. We all want to be able to play our audios across devices so if you want to be able to play your audio on any of your devices, there is a need for you to convert to MP3 best part is, it is not difficult to achieve M4A to MP3 conversion.
---
Uniconverter is an all-around, versatile conversion software. Its uses are not limited to M4A to MP3 conversion but can also merge and edit audio or video files, compress file of different formats. Uniconverter supports more than 1000 formats, it also enables you to download video from YouTube, Hulu, Vimeo and other video sharing sites, you can burn and rip DVDs.
UniConverter---Convert M4A to MP3
Lets you convert M4A to MP3 for Windows and Mac quickly.
Convert M4A to MP3 in batch.
Help you remove the noise in music.
Merge your M4A files and then convert them to just one MP3 file.
Convert M4A to MP3 for different devices.
Step by step process to convert M4A to MP3 with UniConverter:
Click on Video Converter tab at the top left corner of the homepage then on the + sign beside it to add files from your file explorer. Uniconverter also features the drag and drop feature, i.e. you can directly drag the file from your file explorer and drop it on the application's interface.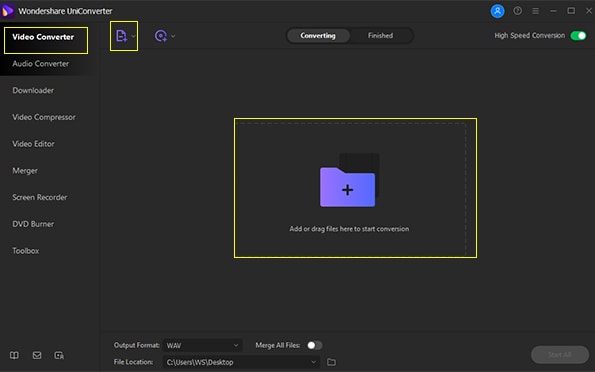 Select MP3 as output format
Next, select the format your file would be converted into. Do this by clicking on output format and choosing MP3. You can also choose the file location below the "Outpu Format" icon.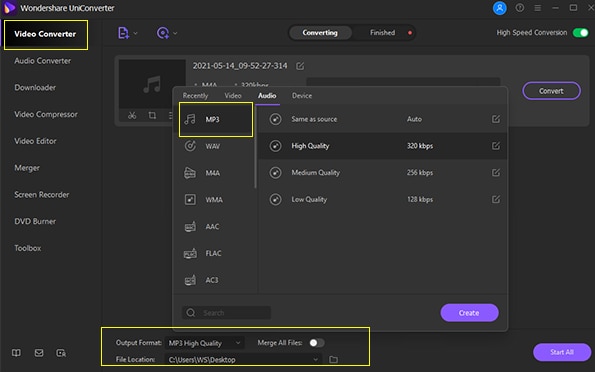 Convert your M4A Files to MP3
You can now click on the 'start all's button to begin the conversion. After it is done, click on the 'finished' tab to view the result of your conversion.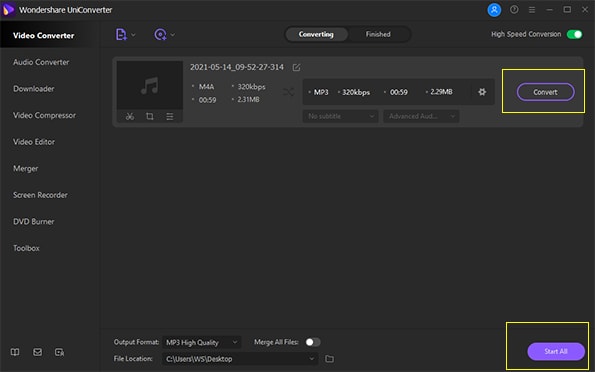 ---
Part 2: Other Tools to Convert M4A File to MP3 on PC (Mac & Windows)
As an in-built media player for a widely used brand name like Microsoft, Windows Media player has all the basic needs of a media player while also featuring some advanced settings.
Viewing images, playing audio and videos are the most basic task it can perform, its advanced functions include: converting media to MP3 and burning CDs. To convert to MP3, you must first burn the files to disc and rip it.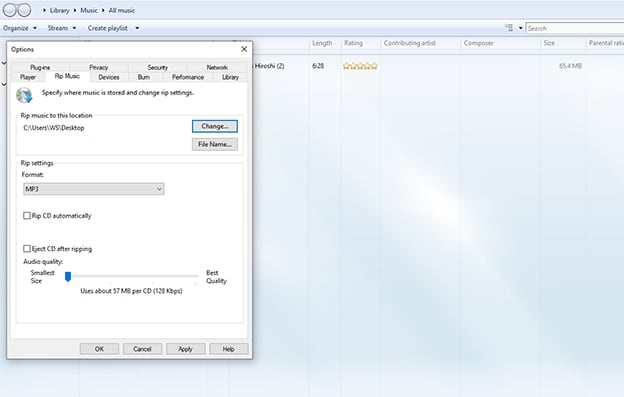 Step 1: Click the Rip Music tab. It's at the top of the window, and select a save location.
Step 2: Select a file format.
Step 3: Adjust the quality.
Step 4: Click Apply and then OK.
Step 5: Insert the CD you ripped. And click Rip CD at the top corner and the system will start copying your converted files.
Freemake Audio Converter is a freeware that can absolutely compete with paid converters. It can do pretty much everything you want from ripping and Burning DVDs/CDs, downloading from YouTube and other video sharing websites, add subtitles to movies.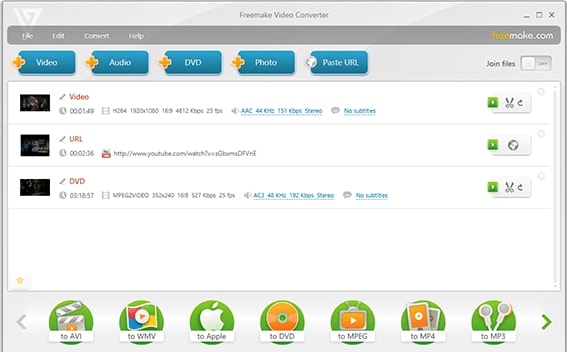 Download Site: www.freemake.com/free_audio_converter/
Step 1: First, you will import the M4A file into the Freemakesoftware.
Step 2: Second, choose the output format you want your media to be converted into.
Step 3: Finally, start the conversion by clicking on 'start conversion'.
A multipurpose media converter. Windows Video Converter can convert, download and compress with great speed. Download 8k videos from video sharing sites and convert them without losing quality, you can cut, add watermarks, effects, add text, rip and add subtitles.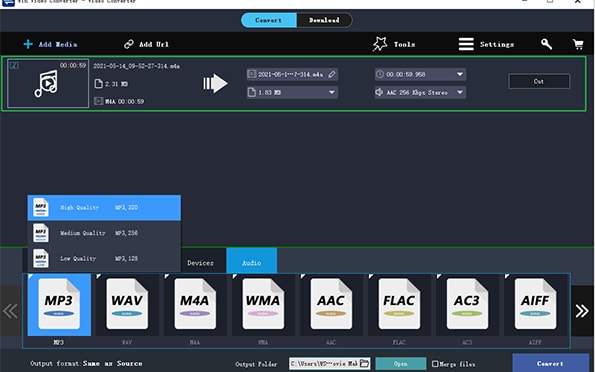 Download Site: www.videowinsoft.com/videowin-video-converter.html
Step 1: Open your Windows Video Converter and click on 'File' to add your M4A file.
Step 2: Select the output format.
Step 3: Click on 'Convert' to start conversion.
With MediaHuman, you can download videos from trendy video-sharing sites. You can download the entire YouTube playlist, download your watch later album to watch them offline. You can instantly add downloaded audios as well as converted audios into your iTunes library. You either choose to add everything or a selected few.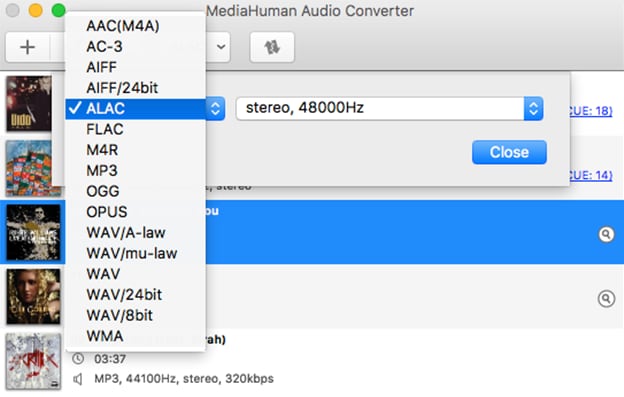 Download Site: https://www.mediahuman.com/
Step 1: Click the Add Media button add audios.
Step 2: Choose your desired output format, like convert from M4A to MP3 or any other format.
Step 3: Click Save to specify where the software should save your converted files.
Step 4: Finally, click Convert. You can also Transfer the Converted Video to Your Mobile Device for playing.
Movavi is the ideal conversion software for showcasing your creativity. Add special effects to your videos and convert your audios without losing quality. Movavi is a beginner-friendly multimedia converting app that will help make your conversion and compressions very easy. This software has every tool you would need.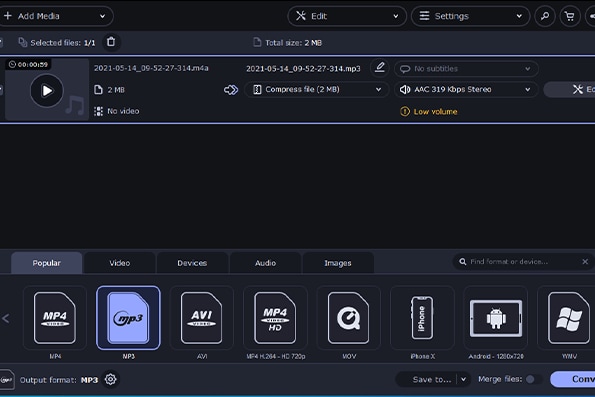 Download Site: www.movavi.com/
Step 1: Click on the Add button to add your M4A audio file or just drag and drop straight from your explorer.
Step 2: Select MP3 format as the output format.
Step 3: Select any additional format settings.
Step 4: Start the conversion. After the conversion is done, locate the extracted audio file pressing the Locate button.
iFunia Video Converter is a software to convert M4a to MP3 on Mac. It supports almost any video format. It can convert for different device formats. Its conversion speed is super fast and with no loss in quality. iFunia also lets you convert in batch, you don't have to waste time selecting each file for conversion. You can also cut and merge videos.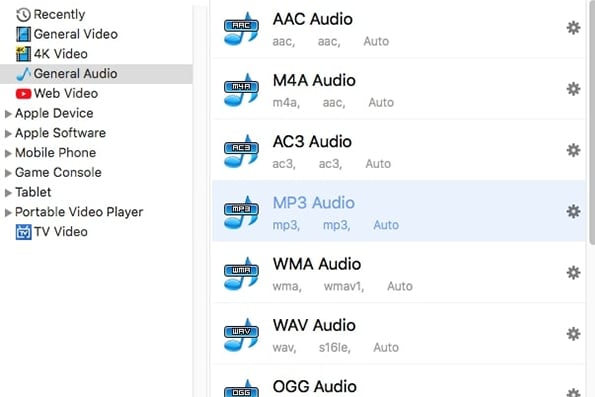 Download Site: www.ifunia.com/video-converter-mac.html
Step 1: Select the file you want to upload. You can either drag and drop the file or simply select them from your local file.
Step 2: Choose the output format; on the interface, you will see a list of device formats and selecting one of these will list the formats available for it. In this case, we will choose MP3.
Step 3: Click on convert to start. While the conversion process is ongoing, you can preview your file.
Cisdem Video Converter uses advanced HD video decoding for the conversion of videos and audios from one format to another. We know quality matters. With this advanced HD encoder, it can convert media files without re-compressing that way, it preserves its quality. It has a built-in convert accelerator which increases the conversion speed 30X.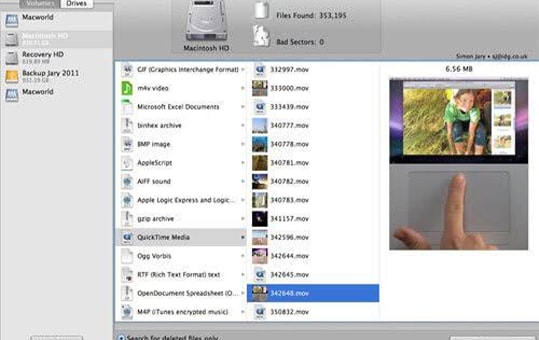 Download Site: www.cisdem.com/video-converter-mac.html
Step 1: Add video or audio to the software by clicking 'Add file' and selecting the file you want from your file explorer. Cisdem also has the drag and drop option.
Step 2: You can choose to edit parts of the video like its volume, add subtitles and crop the video or go straight to selecting the Mp3 output format.
Step 3: Here, you can change the destination of the converted file. Click on 'Convert' when you are ready.
Convertio is a highly sought video and audio converter to convert M4A to MP3 online. It is however not only limited to audios and videos, it supports conversion of archives, documents, images, eBooks and presentations. Supporting over 2000 formats, you can be sure that Convertio can convert from any format to any format you desire. With this software, you can upload files straight from the cloud, after conversion, you can save them right back into the cloud as well.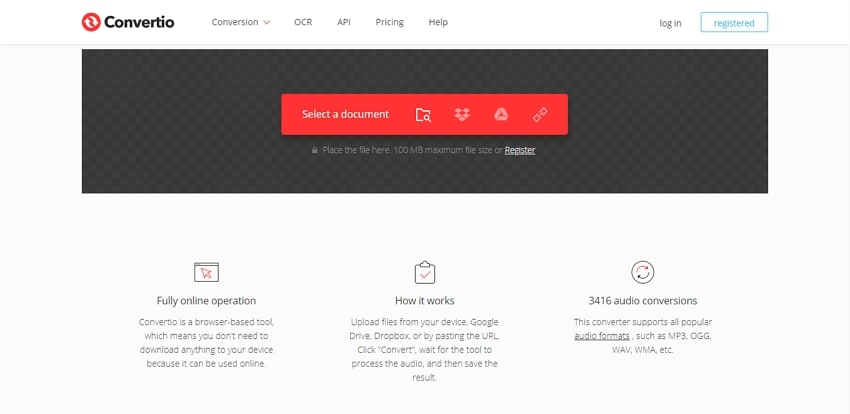 Official Site: convertio.co/
Step 1: Click on add files. You will see a prompt that tells you to choose either sound recording or grab the file from your file manager.
Step 2: Select MP3 as output format. Once you've selected the files you want, you can now choose the file format. Note that you can select more than one file and different format for each.
Step 3: Convert. Click on convert when you are ready and it'll be done in less than 10 minutes
ZamZar is another amazing online converter. With beautiful and straightforward interface, ZamZar can convert your files into different formats very quickly and easily. ZamZar recently upgraded its software and now it has additional features. You can drag and drop files instead of having to select them from your file; that option is still available though. ZamZar can now convert in batch which has no negative effect on its speed. ZamZar can convert just as fast even if your doing M4A to MP3 batch conversion.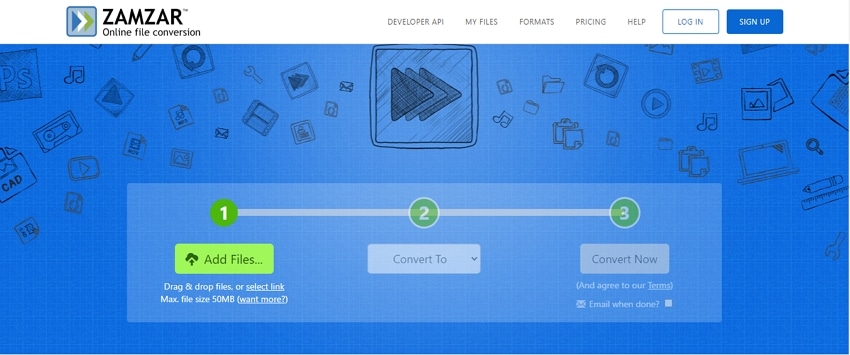 Download Site: www.zamzar.com/
Step 1: Click on 'add' and choose your M4A file. OR if you are using it on a computer system, you can use the drag and drop option.
Step 2: Choose output format. By clicking on the tab below 'add', you can now select the format you want to convert to.
Step 3: Start conversion. The maximum size of a file you can upload at once is 50 MB.
---
Part 3: How to change M4A to MP3 on iTunes?
You may be confused with how to use iTunes to convert M4A to MP3, don't worry, follow the steps below, it is very easy!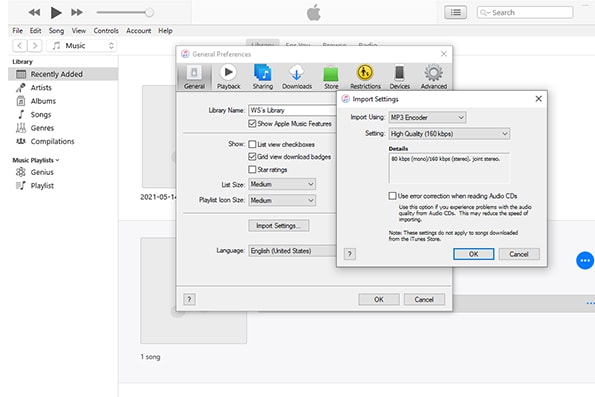 Step 1: Click on "Edit" and then "Preference". After that, click "Import Setting".
Step 2: Choose MP3 encoder in the import setting and select adjust the bitrate. You should know that choosing a high bitrate will increase the audio quality but the size increases as well.
Step 3: After you are done with the import setting, you can now add your M4A file. Click 'Convert' and create MP3 version. When it is done converting, locate the file in the same folder as the M4A audio file.
---
Conclusion
A lot of converters support conversion from M4A to MP3 and vice versa but because of compatibility, MP3 is highly sought. Conversion to MP3 is the most common conversion people do, being able to play your audio across devices is important because you never know when you might feel the need to actually listen to it. As we have listed common and popular converters, our recommendation for the day is Uniconverter. They have all the pros and except for the fact that some of their features are not free, they have no other cons. Uniconverter supports over 1000 media formats but don't think it is only limited to audios and videos, Uniconverter can convert images with ease and all with crazy speed.
MP3
1. Convert Audio to MP3

2. Audio to MP3 Converter Online

3. Programs to Convert Audio to MP3