Generally, Bitrate measures down the data that is to be transmitted a single point of time. It's the de-facto standard for measuring bits per second (bps), kilobits per second (Kbps or the megabits per second (Mbps). This defines the rate at which data is passed through the communication network. It can also be referred to as data rate.
Part 1. All About Video Bitrate and Audio Bitrate
What is Video Bitrate?
The term Video Bitrate is referred to the speed at which video is transmitted a given point of time. The more the speed, larger chunk of data is transferred at the given point of time. However, the consideration of correct bit rate depends on which device the videos are being played. In typical cases, an approx. value of 2mbps is deemed to be a good quality of video on web whereas a standard definition of DVD has 6 mbps.
What is Audio Bitrate?
On the other hand, Audio bitrate is termed as the number of bits used in playback time per unit that shows audio after source coding. They are defined as the compression rate used in encoding files in audio aspect. More the bitrate, better the quality of the sound!
Is a Higher or Lower Bitrate Better?
It goes without saying, to fetch a great quality of video, the higher bitrate is recommended. Putting differently, setting the video output in a higher bitrate will provide higher image quality as compared to lower bitrate.
What is the Best Video Bitrate for 1080p?
Generally speaking, the most suitable bitrate for the video of 1080p is 8,000kbps. However, we have provided detailed information on this. Have a look at the following table:
| Type | Video Bitrate | Mono Audio Bitrate | Stereo Audio Bitrate | 5.1 Audio Bitrate |
| --- | --- | --- | --- | --- |
| 2160(4K) | 35-45 Mbps | 128kbps | 384 kbps | 512 kbps |
| 1440p(2K) | 10 Mbps | 128kbps | 384 kbps | 512 kbps |
| 1080p | 8,000 kbps | 128kbps | 384 kbps | 512 kbps |
| 720 p | 5,000 kbps | 128kbps | 384 kbps | 512 kbps |
| 480 p | 2,500 kbps | 64 kbps | 128kbps | 196 kbps |
| 360 p | 1,000 kbps | 64 kbps | 128kbps | 196 kbps |
What is the Best Bitrate for iTunes Song?
Several channels have different set of bitrate. So is the case in iTunes song where, generally the accepted bitrate format is set to 256 kbit/s. But, that nowhere means it is bound to be only of that value. Even, the mid to high ranging from 128 or 160 kbit/s to 192 kbits can be used. However, the highest level of bitrate so far supported is 320 kbits/s.
What is the Best Bitrate for Vimeo?
The open video platform - Vimeo is best known for its refined and quality content. The preferred rate of video bitrate for this channel is generally fixated to 10Mbs – 20Mbs for a good quality video for 1080p HD. Whereas, for the audio, the bitrate is 320kbps.
Part 2. How to Change Video/Audio Bitrate?
We know you've given so much to prep that video, but depending upon the channel, one needs to make the changes in the video bitrate too. So, to ease out your task, place your faith to UniConverter. With 100% guaranteed results, it can flawlessly change the video bitrate, depending upon the channels. Moreover, it is best suited for converting a variety of file formats, speedily. See the main features below:
Easily change video bitrate, resolution, video size and quality.
Handle conversion of a wide array of audio, video files such as MP3, MP4, SWF, MOV, AVI, DV, MPEG etc.
Easily process conversion, compression, downloading, burning and various other process in 90x speed.
Incorporates an editor that can handle various processes like trimming, rotating, compressing, cropping and flare the file with special effects etc.
Burn video to DVD with templates; burn audio song to CD.
Easily convert the output from a variety of channels like Vimeo, VEVO, Facebook, YouTube etc.
#1. How to Change Video Bitrate with UniConverter - Step-by-step Guide
Step 1. Add video to UniConverter
To begin with, launch iSkysoft iMedia Converter over your Mac or Windows PC. Once the interface opens, locate Toolbox option from the notification bar followed by Video Compress option.
You will notice a pop up window featuring the + button, tap on it. Just add in the desired video from your system and tap on Compress button to commence further.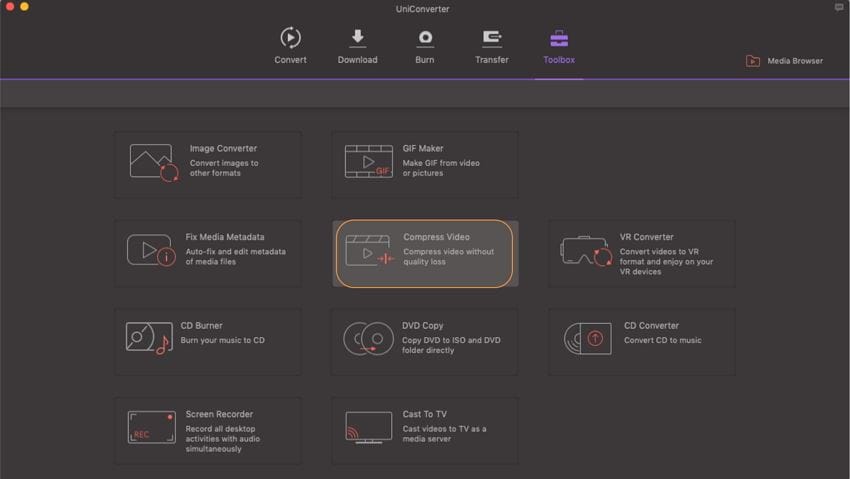 Step 2. Change video bitrate
The Compress video window will display over. You can check the original information of the video. To change video bit rate, drag the compressing bar and the bit rate will start changing accordingly. Alternatively, you can make adjustments to the video size and resolution manually.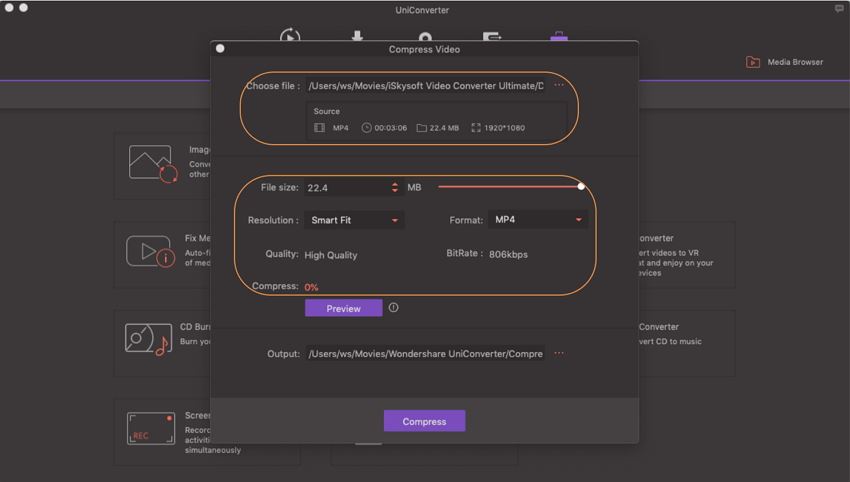 Step 3. Export the video after changing bitrate
To see the changes, tap on the Preview button and you will get a brief 20 seconds display. Once satisfied, check the Save file address, and hit the Compress button. The video bitrate will be changed and saved on your computer.
#2. How to Change Audio Bitrate with UniConverter - Step-by-step Guide
Step 1. Add audio files
From the main screen of UniConverter, tap on Add Files option from the left upper corner. A new pop-up window will appear from where you can choose the audio file whose bitrate is to be changed.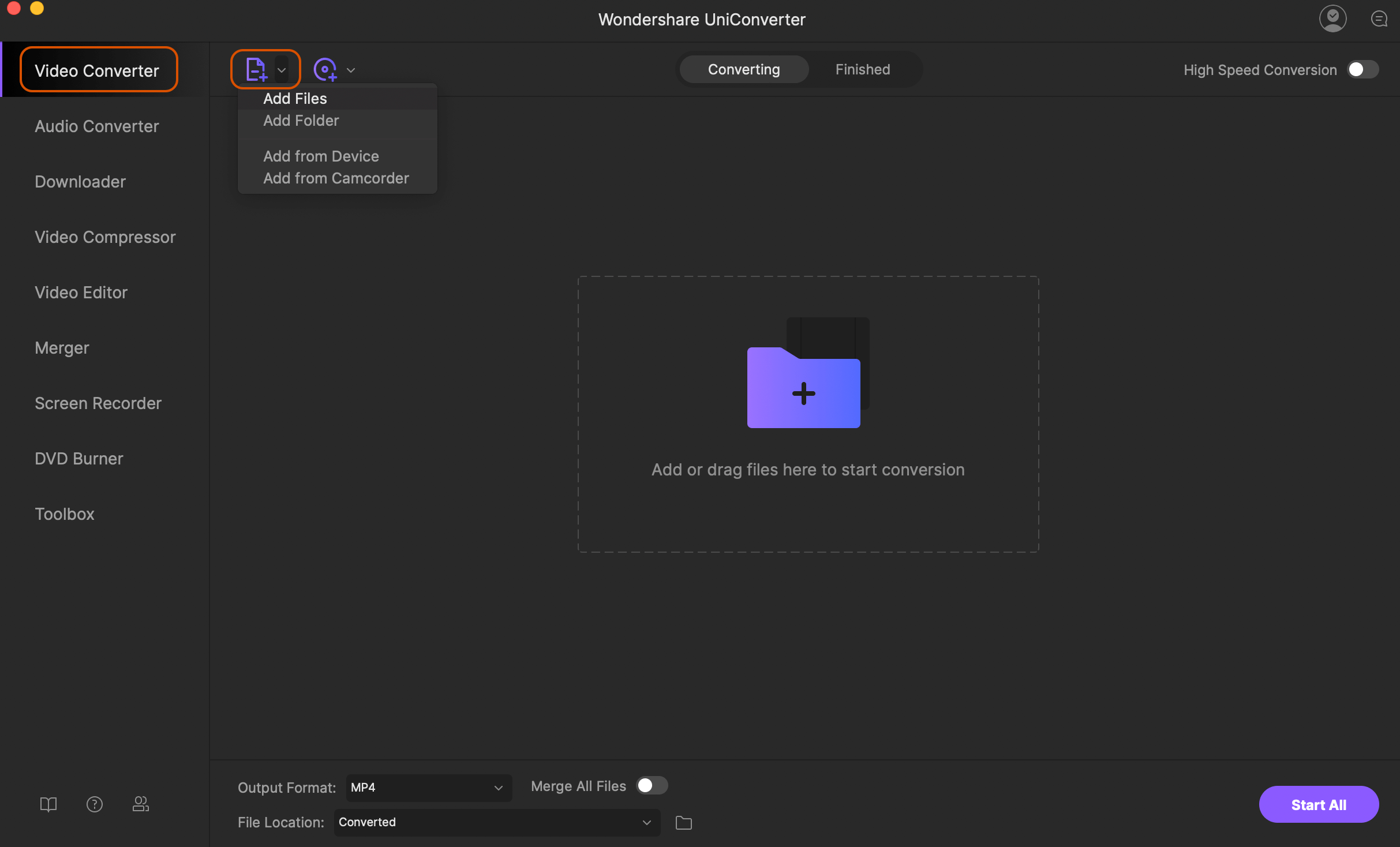 Step 2. Change audio bitrate
You will be able to find the Convert all files to option on the upper right corner. Tap the drop-down icon located there. From the new window that is showing, choose Audio followed by MP3 (You can choose other formats here according to your requirements).
Now, tap on + Create Custom button. This will lead to a new pop-up window. Here you can change audio bitrate as desired. Just tap on the drop-down of the Bitrate option and choose the preferred type.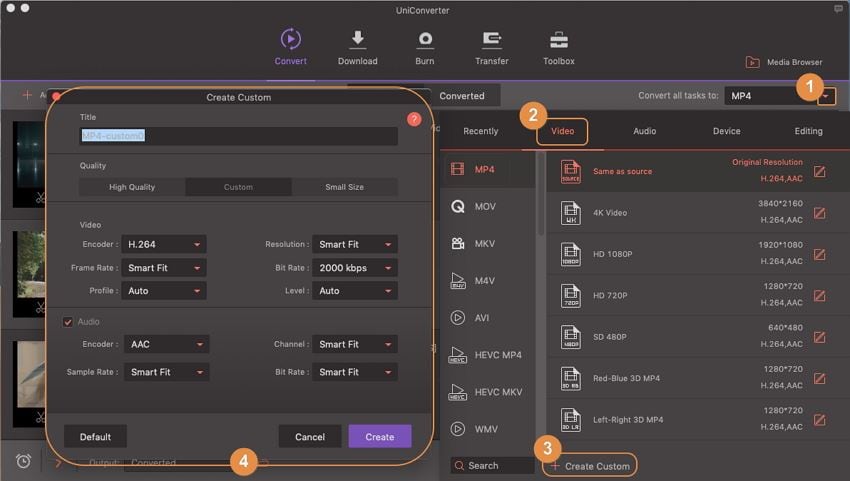 Step 3. Complete the Process
After getting satisfied with the bitrate option, select it. And lastly, you have to click on Convert button. Or in case you are working with multiple audio files, tap on Convert All button.