How to Send Long Videos on WhatsApp for iPhone/Android
Go to Mac
Go to Windows
- 'How to send video more than 16 MB on WhatsApp?'
Sometimes we highly rely on WhatsApp for exchanging videos and photos. It's a user-friendly medium to connect with people across the world. However, When you attempt to send long videos on it, WhatsApp video size limit can give you a hard time. If this is the situation you can relate to, we will let you know how to send long videos on WhatsApp on iPhone and Android. Read this article carefully and explore the ways.
More about compress video tips:
1. Mac Video Compressor Recommend
2. Free Video Compressor Recommend
---
Part 1. About WhatsApp Video Size Limit
Long story short! WhatsApp allows up to 16 MB size when it comes to media file sharing. Be it videos, audio, or documents, the video size limit of WhatsApp is 16  MB. This implies you are supposed to send up to a 3-minute long video depending on the quality.
To send long videos on WhatsApp, you will take the help of some cloud services. There is no direct way of sharing media files over 16  MB in WhatsApp. Hence, we are going to introduce two well-known cloud services from which you will be able to send large videos on WhatsApp on iPhone and Android respectively.
---
Part 2. How to Send Long Videos on WhatsApp for iPhone
For iPhone, you can take help of Dropbox. Here are the steps to use this service in order to send long videos on WhatsApp.
How to Send Large Video on WhatsApp iPhone?
Step 1: Download and install "Dropbox" from App Store. Launch-it post installation and then begin to sign in with your working ID. When done with the formalities, you need to get into the "Photos" app on your iPhone and then locate the video you wish to share.
Step 2: Once done, hit on the "Share" icon in the bottom left corner. A menu will come up from where you need to tap on "Save to Dropbox". It will prepare your video for the upload. Set the desired location on your Dropbox.
Step 3: Lastly, hit on "Save" button. The video will begin to upload now.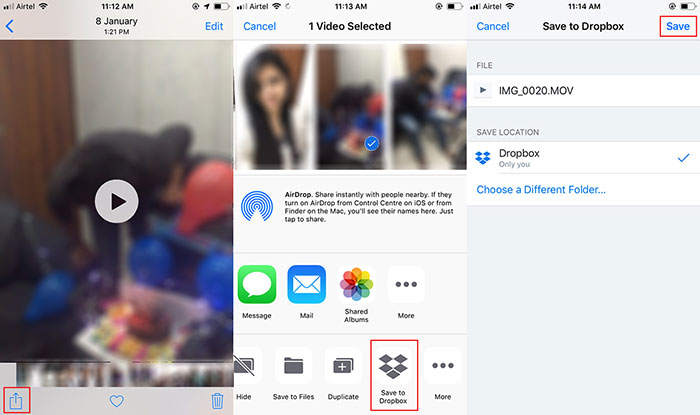 Step 4: Once it is uploaded, head on to Dropbox and then locate the video. Now, you will see "three horizontal dots". Tap on it and choose "Copy Link".
Step 5: Open WhatsApp now and look for the conversation where this video is to be sent. Long press the text field and paste the link. This way you will send large-sized videos on WhatsApp from your iPhone.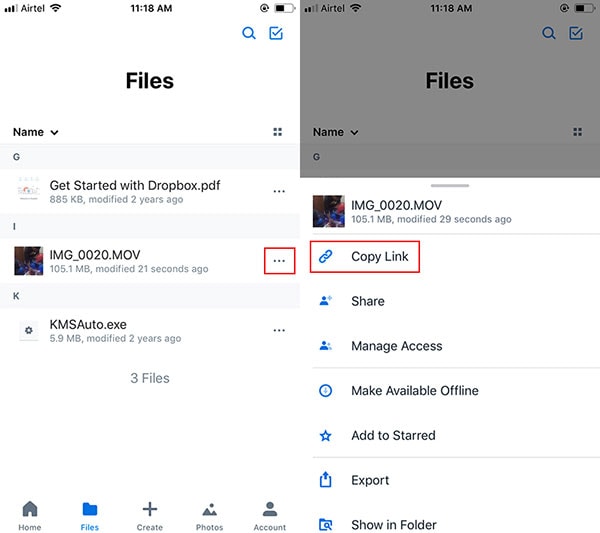 ---
Part 3. How to Send Long Videos on WhatsApp for Android
For Android, Google Drive will help you. The steps are similar to the above i.e. first you have to upload your long video and then send it through WhatsApp. Follow the steps given below:
Step 1: Launch Google Drive on your Android and look for the "+" icon. Tap on it followed by "Upload". Now, the file manager will appear. Just choose the video file that you want to send. Tap the video and it will start getting uploaded on Google Drive.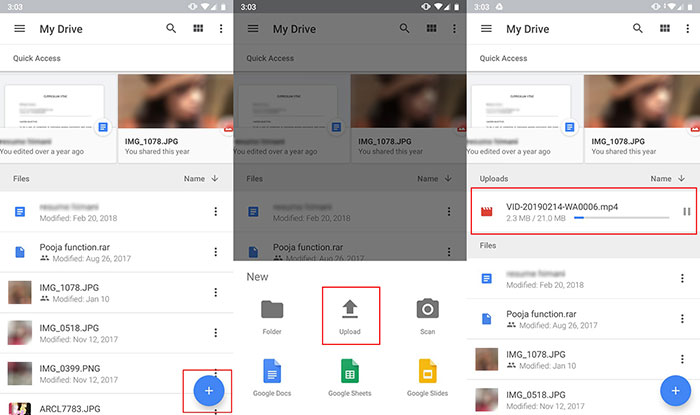 Step 2: After it is uploaded, you will see it on the Home screen of Google Drive. Just next to the video, tap the three dots. Choose "Copy Link" from the option.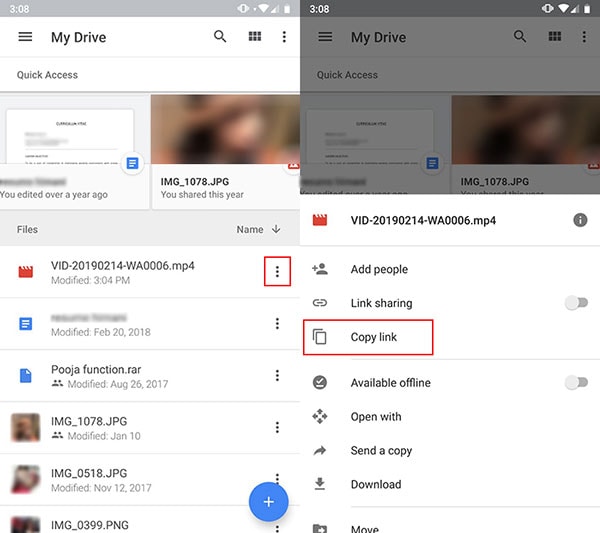 Step 3: It will create a link for your video. Now launch WhatsApp and open the chat where the video needs to be sent. Press and hold the text field and paste the link. Finally, hit the send button and you will be able to share long videos on WhatsApp through an Android device.
---
Part 4. The Best Video Size Reducer for WhatsApp to Compress Video without Losing Quality (Compress video for WhatsApp without losing quality)(With guide!)
There is another trick for sending long videos on WhatsApp. You can simply shrink or shorten the video by taking the help of a video size reducer for WhatsApp - UniConverter. It offers multiple functionalities and can do the job perfectly whether it comes to converting files to other formats or resizing them to a smaller size. While using this wonderful tool, you will get the output without quality compromise.
How to Compress Long Video with Large Size for WhatsApp:
Add long video to UniConverter
Install and open UniConverter. Then add the long video that you want to reduce size for WhatsApp. Click on Video Compressor button to start with the resizing process.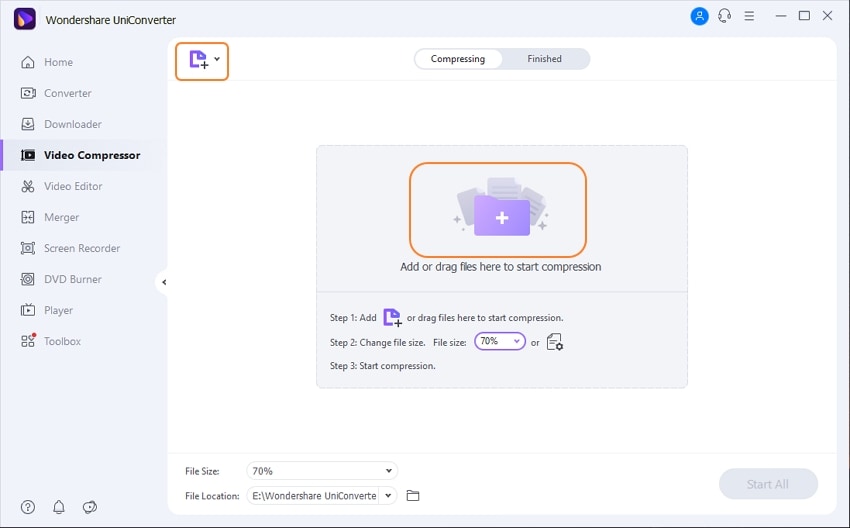 Compress large video for WhatsApp
You will now observe a compress video window where you will see the information of your video. You can compress the video by sliding the compressing bar. While sliding, you could see the parameters changing. They are video file size, resolution, bit rate, quality. Alternatively, you can simply do modifications in video size and resolution on your own.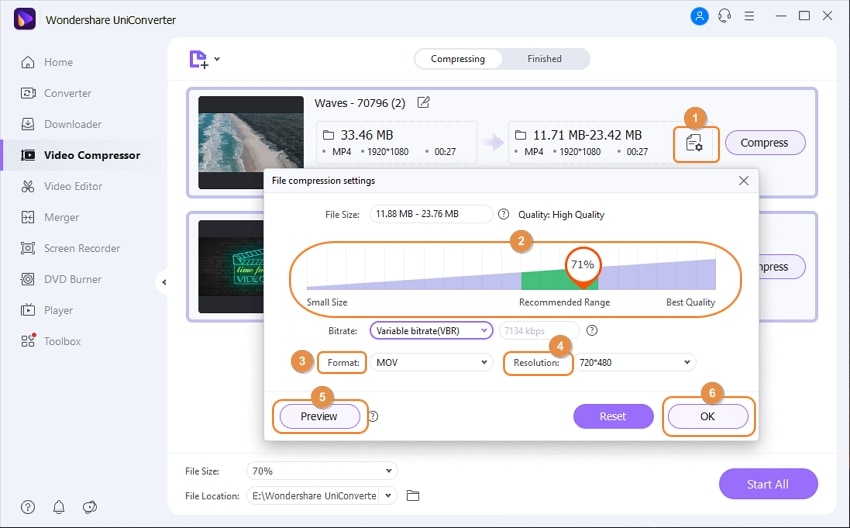 Compress and export video
You can now have a look at your modified video for 20 seconds. For this, hit on Preview and after you are satisfied with the results, click Compress. Wait a few seconds and you will get the desired output.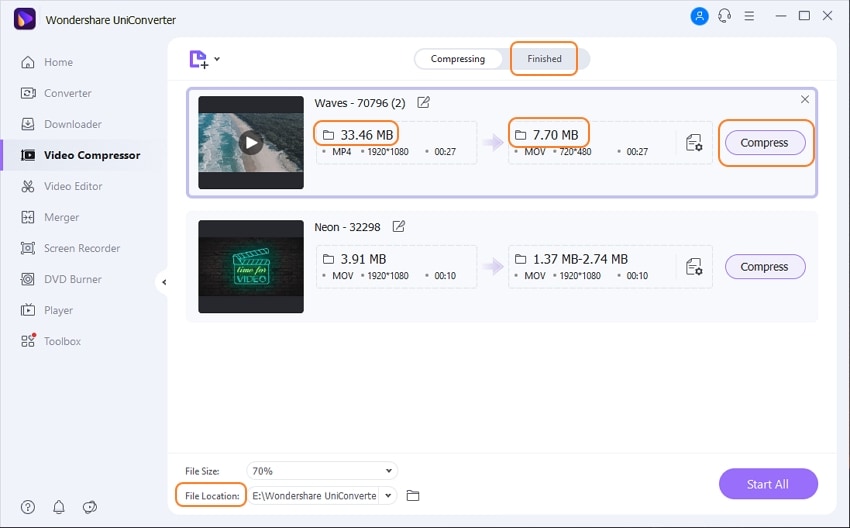 Transfer long video to iPhone/Android device
Now that you have saved the file on your PC, it's time to transfer it to your device for further sharing on WhatsApp. For this, click Transfer tab from the navigation bar and connect your device (iPhone or Android). Tap + Add Files and choose your video file to get added. Lastly, hit on Transfer All. Now you can send long videos on WhatsApp.