Convert WMA to MP3: 9 Best WMA to MP3 Converters
Go to Mac
Go to Windows
If you go online to download an audio file, it is most likely that the default audio file format will be mp3. If you navigate to the audio player app on your phone or tablet, there is a greater chance that they will be saved as MP3 files instead of WMA files.
Both WMA, which is an acronym for Windows Media Audio, and MP3 are two popular audio file formats,MP3, is more widely used. The wide usage of MP3, when compared with WMA, is because MP3 requires low space to store high quality audio data.
If you are wondering if you can convert WMA to MP3 or even MP3 to WMA, the answer to your question is positive. Do not panic, it is not a Herculean task to convert WMA files to mp3 and mp3 to WMA. In this article, we list the ways that you can convert WMA to MP3. All you need to do is to follow the process carefully and the process will be easy and effective for you.
---
Part 1: How to Convert WMA Files to MP3 with Desktop Software?
The first method to convert WMA files to is by using desktop software that can perform this function. Below are the 3 best WMA to MP3 converters for desktop.
Uniconverter is one of the best WMA to mp3 converters in the world. The software is multipurpose and can perform more functions than converting WMA to mp3 format.
Uniconverter has more speed than 98% of conventional desktops WMA to MP3 converters. The software does more than just converting WMA files to mp3 mp3 files to WMA. The platform is also used to edit and trim audio files before and after conversion as the user wishes. Wondershare Uniconverter is available for Windows and Mac.
Uniconverter converts more than 1000 videos and audio formats and completes compressing video files on Mac about 30 times faster than conventional video compressing software. Uniconverter can compress up to 8000 videos on your computer with just a click.
Steps to convert WMA to MP3 using Wondershare UniConverter
Launch Uniconverter after installing it on your personal computer. Before it, you should download Uniconverter from the official site.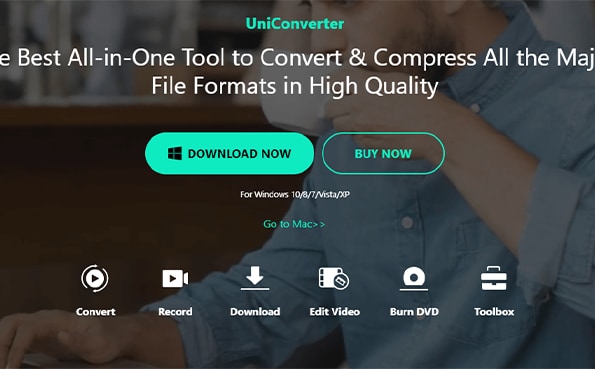 Choose "Audio Converter" option at the left side, then click add files on the top of the window, or drag file to select and import the WMA file that you want to convert to MP3 on your personal computer.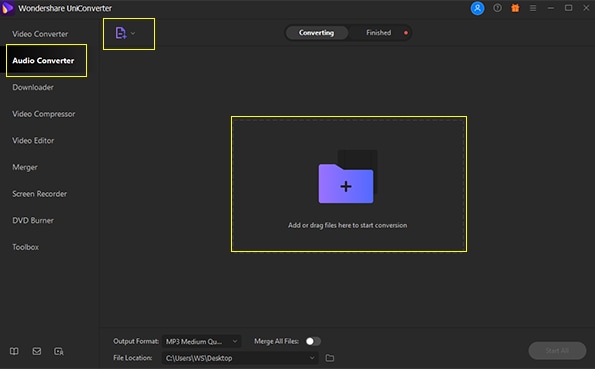 Click the format icon on the right to get a list of format choices. Then, choose MP3 as output format. You can also select other formats like WAV, Flac and so on.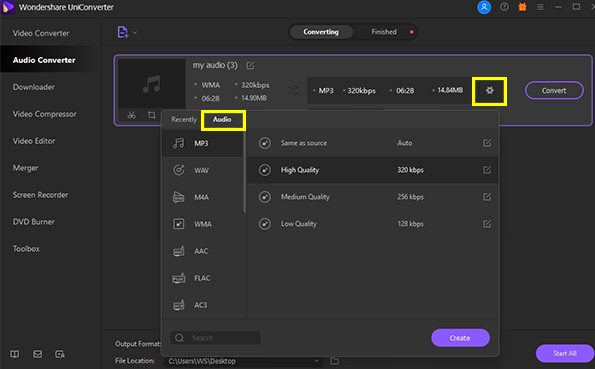 Then start converting by click "Start All" button. After that, your MP3 files will show at the "Finished" board.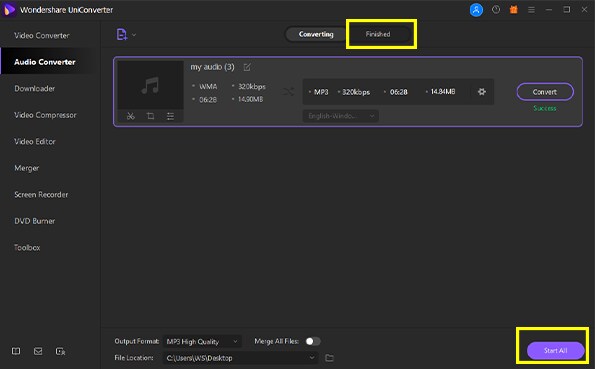 Windows Media player is used to convert WMA files to Mp3. The desktop application is designed by Microsoft, and it is compatible just with Windows system.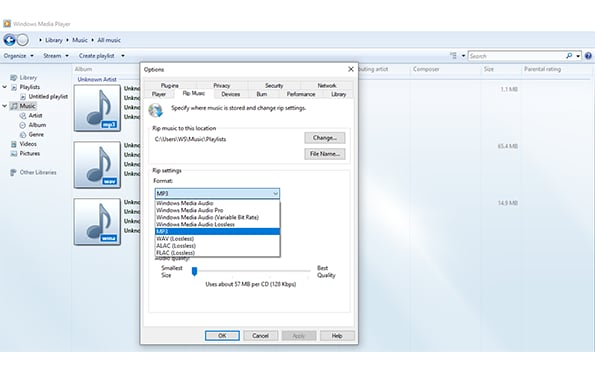 Pros:
Windows Media player is free to use.
Cons:
Windows Media player is only available on Windows. Mac users cannot make use of the software.
It is more complicated to use Windows Media Player to finish WMA to MP3 conversion than other software, cause it is mainly designed to play audio and video.
Switch Audio Converter is used to convert Wma files to mp3 format. Switch Audio Converter is available for both Windows and Mac. Converting WMA to mp3 on Switch audio converter is as simple as downloading and installing the software, importing WMA files into the application, choosing a folder in your computer where the converted file will be saved and clicking convert.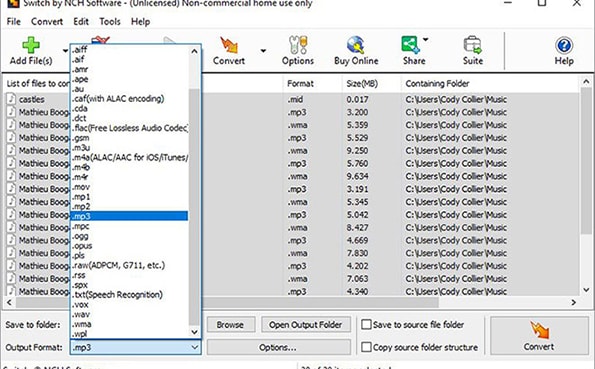 Download Site: www.nchsoftware.com/howto/convert/wma_to_mp3_files.html
Pros:
It is free to convert WMA to mp3 with Switch audio converter.
Switch audio converter is available for both Windows and Mac.
Cons:
The user interface of Switch Audio Converter appears to be obsolete.
---
Part 2: 3 Best WMA to MP3 Converters on Mobile Phones
WMA to MP3 Converter is a mobile application used to convert WMA files to Mp3 format. The mobile application is available on Google Play Store and it is compatible with Android devices. However, though it is free to download this mobile application on Google Play Store, users cannot make use of every feature of the application without paying for it. The application converts rapidly although the mobile application may be very slow if there is little storage space available in the android device.
Downloading Link: play.google.com/store/apps/details?id=grant.wma.to.mp3&hl=en_SG
Pros:
WMA to mp3 converter is free to be download.
It converts WMA to mp3 swiftly.
Cons:
Batch conversion only allows you to choose just one audio file at a time.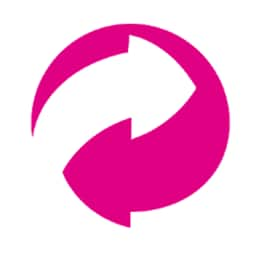 Media Converter is available on apple store and it is compatible with iOS devices. Media Converter works in iPad and iPhone and it is multipurpose. It is used to convert other important media formats like video to mp3 and not just WMA to MP3. To convert WMA to MP3 on media converter, simply import the WMA file into the app, extract the WMA file using the app, and select convert to mp3.
Downloading Link: apps.apple.com/us/app/media-converter-video-to-mp3/id1294207675
Pros:
It is a very useful for converting WMA to Mp3 in iOS devices which include iPad and iPhone.
It is multipurpose and very useful to convert different forms of audio and video files to the desired format.
Cons:
Media Converter is not free of charge, usage of some features of the iOS app comes with the responsibility of payment.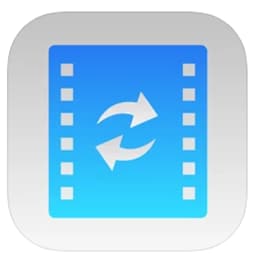 This mobile application is available for iPads and iPhones. It is compatible with iOS devices. iTunes is also multipurpose and can be used for other purposes like downloading musical and not just for converting WMA files to Mp3 format.
Downloading Link: www.apple.com/itunes/
Pros:
iTunes is multipurpose and it is useful for many other conversions.
Cons:
iTunes is not compatible with Android devices.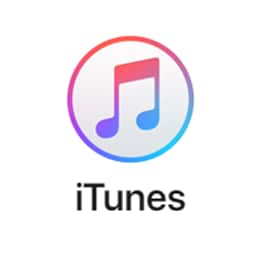 ---
Part 3: 3 Free WMA to MP3 Converters Online
Coolutils is an online Mp3 converter. To convert audio files on Coolutils from WMA format to MP3 format, go to the website of Coolutils, select the audio file you want to convert, and click to download the mp3 file that you have converted with Coolutils.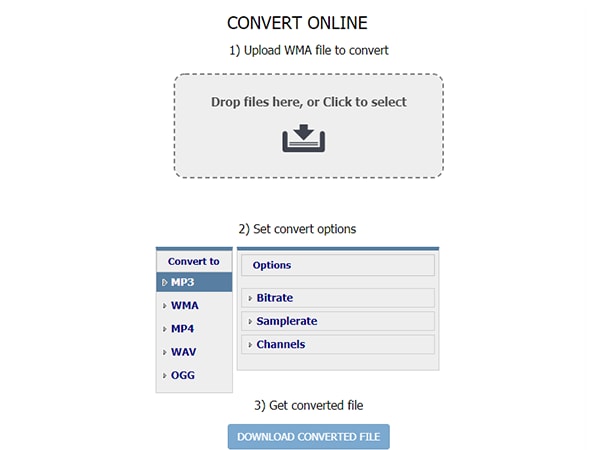 Official Site: www.coolutils.com/online/WMA-to-MP3
Pros:
Coolutils requires no registration to use and it is partially free of charge to use the online WMA to mp3 converter.
Cons:
Important features of the website are only accessible by those who pay subscription for them.
Aconvert is a popular and effective online WMA to mp3 converter. Using the audio format converter is as simple as importing the desired audio file which will be converted, clicking the convert button and downloading the output to your device or uploading it online in a cloud server.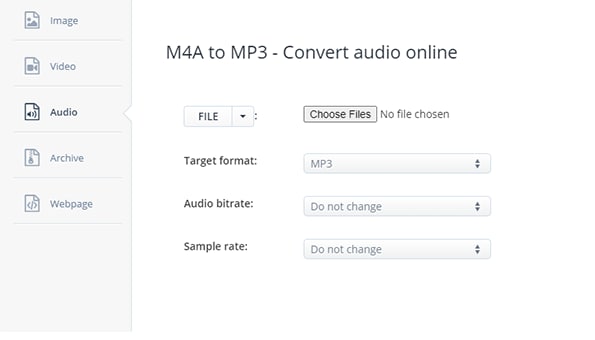 Official Site: www.aconvert.com/audio/wma-to-mp3/
Pros:
The conversion is quick, and you can also convert documents using it.
Cons:
It cannot convert files that are bigger than 200mb. And ads exist on the interface.
This is another online WMA to Mp3 converter. The website of Online Convert Free has a friendly user interface. It is very simple to use and WMA files can be converted to mp3 format by importing the file from computer or online to the website and selecting the convert option.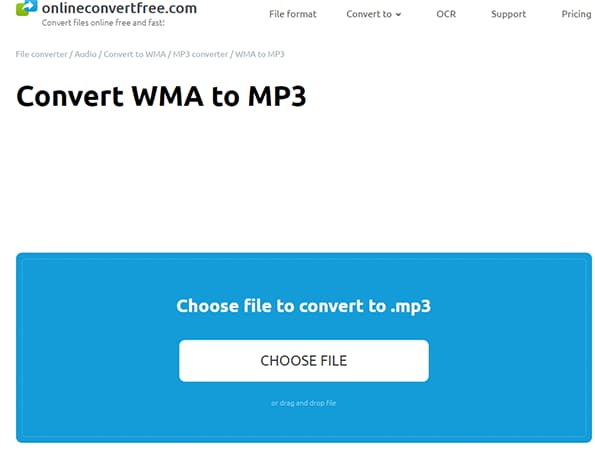 Official Site: onlineconvertfree.com/convert-format/wma-to-mp3/
Pros:
The online converter is completely free and does not require registration to access its features.
Cons:
It is unable to support bitrate of more than 160kbits/s.
---
Q: What are the differences between WMA and Mp3?
Ans. One of the differences between WMA and Mp3 is that the sound quality of mp3 at low bitrates is higher. Another major difference between MP3 and WMA is the variation of encoders used for data compression. The lame encoder used to compress Mp3 is unique, compresses audio data, stores and transmits the audio data in a better quality. WMA, on the other hand, is an acronym for Windows Media Audio and was designed by Microsoft, its parent company. With the diversity in the digital sector, WMA still relies on Microsoft encoder.
Q: Why do users prefer Uniconverter?
Ans. Uniconverter can serve many video and audio processing functions at the same time. Uniconverter does not only perform multiple tasks but also does its functions at 30 times the speed of other audio or video converters. It is very reliable and performs these numerous functions at a very affordable price.
MP3
1. Convert Audio to MP3

2. Audio to MP3 Converter Online

3. Programs to Convert Audio to MP3