I'm looking for a handy tool to convert WAV to FLAC, who can help?
Different tools can be used to convert WAV to FLAC. While choosing a converter, you should consider various things such as the conversion speed, the performance, and quality of transformation, efficiency and the installation space. For you to get hold of the best converter, you can read the product reviews online, or you can enquire from trusted providers. Nonetheless, you do not have to go all through that because this article offers the best solution. UniConverter is the tool you are looking for. It takes care of speed, quality, and efficiency issues. More details about this application are discussed in the next section of this article.
Best WAV to FLAC Converter for Mac/PC
UniConverter offers the best way out to WAV to FLAC conversion both on Mac and Windows computer. The tool has a speed which is 90 times faster than other converters, and it ensures that the quality of the original file is retained. With UniConverter, you can convert many WAV files to FLAC at the same time instead of converting one file at a time. Besides, you can change the encoding settings of the final file before the conversion. More features of UniConverter are listed below.
Get the Best WAV to FLAC Converter:
UniConverter supports faster and efficient conversion. Its performance is 90 times faster than other converters, and it ensures 100% quality retention.
UniConverter has a simple and straightforward interface which comprise three simple steps; import file > choose output format > convert.
It is both an audio and video converter, which supports more than 150 audio, and video file formats. Such files include FLAC, WAV, OGG, AAC, MOV, VOB, MKV, 3GP, etc.
UniConverter has an inbuilt video downloader which helps download videos from more than 1000 online sites including, DailyMotion, Vimeo, YouTube, Hulu, etc.
It has an inbuilt video recorder, which lets you record videos from streaming sites, and saves them to your computer for offline use.
The program offers a powerful DVD toolkit to burn, copy, backup and convert DVDs.
With UniConverter, you can turn audio and video file formats to presets supported by your phone, iOS device or game console by choosing the device in the output section.
Step-by-step Guide to Convert WAV to FLAC using UniConverter
Step 1: Add WAV files to the program
Run UniConverter on Mac by double-clicking on the application's icon. From there, you can select the WAV file from your computer and drag and drop it to the primary window. The other way to add the WAV file is by clicking the "Add Files" option. From this option, you can browse and add as many WAV files as you need.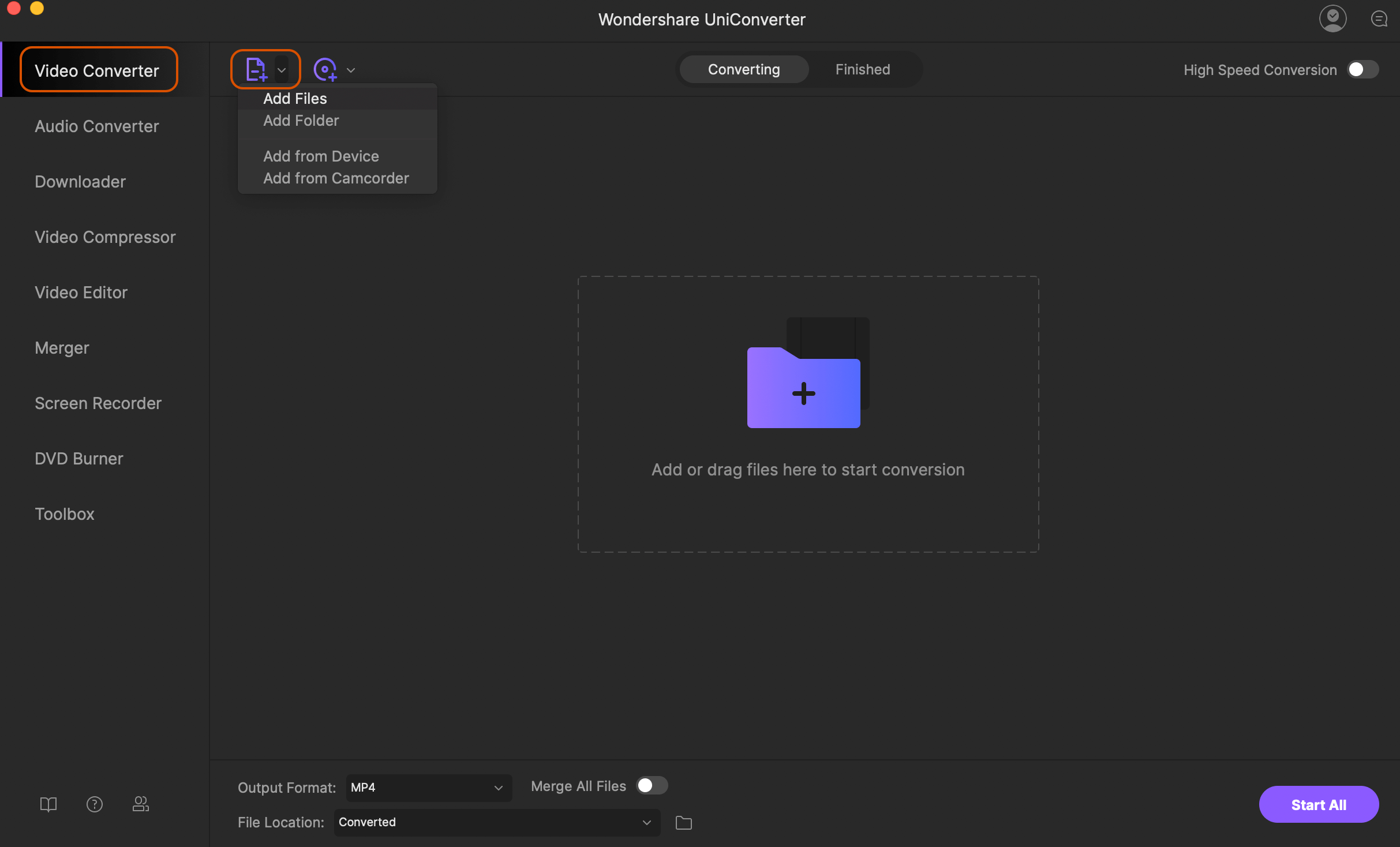 Step 2: Select FLAC as the output format
Go to the right of the program's window. Then from the format tray, click the "Audio" menu. Different audio file formats will be listed on this menu. Click on "FLAC" icon to set it as your output format. To change the encoding settings of the final file, click the "Edit" icon.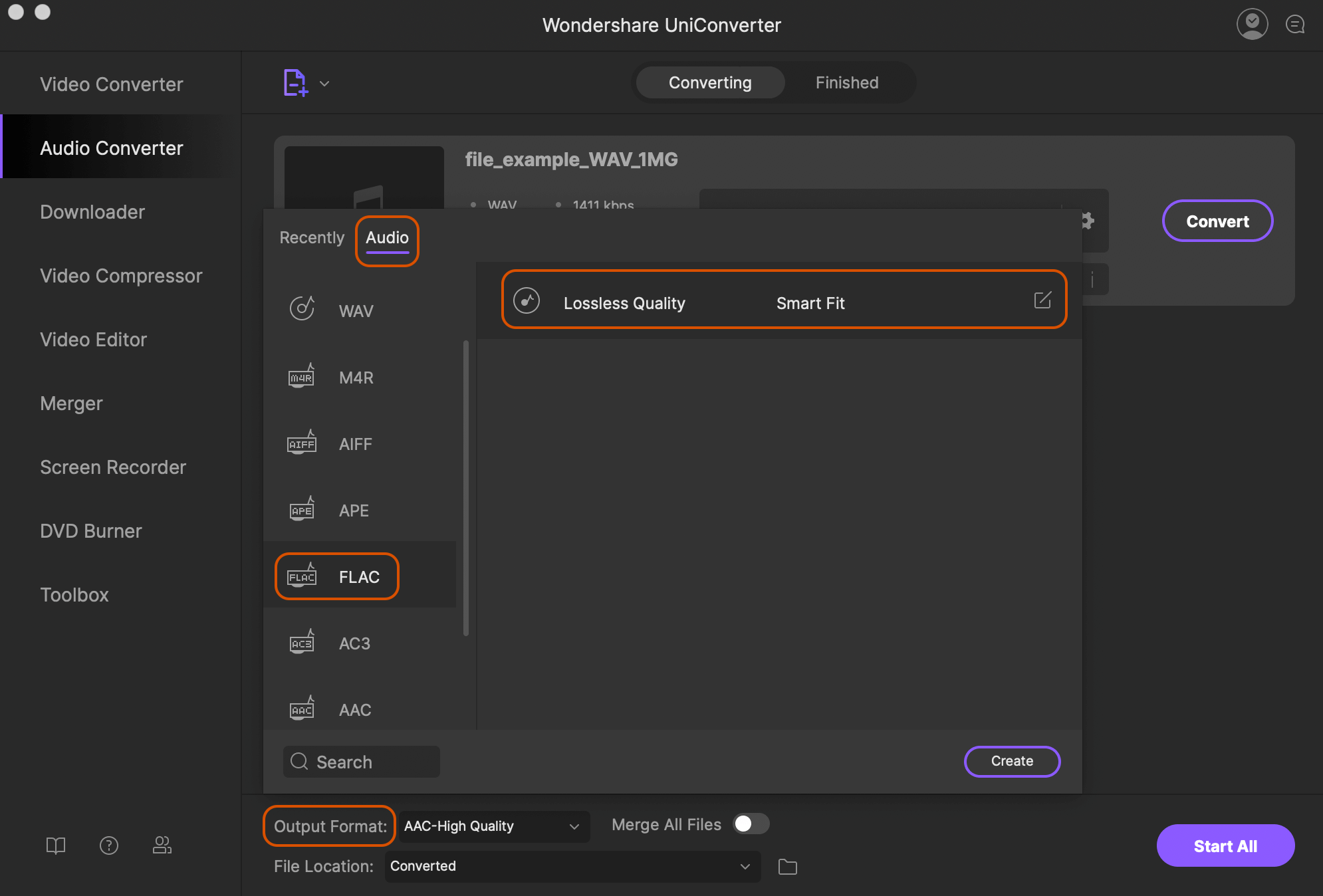 Step 3: Convert WAV to FLAC
Select a folder on your computer, or set a new folder to save your FLAC audio file. Then click the "Convert" button to transform WAV to FLAC.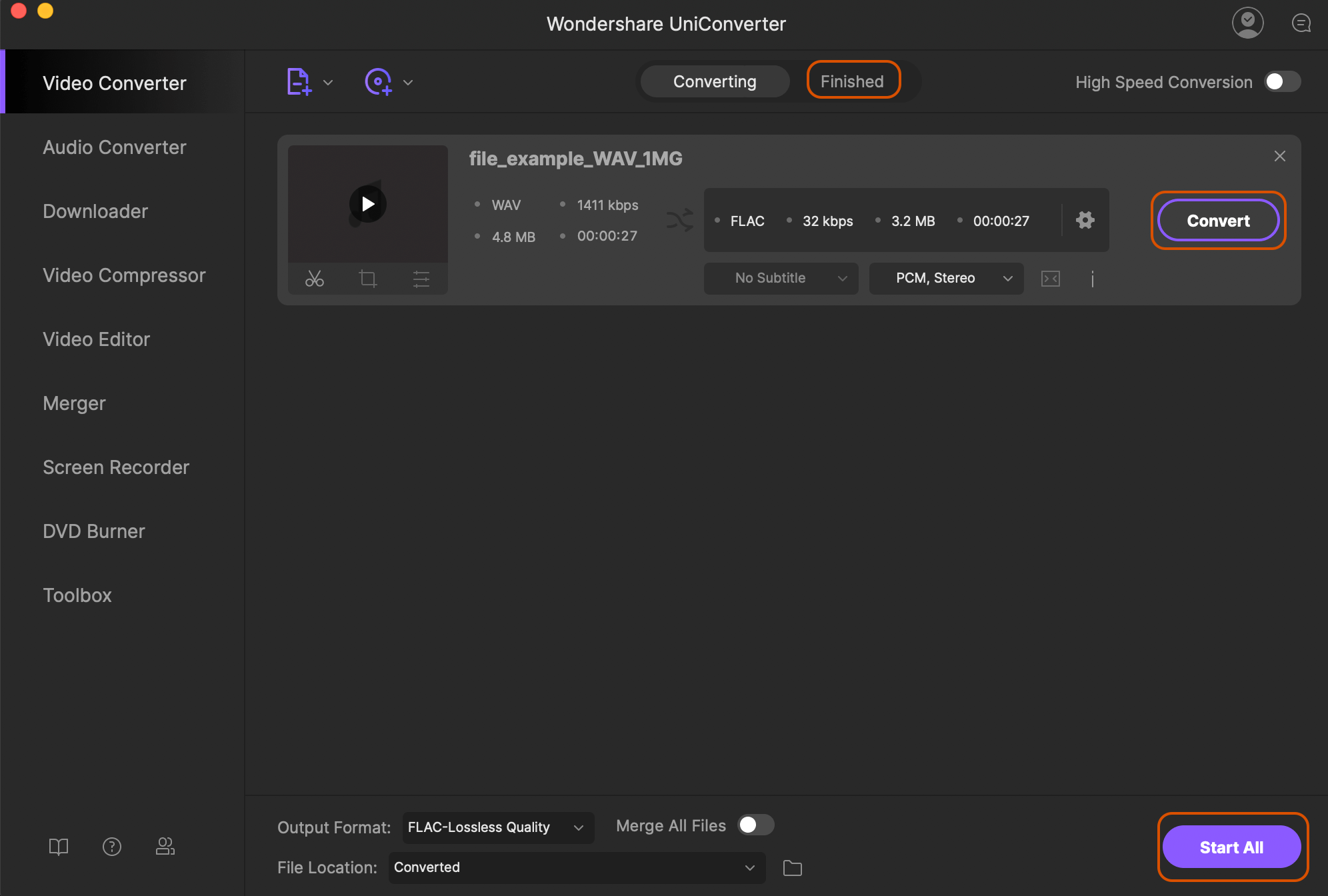 Optional: Convert WAV to FLAC Online
If you want to convert WAV to FLAC online without installing a desktop software program, just try this free online WAV to FLAC converter below:
When do We Need to Convert WAV to FLAC?
WAV retains 100% sound quality of the original file after compression. The major drawback is that WAV is huge and it occupies a lot of space. Besides, WAV does not save information data such as the album, artist, lyrics, etc. FLAC, like WAV, is a lossless audio codec and can provide better audio quality. Unlike WAV, FLAC occupies little space, and it can easily be shared and downloaded on the Internet. FLAC is supported by various media devices and systems such as MP3 players, Media Monkey, JRiver, PonoPlayer, Hi-Fi, Android, iPhone, Multiroom system, etc. sometimes, we need to convert WAV to FLAC to reduce the audio size or to ensure easier and convenient file transportation to the internet. If you want to have small-sized files and if you want to share audio files to online sites, then this is the time to convert WAV to FLAC.