Good WAV Sound Editors to Help You Edit WAV Files Easily
Go to Mac
Go to Windows
As humans, we love to listen to audio files, music, and more from our devices in the best quality. Just in case you have little doubts running around your mind, there are thousands of audio formats available, and WAV is known to be categorized among the types of available audio formats. Introducing reasons why you need WAV as an audio format is – WAV is an audio format with the highest output quality in terms of sound. Just in case you don't know, Musicians record in WAV format before converting it to an mp3 file. Since you love to listen to sound files of the highest quality, all that should stress you is how to edit WAV files using the best available online or offline WAV sound editor to convert your media files into WAV files.
---
Part 1. [Recommended] The Best WAV Editor for Editing WAV Files
Choosing the best WAV editor to convert media files into the best audio output format could be everything you ever wanted. If you'd like to fulfill this fantasy of yours, all you need is the online /offline UniConverter 13. UniConverter 13 is the best available software with exclusive features that allows you to convert any audio/video files of any format to your desired format, delivers the output with the highest audio quality. Ignoring the fact you only need a WAV sound editor or Sound Converter, UniConverter 13 also delivers a downloader, Video compressor, Video Editor, Merger, Screen recorder, DVD Burner, and more, which might be of help if you need them for media work.
Steps on how to use UniConverter 13 to edit WAV files:
If you'd like to use UniConverter13 as a WAV Sound Editor to trim your WAV files, here are steps you can follow:
Launch UniConverter 13 and Upload the WAV File
After downloading and installing the UniConverter, Launch the UniConverter13. As the software opens, click on Video Editor tab. From the Video Editor interface, click the Add Files icon or the dropdown option to import your media files to the Video Editor.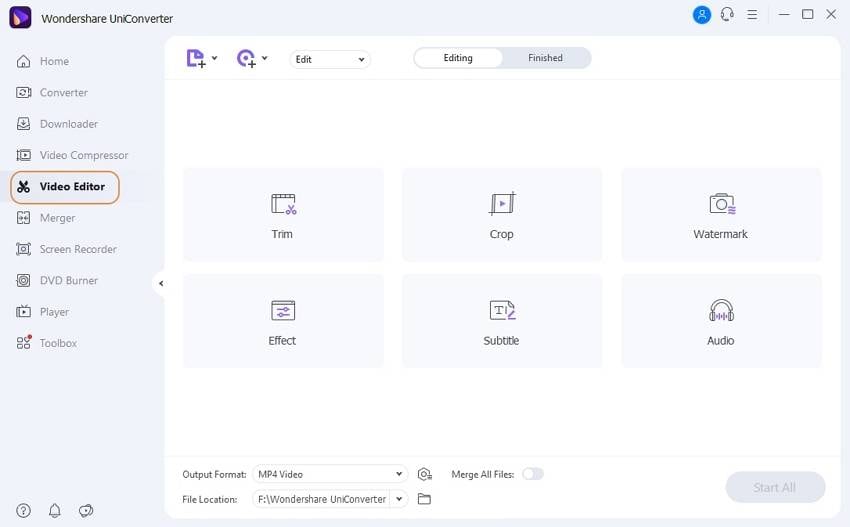 After importing the video file you wish to convert to a WAV file, click the Scissor icon beneath the video thumbnail to open the trimmer's window. When the window appears, you'll see an orange video slider at the bottom of the trimmer's window, then adjust the slider from both ends to the desired length. If you decide to split the video into different segments, you can use the orange divider in between the video slider to mark the points you wish to split. Once you're done, click on the scissor icon to cut, then remove the unwanted parts by clicking Delete and click OK to save and exit the window.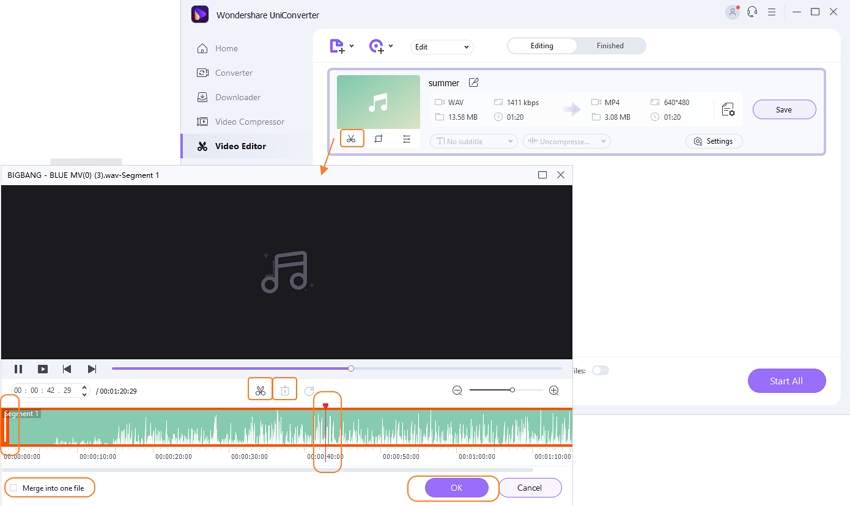 After trimming is done, if you wish to increase or decrease the volume of the video file to be converted, click the Edit icon below the video thumbnail. Once you click the Edit icon, a window appears, at the top of the window click on Audio, then at the right side of the window, you'll see the volume bar, adjust as desired. Once the adjustment is done, click OK to save and exit the window.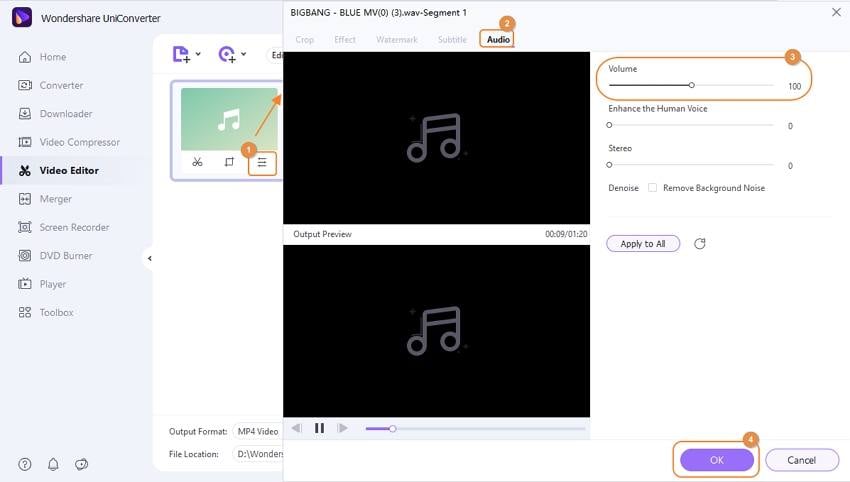 Merge the WAV Clips and Choose the Output Format
Now enable the Merge All Files toggle button. Once you're done, to select the output format as WAV, click the Output Format drop-down option at the bottom left of the video editor's interface, then select Audio on the displayed menu and choose WAV as the output format. Once this is done, click the Start All button to start the conversion.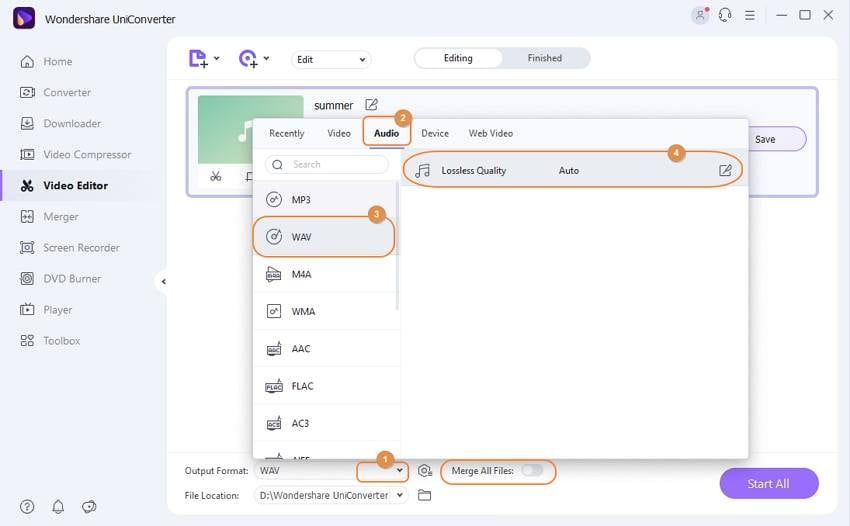 ---
Part 2: 6 Other Popular Windows WAV Editor & Mac WAV Editor
Apart from the ultimate UniConverter, there are other available software you can use as a WAV sound Editor whether you're a MacBook or Windows user. We have a lot of them but here are a few you can use:
Audacity is an audio workshop you can use as a WAV Sound Editor to convert media files of any format into WAV format and other formats. With Audacity, you're allowed to cut, trim, edit, add effects to your audio files, and more. Neglecting all of this, the multi-track audio editor permits you to record audio or voices on your device using its built-in or external microphone.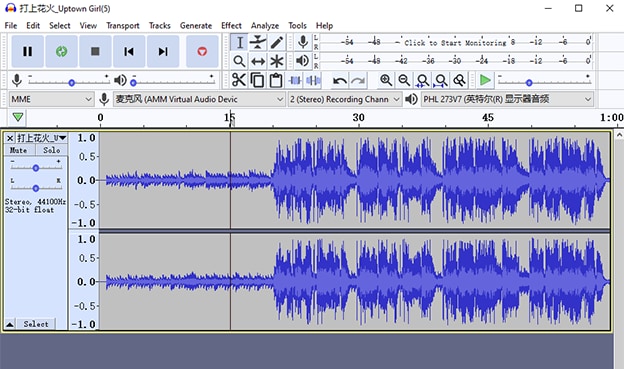 Compatibility: Linux, macOS, and Windows
Pros
Audacity as a WAV Sound Editor is free and has intuitive features.
This WAV editor supports multiple audio formats.
Cons
Audacity requires steep learning for inexperienced users as the WAV editor appears complex in the display.
No noise reduction filter to reduce noise in the audio.
WavePad Audio Editing is another amazing WAV file editing tool that allows you as a user to conveniently convert, cut, copy, paste, delete, record, and customize audio files as desired. This WAV editor software permits users to use additional plug-ins, its noise reduction tool, burn audio files to CD, and more.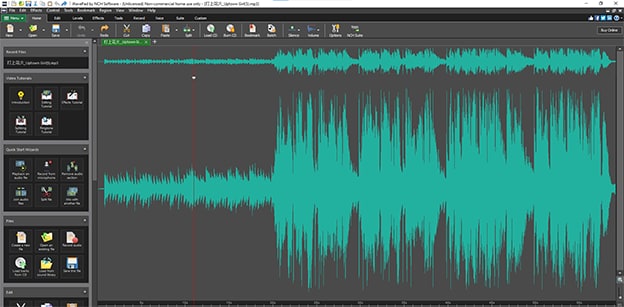 Compatibility: MacBook and Windows PC
Pros
The WAV sound Editor is free and easy-to-use software.
As a user, you are allowed to add numerous effects such as amplify the audio, equalize the frequency, normalize, reverb, echo, and save a lot more.
Cons
WavePad doesn't support multiple audio file conversion, so as a user you are only permitted to work on single audio at a time.
It could be inefficient to work with when you have multiple files ready for conversion.
DVD Videosoft Free Audio Editor is an audio editing software that plays the role of a WAV Editor. You can use the WAV Sound Editor to convert, cut, and trim WAV files, ACC, M4D, AMR, ALAC, and more. Excepting the fact that it can be used as a WAV editor, the software allows you to boost the audio volume of the file to be converted.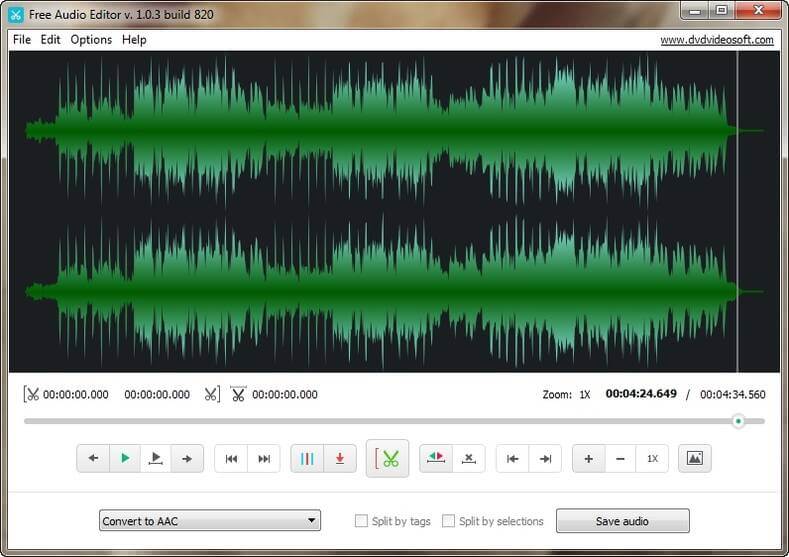 Compatibility: Windows only
Pros
DVD Videosoft Free Audio Editor is a free WAV Editor.
The app permits you as a user to add album art to the WAV file.
Cons
The WAV Editor does not allow you to preview the converted file until you export the file.
You can't record audio as the app doesn't have a recording feature.
Ocenaudio is free and intuitive software that allows users to edit audio, change the format of any audio file into WAV. This app gives you a chance to adjust the volume level, add effects to the audio file you wish to convert.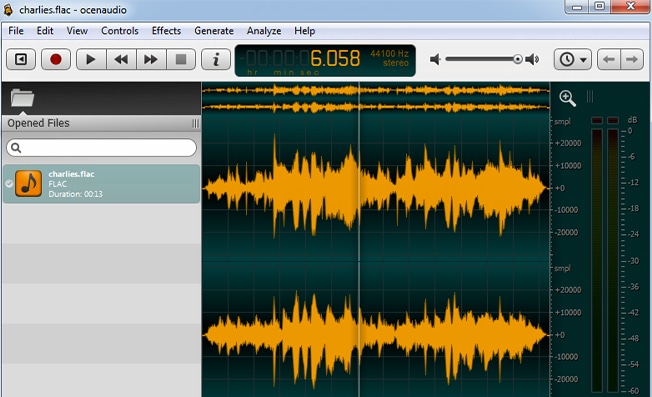 Compatibility: Linux, MacBook, and Windows
Pros
Ocenaudio has an easy-to-use interface that makes it easy to operate even as a first-timer.
The Editor provides a path to save the output file.
Cons
You're not permitted to convert batch files. In other words, you can only convert a single file at a time.
The software lack Advanced editing tools.
If you wish to use a WAV sound Editor that allows you to get rid of unwanted or irritating sounds from audio, make ringtones for smartphones, gets high sound quality in the best available formats like WAV, MP3, ALAC, FLAC, and more, you can use the AVS Audio Editor.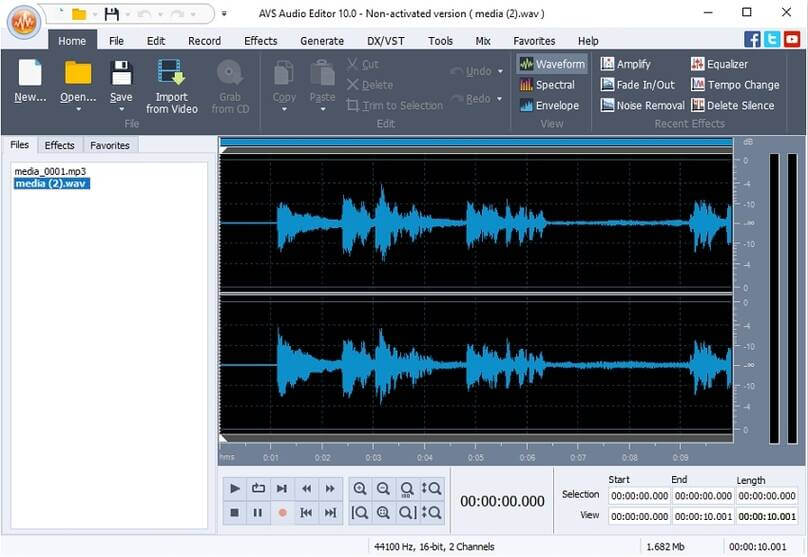 Compatibility: Windows OS
Pros
The app's size is small so it only occupies a little space of your storage.
This Windows WAV editor provides you with tools that enhance your audio editing and conversion.
Cons
This app is not free. For you to access the features, you'll have to make payments or a subscription.
It just allows you to edit two-channel audio.
Wave Editor is Windows-compatible software that comes with a lot of cutting and editing features that allow you to record using an external microphone, edit, and master audio files in the available supported formats. Aside from all of this, the WAV sound editing app also has a browser that permits users to search, load, and save audio files.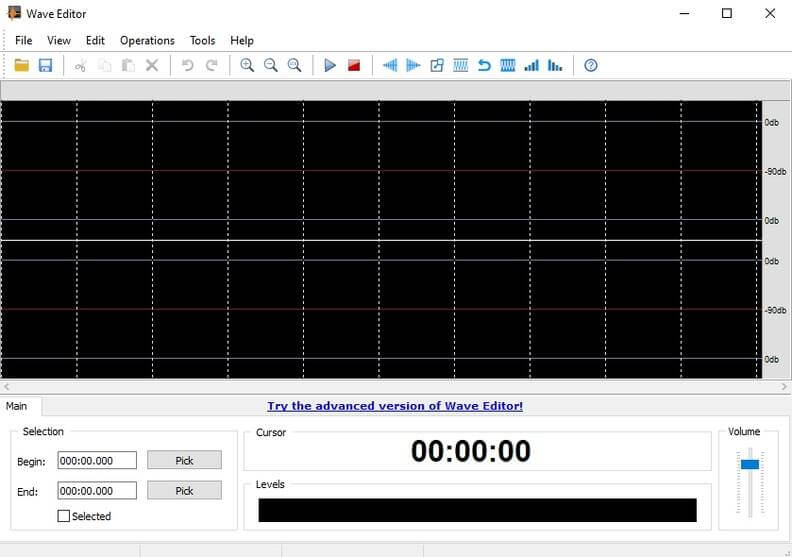 Compatibility: Windows only
Pros
The software is simple with an easy to use interface.
The app is updated and improved from time to time.
Cons
It doesn't support multiple audio formats, it only supports a few.
It doesn't support large file conversion.
---
Beyond all reasonable doubt, If you wish to know how to edit WAV files effortlessly using the best WAV Sound Editor, you need a full media workshop software to handle all your conversion processes (in terms of cutting, trimming, downloading, merging, Editing, playing a converted file, DVD burning, and more) – like UniConverter 13 to deliver the best conversions.
WAV
1. WAV vs MP3

2. Convert WAV