Any way to convert AAC to FLAC?
That's a question frustrating people because AAC is a lossy format and FLAC is a lossless format. Another thing is the question of audio quality. Yes, with the help of an audio converter AAC can be converted into FLAC. Here the problem arises again! Do all converters support both formats? No! It is not necessary that all converters support both of them. If they support both, then can they maintain the audio quality? All these doubts and questions can be answered only if the user install all software, test them and then reject them. Isn't it a tiring process? Yes, it is! Well, this can be done very efficiently and easily.
How to Convet AAC to FLAC
To overcome all doubts and problems, UniConverter is here to solve all your queries, doubts and problems. It is a stand-alone all in one video and audio convert which allows you to convert videos and audios such as AAC to FLAC, download videos from online sites and edit your target video before converting, burn CD or DVD, play with its inbuilt player and more. It is available for both operating systems with the similar user interface for Mac and Windows. UniConverter supports more than 150 formats including audio and video, moreover, it will continue to add more formats in upcoming versions and updates will be totally free!
Supports most of the audio formats known to ease the process of conversion not only for AAC to FLAC but also for MP3, WMA, WAV, M4A, etc.
For video conversion, iSkysoft supports standard video formats like MKV, AVI, MP4; HD Video like HD WMV, HD MKV; and DRM video like iTunes, etc.
Allows DVD format conversions with same dynamic speed and efficiency for other above-mentioned formats.
Produces required video and audio format for your mobile device such as iPhone, iPod, iPad, Android phones like Samsung, LG, Huawei, etc.
Enables you to edit your video and DVD files before converting, creating or copying DVD with its built-in video editing tools.
Tutorial Steps on How to Convert AAC to FLAC
The conversion process is not actually a rocket science. UniConverter has extremely user-friendly interface due to which anyone can easily perform the conversion.
Step 1: Import the AAC Files to the Audio Converter
Download the AAC to FLAC converter and click on its icon to open this software. Add files to the conversion list by selecting Convert tab in the topmost bar, you can just drag and drop your target AAC songs to the main window.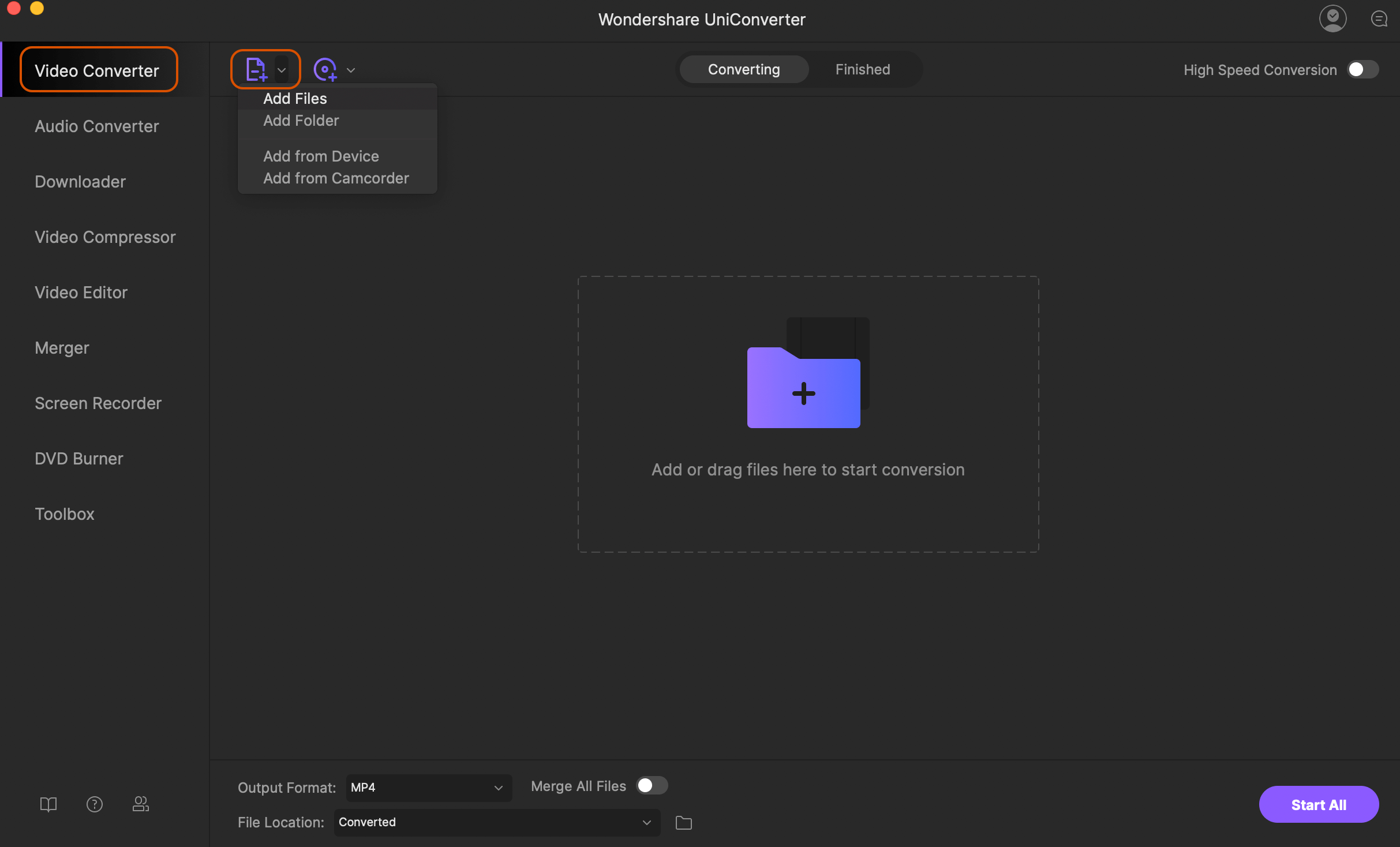 Step 2: Choose FLAC as the Output Format
Select output format from the right most corner for Windows and categories in the below part for Mac, and further select the sub-category audio, video, HD, The Web, 3D under video format or select device. In our case, choose FLAC as the destination format.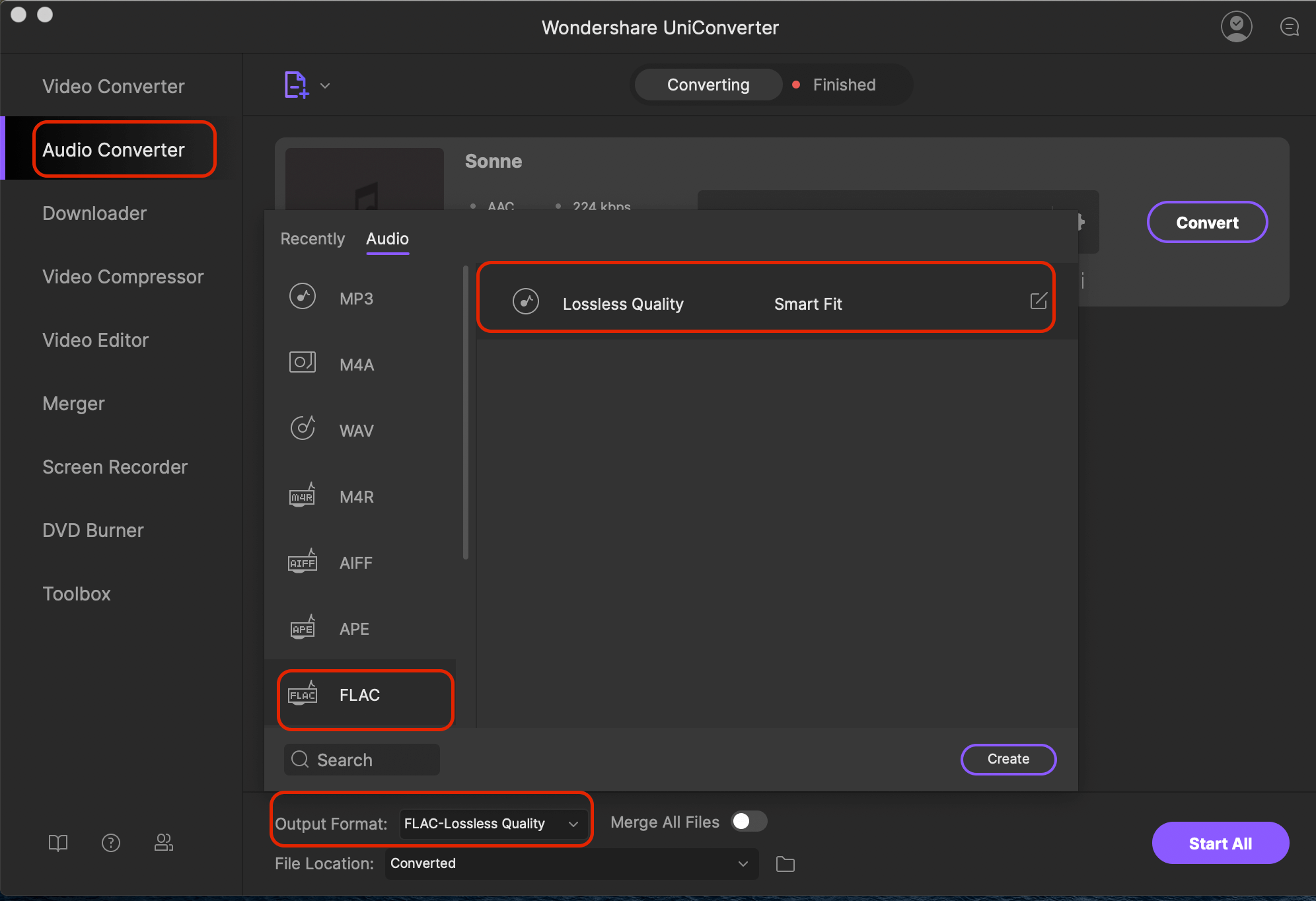 Step 3: Convert AAC to FLAC
Click Convert button when all settings are done. A dialogue box will appear after completion of the task. For conversion from FLAC to AAC, click to find the tutorial for how to convert AAC to FLAC easily.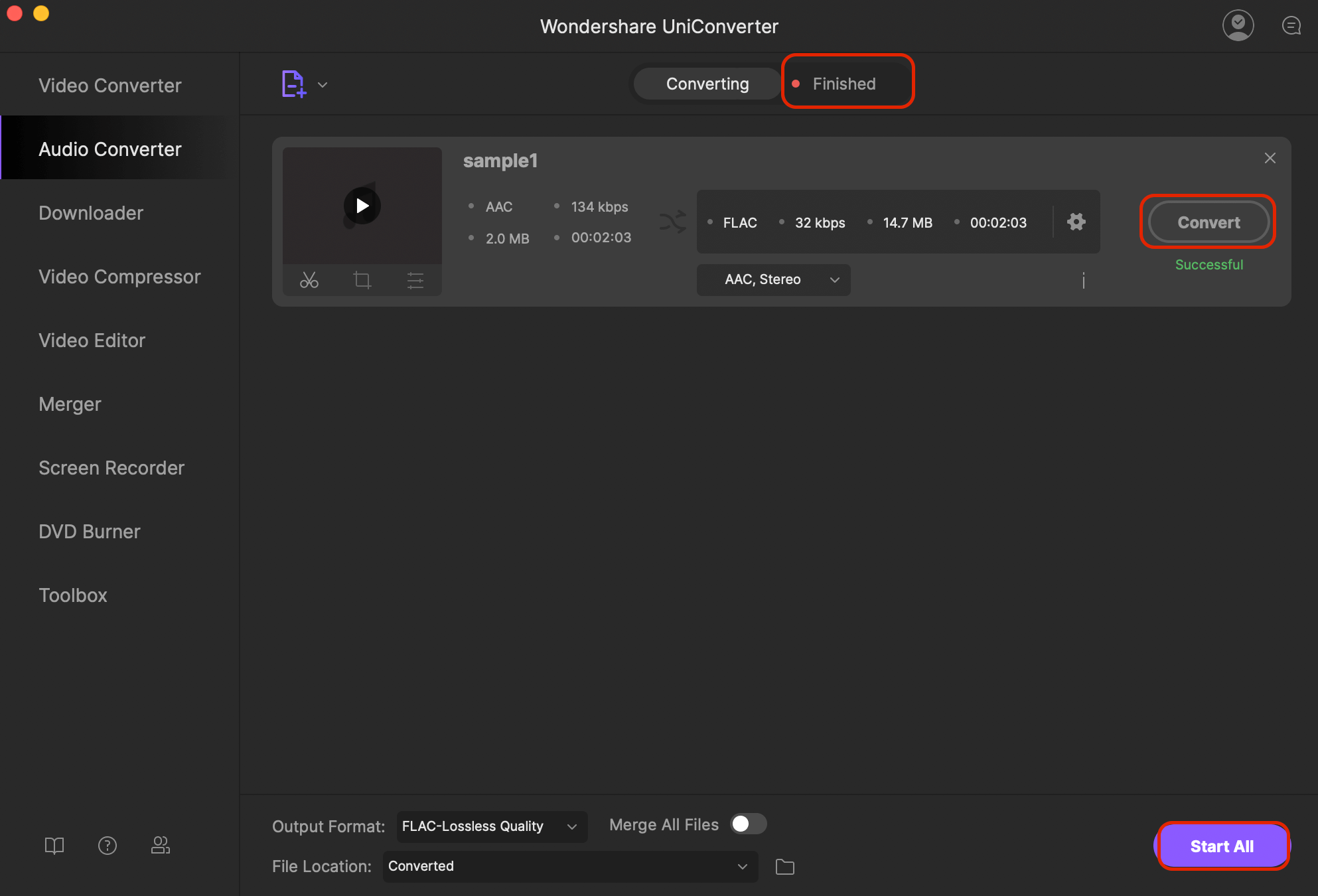 Tips: AAC vs FLAC Format
Most of the people dealing with Audio formats go for lower formats because they don't know good audio format conversion software. Hence, the result is installing a bundle of software for each separate conversion! AAC also is known as ADVANCED AUDIO CODING with the file extension (.aac) is the most preferred audio format after MP3. Both are lossy formats i.e. they are good for regular listening but are noticeably low-quality formats. FLAC is a lossless audio format with the file extension (.flac) which means that it has same audio quality as that of the original source file. It is compressed hence, saving space. It is the free and open source, so it comes in handy.
The Free Lossless Audio Codec (FLAC) is the most known lossless format, making it an excellent option if you desire to store/save your music in lossless. Unlike WAV and AIFF, it's been compressed, so it takes up a lot less space. However, it's still a lossless format, which means the audio quality is still the same as the original source, so it's much better for listening than WAV and AIFF. Advanced Audio Coding, also known as AAC, is similar to MP3, although it's a bit more efficient. That means that you can have files that take up less space, but with the same sound quality as MP3.
While you probably won't observe higher quality, lossless is exceptionally good for storing your music if later on, you plan on converting it to other formats. Since converting a lossy format to another lossy format (e.g., AAC to MP3) will produce files of noticeably lower quality. So, for archival purposes, we recommend FLAC.