Does Vimeo have any limit to upload videos?
Thinking whether Vimeo limits you on the video you should upload? Well, vimeo is a good video sharing site. However, it has limits or guidelines on the video that you need to upload. It has limits on the file size and video formats. Vimeo also requires that you Upload videos that you created yourself; you must own all the necessary right to your videos; you also need to include your role in the video description to avoid problems. Despite the limits, you are still able to upload videos to it and share them with others. Check through this article to learn on vimeo upload limits, guidelines and how to upload videos to Vimeo.
Part 1. Vimeo Upload Settings: How to Upload Videos to Vimeo
Uploading videos to Vimeo is easy. Vimeo allows you to upload videos using the following steps.
Step 1: log in to your account. First Open Vimeo website to login. Tap the "login" button and fill in your credentials to log in.
Step 2: Get to Uploading the video. Next on the Home page, click the "Upload Video" button. The upload video link is also in the navigation bar.
Step 3: Follow directions to upload file. Thereafter, the upload page pops up. Follow the guidelines in order to upload your video to Vimeo. You can upload only the files you created.
Step 4: Choose video and Upload. Hit the "Choose a File to Upload "button then mark the video files to upload. Thereafter click on "Select". Automatically your videos will begin to upload. The progress bar will show the progress of the upload. After a few minutes, your videos will have finished uploading depending on the size.
Part 2. What are the Vimeo Upload Limits
Vimeo sets limits on the files size and video formats to be uploaded. Some of the limits are as below:
The videos should be at least 200KB in size;
Vimeo uploads 500MB of video per week up to 25 GB a year;
Vimeo can upload videos of certain formats such as h.264 MP4, FLV, AVI, WMV , MOV, MPEGPS WebM and MPEG4.
Part 3. Best Solution to Vimeo Upload Problems using UniConverter for Mac
Apart from uploading video on Vimeo, you can also upload videos to Vimeo using UniConverter for Mac. It is the best tool that can convert and edit your video files before uploading. It is compatible with macOS 10.7 Lion, 10.8 Mountain Lion, 10.9 Mavericks, 10.10 Yosemite, 10.11 El Capitan and 10.12 Sierra.
Get the Best Vimeo Video Uploader:
It can upload files to video sharing sites like Vimeo, Facebook, and YouTube.
It converts files quickly and maintains original quality of videos. And it can convert multiple videos and can import many files to the program at once.
Download online videos from Vimeo, YouTube, Facebook, Hulu, and other 1000+ popular sites.
It burns videos to DVDS and converts home DVD and backup DVD.
It supports devices like Apple devices, Game hardwares, HTC devices and Samsung devices.
3,981,454 people have downloaded it
Tutorial on Uploading Videos to Vimeo on Mac
With UniConverter for Mac, you can upload videos to Vimeo effectively. The guide below guides you in uploading videos to Vimeo.
Step 1. Import video to the program
Ensure the video you want to upload is on the Mac computer you are using to access Vimeo website. Find the file then drag and drop it on the program. You can also click on "File" and then choose the "Load Media Files" If the files are on DVD you can select load DVD media.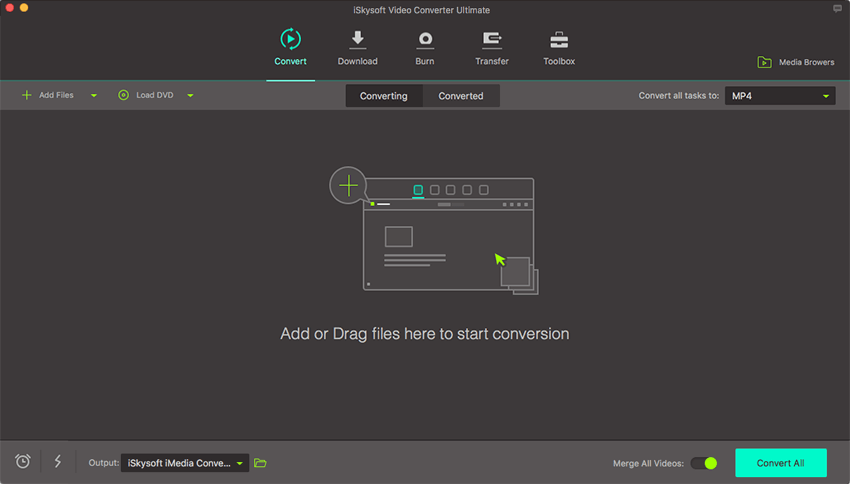 Step 2. Export and select Uploading to Vimeo
Next, on the main menu, click on "Export" then from the drop down icon select "Uploading to Vimeo". An export window appears, get to "Vimeo" option. Now enter the title, and dsecription of your video. From there, hit on Sign in button.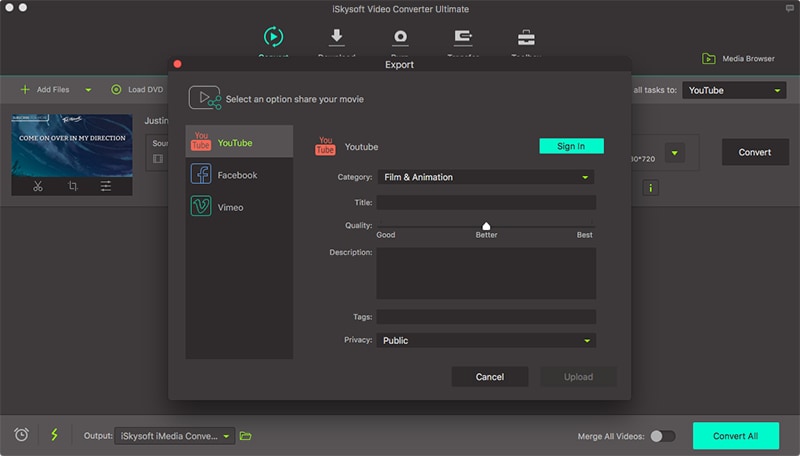 Step 3. Sign in to your Vimeo account and upload video
Access your Vimeo account and fill in your details to log in .On logging in, your videos will start to upload to Vimeo. Within a short time, the upload will have completed. UniConverter for Mac is the best tool to upload videos to Vimeo quickly and effectively.