I want to upload videos to YouTube, but I need a camera to shoot videos. Do you guys have any recommendation?
With the prolific increase in the activities around social media, everyone poses like a vlogger. This is why anybody with a blog that has video content is liable to consider which video camera to make use of at some point in time or the other. If you are finding a single solution or advice, let us tell you that there is no right/wrong answer to this question. The ultimate choice depends on individual requirements and individual budgets. The great news is that there are several options for all kinds of budgets, and you can be guaranteed that you can find something that fits just right.
Part 1. Top 4 Cameras for YouTube Videos
Starting a YouTube channel is hard enough, from catchy username to dealing with editing software and copyright infringement, and then comes an essential thing every YouTuber wants – a camera. The substitutes available are massive, and prices vary from affordable to preposterous. To make your ride into the YouTube society a bit easier here is a guide into which camera you ought to buy:
#1. Panasonic HC-V10 Digital Video Camera
The Panasonic HC-V10 manages to record 720p HD at 25 fps, something that makes it well-liked considering the price. The V10 is also known for its quality and the fact that it is easy to carry around due to the size.
Pro: This camera offers an exceptional quality for a very low price.
Con: V10 is useless in low light situations.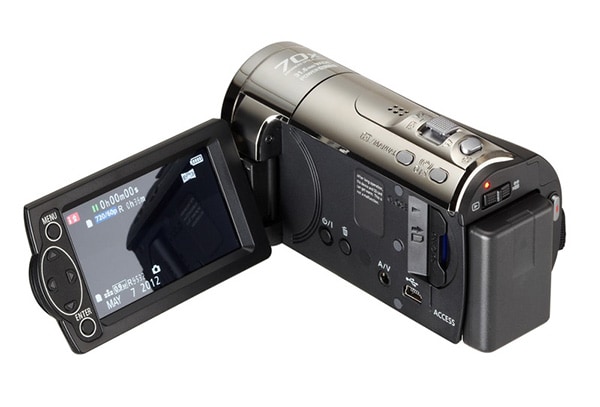 #2. Apple iPhone 7 Plus:
It is a top preference among vloggers because after all, it's Apple. The front camera records at 720p HD while the back camera records video at an amazing 1080p full HD. Apart from the incredible video recording, it is a smart phone! However what seals the deal for this phone is the 5.5-inch LED screen. It provides the user instant pleasure because with that screen size; they can not only shoot videos, but you can also make changes with iMovie, view their handiwork and upload to YouTube all in one go.
Pro: perfect low light shooting and brilliant display.
Con: Carrying the phone is tricky because of the size.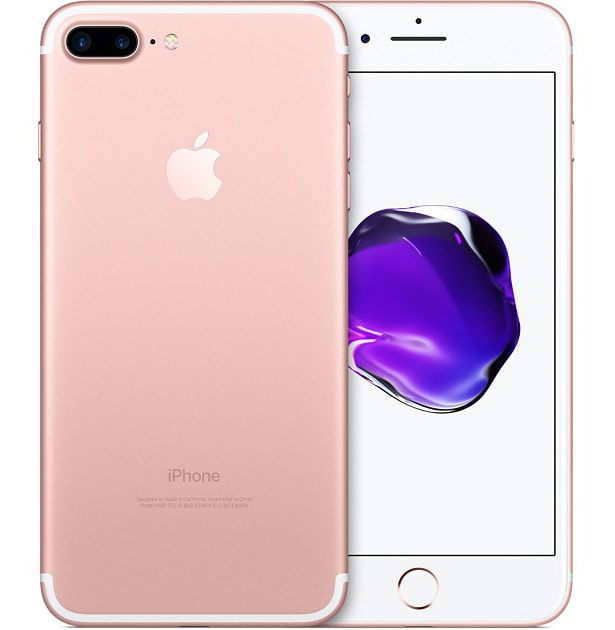 #3. GoPro HERO4
GoPro is every for adrenaline junkie's out there. If you are considering showing off your snowboarding lessons, a GoPro will certainly be a well-worth investment. It is an excellent choice for semi-pro vloggers. It has a perfect immersive wide-angle shot. It's got Bluetooth and Wi-Fi connectivity, which permits you to transfer videos.
Pro: It delivers a cinema quality video capture.
Con: Expensive and mediocre battery life.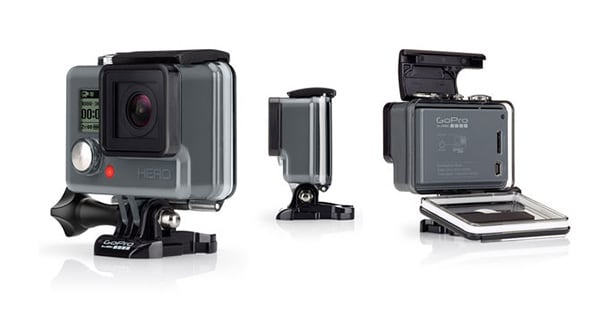 #4. Canon EOS Rebel T4i
Let's jump into some serious stuff now. If you happen to be a pro blogger and require a piece of equipment to uphold your existing image and market value, then you must invest in this camera. The Canon EOS Rebel T4i, brag of offering users with Full 1080p HD video at 30 FPS when at its best. It has a swivel screen, which most vloggers find particularly handy.
Pro: Good image detail at high ISOs. Fast and nearly silent video autofocus when used with STM lenses
Con: It has a tiny viewfinder and a limited burst shooting in Raw mode.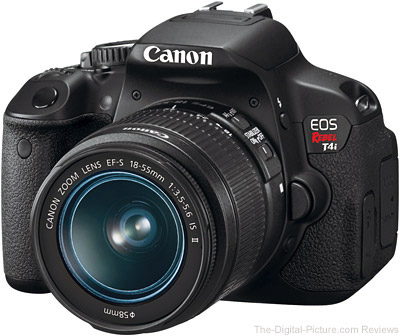 Part 2. Recommend the Best Tool to Upload Camera Videos to YouTube
There is a variety of video converters that can convert camera videos, but UniConverter stands at the top of the list. This potent Converter is an all-inclusive video converter that executes various functions, incorporating uploading videos to YouTube, burning video, as well as converting and editing any audio & video format with exceptional output quality and high conversion speed. The converting process is extremely easy. Even if the user has no previous experience in file format converting, they can effortlessly learn to use this tool.
Get the Best YouTube Video Uploader:
Convert to any video/audio format: This software is attuned with over 150 audio/video formats and allows you to convert both video and audio files into any format you require.
Download online videos: Everyone wants to download a video from YouTube or some other platform. Well, now it is easy to do so. UniConverter even permits you to download videos from the internet at a fast speed.
Backup, burn or copy DVD: UniConverter lets you backup DVD's to keep them safe and just copy their contents to your computer and allows you to burn media files onto DVD discs. You can even transform DVDs to any format you need. This software serves as the ultimate DVD toolkit.
Edit videos: It is the only tool you will want for all your video related chores, whether it is creating or editing. The app makes video editing easy with its simple editing features. These features include all the basic ones such as Crop, Trim, Subtitle, Rotate, Watermark, Volume, etc.
Upload videos: In addition to YouTube, this software enables you to upload videos to Facebook and Vimeo directly on Mac.
3,981,454 people have downloaded it
Converting and Uploading Camera Videos to YouTube with UniConverter
Step 1: Import Camera Videos
Go to "File" tab. Click the button labeled "Load Media Files" to include video files. The user can also import their camera video files using the drag and drop feature to the program. The batch method allows users to insert more than one file and convert them in a single go.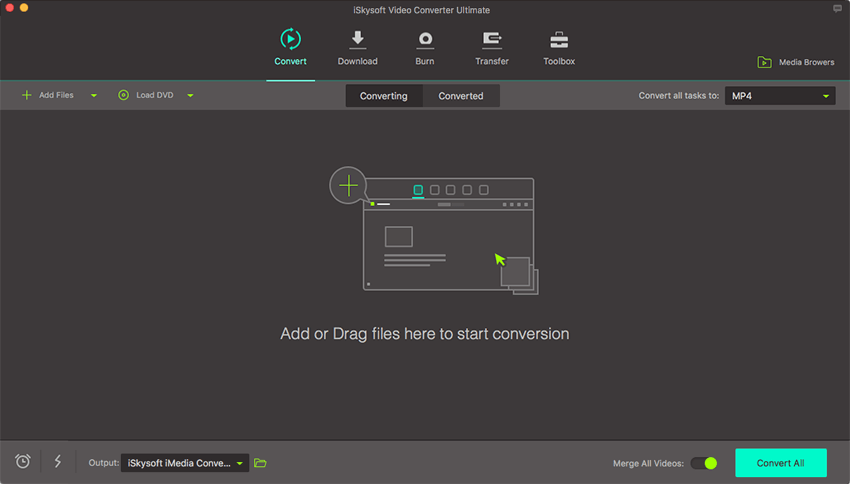 Step 2: Set Output Format
Decide on an output format like MOV, FLV, MP3, or MP4 for every video file, and then identify a directory folder to save the output files. The user can discover these formats at the format tray below. For instance, they can choose "FLV" as the output format that is backed up by Mac.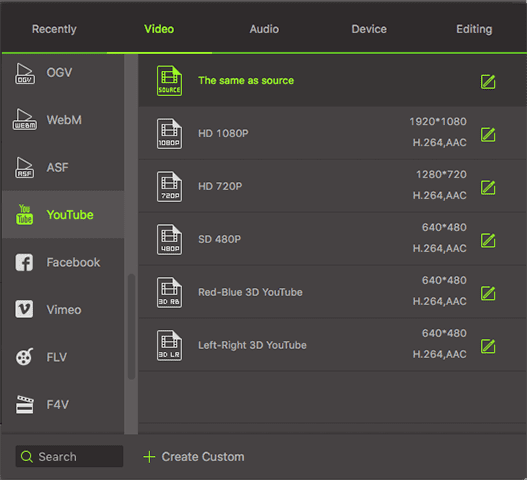 Step 3: Start Conversion
Press the button labeled "Convert" to start off the conversion procedure. You can decide to shut down your Mac automatically once the conversion has ended if you do not wish to wait around. Once the conversion has completed, you can easily upload the converted camera videos to YouTube.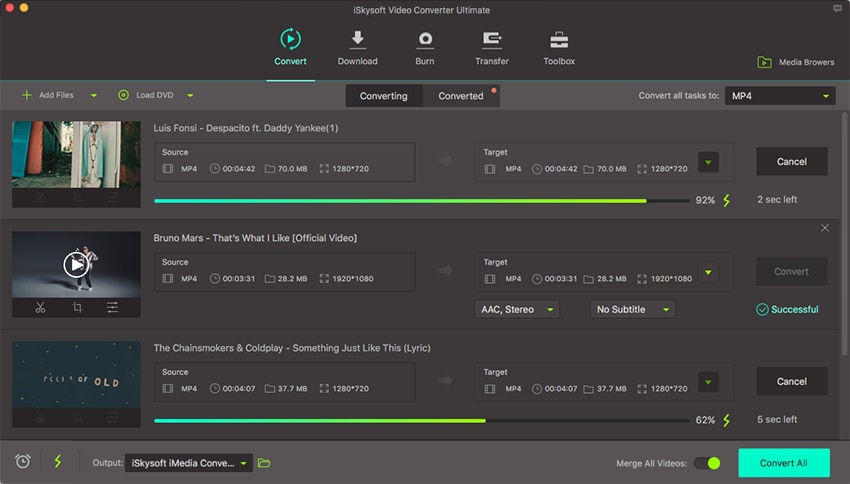 Note: iSkysoft Converter Deluxe helps Mac users upload camera videos to YouTube direclty. This can be done by simply "Exporting" the file from the menu on Mac that says "Uploading to YouTube" as soon as you import videos to the program.