I need a video converter for Web, any recommendation?
It is easy to convert videos online using web-based video converters. Some of the video converters can even convert videos directly from the streaming sites, and you can download them to your computer after the conversion. If you are converting videos from the online sites such as Break, YouTube, Facebook and any other popular site, just make sure you have the video URL. However, in case you are wondering the web converters that you can use, this article recommends the best 8 web video converters.
Best Web Video Converters
#1. Online-Convert.com
Online-convert.com is a web-based video converter that comes with a lot of file conversion tools. It has a variety of video selection options. Some of the supported options include conversion of videos to OGG and WebM format.
Pros:
It has some editing options such as tweaking the resolution, bitrate as well as the capacity to change the audio bitrate and quality.
The app can work with files that are online or the ones stored on Dropbox.
Cons:
The app requires that you have a reliable Internet connection.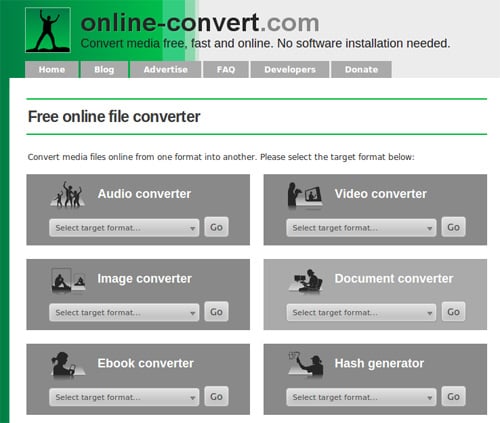 #2. Apowersoft Free Online Video Converter
Apowersoft Free Online Video Converter is another web-based conversion service. It supports converting videos online to file formats to MP4, WebM, and OGG as well as many other common video formats such as AVI and MKV. It offers some audio and video editing settings such as audio bitrate and resolution.
Pros:
It can converts videos into audio formats such WAV, MP3, and even lossless FLAC.
It has advanced options such the ability to create clips, flip, make slow- motion videos rotate videos and add watermark.
It is a free website converter and no fees for using it.
Cons:
For it to be successful, you have to play by the API code.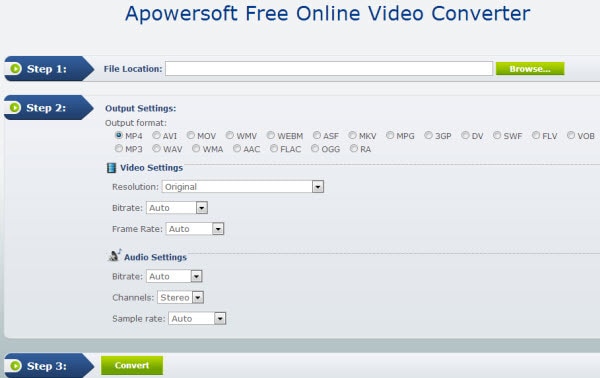 #3. Convert2mp3
Convert2mp3 is also another web based video converter that supports file formats like MP4, WMV, AVI, and 3GP. It also supports conversion of audios to formats like FLAC, OGG< WMA, M4A and others. On this site you will be able to stream videos on YouTube, Clipfish, Dailymotion and download them.
Pros:
It allows you to download videos online.
It can convert both audios and videos.
Cons:
It supports limited video formats.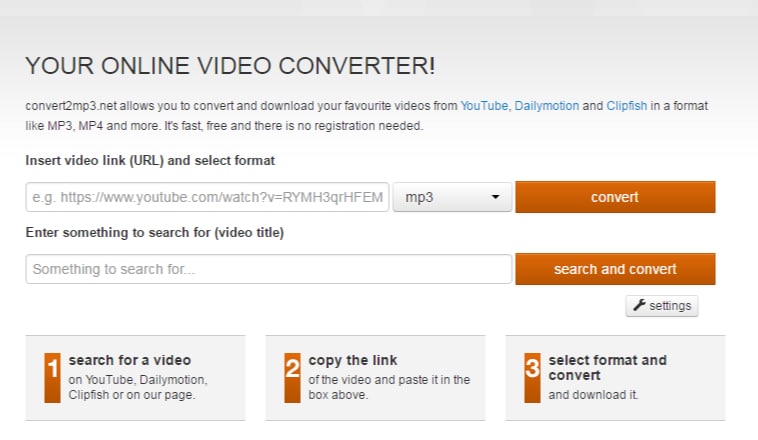 #4. clipchamp
Another online video converter is clipchamp converter by clipchamp technologies. This website allows you to upload videos and convert videos easily. However, you need to sign up using Facebook or Gmail account. After that you will be able to input video to formats like MKV, DiVX, MP4, MOV, MPEG, WMV and output file formats like WebM, FLV and WMV. With this online video converter you will be able to customize the settings of your video such as compression and resolution.
Pros:
• It allows you to optimize outputting video settings.
• It enables you to share and save the converted videos.
Cons:
The output file formats are limited to MP4 and OGV.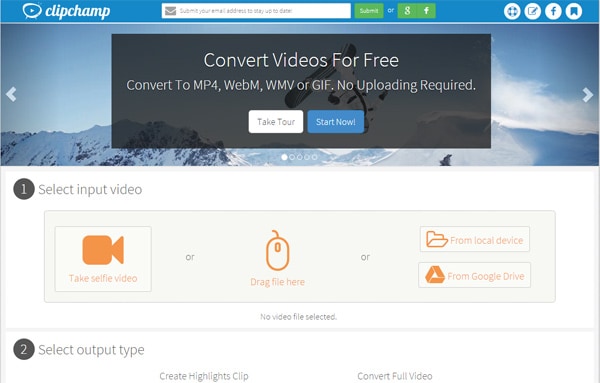 #5. Cloud Convert
Cloud convert is also one of the best web-based video converters that let you download and convert videos online. Besides, it converts more than 214 different file formats including documents, audios, and videos. The whole conversion process occurs in the cloud, and the output settings such as the aspect ratio, codec, bitrate, and resolution can also be changed.
Pros:
The app emails you immediately after the conversion or it drops the converted video to your Dropbox.
It supports batch conversion.
Cons:
The web app lacks the speed of standalone programs for Mac OS X and Windows.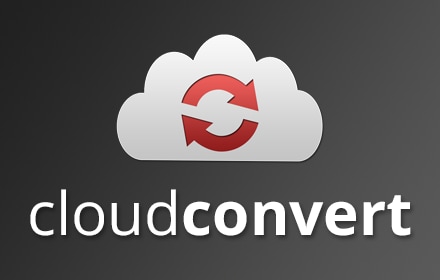 #6. Clip Converter
Clip Converter is a free web/online conversion service, which lets you record, convert and download almost any video format. It supports the conversion of videos from Tube and other streaming sites. All you need is the URL of the video you want to convert and then select the output format, and once the video is converted, you can download it to your PC.
Pros:
It supports video recording from streaming sites.
It is a free online media converter.
Cons:
The app is slow compared to other converters.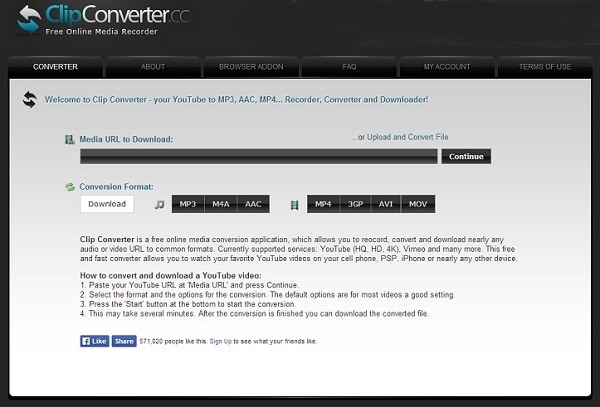 #7. Zamzar
Zamzar is a multipurpose web converter that supports the conversion of videos, audios, music, eBook, images and CAD. The website helps in converting videos by choosing the file or entering the URL of the video to be converted. Once you enter the output format for the video, you just need to enter the email, and you will receive the converted file.
Pros:
It supports a variety of video output formats such as WMV, WebM, MKV, MOV, MP4, 3GP, etc.
Cons:
Sometimes it may take a long time to receive converted video via email.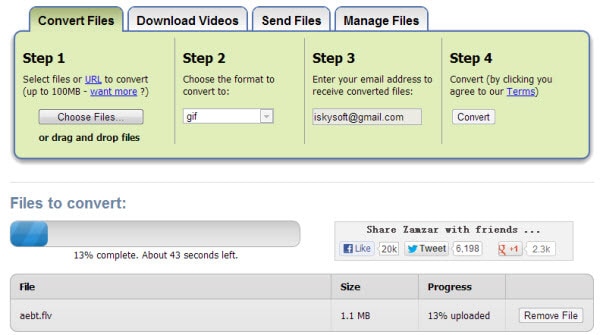 #8. Youconvertit
Youconvertit is a website that allows even the unregistered users to convert videos online. It converts videos to MP4, MOV, MP3 and many other formats.
Pros:
The app allows to you select up to 5 files each sized 80m MB.
Cons:
You cannot convert video directly from MegaVideo, YouTube, DailyMotion or any other site. You can only download and upload it for download especially if you are not registered.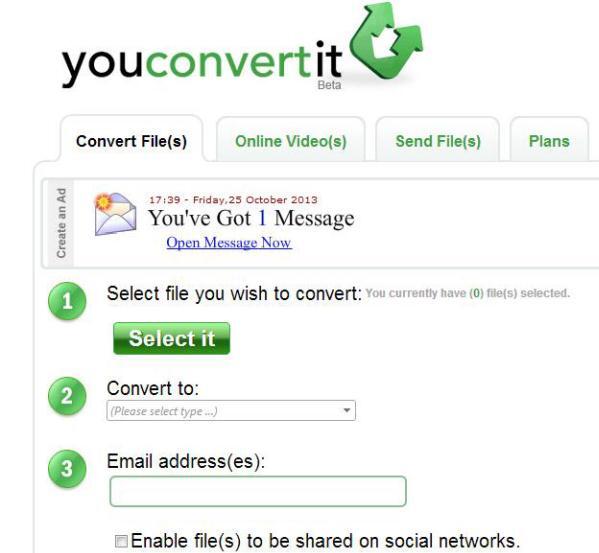 Part 2. Best Desktop Video Converter - UniConverter
In case you are wondering which is the best desktop video converter then you should not worry anymore. UniConverter is the recommended answer for you. The tool converts almost any video format, and it ensures that your video's quality is retained. Besides, there is no limitation to the video size or the number of videos that you can convert at a go. You can add as many videos to the program as you want and they will be converted in a short time.
Get the Best Desktop Video Converter - UniConverter
It supports a variety of video formats such as MOV, AVI, WMV, MKV, MPEG, MP4, 3GP, and much more.
It converts videos and audios to output formats supported by Android devices, iPhone, iPad, and gaming services and consoles.
It has a video editor to change the settings of your video before conversion. For instance, you can change the volume, contrast, resolution, and brightness. You can also add special effects and watermarks.
It is a powerful DVD toolkit that helps to copy, burn and convert.
It has a media downloader to download videos from online sites such as YouTube, Facebook, Vimeo, Vevo, Break, Metacafe and 1000 more.
3,981,454 people have downloaded it
Step-by-step Guide to Convert Videos using UniConverter
Step 1: Launch the program and import the videos
Double click on the UniConverter's icon from your Mac to start it. Then using the program's media browser, search the videos that you want to convert. Then drag and drop the videos one by one or you can add all the files at the same time. You can also add the video files by navigating to the "File" and then choose "Load Media Files" to import the files to the primary window. Once you add the videos, they will be shown in the primary window, and you can preview them.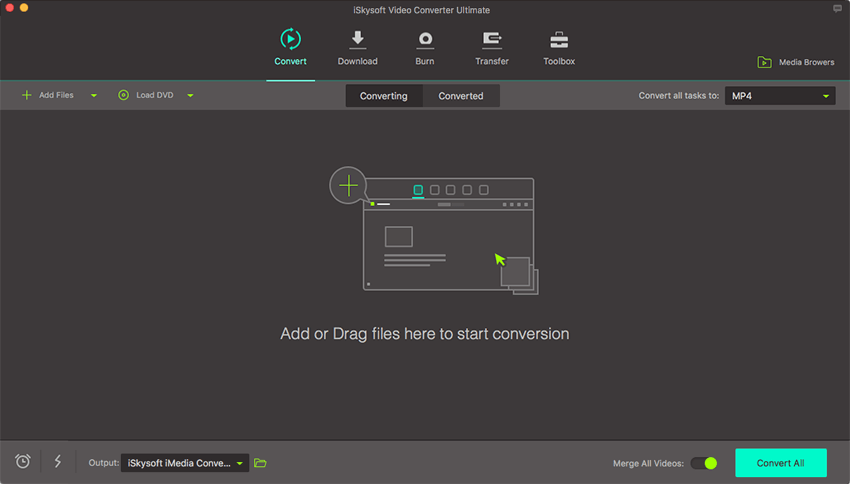 Step 2: Choose the output format
Click on the "Format" icon and then from the new dialogue that will appear, choose the file format that you want. You can choose the output format depending on the device, or you can just click "Output Format" and choose the video formats that will be listed for you.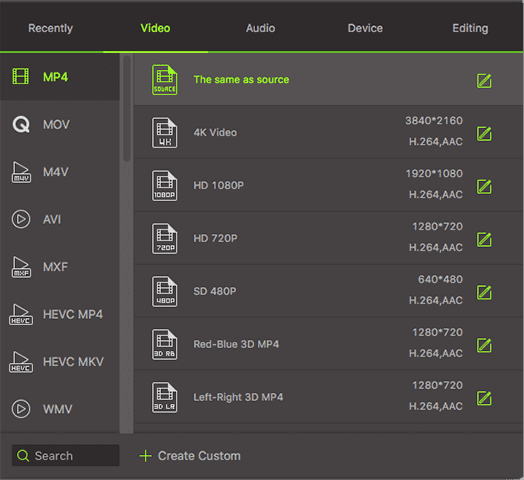 Step 3: Start converting the videos
You can edit the settings of your video by clicking "Encode Settings" to change the resolution, volume, and contrast, add effects, watermarks, etc. Then begin the conversion by clicking "Convert." Select the location of the converted files and click "Ok." The processes will be finished in few minutes.