Want to convert videos on Mac for free? Yes, you're smart, MPEG Streamclip for Mac is an option. Any people can get MPEG Streamclip Mac for totally free. MPEG Streamclip is not only a powerful free video converter, but also a lightweight video player and video editor for Mac and Windows. After installing it to your Mac computer, you can use MPEG Streamclip to do many things as below. This article will show you how to use MPEG Streamclip on Mac to convert videos and DVD files for free, or get the better alternative to convert video more conveniently on any Mac OS X.
Part 1: Best MPEG Streamclip Mac Alternative - UniConverter
Some Mac users might prefer this alternative to MPEG Streamclip for Mac - UniConverter, which is more easy-to-use and offers some unbeatable features like DVD conversion and customized output settings for iPod, iPhone, iPad, Android, PSP, iMovie and more.
Convert Any Video with MPEG Streamclip for Mac Alternative.
Convert video/audio between any two common formats, such as MP4, MPG, MOV, M4V, AVI, FLV, MKV, MP3, WAV, AC3, etc.
Edit videos with built-in video editing tool before converting them.
Extract audio from videos without any quality loss.
Easily burn videos to DVD if you want.
Freely download videos from online websites, like YouTube, Hulu, Facebook, Vevo, Metacafe, Vimeo, and so on.
Compatible with Mac OS X 10.11 El Capitan, 10.10 Yosemite, 10.9 Mavericks, 10.8 Mountain Lion and 10.7 Lion.
3,981,454 people have downloaded it
Convert Videos on Mac with MPEG Streamclip Alternative for Mac (El Capitan and Yosemite Included)
Step 1. Launch the converter and add videos
Download and install the alternative to MPEG Streamclip. When the program opens, load DVD or videos to the program by dragging and dropping the DVD disc icon on the desktop or video file(s) to the grey area of the program.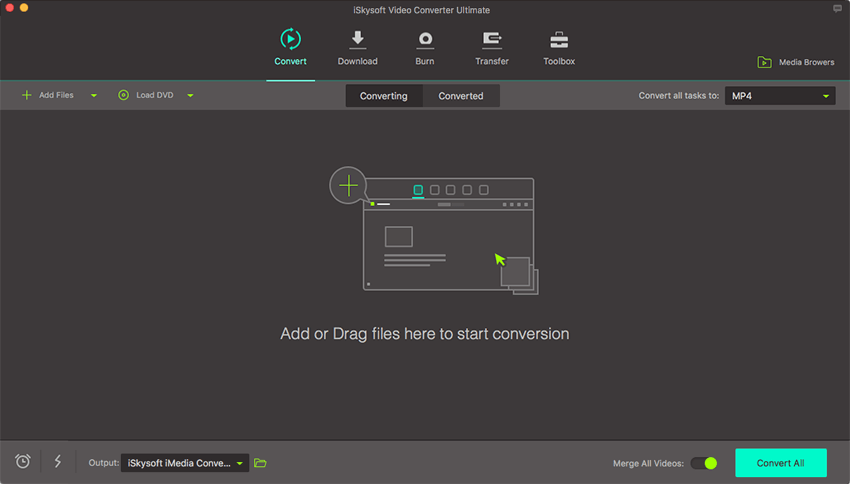 Step 2. Choose output format
Select an output format from the format list or a preset for iPhone, iPod, iPad and more.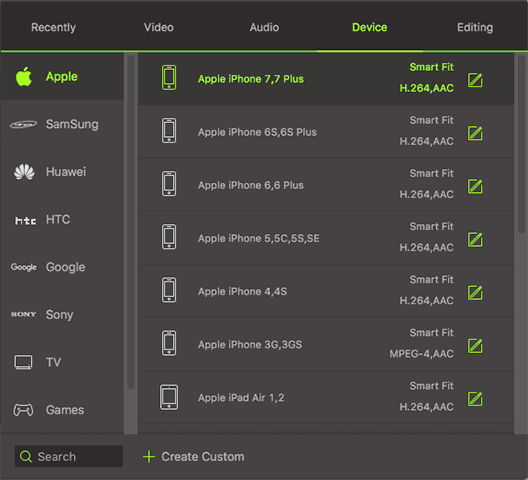 Step 3. Start DVD/Video Conversion on Mac
Simply click the "Convert" button and your video will be soon ready for playing or editing. This excellent MPEG Streamclip Mac substitute supports multi-threading and batch processing, so you can convert several video files in one go and enjoy the fastest conversion speed ever!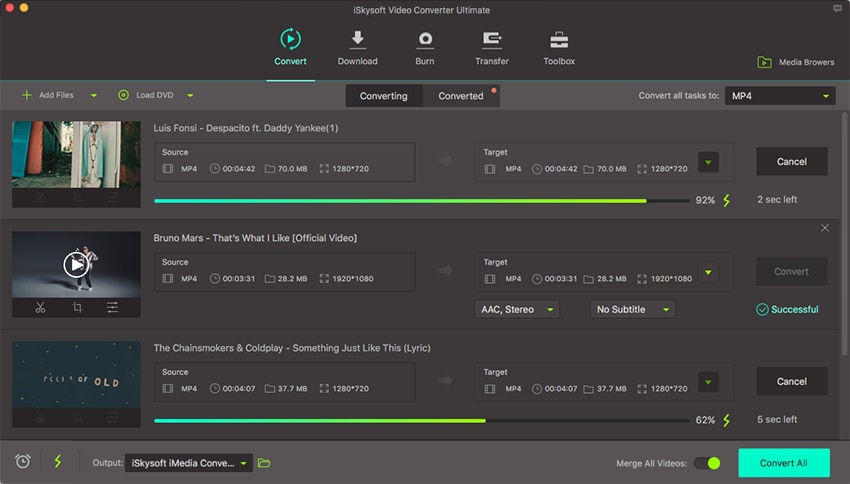 Video Tutorial on How to Convert Videos on Mac with MPEG Streamclip Alternative
Part 2: How to Download and Install MPEG Streamclip for Mac
Working with video files can be quite a pleasure sometimes, as you can always experiment with different file formats as well as modify them at your own pace. However, on the Macintosh platform there aren't that many complete solutions for working with videos files and most of these are pretty expensive. Fortunately for us, there is MPEG Streamclip, which is a wonderful utility that not only allows you to convert videos to multiple formats, but also play and edit them as well. On top of that, MPEG Streamclip does wonders with encoding videos, downloading YouTube videos and streams as well.
Downloading and installing this application can't be easier. You just need to visit the official site then download the desired version. There are 2 different versions available right now, the stable and beta. The stable version, currently 1.9.2 is the best for production use, while the 1.9.3 Beta 8 version is suitable for those that want to give a try to the latest features added. If you want to download YouTube videos then we really recommend that you download the Beta, as the stable version is not currently offering this feature. After the application is downloaded, you just need to drag and drop the application from the DMG to the Applications folder. If you have an older version of OS X and need to save as AVI you might consider installing the separate component included in the download. Once all of this is set however, we are good to go.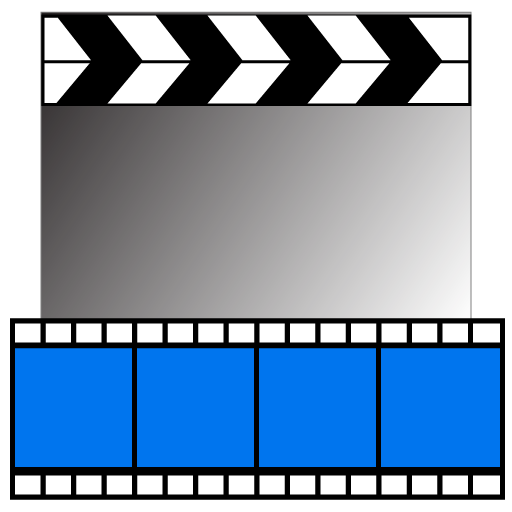 Part 3: MPEG Streamclip Tutorial - How to Use MPEG Streamclip Mac
3.1: How to convert wmv/mkv/flv/avchd/avi/dvd
MPEG Streamclip (Mac) is a very simple application and using it is just as easy. You need to drag and drop the file you want to process on top of the main window and then select the modifications you want to perform to that specific video. Once a video is loaded you can view and modify things like the Video PID, Audio PID and Audio mode as well. Another way to open the files is by reaching the File menu then choosing one of the options that suit your file type: Open Files, Open URL or Open DVD. If you have a WMV, MKV, FLC, AVCHD or AVI file, then the best option is to choose Open Files.
MPEG Streamclip offers great file conversion features, which make the whole process very simple as well. Once the file is complete, you can choose the desired format you want to export it to from the File menu and then wait for the conversion to complete. The supported output formats are QuickTime, DV, MPEG-4 and AVI. Yes, there might not be many, but on the other hand MPEG Streamclip is available free of charge, so being able to do this free of charge is surely amazing. In addition, you also have the ability to export only the audio of the selected movie or a certain frame, which is surely a plus.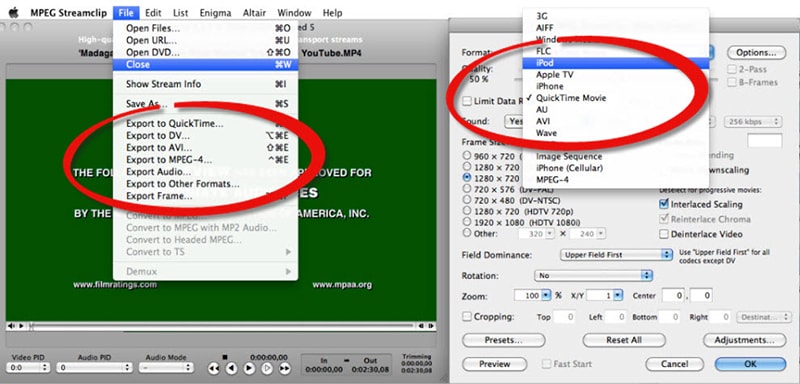 3.2: How to join, trim, rotate files using mpeg streamclip
Editing a video file is very useful if you need only a certain portion of the video file or you need it modified a little bit. Operations such as joining, trimming or rotating the video can easily be done with the MPEG Streamclip application. All you have to do is access the Edit menu and then choose the desired function. Be it trim, cut or copy, you just need to select them and, after that, select the portion you want to process, both start and ending, then wait for the process to complete.
If you want to join or rotate your movies then you need to go to the List menu then select the Batch List option. This option allows you to process multiple files at a time, and that's exactly what we need at this point. You just need to add the two or more files you want to join and then check the option of joining all files. From this window you can also choose to export to different formats, converting or demuxing, which are all very useful features.
When it comes to video rotation, things are just as simple. Just access the Edit menu, choose Rotate Video and you will receive two different rotation modes, the CW and CCW.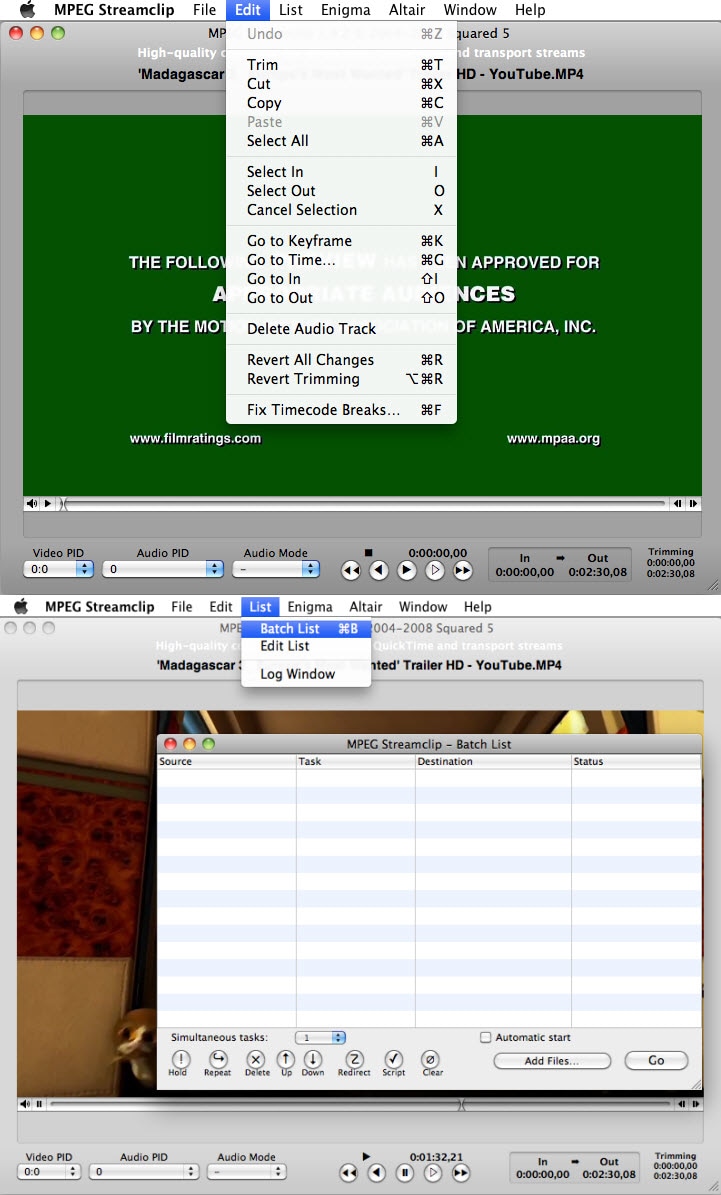 3.3: More features
| | |
| --- | --- |
| Manage audio track | Although MPEG Streamclip is a video editor, it does allow you to perform some unique actions as well. For example, if you access the Edit menu, you can choose to delete an audio track or fix any timecode problems that might appear. The audio track will be deleted automatically after you press the button so you should try and create a backup of the file before processing it with MPEG Streamclip. |
| Work as a recorder | MPEG Streamclip can also interact with the Dreambox digital television receivers and act as a recorder. This allows you to grab anything on TV and record it without a hassle, a feature that's very unique and quite hard to come by in such an application. |
| Preview all frames | Another neat feature is surely the ability to preview all frames you are working on. Having a quick preview for them surely helps you a lot and makes the editing process a lot fast as well. |
| Modify the aspect ratio | MPEG Streamclip can also modify the aspect ratio of the selected videos, which is a good feature for those people that want to modify the video in such a way so it will fit their TV or computer screen. Combine this with the ability to save the video or audio track separately and this is surely very helpful to say the least. |
| Work with frames | The ability to work with streams is surely one of the most powerful features that MPEG Streamclip is offering. You can load a stream from the File Menu, just by clicking Open URL. Here you can choose to open, convert or download the stream and choose between progressive download or random access. These options are good for people that want to view and download streams without too much problems on their computer. And since there aren't that many tools out there that combine stream playing and video editing, this surely helps MPEG Streamclip stand out of the crowd. |
Part 4: Other MPEG Streamclip Alternatives
#1. HandBrake
HandBrake is a great alternative for the conversion aspect of MPEG Streamclip, as it brings support for a wide range of formats as well as numerous codecs. It also works with lots of formats while it also brings complete support for Mac OS X, Windows and Linux.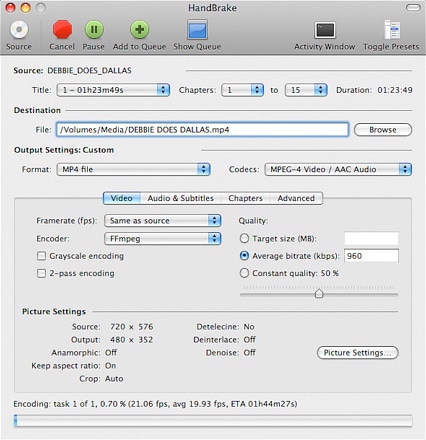 #2. FFmpeg
FFmpeg brings a great solution to convert, record and stream video as well as audio. It comes bundled with the libavcoded which is a good audio and video codec library. This application is also useful for transcoding, muxing, demuxing, filtering and streaming.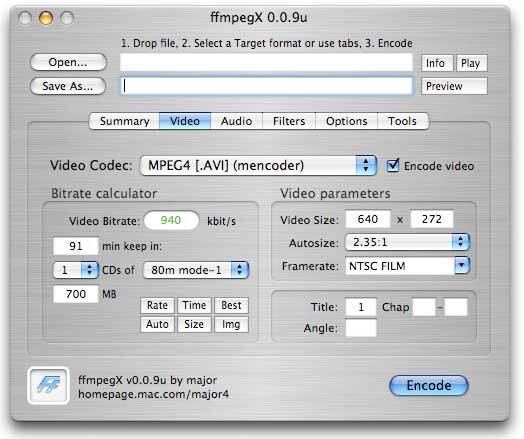 Tips: MPEG Streamclip FAQ and Solutions
1: I can't process AVI, FLV and MKV
A: The solution to this problem is really simple. You will have to install the Perian plugin in the application which will allow you to use these files immediately. You can find it at here.
2: MPEG Streamclip's MPEG-2 playback component has trouble functioning under Lion and Mountain Lion
A: If you recently updated to Mountain Lion or Lion, then the MPEG-2 component will stop working. The best way to oversome this problem is to simply install the beta version from here. This will overwrite the problem and solve it immediately.
3: MPEG Streamclip does not start
A: You must check if QuickTime is working properly. QuickTime is required in order for MPEG Streamclip to run properly, so you might want to reinstall it then restart the application.
4: Can't open or download videos from YouTube
A: MPEG Streamclip's beta version offers the ability to open YouTube streams, but since it's only a work in progress versions, some of the features are broken. If you are experiencing this problem, you should try to open other YouTube videos or wait until a new stable version is released.
5: Dreambox is not working
A: In order to use Dreambox you must add the IP address of Box and password in the Preferences window. Only by doing this you will be able to get the Dreambox recognized by MPEG Streamclip and use the recording function.
As you can see, there are some problems about working MPEG Streamclip. If you want to converting videos/audios, download online videos or burn videos to DVD, UniConverter must be your best solution.