macOS 10.10 Yosemite is a proven system owing to its unique features which have been a surprise to many users. But there are some new issues such as "can't convert video on Yosemite", to solve the problem, here we introduce you the best Video Converter that it is fully compatible with the macOS 10.10 system.
Best Video Converter for Yosemite
If you are looking for the most appropriate video convertor for Yosemite then UniConverter for Mac is a good choice. It can convert HD videos, convert online videos and supports multiple file formats that include MP4, WMV, AVI, MKV, FLV MOV and even all kinds of video formats. You don't have to worry about the compatibility aspect of this convertor whether you are using video or audio files. The conversion speed for UniConverter for Mac is high same as quality of the converted files.
Get the Best Video Converter for macOS Yosemite:
Unbeatable Media Solution: Matchless performance with its Ultra-fast and speedy conversion of video/audio files within seconds.
Capture & Download Videos from Internet: Cut & Paste URL or Download your favourite movies from online to stream it in any portable device/TV/HDTV.
Perfect Solution to Burn Videos: Burn videos to DVD folder, DVD disc alongwith 8 more DVD menu templates.
Primary Video Editing Tools: Trim, Rotate, Crop, Merge, Capture Screenshot, add watermark, adjust aspect ratio & many more.
Best In-built Media Player: Supports all Latest and major video formats including HD & DVD's.
Compatible with macOS 10.12 Sierra, 10.11 El Capitan, 10.10 Yosemite, 10.9 Mavericks, 10.8 Mountain Lion and 10.7 Lion.
3,981,454 people have downloaded it
Guide for Converting Video on Yosemite with iSkysoft
Step 1. Import the video files to be converted
To convert your video with iSkysoft Video Converter for Mac, start it off with adding files to the program by clicking on the "File" -> "Load Media Files" to browse from the hard disc. You can opt to drag and drop the file which is an equally workable option.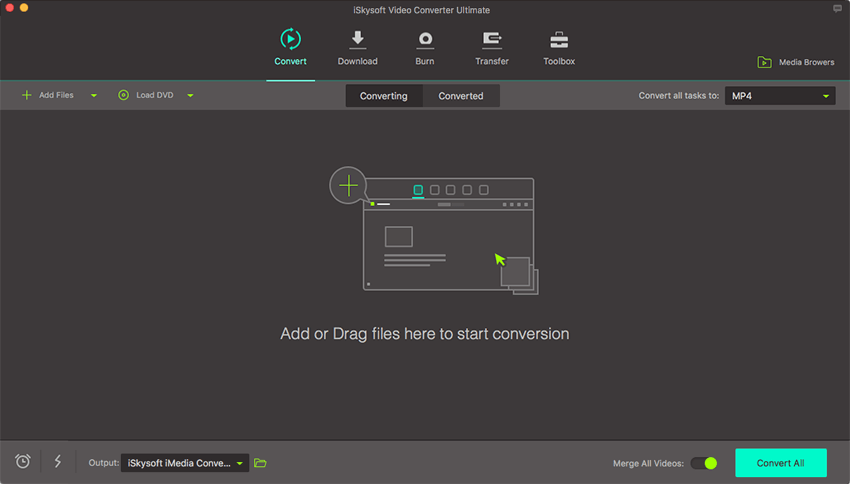 Step 2. Select the suitable output format as you need
The next step will be coming up with the right output settings and the ideal one has to be well compatible for both audio and video files. There are times when selecting the right formats is tricky but the name of your device will offer proper guidance.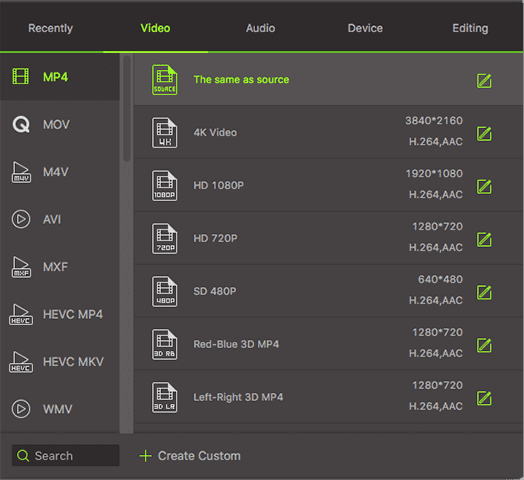 Step 3. Start the conversion on Yosemite
Once comfortable with the output format selected, begin the conversion process by clicking on the "convert" button. The system will then take full control of the process so you can even leave it alone and nothing will go wrong.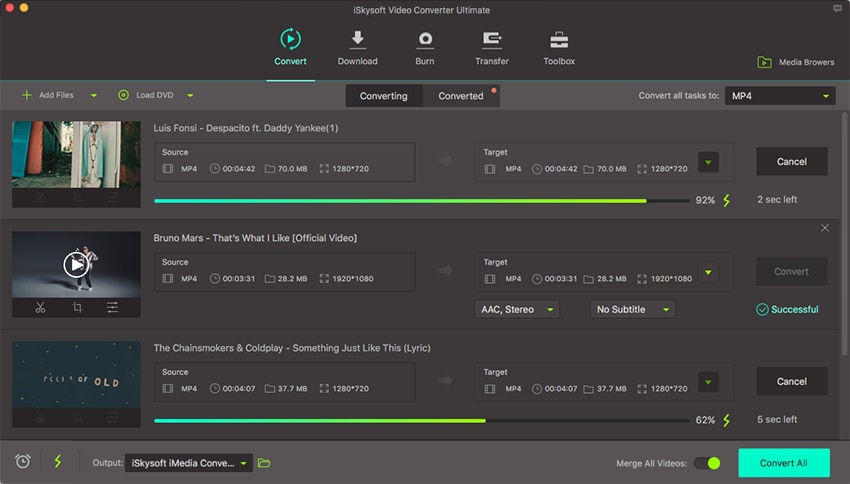 List of Common Issues about Converting Video on Yosemite
Downloading and installing Yosemite has been the notable problem experienced by multiple users of this editing program. Studies have shown that most of these problems associated with downloading are due to high demand from users thus will be solved within no time. Even with that, it is a problem that you will have to deal with when converting video on Yosemite. As a new user, you will definitely get a feedback message reading "This code has already been redeemed". It is with no doubt a bug and you must deal with it immediately it appears.
It should not give you worries because you are the person who redeemed the code despite the error message. Troubleshooting that will be very easy. Locate the "purchases" tab from the app store and then refresh to locate the "OS X Yosemite Beta 1" icon. From there, you will be able to download the program and install to your computer with ease. It will be fine to proceed and backing it up will be good for security purposes. The other downloading error you are most likely to get is "OS X Yosemite Beta 1 failed to download – Use the Purchases page to try again." At times, this error might show up repeatedly and the only option is to continue re-downloading.
Worse still, you will get an error message to the effect that the beta site you are using is no longer accessible. This can be as a result of the site crashing down and the only solution is restarting the computer again. This is the common problem that many users of Yosemite have reported to have experienced when converting video files. It's most likely that you will experience the same so have troubleshooting tips at hand.