It was around the year 1987 when Gif technology was invented to create more interest in films, and photographs. GIF, Graphic Interchange Format, is a bitmap image format with cross-platform compatibility. It's widely used for small animations and low-resolution film clips, as you could see funny profile picture on Myspace for amusement purposes. Most forums also support GIF as the avatar image. But if you have to do more you can even convert a video like FLV to GIF. GIF basically being an image format is not supported by most video converters. However, don't let this stop you. You can access many a free online GIF converters like Zamzar.com to convert FLV to GIF quickly. Zamzar is an effective free online file converter that converts almost any video file, including FLV to GIF.
Part 1. Best Way to Convert FLV to GIF
UniConverter software has proven that converting FLV to GIF is not just possible but also simple. In this article, we will show you how to convert FLV file to GIF with this media converter. But first, let us have a look at the features of this software.
Get the Best FLV to GIF Converter:
UniConverter allows you to create GIFs from videos of different formats and also from Photos.
Convert any standard or HD video format like MP4, MOV, M4V, MKV, VOB, FLV, WMV, AVI, etc., as well as online videos from 1,000 web sharing sites like Vimeo, YouTube, Facebook, Spotify, Pandora and others.
Act as a video editor to crop, trim, merge, rotate, add watermark and subtitles to videos.
It is built with a DVD burner that burns audios and videos to DVD disc.
Easily convert and transfer videos to your iPhone, Android devices and USB.
It has a toolbox that supports to convert VR videos, fix video metadata, record screen and copy DVD media.
How to Convert FLV to GIF using UniConverter
Step 1. Launch the Program
Open UniConverter software on your program. On the home interface, click on "Toolbox" icon.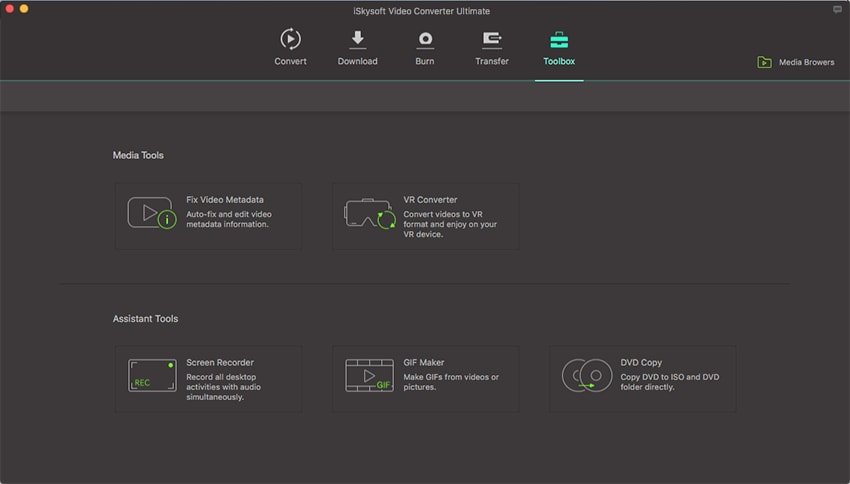 Step 2. Select GIF Maker
A new window will pop up. Navigate the cursor and click on "GIF Maker" icon. Next, click on "Video to GIF" option since you have a video file that is in FLV format that you want to convert to GIF.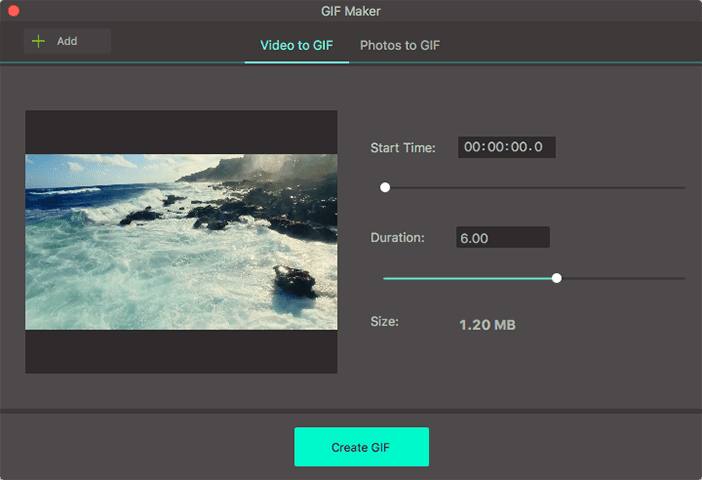 Step 3. Convert FLV to GIF
On the "Video to GIF" window click on "Add" button and load the "FLV" file that you want to convert. Enter the starting point and the duration of the GIF. Finally, click on "Create GIF". From there, the program will create the GIF file and store in your computer.
Part 2. Another 5 Free FLV to GIF Converter Online
Below are the easy steps to show you how to make an animated GIF on Zamzar.com. In fact, you can also convert MP4 to GIF, AVI to GIF, MOV to GIF and many more. Before starting, learn about these:
1. You have to provide an email address and download GIF animation from the Zamzar email message
2. Your video files have to be smaller than 100 MB in size. If not, please trim or compress FLV video first.
3. You cannot trim the GIF animation if it's too long and thus too large. (If possible, trim it before uploading to Zamzar - also for a smaller size, shown below)
Step 1. Upload file to FLV to GIF converter online
Zamzar.com enables you to upload local Audio Visual, Movies and Flash video files by clicking the Choose Files button in the Convert Files tab. Windows users can drag and drop the files to upload files to Zamzar, ready for the server to convert to GIF at the back end.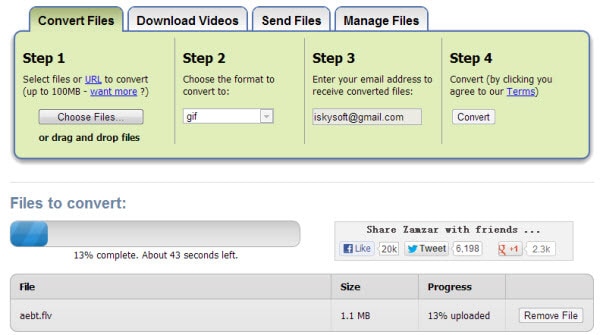 Step 2. Choose the format GIF
The next step is to choose GIF from the list as the target format. You need to specify an email address to receive the GIF download link. It may not happen immediately but take take sometime for your file to be converted by Zamzar. In case your file is of smaller size, the download link will be sent to your inbox in minutes.
Step 3. Your converted file is ready
Click the Convert button in your browser, and all the uploaded files will be uploaded and converted to GIF format a message will be displayed on the Zamzar site page. After a while, check your email to download the GIF file.
Zamzar will save your converted GIF file for only twenty four hours from the time you receive the mail.
Gif is an exciting option for PowerPoint presentations, as adding Gif files prove to be a focal point and also at the same time create interest. The Gif files can be chosen to play automatically that is the moment the presentation starts. Upload your FLV files to Zamzar now to create GIF animation from FLV files.
There is always going to be that one expression or funny face we saw in on our favorite TV show and although we used to settle for watching it and rewinding it over and over again, it no longer has to be that way. GifSoup is an easy way to convert those videos into an awesome GIF and in just a few steps. However, you will end up with a tiny watermark on your GIFS.

If you ever wondered if you could edit those GIFS, well this online converter is your answer. With IMGFlip you can customize them as you prefer, add subtitles and even flip your image. Who would have thought? The only thing you need to keep in mind is that you can do it with files that are up to 35MB, if you have or found bigger videos then it will ask you to upgrade to the Pro Version.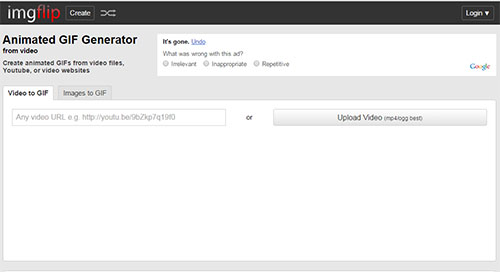 Making a GIF cannot get any easier than this. This fun website shows the whole process in just a few quick steps and it even provides a short description for every step. However, there is no option available for pasting URL addresses so you will have to have the video saved on your computer. Besides, there is no edit option whatsoever, you can only choose the length of your GIF.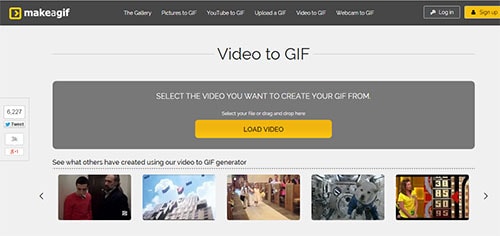 If you wanted simple then this is where you want to be. There is no way you can get lost or confused with this super easy online converter. If you have a Flickr account then this is the perfect tool because you can use all the images you have on your gallery. If, on the other hand, you would like to make a GIF from a video on YouTube then all you need to do is paste the URL address of the video. Even though it is easy to create fun GIFS with this tool, it is also very limited because there is no option to edit them, all you can choose is the size of the file.