iTunes is basically an impressive application for performing normal functions such as play, convert, merge and edit audio files. FLAC is an audio file format which is known for its lossless compression. iTunes can convert FLAC to other file formats with no quality loss problems since converting lossless file into another format is also lossless in nature. It's much easier to convert FLAC in iTunes to other file formats and added advantage is that you can retrieve the files in original FLAC format in future if required.
This article depicts whether FLAC file format can be converted using iTunes application software and also it explains about iTunes alternative that is UniConverter along with its unique features as well as added advantages. You will also find a detailed guide and step-by-step procedure to convert FLAC file format to another file format using UniConverter.
Convert FLAC in iTunes Alternative with One Click
UniConverter is one of the best converter tools to convert FLAC audio files. Using this software tool, you can convert any audio file without the use of iTunes application program. Also, you can convert audio files to other format with improved quality output. UniConverter uses three easy and simple steps to convert FLAC files to other desired output format. By using this FLAC converter, you need not go through large complex steps or process to convert audio files according to your requirements. You can convert FLAC audio files within a second and enjoy your FLAC music anywhere and at any time just by playing your favorite tune in your playlist. Another advantage of this FLAC converter is that it has an in-built media player where you can play media files and also you can extract music files from video if required. You can also customize the settings of FLAC audio files before conversion.
Efficient and effective FLAC converter which saves time by directly converting FLAC audio files to MP3 and other formats.
Modify and customize audio settings such as Bitrate, channel, Encode settings, trim, crop, and so on.
Maintains the original quality of the audio file and also converts audio files to other format with improvised quality.
Batch converts FLAC files into MP3 or other file formats with 90X faster speed than other FLAC converters.
Compatible for macOS 10.12 Sierra, 10.11 El Capitan, etc and Windows 10/8/7/Vista/XP, etc.
3,981,454 people have downloaded it
Guide to Convert FLAC Files using iSkysoft
Initially, download UniConverter software and then launch the software to convert FLAC audio files to MP3 file format. After that, follow these three easy and simple steps to convert FLAC audio files.
Step 1: Select FLAC Audio Files
For converting files instantly, you can go for drag and drop option. You just need to select the FLAC audio file by clicking it and then drag & drop the audio file into the converter. Otherwise, you can also choose the option "Add Files" if you're using Windows and "Load Media Files" for Mac.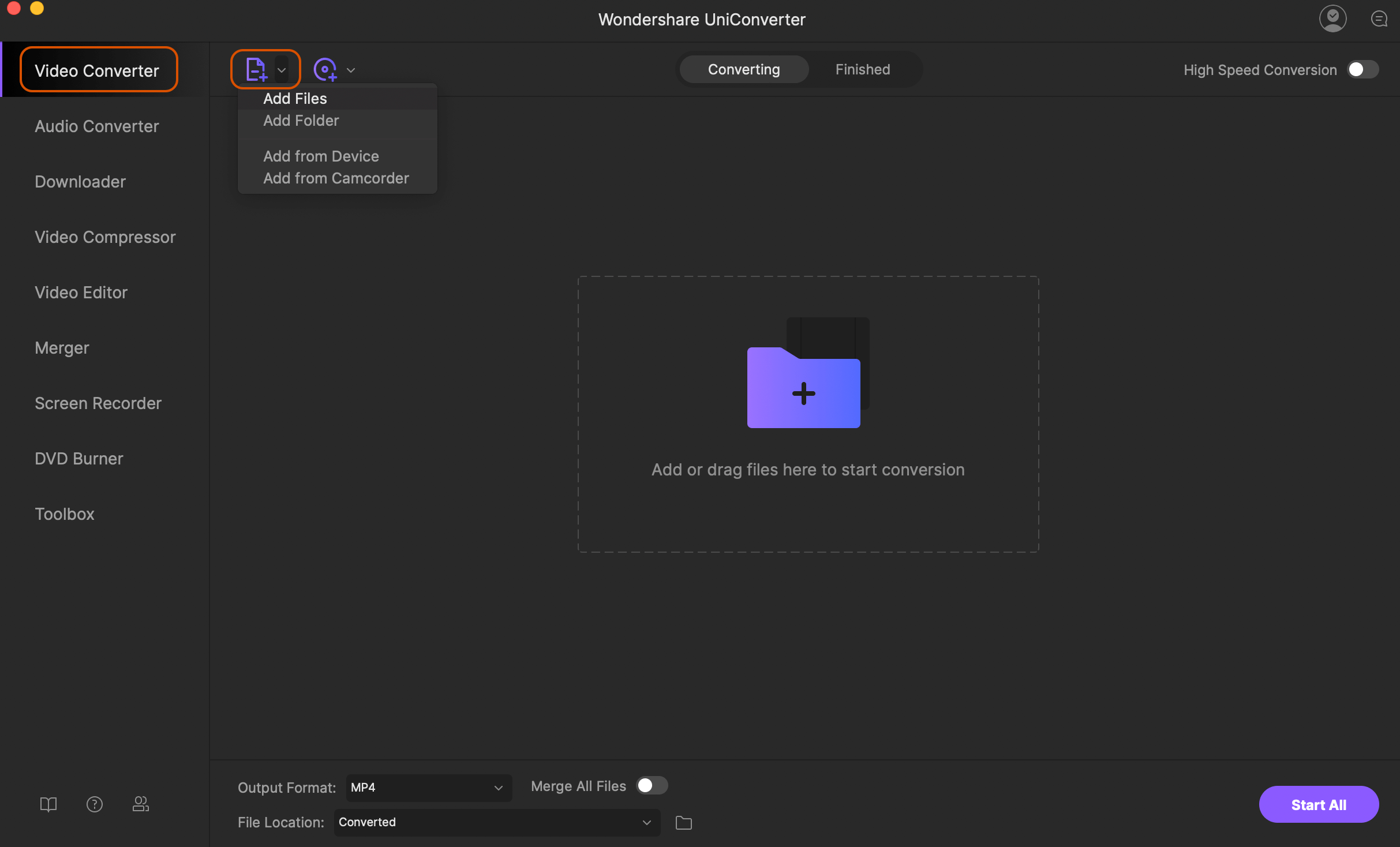 Step 2: Choose the Output Audio Format
In UniConverter you can find 6 Categories of file formats. Out of these 6 categories, click Audio and scroll down the option to choose MP3 file format. You can also customize the audio settings such as Bitrate, Channel, Trim, Volume and other settings for the output file if needed.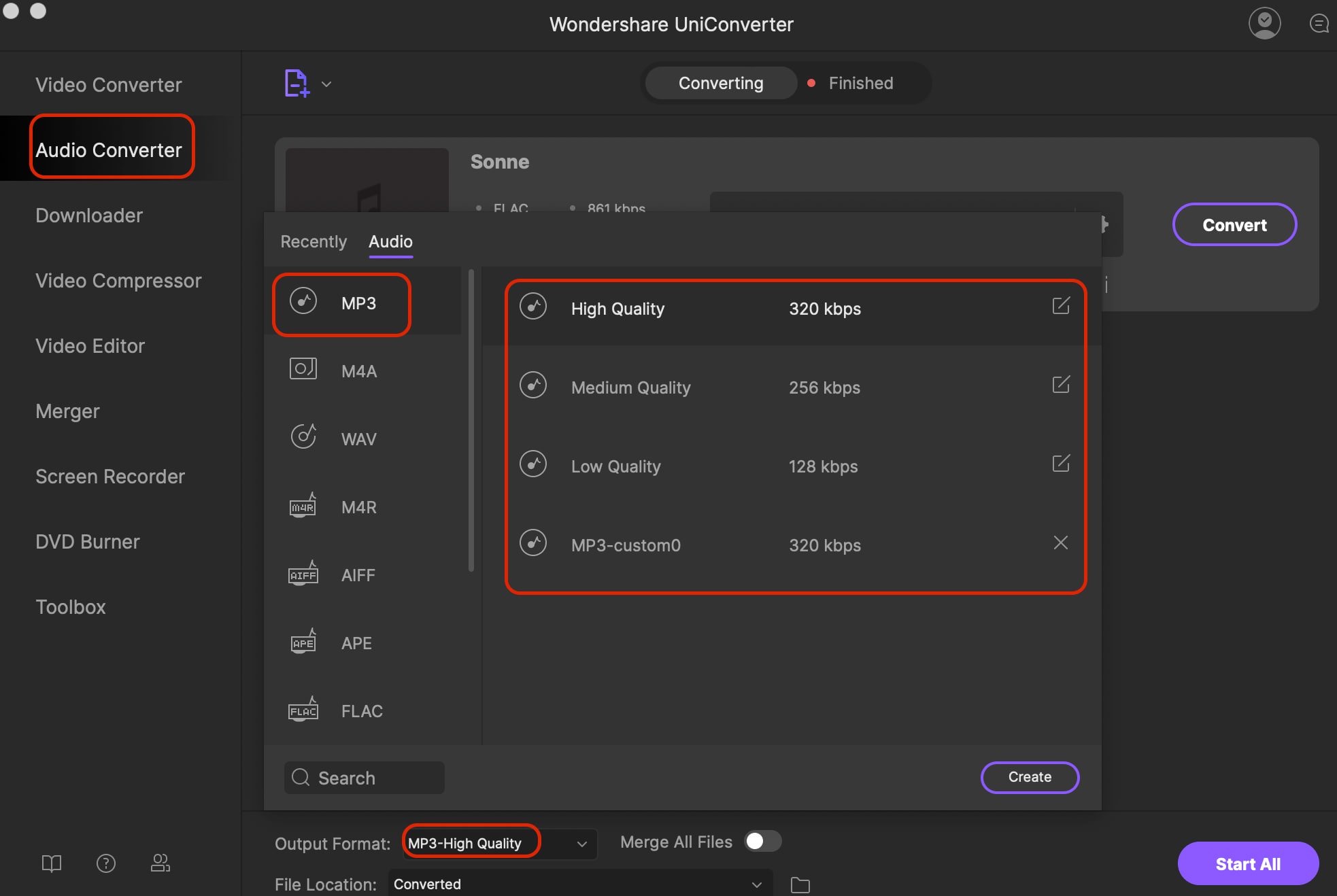 Step 3: Select Output Folder and Convert FLAC to Other Format
At last, you can also select the output destination or the output folder to save the audio file after conversion process is over. Then, click "Convert" option at the bottom right side in the main window of the program to start the conversion of FLAC audio files to MP3 format or others. As a result, the audio file will be automatically converted and gets stored in the desired destination folder as you selected in the program.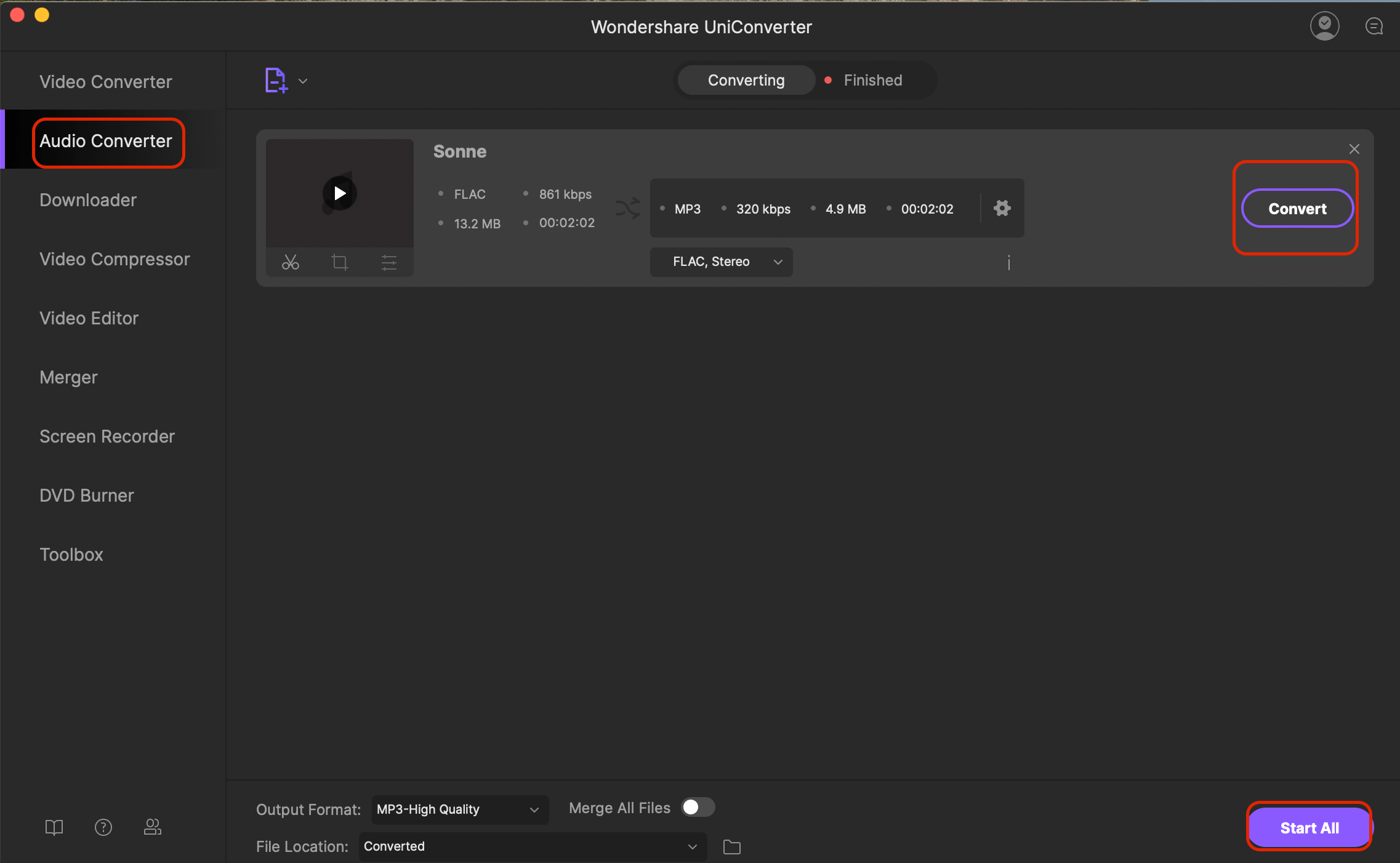 Optional: Free Online FLAC Converter
If you don't want to download FLAC converter in your PC, you can try this simple easy to use online tool to convert FLAC files to any of other video and audio formats.
Note: Because the online tool doesn't support "https", so if the content below was blank, please manually click the "Shield" icon on the right of your browser address bar to load the script. This action is secure without any harm to your data or computer.
Tips: What formats can iTunes convert?
Basically, iTunes supports 5 different types of audio file formats. You can have a look at them by clicking iTunes and select Preferences. Then click the general tab followed by clicking the Import settings.
AAC Encoder: This default choice generally compresses files in Advanced Audio coding (AAC) format. ITunes is capable converting this kind of file formats.
AIFF Encoder: AIFF and WAV file formats encapsulates raw audio data from CD so that the data can be used on computers. This format is usually uncompressed and iTunes convert these files to another format. It consumes lots of space that is about 600-700 MB per disc.
Apple Lossless Encoder: Apple Lossless is created by Apple and it is a lossless audio format.
MP3 Encoder: Most of us are familiar with MP3 files generally which are the catalyst for basic music revolution. iTunes application program converts these file formats into another desired format.
WAV Encoder: WAV is also an uncompressed file format and consumes about same space as AIFF file format.
Thus, these are the general 5 file formats that iTunes application program supports and converts to other file formats.