Everyone out there knows and thinks that MP3 format is the most popular and reliable audio format but there are many others, such as AAC, OGG, and WMA, that people often get confused and frustrated as to which format will work best for them. Here, we will be discussing the WMA & AAC format so that you know which one is the best, and which software can make your life easier by offering exceptional file converting services.
If you wish to use WMA in your software or portable music players, you will be asked to pay a Microsoft fee for that. On the contrary, there is absolutely NO license fee for using AAC in your music players as it is an open standard. Furthermore, AAC is the standard audio format for most of the Apple products. So, if you have any audio files in WMA format and you want to play them on your iPhone, iPad or iPod, you can simply convert WMA to AAC format. Otherwise, they won't work because WMA format is not supported by Apple products. Easier said than done, right? Not anymore. It is very simple to convert WMA files to AAC format now!
Easiest Way to Convet WMA to AAC
You can now enjoy your favorite music or videos on any device with this top-notch video and audio converter. It is a complete package that offers the functions of converting, burning, editing, downloading and playing both videos and audios. It not only deals with WMA and AAC formats but also supports around 150+ formats, be it of videos or audios. Now, we are not asking you to trust UniConverter blindly. It offers a free trial version with no compromise on its features just to make you satisfied.
Convert video and audio files to any format of your choice, and multiple video or audio files can be converted together.
Download videos from Facebook, YouTube, Dailymotion, Metacafe and other 10,000+ video sites with one click.
Inbuilt video editing tools to edit any video including video mode, trim, add effects, watermark, adjust video and subtitle, etc.
Convert your DVD to a compatible format and play on any device of your choice.
Fully compatible with macOS 10.7 and above, up to the latest macOS 10.13 High Sierra, and Windows 10/8/7/Vista/XP.
Step-by-step Tutorial on How to Convert WMA files to AAC
Step 1: Import the WMA Files to the AAC Audio Converter
Download the WMA to AAC converter and click on its icon to open this software. Add the WMA files to the conversion list by using drag and drop technique. Alternatively, you can also use the "Add Files" button to upload the WMA files to be converted.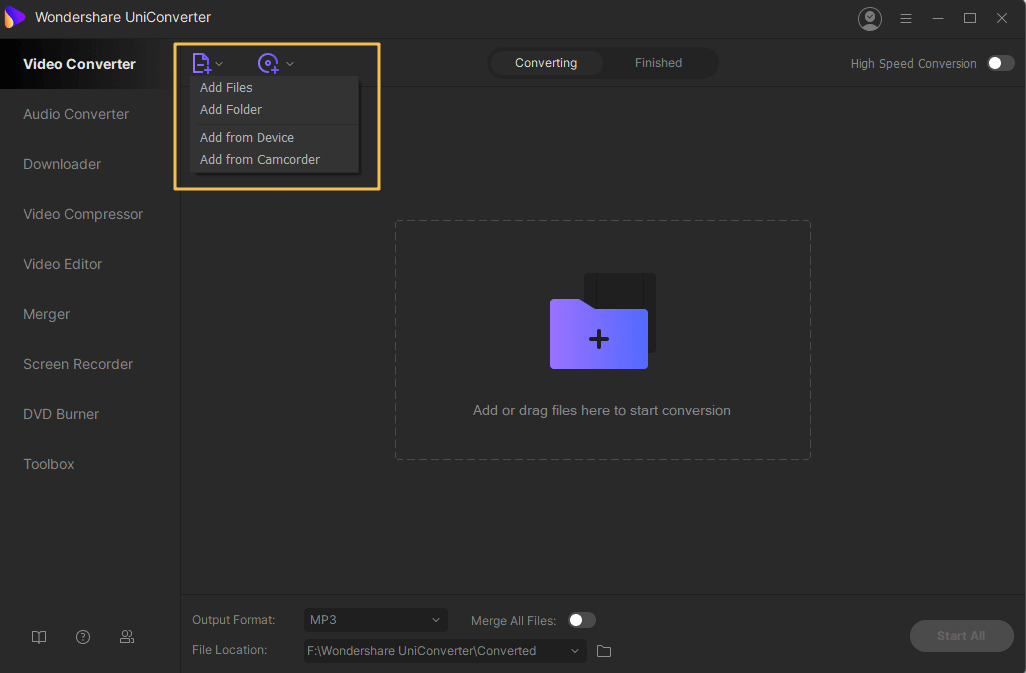 Step 2: Choose AAC as the Output Format
Select the output format you want, for example AAC format in this case. You can also directly choose your device from the subcategory.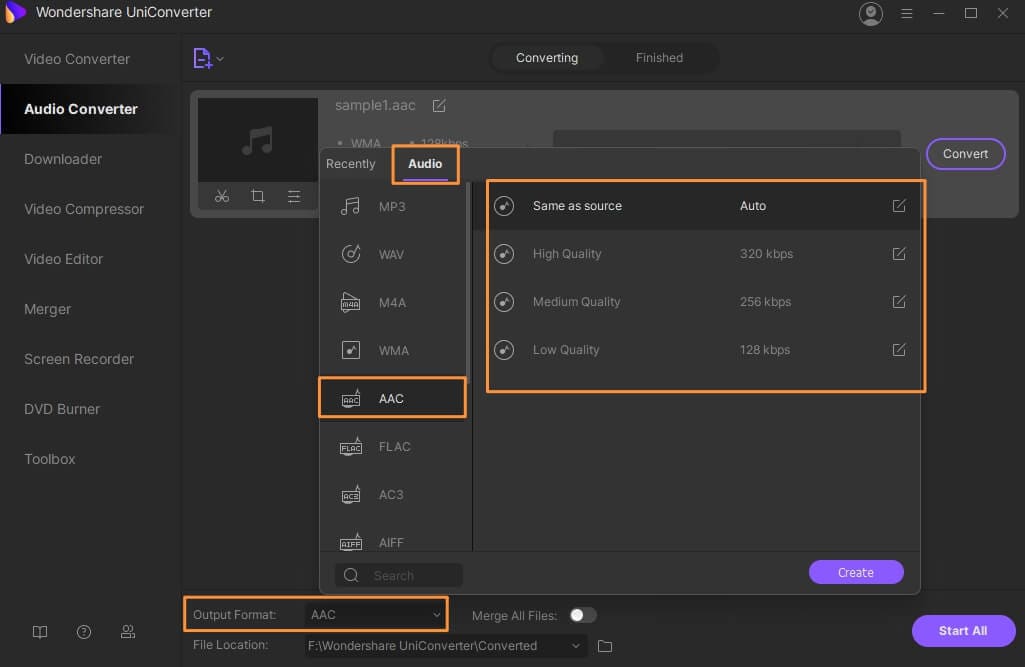 Step 3: Convert WMA to AAC
Choose the 'Convert' option. A dialogue box will be seen when the conversion is completed within seconds in most case.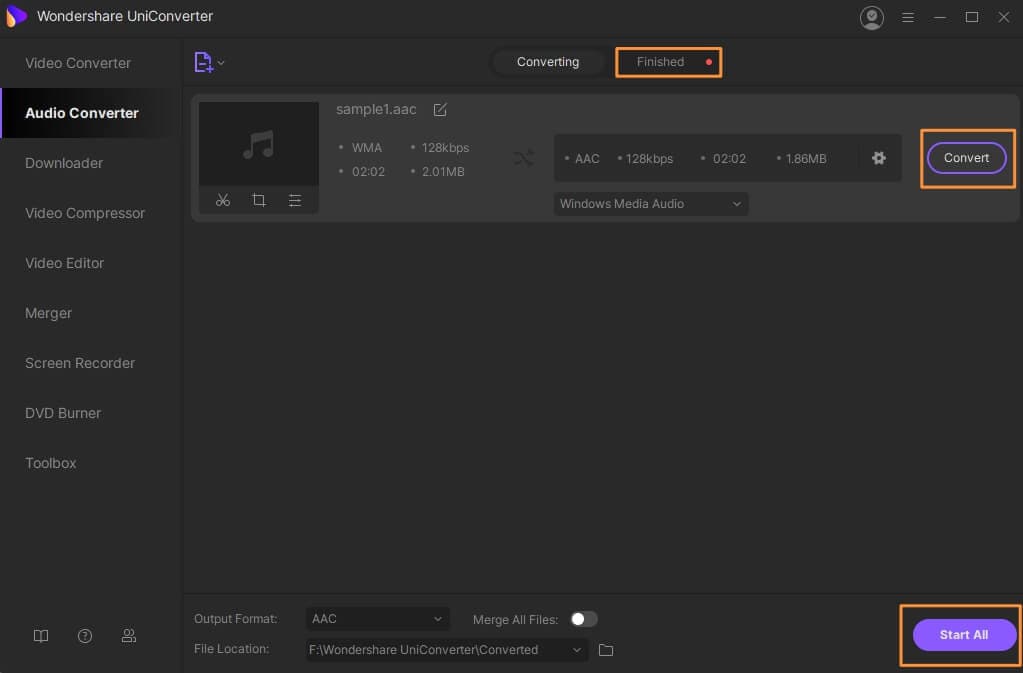 Tips: WMA vs AAC Format
WMA stands for Windows Media Audio and it is a widely used and popular technology which compresses audio data. WMA file extension is utilized in Windows media player to recognize different audio files. However, on the other hand, AAC stands for Advanced Audio Coding and is a lossy, compression and encoding measure of audio files. It is the default format of iPhone, iPod, iTunes, iPad, and YouTube, designed to be the successor of mp3 format. The sound quality that it offers is way better than mp3.
Windows Media Audio (WMA) is a format which is the product of Microsoft and is somewhat similar to MP3 or AAC. However, it does not pose any remarkable or extraordinary advantages over other formats and is not much support either. So, having said that, you may not find any great reasons to convert your files into this format. On the other hand, Advanced Audio Coding (AAC) is similar to MP3, only that it has much more efficiency than MP3 format. It allows you to save up essential space by compressing your files while maintaining the same quality of sound as MP3 format. Moreover, its capability of being played on every kind of device is a cherry on the top.