OGG and AAC are audio file formats that are widely used. However, you may have files in OGG formats and you want to convert OGG to AAC format so that you can use in a specific media player like iTunes. You may opt to convert using online converters or iTunes itself. However, there is a quick way to convert the files professionally. This article shows you how to convert the OGG files to AAC using a iSkysoft Media converter and also give you the difference between OGG and AAC formats.
Best Converter to Convert OGG to AAC or Convert AAC to OGG
UniConverter is a media converter that supports conversion of audios, standard videos, and HD videos. It supports nearly all popular file formats. As of now it supports more than 150 file formats. Moreover, it supports batch conversion of PDF files thus making work easier. While converting the files this software assures of zero quality loss. Other conversion iSkysoft iMedia Converter is built with other comprehensive features discussed below.
Allow you to copy the URL and download the media from different sharing sites like Facebook, Vimeo, YouTube, AOL, Blip, Hulu, Metacafe, Break, Spotify and much more.
Supports editing of videos like trimming, cropping, splitting and rotating videos, add watermarks, subtitles, adjust volume, saturation and so on.
Convert between more than 150 video and audio formats including HD video, and directly convert to your mobile devices, such as iPod, iPhone, iPad and Android phones.
Inbuilt media browser that allows you to browse media files from your local folder and easily manage your local and converted video and audios.
Free lifetime updates once you have purchased it with technique support whenever you need.
How to Convert OGG to AAC Using iSkysoft
In this section we will show you how to convert OGG to AAC using the Mac version although the steps are similar to that of windows. Remember you can download a free version of this software but you will be limited to the number of files that you can convert.
Step 1: Upload OGG File to the AAC Converter
When you have installed this software on your Mac, you then launch it. Click on "Convert" icon and click on "Add Files" button. You can also head to "File" and click "Load Media File" and it will enable you to browse files from your local folder. Also you can drag the OGG file and drop to the program interface.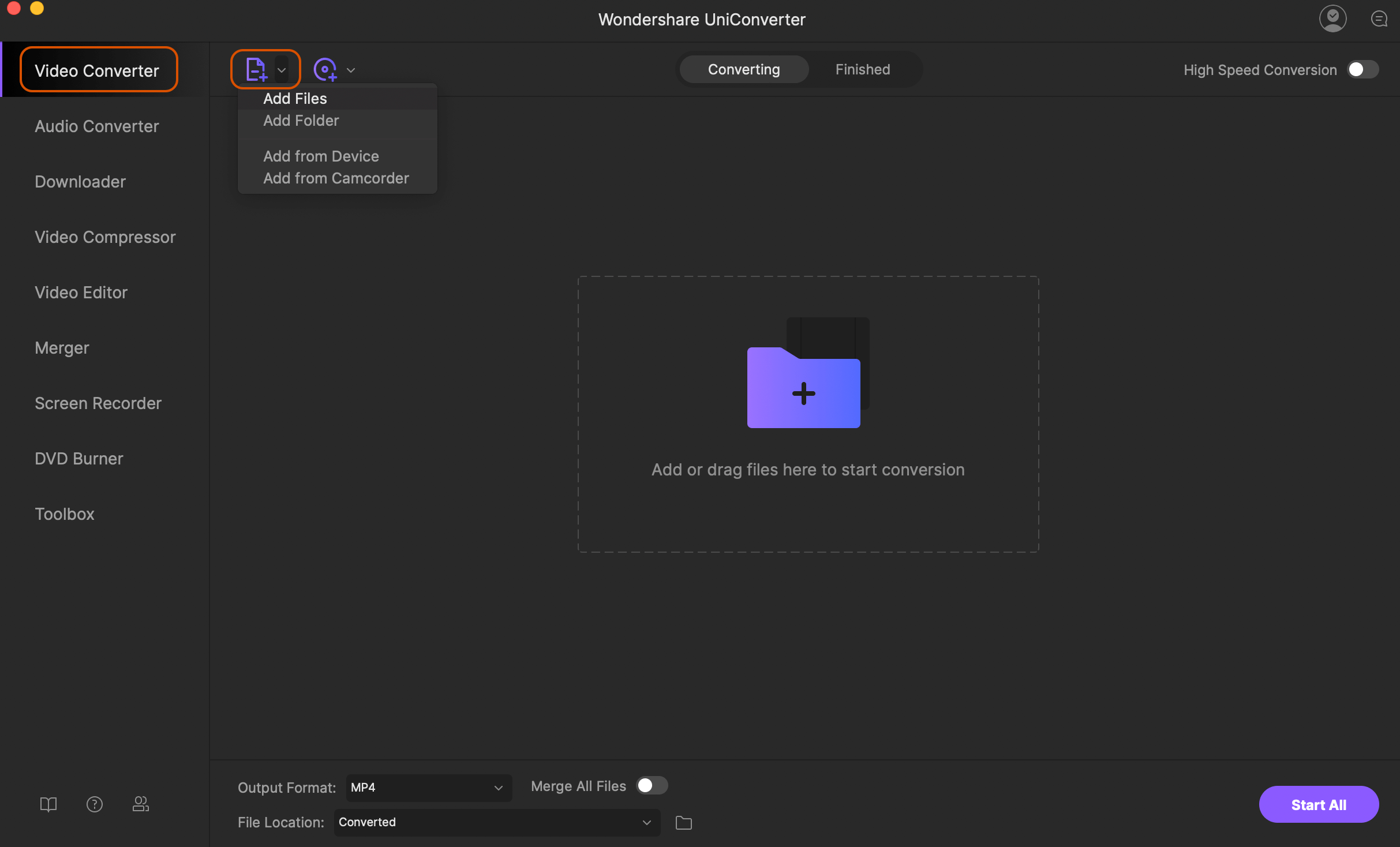 Step 2: Choose AAC as Output Format
The OGG file will now appear on the program window. You will then have to move towards the right of the screen and click on "Convert all tasks to" icon. Then click on "Audio" and then scroll through until you find "AAC" format. Click on it and then choose the output folder just below the output icon.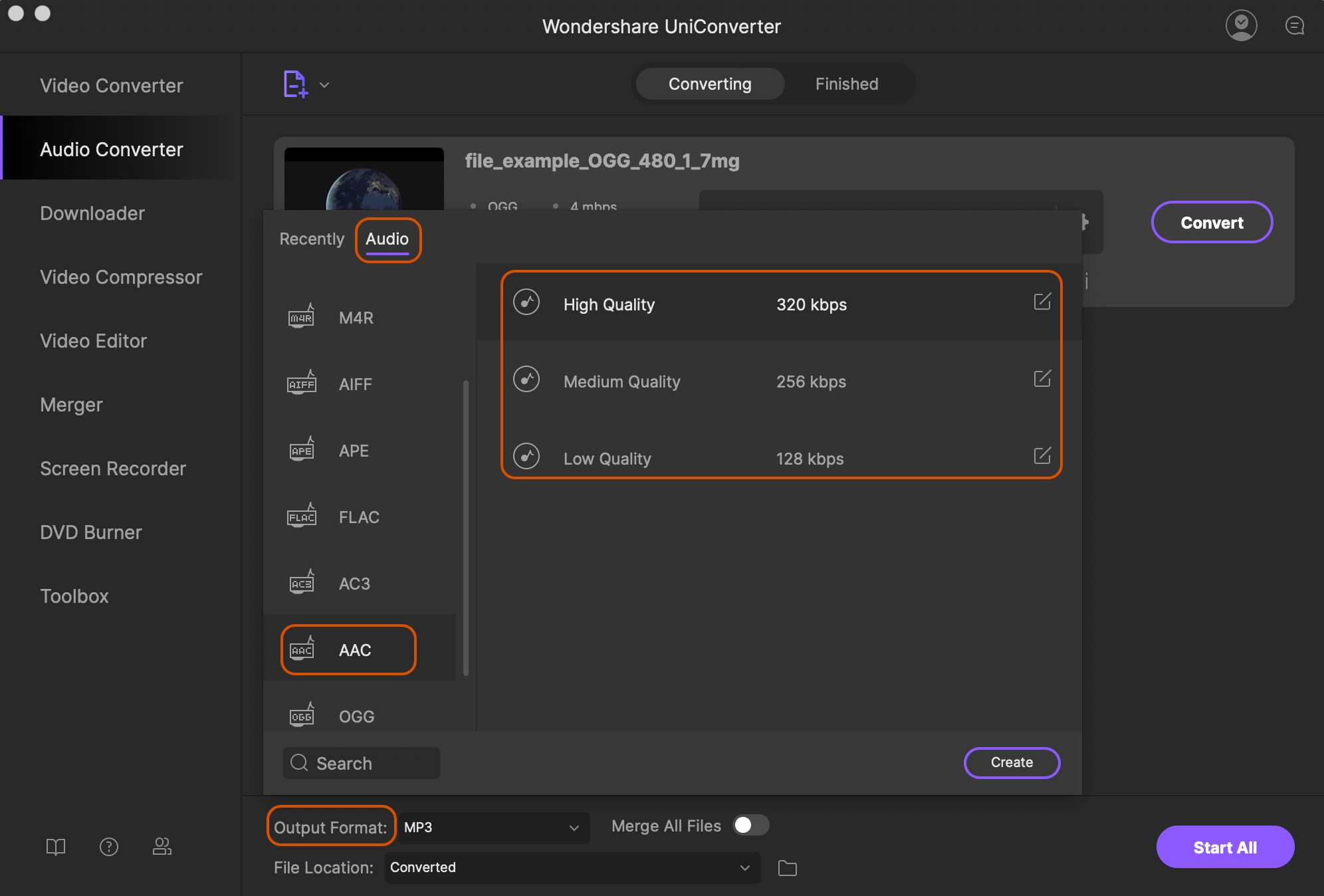 Step 3: Convert OGG to AAC
From there, you can now click on "Convert" at the bottom right and the software will begin to convert the file. Once it is complete a message will pop up prompting you to open the file. That is how to convert OGG to AAC using UniConverter.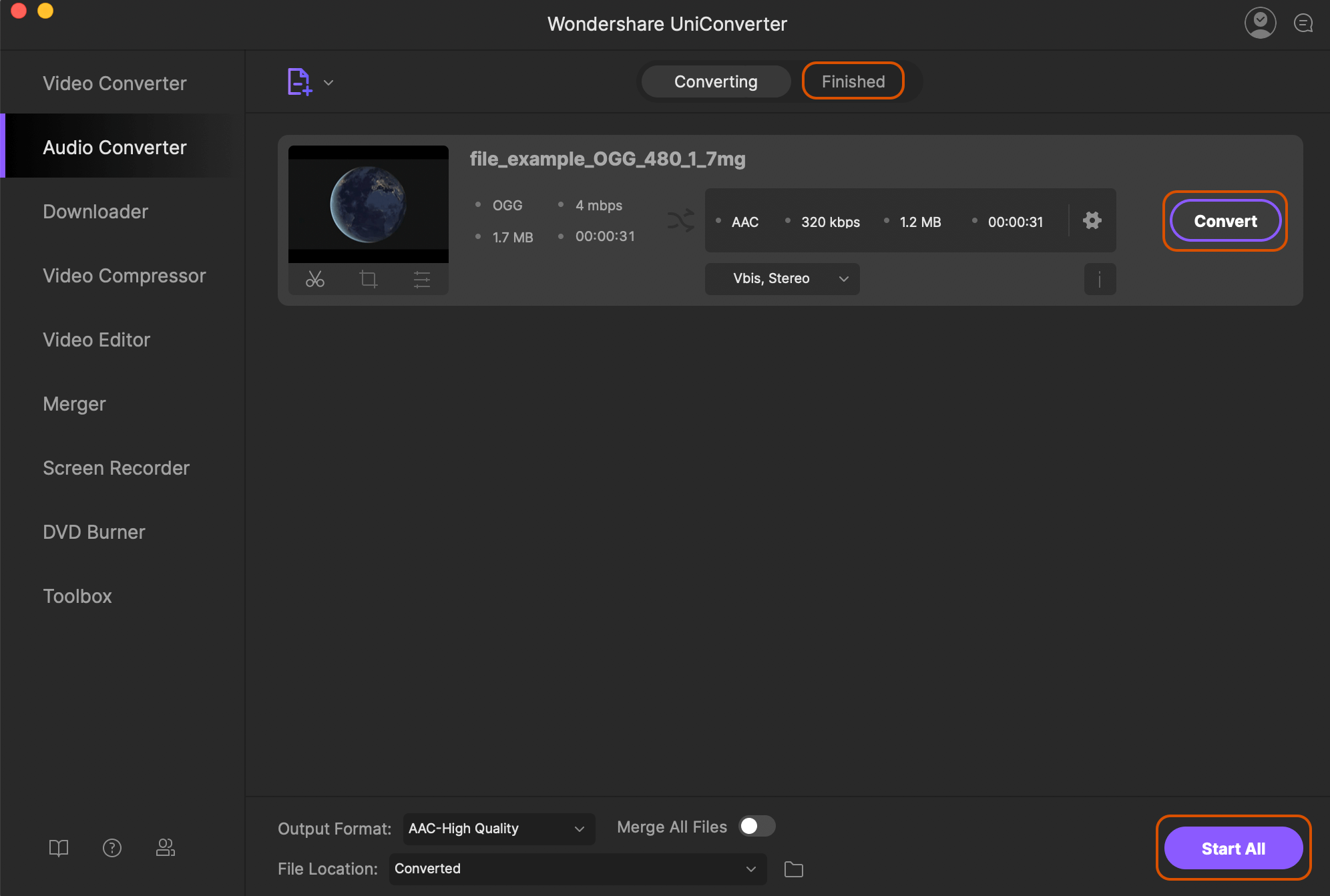 Tips: AIFF or AAC Format
What is OGG Format:
OGG is also an audio format like AAC. It is a file container that contains audio and metadata developed by Xiph.org. This open source file format is restricted to few media players like VLC, iTunes, Windows Media player and Foobar2000. OGG also boasts of good sound quality.
What is AAC Format:
Advanced Audio Coding always abbreviated, as AAC is a lossy digital audio compression format that is of high sound quality. It is a standard format that is part of MPEG 2 and MPEG 4 specifications. AAC file formats exhibit .aac file extension. It is used by iTunes and as it is default encoding method. AAC is also compatible with a variety of media players such as VLC, Windows Media player, Mplayer, and Audials One just to name a few.
Differences between OGG and AAC:
Although AAC and OGG audio formats, there major distinction between these files that are listed below.
• AAC takes .aac file extension while the OGG file takes. Ogg file extension.
• AAC is a coding format whereas the OGG format is an open source media container.
• AAC supports several media players whereas the OGG file is a limited media player.
• The developer for AAC by Sony, Nokia, Bell labs, Fraunhofer Institute, Dolby Labs while OGG was developed by Xiph.Org Foundation.
AAC and OGG are two lossy formats that you can use due their high quality sound.