Is it possible to convert FLAC to M4A or convert M4A to FLAC?
With the emergence of different media players, you will find a media player that does not FLAC format, and you will be forced to convert them. A file format like FLAC can be converted to M4A format. On the other hand, M4A format can also be converted to FLAC format. This sounds good, right? But you need to have a third party that can enable you to convert these files flawless either on Mac or Windows platform. In this article, we will introduce you to comprehensive software that you can use to convert FLAC and M4A files on your Mac or PC.
Part 1. Easily Convert FLAC to M4A on Mac/PC
UniConverter is a popular media converter known for its ability to convert, edit, burn and backup media files. When it comes to media conversion, UniConverter supports different audio formats like, FLAC, M4A, AA, APE, WAV, ALAC, WMA, AAX, OGG, AC3, AAC just to name a few. It can also convert video formats whether standard formats or video formats. Some of the supported video formats include; HD MKV, TP, TRP, HD MOD, HD MOV, HD FLV, MKV, MOD, TOD, WMV, DV, ASF, AVI, MP4, MPG, MPEG, RM, RMVB and others. From this video formats, you can extract audio files that are of high quality. With UniConverter program, you can be able to convert your media files in a batch. This program boasts of high speed besides its simple user interface. It is also built with other functionalities that are highlighted below.
Get the Best FLAC to M4A Converter:
UniConverter is a video editor that allows you to add watermarks, subtitles, effects, crop, rotate, merge and adjust ASR, brightness, volume and saturation.
It is built to download video from different online sharing sites like Hulu, Metacafe, Blip, Facebook, Vimeo, YouTube, FunnyorDie, Blip, Break and much more.
It is integrated with a DVD media toolkit that edits, burns and converts DVD media files.
It can also convert your audio or videos to device preset formats of iPhones, iPads, Apple TV, Oculus Rift, XBOX, and Android brands like Samsung, Sony, HTC, LG, Motorola and much more.
It is compatible with Windows XP, Vista, 7, 8 and 10. For Mac users, you can install it on macOS 10.7, 10.8, 10.9, 10.10, 10.11 and 10.12.
3,981,454 people have downloaded it
How to Convert FLAC to M4A using UniConverter for Mac
Step 1. Upload FLAC File
After opening the program on your Mac, go to "File" menu and select "Load Media Files" option. A window will pop up, and you will be able to upload the FLAC file. You can also drag and drop the files to the program. Alternatively, at the centre of the screen, you will see "Add Files" button. Click on it, and you will be able to upload the files.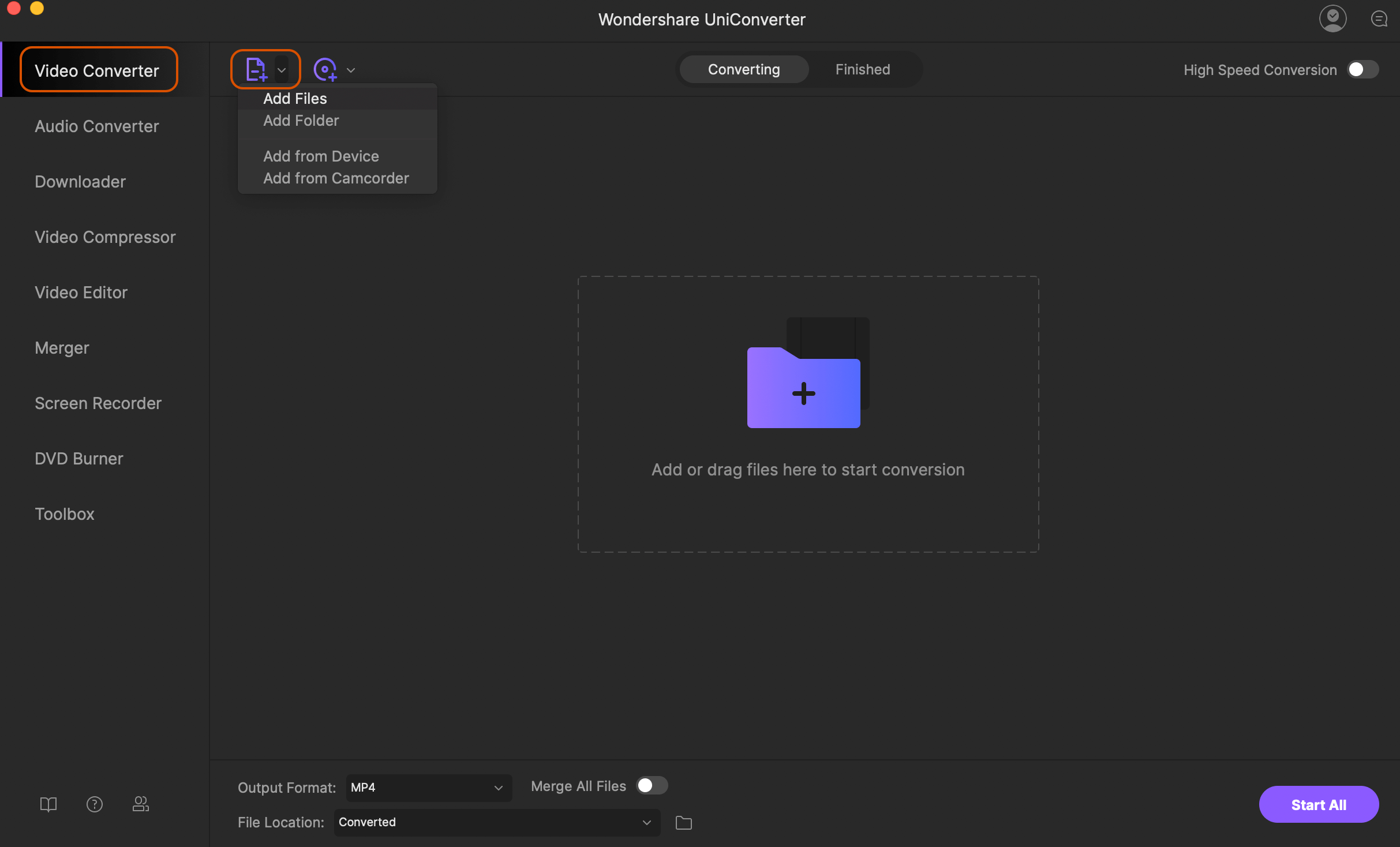 Step 2. Select M4A as Output Format
Next, click on "Choose Output" format at the mid-bottom of the screen. You will then click on "Audio" icon to get M4A format. Scroll through until you get M4A format. Click on it and go a head to locate the folder that you want to save the files. By default, the files are saved on UniConverter Folder.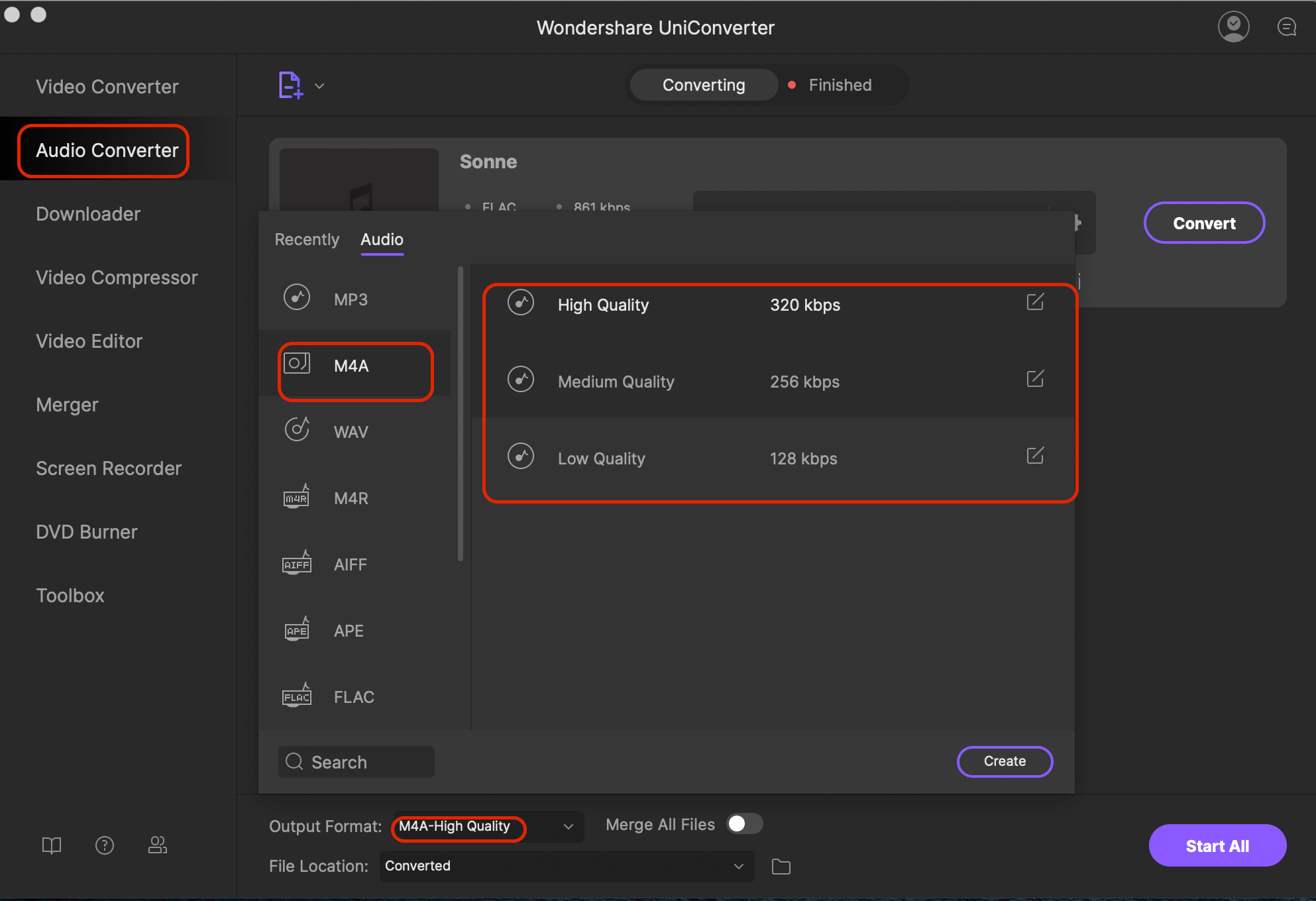 Step 3. Convert to M4A
Now click on "Convert" button. You will the conversion progress on the screen. You can then open the file from the saved location. It is simple, right? And if you want to convert FLAC to Apple Lossless audio file, please check here to learn more.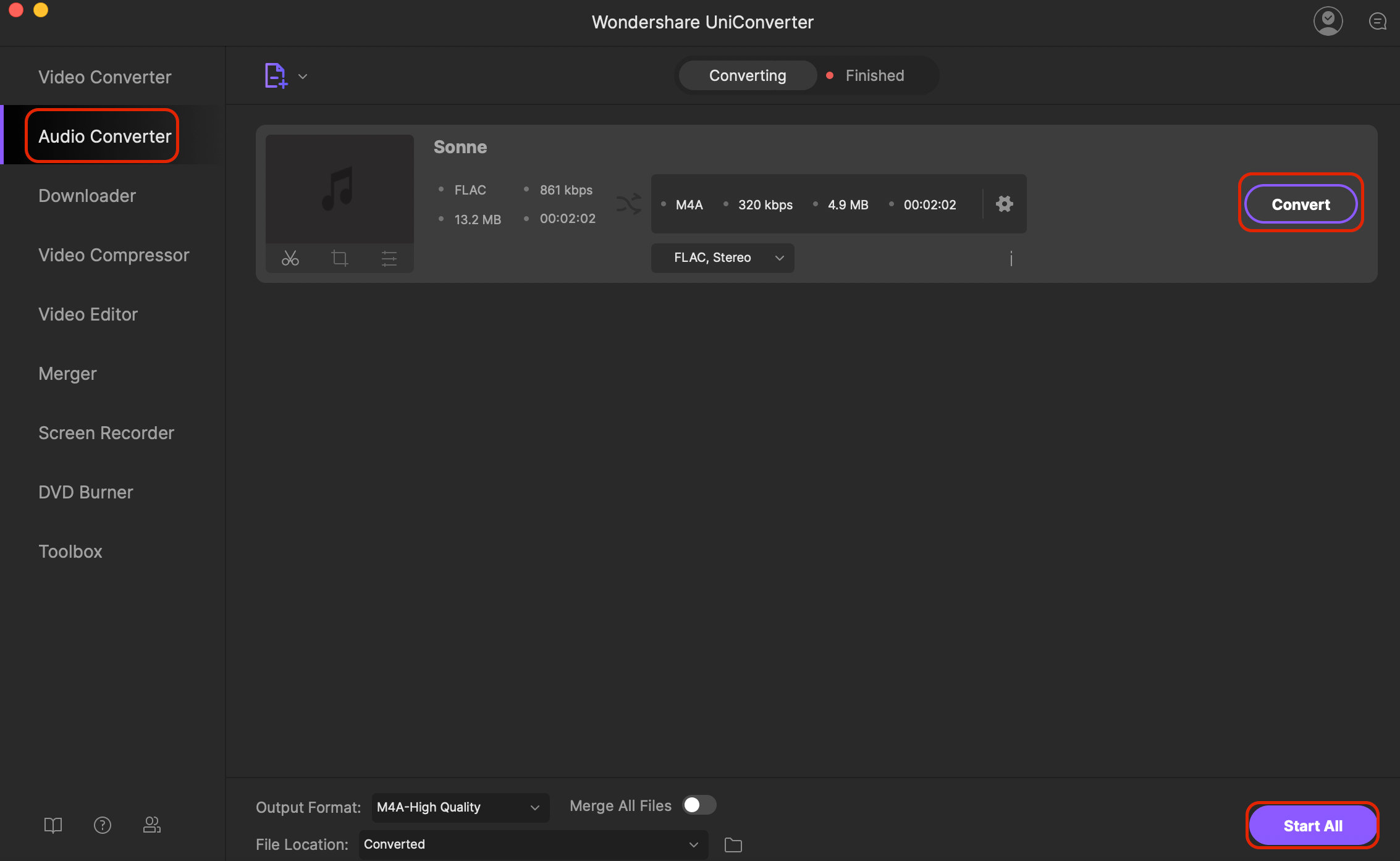 Part 2. How to Convert M4A to FLAC on Windows PC using UniConverter for Windows
On Windows platform, you can also install UniConverter for Windows and convert FLAC to M4A or from M4A to FLAC. However, in this guide, we will show how to convert the M4A to FLAC with UniConverter.
Step 1. Upload M4A File
Open the software on your PC and then upload the M4A file. Besides using its inbuilt browser, you can click on "Add Files" button at the top left of the screen. A window will pop up that will enable you to browse the music files on your computer, select and then open the file with the program. Also, you can drag and drop the M4A file, and it will be uploaded to the program.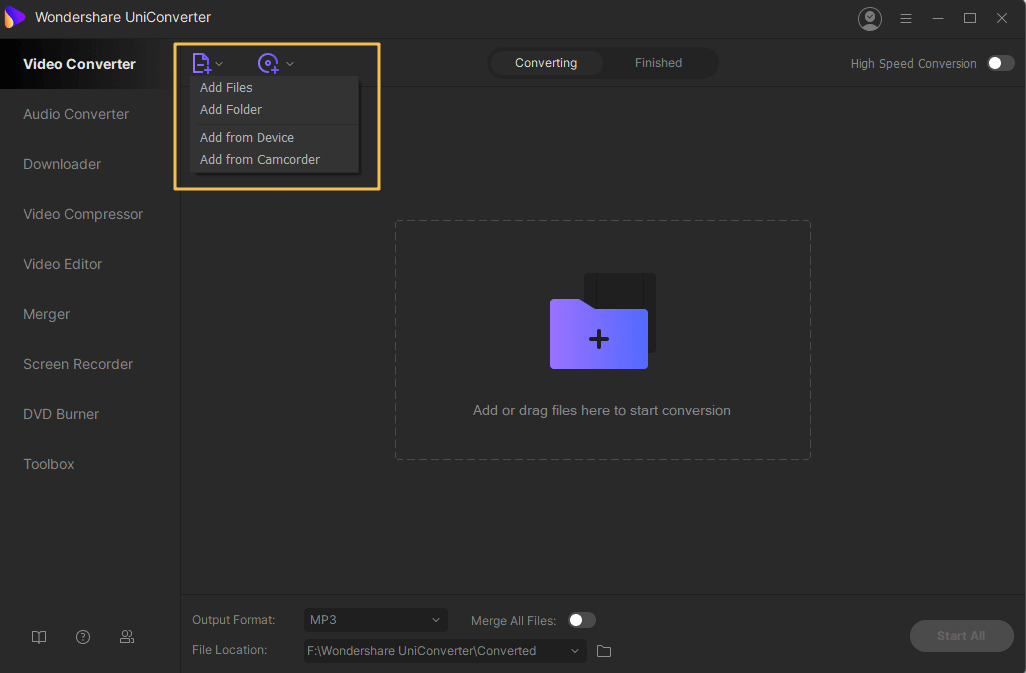 Step 2. Choose Output Format
You will see the FLAC file that you have uploaded on the program. Now move the cursor to the upper right and locate "Choose Output" icon. Click on it and proceed to "Audio" format. Click on "FLAC" option as the output format. If you had used this program before and you had selected FLAC format you will find it under Favourites. Next, you need to choose the output folder where the converted file will be saved on your PC.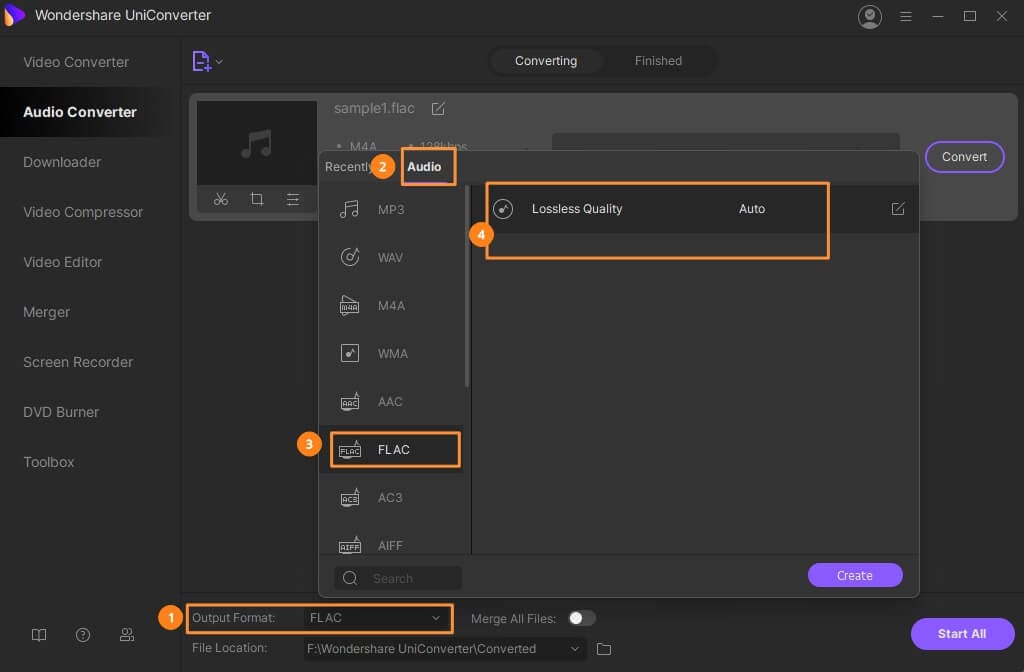 Step 3. Convert M4A to FLAC
When you have ensured all the output settings are correct, you can now convert your file. Click on "Convert" button and the program will automatically convert the M4A file to FLAC. Within a few seconds, the file will be converted, and the program will enable you to open the file.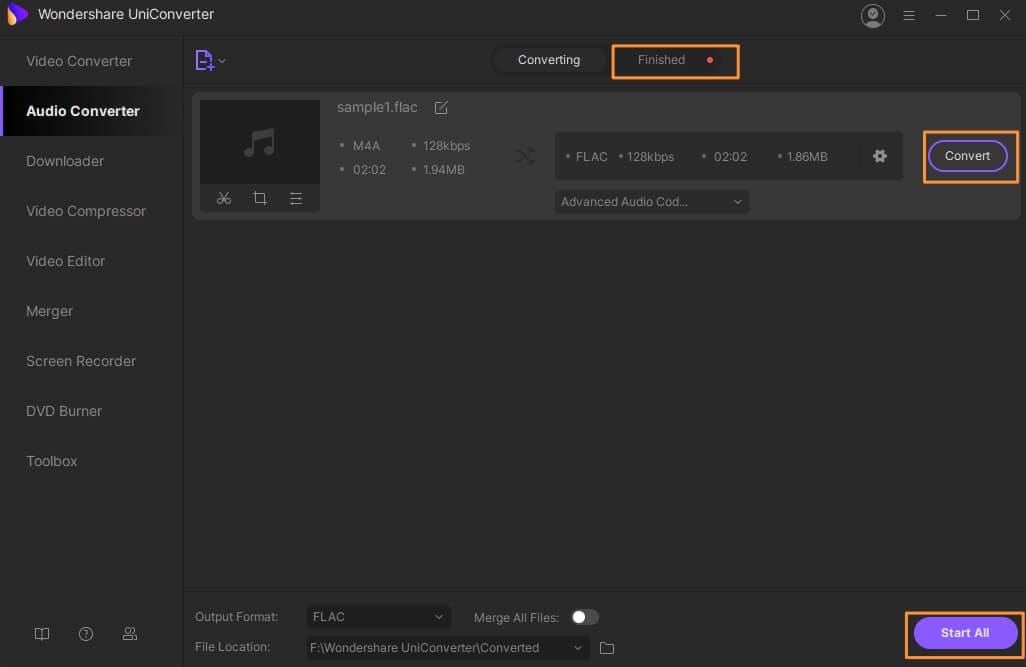 Converting audio files with UniConverter is the way to go since it is fast, simple and there is no loss of quality. This software is cross-platforms, and it supports both Windows and Mac. Also, it supports different file formats, and it is a multifunctional tool. You can also download a free version where you can later purchase it.