First of all, read more about what are FLAC and AIFF file format. AIFF is nothing but the uncompressed audio format designed by apple and FLAC is a free lossless format. AIFF is basically supported by all apple devices and its software, but FLAC is not compatible with all apple devices and software's. Thus, in order to play music files in apple and its related devices it's necessary to convert FLAC to AIFF file format. AIFF file format has added advantages as that of FLAC format such as improved quality, compatibility, space and other options. Use the Best FLAC to AIFF converter 'UniConverter' which can be used by Windows/Mac users for quick results.
Part 1. Convert FLAC to AIFF in Windows
Are you looking for the best FLAC to AIFF converter? Well, UniConverter is the best remedy for your query. It's nothing but an all in one tool with huge collection of stunning features and advantages. It is capable of converting audio files with improved quality and efficiency. You can also employ optimized presets to play the audio files in any other device you need. UniConverter makes the conversion process easier and also a super easy task. Another fascinating advantage is that it comprises of video recorder which helps you in recording video and music files whenever you want. In this application, you can also experience backups in a handy manner that helps you to store your files with no loss of quality.
Burn media files to DVD discs and convert those DVD files to any other desired format of your preference, you can also backup those files using this video converter.
Not only tailored to work on sites like YouTube, Vimeo, Facebook but also collaborates with other video streaming websites such as Hulu, Vevo, Vimeo, Metacafe and 10,000 more.
Comprises of GPU hardware acceleration and it also provides instant conversions at 90X times faster speed.
Customize audio settings like channel, Bitrate, Encode settings, trim, edit and so on.
Unique one-stop solution that handles video, audio and DVD file conversions perfectly for Mac and Windows OS.
3,981,454 people have downloaded it
Easy Steps to Convert FLAC to AIFF using iSkysoft in Windows
Step 1: Add FLAC file to iSkysoft FLAC to AIFF Converter
You can add FLAC audio files by using drag and drop method. Initially, select the file that need to be converted and then drag & drop the file in the main window of the application software to initiate conversion process. You can also go to file and then choose load media files to locate the desired file. Also, you can upload using media browser from frequently used places.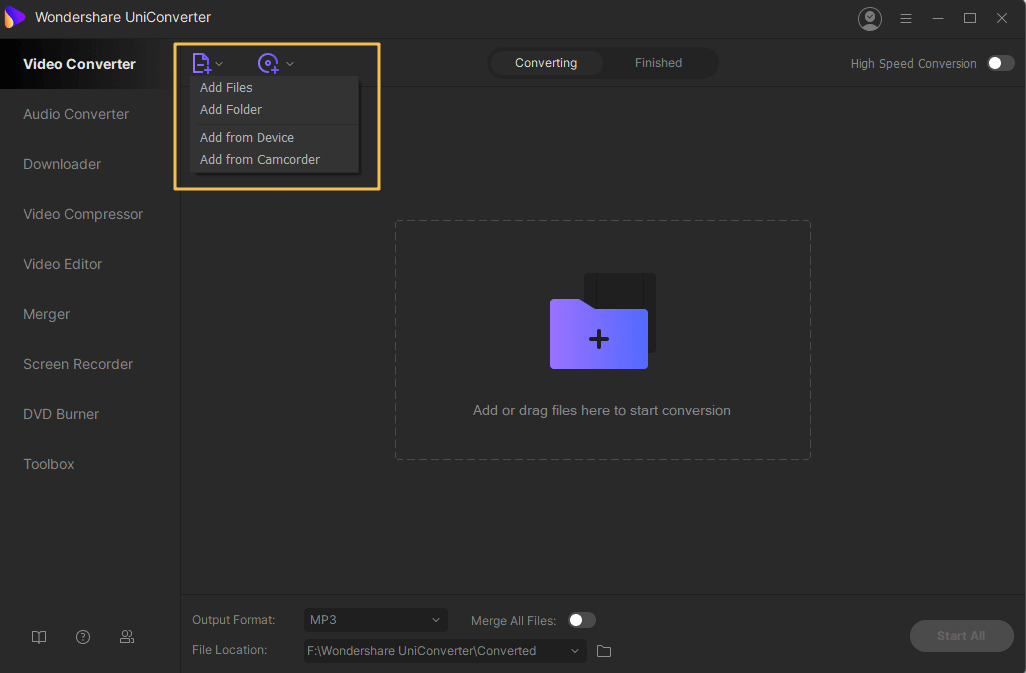 Step 2: Set AIFF as Output Audio Format
Now choose the audio format as AIFF from the audio category. You can also edit or customize the audio file settings such as Channel, Bitrate, Encode settings, and so on.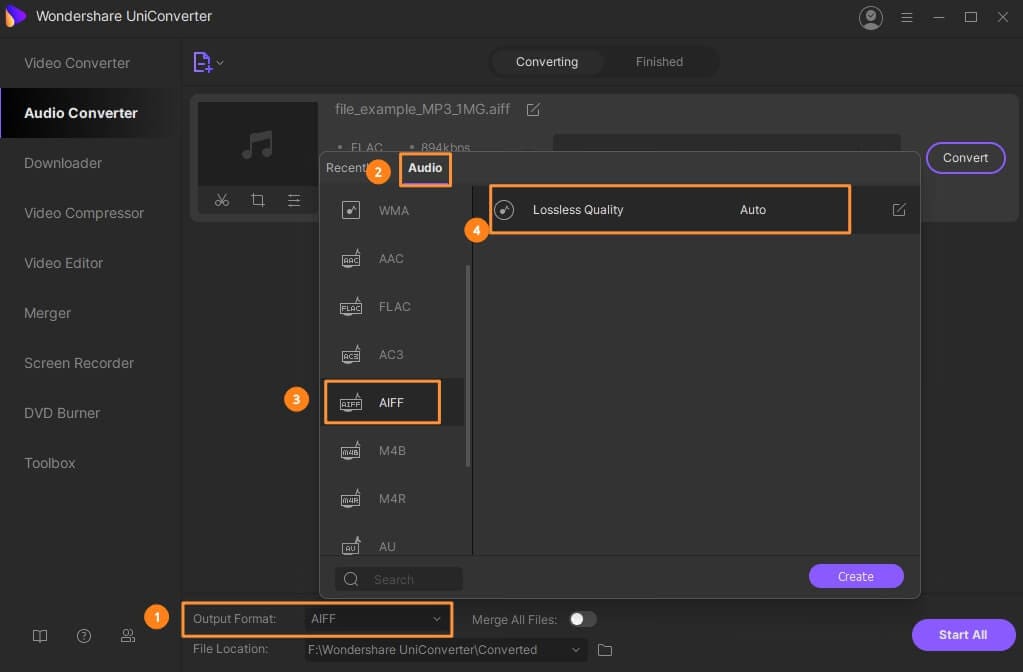 Step 3: Start Converting FLAC to AIFF
Choose a file destination. After that, select the Convert button. As soon as conversion is completed, the files gets stored in the selected output folder. You can also change this destination by selecting the desired folder before starting the conversion process. Thus, by clicking open button in the main screen you can listen to the converted AIFF audio file anywhere anytime.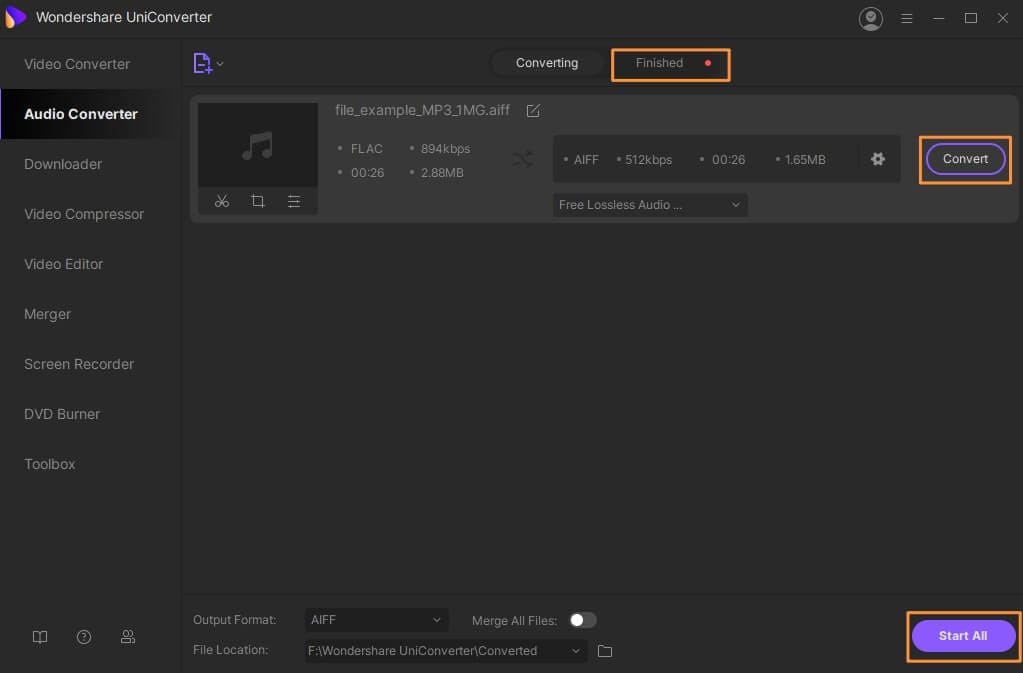 Part 2. FLAC to AIFF Converter for Mac
For Mac users, please click UniConverter for Mac for more features. Once downloaded and installed the FLAC to AIFF converter for Mac version, we could begin with the following steps to get how to convert FLAC to AIFF.
Step 1: Upload the FLAC File to the Converter
Start the conversion process by opening the software tool on your Mac OS. Then, upload the FLAC media file that needs to be converted. You can add FLAC file by clicking "File", "Load Media Files" Button. Then, you will be directed to media files and from that list choose the desired file that needs to be converted. Alternatively, you can also upload the FLAC files by using drag and drop to import the target audio file into the program's primary window.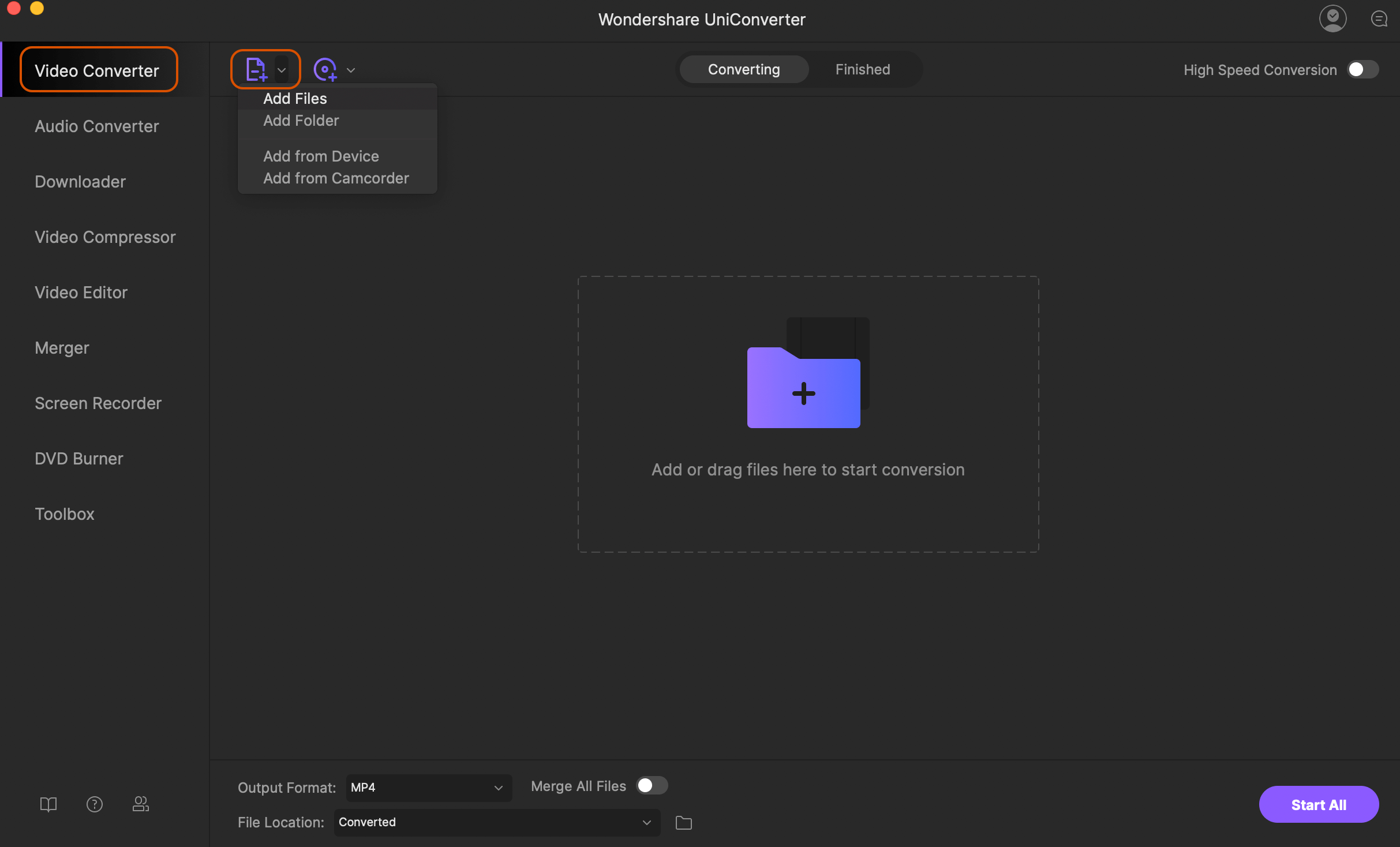 Step 2: Select AIFF as the Output Format
To select AIFF as the output format, click AIFF format and then choose the "Audio" menu. The supported audio formats will be displayed on the screen and you can simply choose the AIFF format as your choice. You can also customize the encode settings and other settings of the audio file.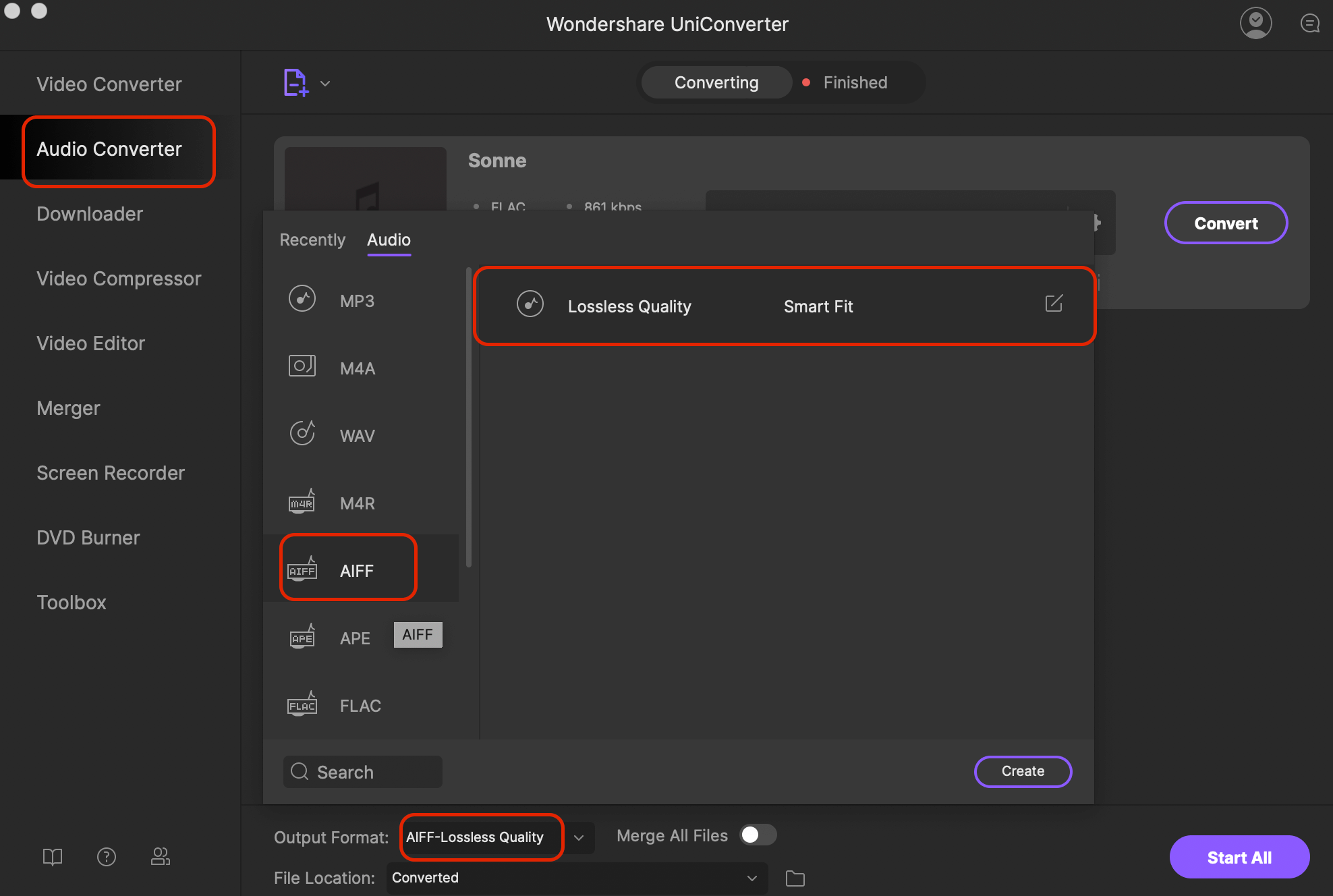 Step 3: Choose Destination and Start the FLAC to AIFF Conversion
You can decide and choose the destination for your AIFF file to be stored. You can create a new folder or save it in the existing folder. You can also leave it in the default format. After that, you can complete the conversion process by choosing "Convert" button in the main screen.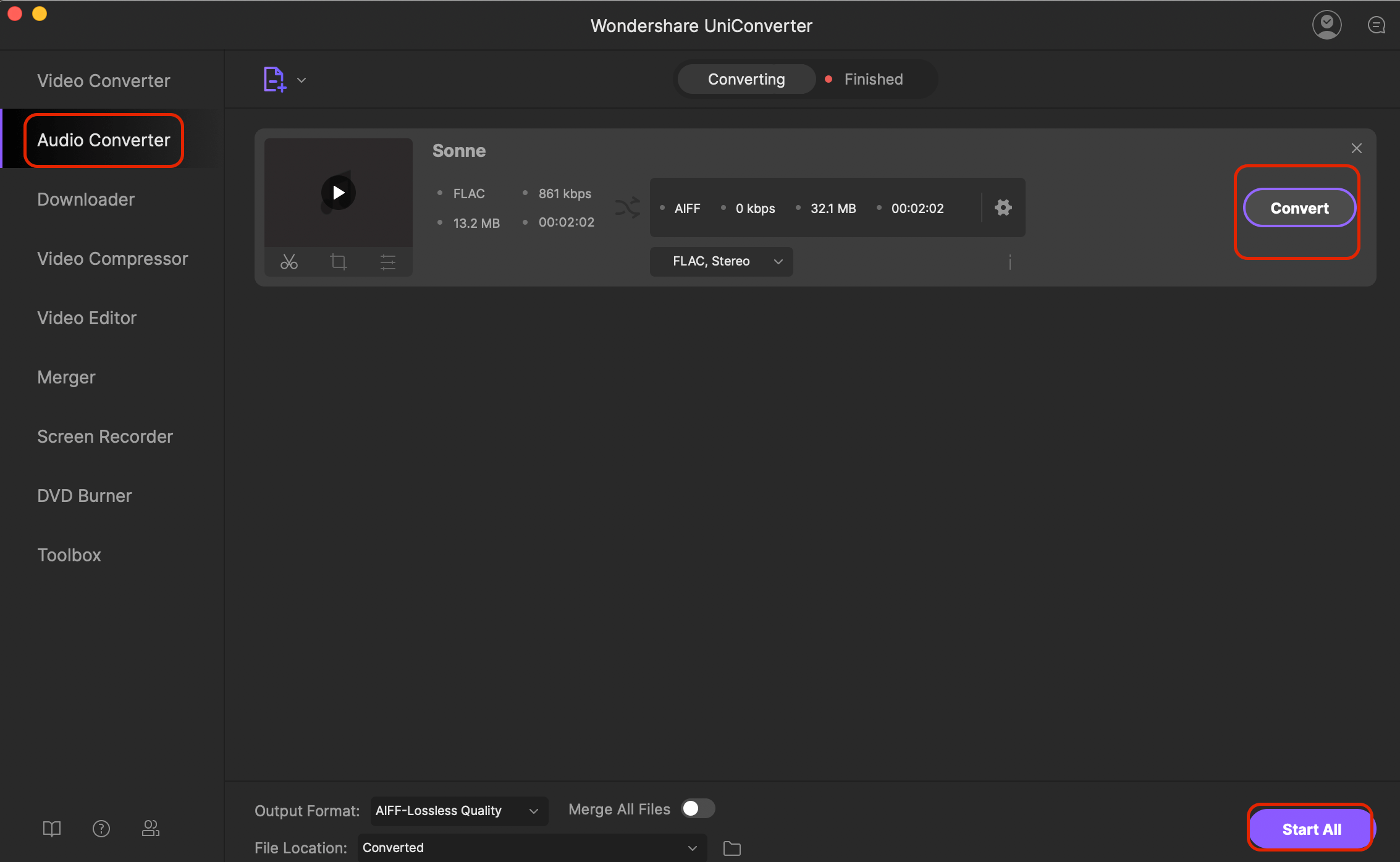 Notes: For conversion from AIFF to FLAC, click to get step-by-step tutorial for AIFF to FLAC converter.
Optional: Free FLAC to AIFF Converter Online
If you want to convert FLAC to AIFF without installing a desktop software program, just try this free online FLAC to AIFF converter below:
Note: Because the online tool doesn't support "https", so if the content below was blank, please manually click the "Shield" icon on the right of your browser address bar to load the script. This action is secure without any harm to your data or computer.