Most portable media players do not commonly use AFF due to its large size. AAC, on the other hand, being a lossy format occupies a smaller space, and it is popular in portable media players due to its sound quality. For that reason, users may want to convert AIFF to AAC format for personal listening. Converting AIFF to AAC is easy once you have a powerful audio converter. You can convert AIFF to AAC effortlessly using UniConverter. The conversion procedure has been discussed in the next section of this article.
Best Converter to Convert AIFF to AAC or Convert AAC to AIFF
UniConverter is just the audio converter that you need for your AIFF to AAC conversion needs. The tool supports conversion of both video and audio files, and you can convert between more than 150 file formats. It converts files at a fast rate, and there is no compromise on the quality of the original file. Besides, you can choose to convert more files at the same time and save much time. It has no limit to the size of files, and therefore you can convert many files at the same time. Moreover, you can choose the output format according to the device type, and the converter will transform your files to the formats supported by that device.
Support more than 150 video and audio formats such as AAC, MP2, MP1, MP4, MP3, OGG, VOB, 3GP, MKV, WMA, AIFF, APE, M4A, WAV, etc.
Inbuilt editor with editing tools such as crop, trim, merge, cut, add special effects, subtitles and watermark, etc. for better output specifications.
Support the recording, upload, and download of videos from the popular sharing sites including Facebook, MyVideo, YouTube, Vimeo, Vevo and much more.
Convert directly to the formats that are compatible with devices such as iPad, iPod, iPhone, Apple TV, gaming consoles and Android devices.
Builtin DVD toolkit to help copy, burn and convert DVD content. You can also backup your content on an empty DVD.
How to Convert AIFF to AAC using iSkysoft
Step 1: Import the AIFF File to the AAC Converter
Run the program on your computer by double-clicking on its icon. Then you can add the file by going to the main interface and then clicking "Add Files" to choose the AIFF file from its location. You can also apply the drag and drop method to import files. The program supports batch conversion, and therefore you can add multiple files at a go.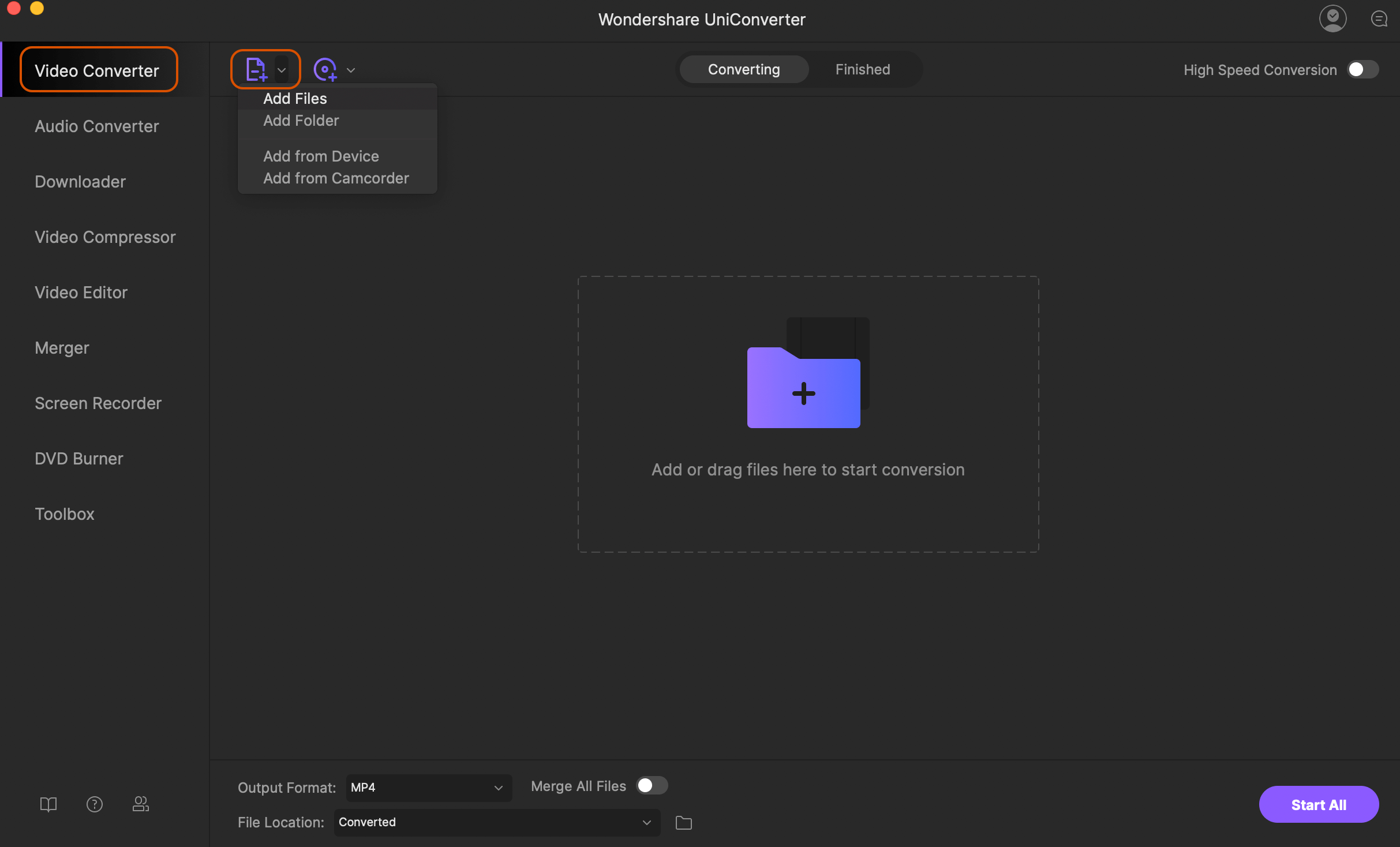 Step 2: Choose AAC as the Output Format
Navigate to the "Convert all tasks to" then go to "Audio" tab to view the supported audio formats. Click to select "AAC" as the preferred format. If you need to change the encoding settings, just click the Edit icon.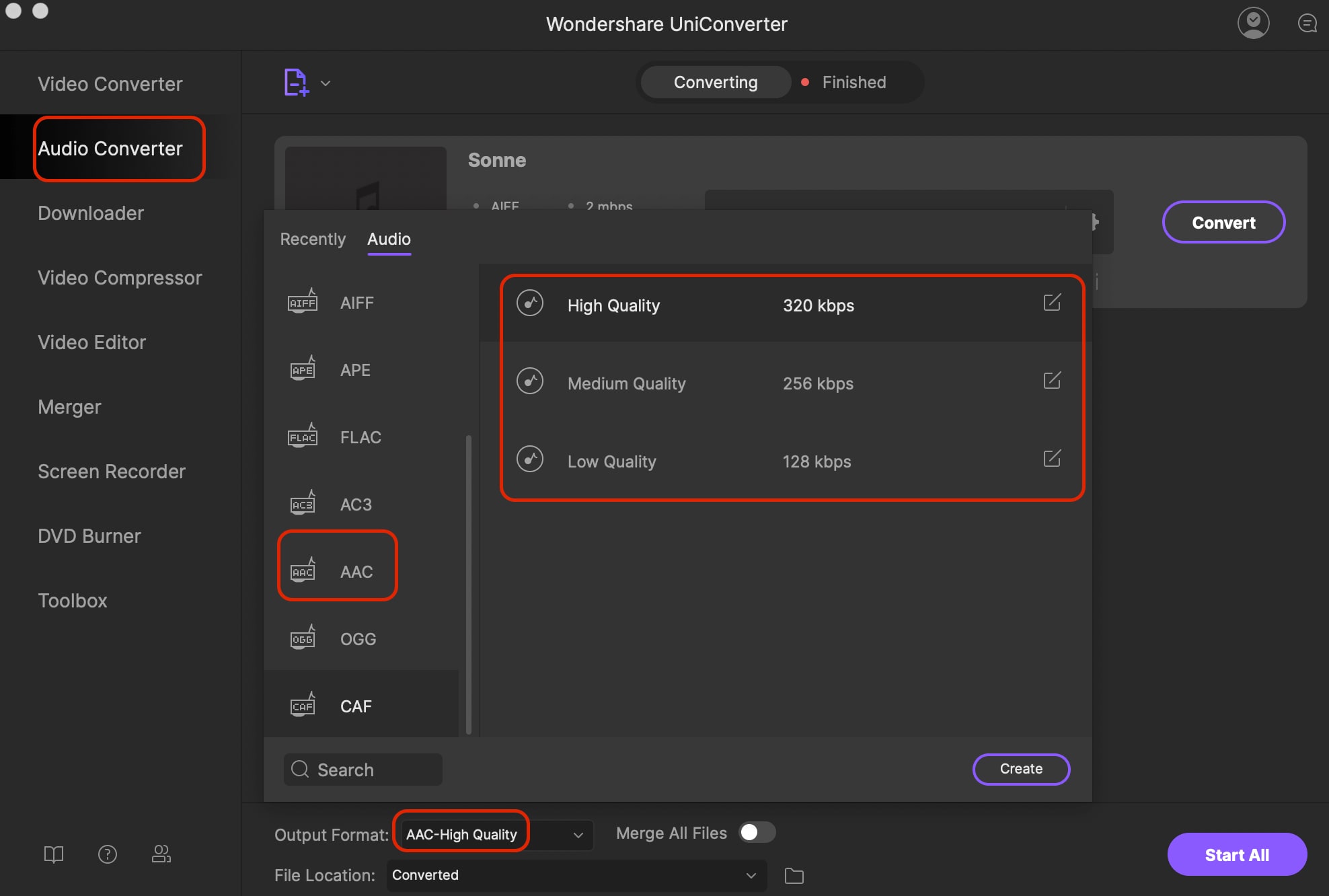 Step 3: Convert AIFF to AAC
Once you are satisfied with the settings, you should choose a folder to save your converted file. Click on the folder to save the file and then hit "Convert" to convert your imported AIFF to AAC. The process will take a short time, and all the imported files will be converted for you.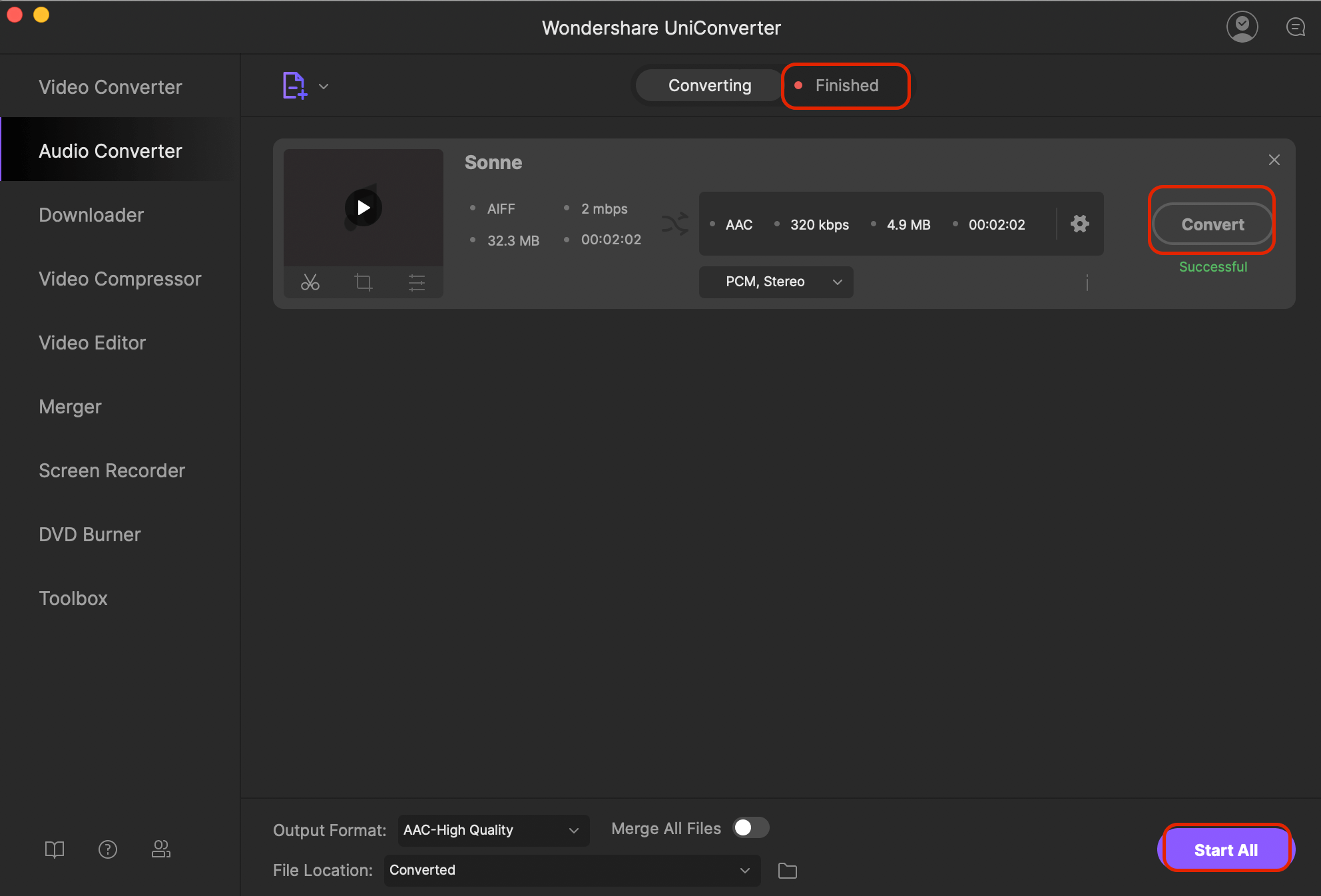 Tips: AIFF or AAC Format
What is AIFF Format:
AIFF stands for Audio Interchange File Format. It is a standard format used for storing sound data for personal computers and other electronic audio devices. Apple Inc. based on the Electronic Arts' Interchange File Format (IFF) developed the file format. It is mostly used in Mac computer systems.
What is AAC Format:
AAC or Advanced Audio Coding is an audio coding standard for lossy digital compression designed to be a successor of MP3. It is the default standard audio format for YouTube, iPod, iPhone, iTunes, Playstation 3 and much more.
Differences between AIFF and AAC:
AAC and AIFF coding algorithms are largely used for Apple products although AAC was not developed by Apple. The codecs dictate how the audio is recorded and digitized in digital format. The main difference between AAC and AIFF is the way, which the encoding is done, AIFF is a lossless format meaning that all audio information is retained in the file and nothing is lost. Irrespective of how many times you encode the file between lossless formats, the quality of the sound will be maintained. In contrast, AAC uses a lossy compression, which discards the least valuable data. Converting between lossy or a lossy and lossless file will result in a degraded quality.
The other difference is found on the file size. Since AIFF is lossy and uncompressed, the files encoded in this format are bigger than AAC, which is a lossy file by roughly ten times. Using AIFF means you require a huge hard drive which could be a challenge when media players have a limited drive space.
More so, AIFF is better suited for audio editing while AAC is better suited for personal listening. Lastly, AAC is a popular codec while AIFF is hardly used. Using AIFF drains the battery quicker since the hard drive needs to spin longer to read the whole file.