I shot VR videos with My Samsung Gear 360, but I can't watch them on my Samsung Gear VR, what's the trouble?
There might be no trouble at all with your brilliant Samsung 360 camera. All you need to do is go to your video app and click on 'own videos'. Then you can go on to select a theatre of your choice to use and then sit back and enjoy your personal video clips and home movies. Remember sometimes the hassle is only turning the wifi on and the video app may only not be working because you forgot to do that. You might also want to close off background apps creating clutter or slowing down the Samsung Gear VR.
Part 1. What Should I Do to Create a VR Video
First of all there are a number of software and apps that can be used regardless of the device you own. Some of the more popular ones are listed below:
Panorama 360 is an app which you can get for free from Google play and create some pretty amazing VR videos with. It can get some basic 360 degree stitching done and you can some pre-set filters and upload on social media like Facebook and Instagram.
For iPhone users there is the app called Splash which is also free and it acts much in the same way as Panorama and it has some cool features and filters.
Photo Sphere is like VR videomaking for dummies since it has a guide on the screen which is present at all times when you are making the video and it also helps out during the editing process.
It is safe to say that when people talk about quirky little gadgets like the Samsung Gear 360 for example making a VR video is hardly difficult because of the portable size and the sheer focus of the lens. The display lets you know which recording mode you are on and the battery and SD card are very accessible. The other great thing about the Samsung Gear is that it can communicate with Samsung smartphones via Bluetooth and it can also stitch together video clips and deliver videos ripe for watching straight to your mobile phone.
The process of creating a VR video and the tips to bear in mind are outlined as follows and these apply to most devices:
Remember to stay close to the main action as you are not using a simple point and shoot camera. Since the angle you are viewing and capturing is a wide 360 degree angle you are getting shots you may otherwise want to hide, so a whole new level of skill may be required. Keep major moving characters roughly 5 feet away.
Be careful about the lighting as you can't just have a spotlight in the corner and hope no one will notice it. You need to have ambient lighting or really good natural lighting occurring where you are going to be shooting. Flat lighting might just be the best thing of all.
The sound needs to be realistic so studio microphones as opposed to tiny microphones might be the best choice. You also need to bear in mind that the angles are such that you can have shuffling noises when someone is running or talking slowly. You need to have sound which seems to be occurring naturally in the atmosphere.
The development of the scene can sometimes be a problem when we are talking about a Samsung 360 camera since we want the viewer to be able to comprehend the suspense and all but it is up to the director to set the stage for that in advance. Be sure to add in some fancy effects and employ some video analytics to even the score.
Part 2. How to Convert VR Videos for Playing on Samsung Gear VR
An out-of-this-world headset like Samsung Gear VR which lets you engage with your favorite VR media needs the best possible VR converter so that you have no issue downloading and converting content to watch. This content especially includes videos you may have shot yourself or movies you may have made yourself. It can be hard to make everything compatible and in the same format at the same time if different devices were used at the time of shooting which is why something like UniConverter can come in very handy.
Get the Best VR Video Converter:
The converter deluxe can convert into more than 150 formats and counting and make any video compatible with VR devices.
It has the ability to provide digital backup as well as burn DVDs.
It has an editor for VR video editing, such as trim videos, add subtitles/watermarks/special effects, and so on.
The converter can download and convert from countless websites makes them all compatible with mobile and VR devices.
Perfectly compatible with Windows 10/8/7/XP/Vista & macOS 10.12 Sierra or earlier.
3,981,454 people have downloaded it
You can convert the VR videos for playing on Samsung Gear VR quite simply by following the steps below:
Step 1. Import Media Files
Open the UniConverter and drop the files into place that you want to convert or click on the "File" tab and load media files.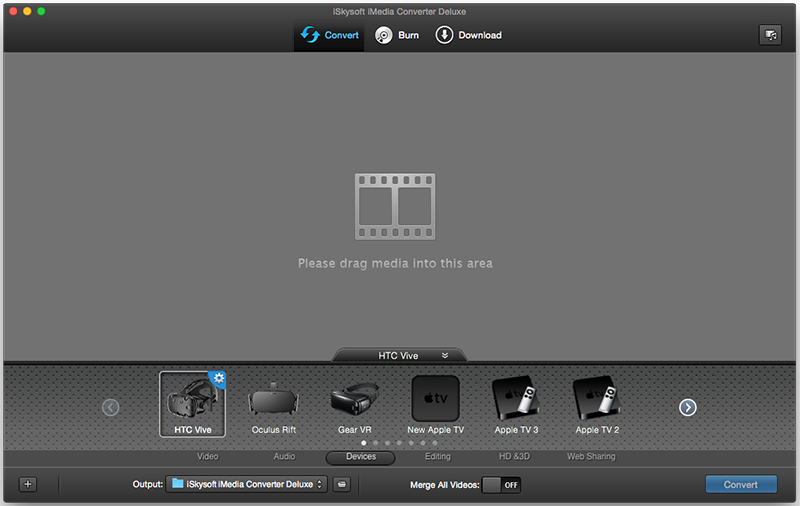 Step 2. Select Video Mode And Output Format
Choose from the available video modes such as 2D 360 degree, 3D 180 degree top\bottom, 3D 180 degree left\right, 3D 360 degree top\bottom, 3D 360 degree left\right for example and then choose an output format such as the one for Samsung Gear VR. There will be a format tray where you can choose your relevant device from.
Step 3. Edit the Video (Optional)
You can now edit the VR video such as adding images where you see fit and customizing by adding watermarks and so on. Click on the "Edit" tab to begin the editing process.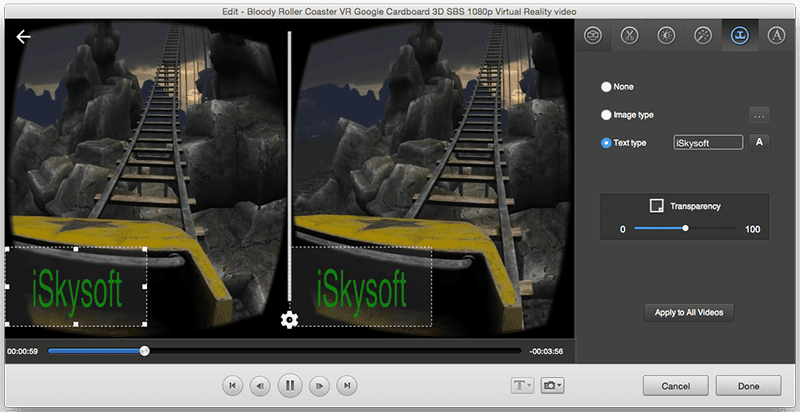 Step 4. Convert and Begin Watching
Lastly, click the button that says "Convert" and the end result is a video with a compatible format which can be played on Samsung Gear VR.