Why do I Failed to Watch VR Videos on HTC Vive?
There can be a few reasons why your HTC Vive has failed to give you the best possible experience regarding VR videos and the problem may just lie with your headset. Essentially you may have failed because of technical faults such as not installing apps like Whirligig which cost as little as $4. The HTC Vive's touchpad will provide you with ample controls for the app's menu so you can have the best possible movie experience. Each type of video like a 2D or 3D video has different set controls in apps like this.
Part 1. How to Stitch VR Videos After Shooting with My Device
Stitching when you are using one source is relatively easy as multiple sources means that it is going to take a lot more time. If you are using one specific device like the HTC Vive for example then you can edit and make changes as necessary rather quickly.
The simplest and least professional known way to stitch VR videos is by using free software such as the one offered by Kodak which can be alright for amateur productions but are notorious for making images and video clips disappear into oblivion in the process of being stitched. This might just be because the software is not made to for professional use.
If you prefer the professional route you can purchase more high-tech software like Kolor which can cost anywhere from $650 to more than that. Not only do you get more control over each individual image, there are many more options and features which make for a more fulfilling video editing experience.
A simplistic view of how to stitch together content when you are shooting with your device:
It is important to get all your SD cards together especially if you have shot a lot of footage and some of it is saved on your phone or on multiple SD cards which you kept swapping out as you kept taking shots and clips. The timeline obviously changed in-between those shots and clips and for a good end movie you will need to bear that in mind. Any good software (even a free one like the one mentioned above) will have something like an automatic importer which will combine all the selected data from various sources and streamline it for you to view.
After you have that combined 360 –degree video in front of you, you can carry on the stitching process and do any editing you wish such as stabilization, cutting out, color correction, improving the quality of the video and so on. You want a good final and uniform calibrated color which is stable throughout the entire video.
Last but not least, you need to decide if you want the video to be HD or to have a more retro feel and finish. Sophisticated software can obviously provide you with dozens of more options to choose from. You really get your money's worth with that one. You get individual frames as well with some of the better software. Don't forget to edit your timelines so that everything falls into place.
Part 2. How to Convert VR Videos for Playing on HTC Vive
The UniConverter is a revolutionary tool which can carry out an abundance of functions which is all thrown in into one software. Not only can it convert VR videos for streaming on virtually any device, it can carry out burning of video files on DVDs, editing videos, downloading online videos, and so on.
Get the Best VR Video Converter:
UniConverter can convert any video into different formats of compatible VR video at faster speeds than regular converters.
The converter can burn video files off of DVDs and onto the computer.
Videos can be downloaded from any website and converted into a compatible format depending on the device being used.
You can edit VR videos through the editor which is a part of the UniConverter.
UniConverter can act as a DVD burner.
Perfectly compatible with Windows 10/8/7/XP/Vista & macOS 10.7 and later.
3,981,454 people have downloaded it
You can convert the VR videos for playing on HTV Vive quite simply by following the steps below:
Step 1. Load Files
Open the program and load the media files you want to use. You can also use the drag and drop method of getting the files onto the program. If you are not being able to load the files or they are simply not showing up, click on the "File" tab and then choose from a selection of media files.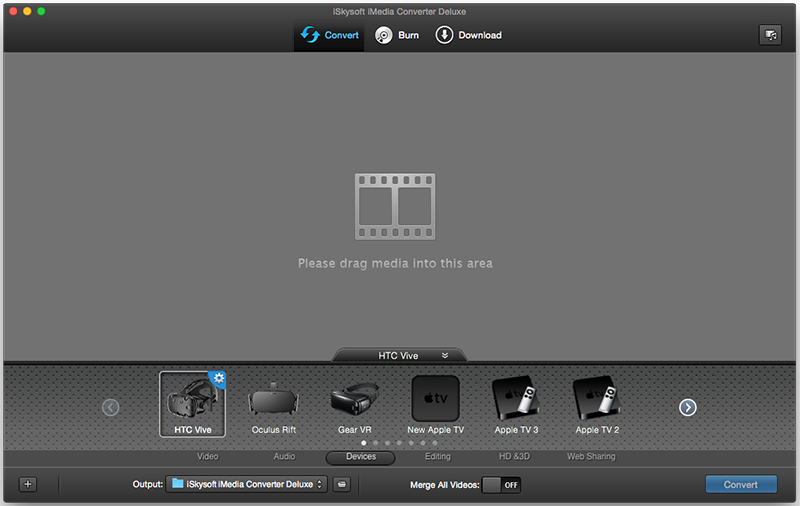 Step 2. Choose Video Mode And Output Format
Next, you want to choose the video mode such as 2D 360 degree, 3D 180 degree top\bottom, 3D 180 degree left\right, 3D 360 degree top\bottom, 3D 360 degree left\right. Choosing the output format is next and for that click on the format tray where you can choose your device such as HTC Vive or Samsung Gear VR, Oculus Rift and so on.
Step 3. Editing (Optional)
Edit your video such as trim, add watermarks/effects/subtitles as necessary to give the video a professional touch. The main page of the software has an edit icon which houses all the features.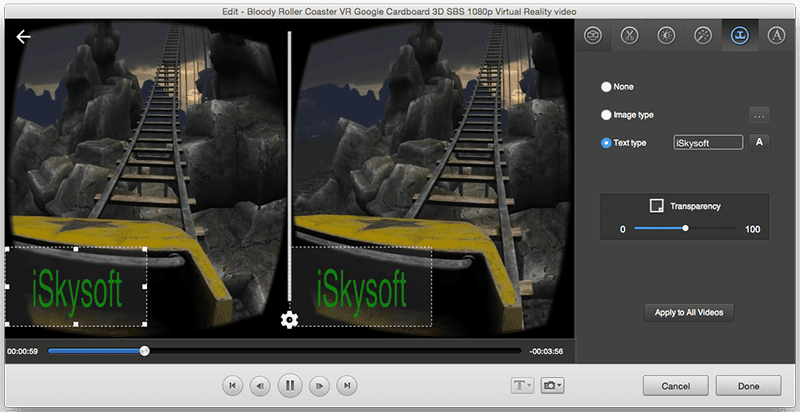 Step 4. Playing on HTC Vive
Choose where you want to save your file in your PC and click "Convert". Bear in mind the new header information and try not to modify the VR videos for each device that you want to be playing them like HTC Vive.