The RICOH THETA S is a brilliant hand-held camera that is a more basic version of the RICOH THETA 360 version with a slightly more limited range. It can record a maximum of videos which are 25 minutes long with quality limited at 12 megapixels but at the price and size, it is a good deal. If you are having issues playing videos after shooting with this device the tips mentioned below may be of use.
I've shot some videos with my RICOH THETA S, how to watch them on my VR device?
The first step is to start the camera and press the wireless button. Next you want to connect the camera to a smartphone or PC and transfer the video files. For this the WIFI needs to be on and if the files are password protected, make sure you enter the correct SSID password. Start the relevant RICOH THETA S app on your smartphone and search for the videos you want to watch.
Bear in mind that sometimes there can be format differences so if a video is not playing upon being transferred; you will need a converter like the UniConverter to convert the files to the compatible format for your device or phone. Then you can freely watch RICOH THETA S videos on VR devices as you want.
Part 1. How to Make VR Video after Shooting with RICOH THETA S
Once you are done making your prized videos with the handy RICOH THETA S, you can get to stitching and editing and making a VR video. The process is laid out as follows:
The first step is to get all the footage out of the camera as the THETA S operates on internal memory only. The ideal case is to work on a computer where you can see every minute detail of every image that you are working on and make corrections as you go, especially if you are interested in a very professional outcome. Connect like a USB and wait for your files to show up and drag and drop the ones you want to use. You might also want to use an app like "Easyfinder" if you usually have trouble locating your files or your computer doesn't pick them up. It helps to keep different formats in different folders for ease of locating.
Take this chance to 'delete from import'. If you have files accumulating in your THETA S that you know you won't use and aren't happy with, then delete them when you are copying your useful files. Use the RICOH THETA S app to do all the stitching for you since it is really the easiest way and the app offers a lot of guiding notes for beginners. You can drag and drop relatively raw data and simply press convert. The best part of this app is that you can do more than one clip at once and save time. Go to the official theta website and download the app from there.
The next thing you want to bear in mind when you are sorting through the footage you have shot to make a VR video is keep the time sequence and timeline in mind. Check the dialog box which pops up in the app to view the caution message.
Editing is a major part of a VR video. You need to get the color correction, exposure; frames, fading in and out and all that just right for that realistic feel and pay extra attention to sound as that can be affected in various ways when you are playing around with a 360 degree camera. You also want to make sure you are maintaining focus on what you are shooting since with these types of camera it is very easy to slide out of focus.
Part 2. How to Convert VR Videos from RICOH THETA S for Playing on VR Devices
Here's why UniConverter is such a wonderful tool to have in your arsenal when you are going to be making VR videos and regularly having to convert from one format to another in order to have videos compatible for all your devices that you wish to watch them on.
Get the Best VR Video Converter:
Intel and NVIDIA GPU hardware animating grows conversion speed.
Convert distinctive audio/video records in the meantime, fundamentally rearranged the audio/video you have to convert to the program.
It can be wholeheartedly used to edit or play videos on various devices (such as HTC Vive, Samsung Gear VR and Oculus Rift, etc.) as required.
It moreover can download videos from the web and even duplicate DVDs.
3,981,454 people have downloaded it
Step-by-step Guide to Convert VR Videos from RICOH THETA S for Playing on VR Devices
Step 1. Import videos
Run the iSkysoft program and load the media files you are interested in converting or drag them and drop them onto the screen.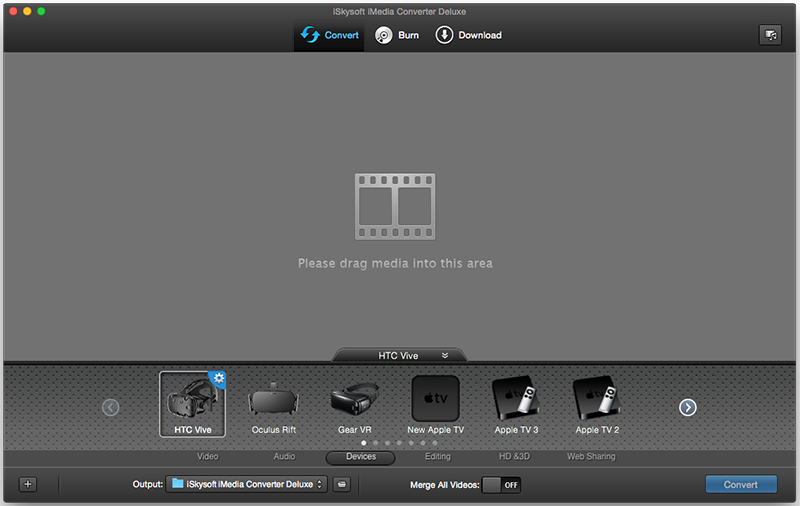 Step 2. Select video mode and output device
Choose the correct angle and video mode for your videos, for example 3D 360 degree top\bottom. At this point also enter your output device of choice such as HTC Vive, Samsung Gear VR and Oculus Rift, etc.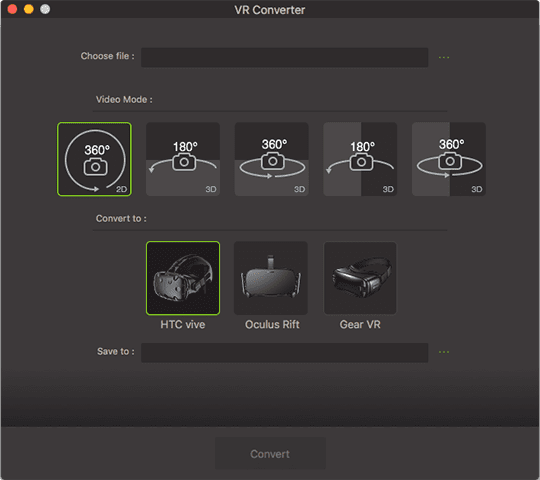 Step 3. Convert and save
Click the "Convert" button and the video is finally playable on most professional players and VR devices.